By Kip Staton
One niche that remained unfilled within Trijicon's rather diverse product line for quite some time was a red dot that could fill the role of a primary optic on a long gun, that was also price-competitive with offerings from the competition. In order to address this need, the Trijicon Miniature Rifle Optic (MRO) was introduced in 2015.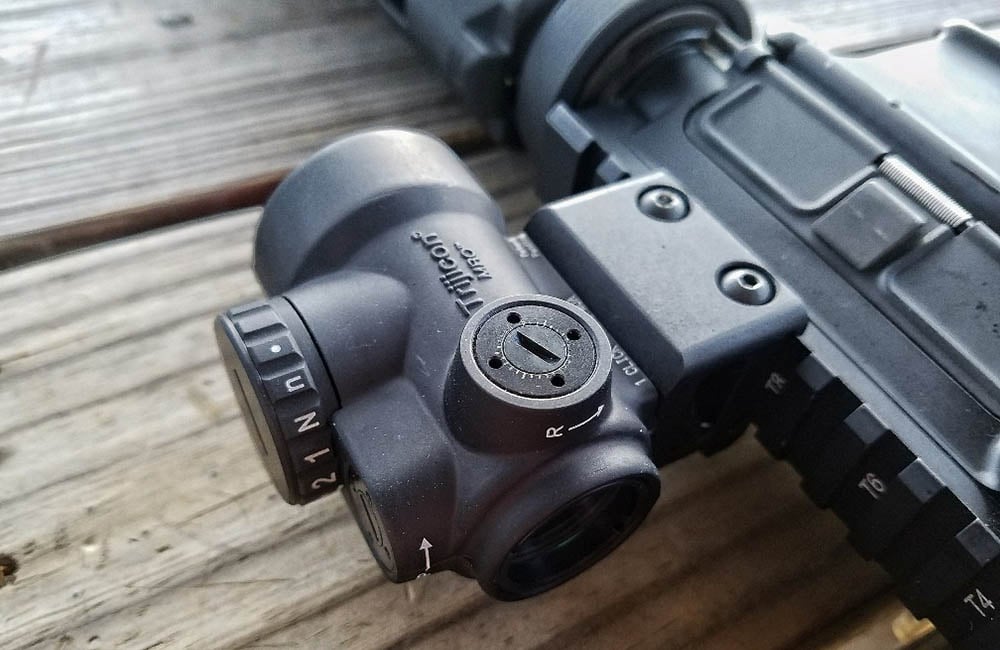 Understandably, the MRO made quite the splash when it landed. Pricing was far below sights like the standby Aimpoint T1/T2 and EoTech XPS/EXPS series, and it offered some pretty cool extra features as well.
The MRO experienced some slight revisions after a short period of customer feedback, and was also launched as the Patrol version. The Patrol includes extra features that make more sense in a tactical role, like flip-up lens caps, an ARD KillFlash, and a quick-detach mount. Currently, Trijicon offers the MRO in a total of seven different configurations, with the majority of the differences found in the mounting options offered.
This overview will cover the standard MRO, with the factory lower one-third co-witness mount. I'll invariably be coming back to my Aimpoint PRO as a comparison optic, mainly because I have a lot of time on it. The Aimpoint is also an extremely common dot, which will again lead to a good comparison.
MRO Design Overview
The MRO is a 1x25mm optic, by the numbers. It's bigger than a micro sized dot, yet still smaller than a full sized dot like the Aimpoint M4. This isn't going to be your choice for mounting on a pistol slide, yet it is still noticeably smaller than my Aimpoint PRO. It's a unique footprint, and would work well with a magnifier behind it.
MRO Specifications:
Magnification: 1.05x

Objective Size: 25mm

Length: 2.6"

Weight: 5.9 oz. with battery and mount

Reticle: 2 MOA red dot

Adjustments: ½ MOA

Housing Material 7075-T6 forged aluminum

Battery type: CR2032

Battery life: 5 years of continuous use at day setting "3"

Waterproof: Down to 30 meters
Trijicon certainly thought outside the box with the overall design of the MRO. The 25mm objective lens is much bigger than the ocular lens. This gives you the feel of a bigger viewing area, while keeping the size down. Picture looking through the small end of a funnel, rather than a cardboard tube. It really does make the viewing area seem bigger than it actually is, and greatly reduces "tunneling".
Essentially, the field of view is that of a much larger dot, but in a compact package. This design will inherently introduce a small amount of parallax, but it's insignificant enough to not matter.
The included mount is attached to the optic via four screws, and then secured to the firearm with two crossbolts.
Windage and Elevation
These adjustments are really well designed. There are no caps to remove or lose, and the "turrets" can be moved with a cartridge rim. Zeroing was really fast and easy; I just aligned the sight as closely as possible with my already-zeroed backup irons and fine tuned the final clicks with just a few shots fired.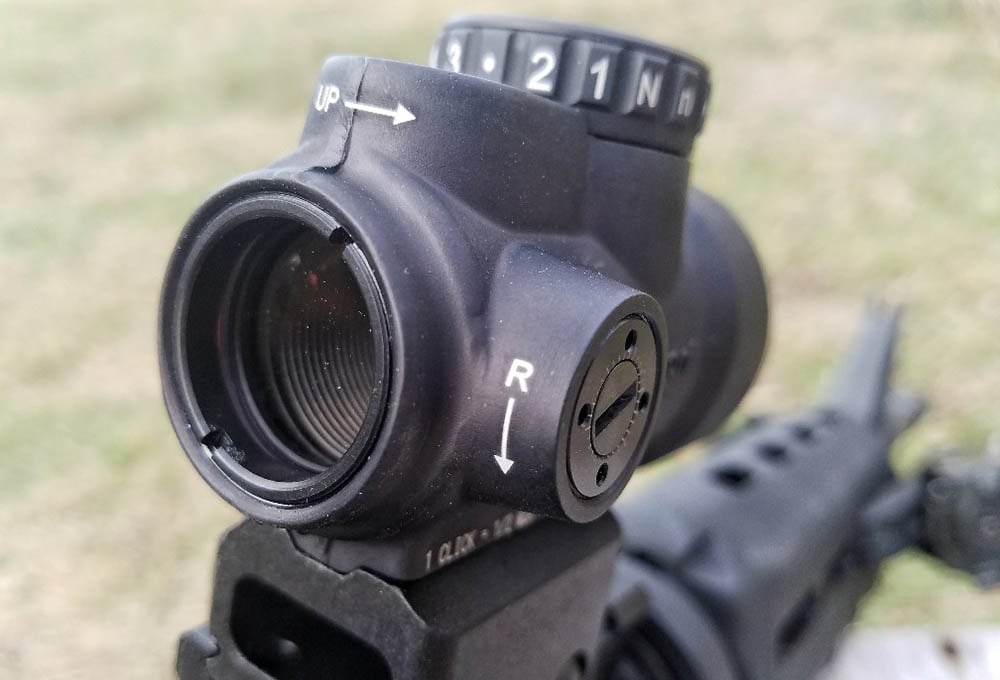 It may sound silly, but not having to fiddle with turret caps was nice. I simply grabbed a spent cartridge and made the necessary adjustments.
While the windage and elevation knobs are exposed, they are sub-set enough that I can't imagine a scenario where they could be bumped. I didn't notice any zero shift while using the optic. I will say that the clicks themselves are not as positive or firm feeling as I would have liked. This didn't seem to have any practical effect on usage, though.
Like many red dot sights of this style, the windage and elevation adjustments are ½ MOA per click. This makes zeroing at shorter distances (like 50 yards) much simpler than with ¼ MOA clicks.
MRO Battery Life and Settings
The instruction manual indicates that the MRO has a battery life of 5 years constant-on with setting 3. This is extremely competitive with sights from Aimpoint, the gold-standard of red dots. Trijicon recommends changing the battery yearly, which is easily done with any standard CR2032 cell.
I really like this choice of battery for the sight. They're inexpensive and commonly available. Swapping them out yearly is cheap insurance, and means you will have an always-on sighting option that doesn't ever come close to dying.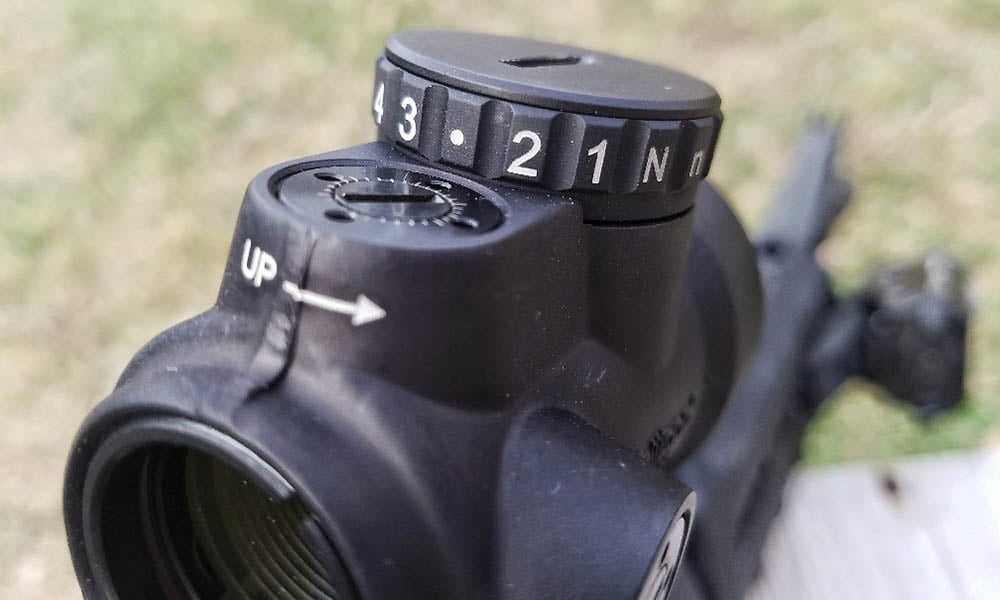 The battery sits within the brightness adjustment knob on the top of the sight. It nestles securely in a basket-style enclosure, with a total of twelve contacts on the circumference. This design leads me to believe that it's essentially recoil proof, as there is no way for any shifting to occur. It even turns the dot on with the cap removed, for what it's worth.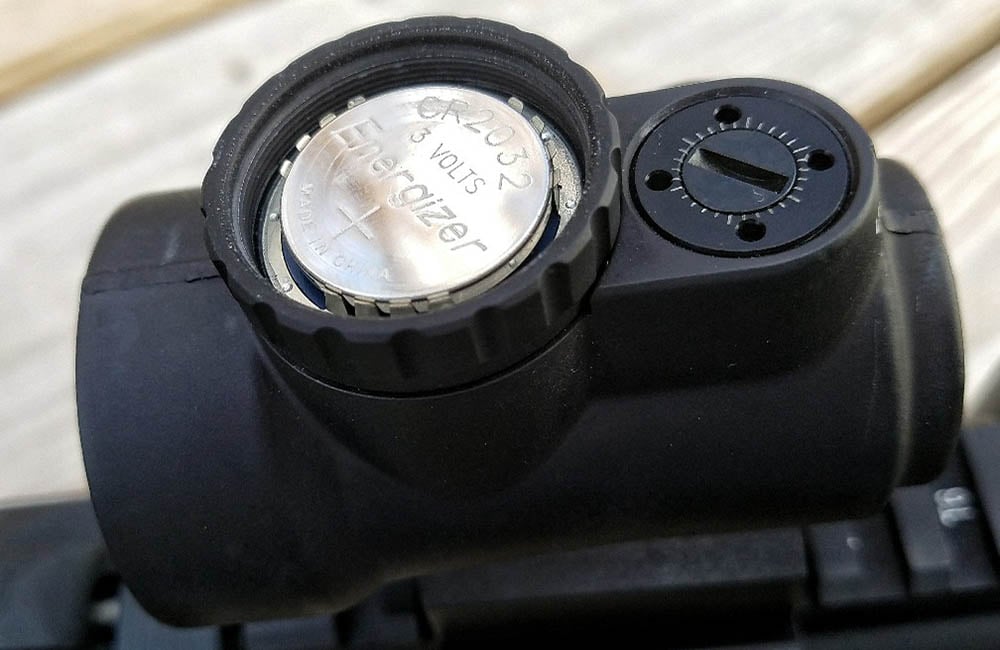 The cap can be removed with a coin or similar "tool," and features a rubberized gasket to keep moisture out.
If you use night vision devices, the MRO will accommodate you with two settings optimized for no-light activities. The other settings provide a good spectrum of brightness, including the highest setting, which is insanely bright even in broad daylight. The adjustment dial is situated on the top of the sight, which keeps the overall package narrow but relatively tall.
One thing I found myself unexpectedly appreciating was the ambidextrous nature of a top-mounted knob. It's actually pretty nice to not have to reach around the sight to change the brightness.
Trijicon MRO Dot
I have a fairly strong astigmatism in both eyes, which causes all red dots to appear blurry to me. My Aimpoint PRO dot looks like a cluster of grapes with my left eye, and a "swoosh" with my right. Prescription lenses help somewhat, but the problem persists.
Flipping up my rear sight and viewing the dot through the small aperture reduces the light coming into my eye (sort of like squinting), and significantly improves red dots for me. It's actually a pretty good solution, especially with longer shots on smaller targets.
Reports online had indicated that the MRO was very friendly to people who have vision issues with red dot sights, and I was excited to see if the rumors were true. I'm happy to report that the MRO dot is the best looking dot I have ever seen. It's not perfect, but it's significantly better than my Aimpoint PRO. The MRO dot actually looks like a dot to me, with what I would estimate are 90% clear edges.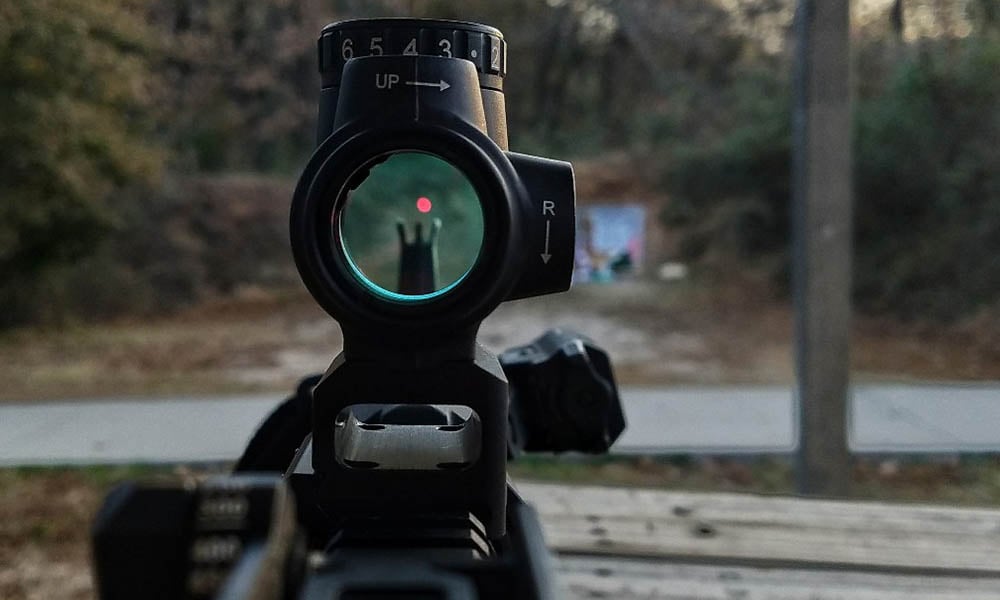 Your mileage may vary of course, depending on your vision. Best course of action if you're considering an MRO is to go to a brick-and-mortar store and look through some optics to see for yourself.
The MRO dot measures 2 MOA, which is fairly standard for a primary optic. It's very usable at longer ranges.
MRO Sight Picture Oddities
You may have heard that the MRO lenses have a blue tinting applied. This is true, and it's a result of the optical coatings that create such a crisp dot and allow the long battery life. The slight blueness (to me, at least), is a perfectly acceptable tradeoff for a nice, clean dot.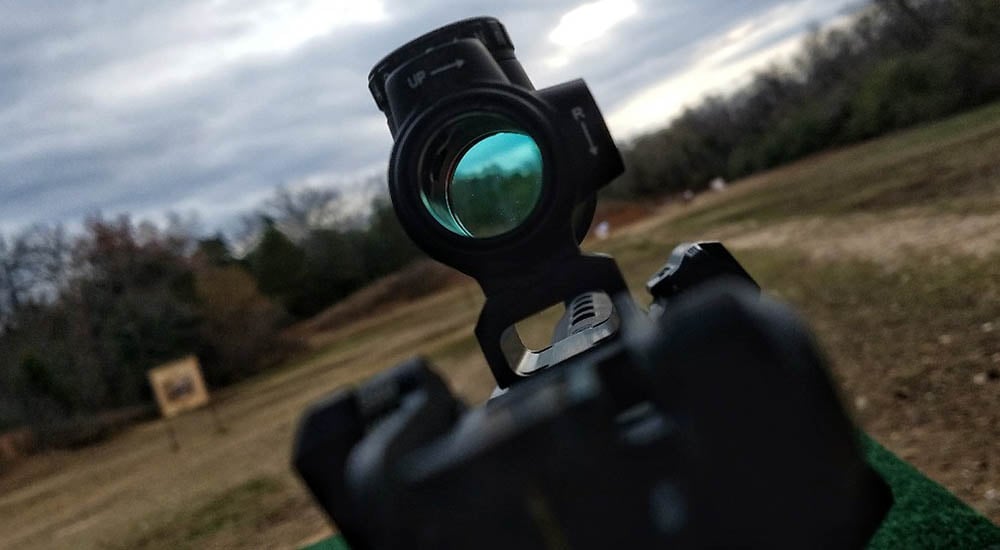 You may disagree if you don't suffer from an astigmatism. It's not a deal-breaker by any means; this tint is quite comparable to the tinting seen in Trijicon's micro sights, the RMR series.
My sample MRO is a pre-89,000 serial number model, which means that it has a slight magnification of 1.05x. This took a little getting used to, since I'm so accustomed to my Aimpoint. It turned out to not really be an issue, but enough people complained that Trijicon changed the post-89,000 serial numbered models to have 1.00x, or zero magnification.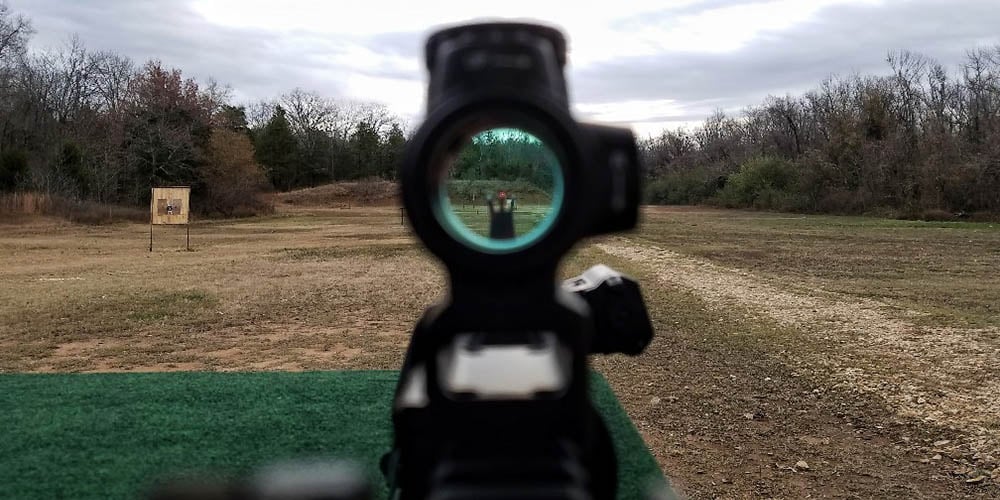 I don't have any experience with the later models, but I have no reason for you to search out an early one. 1.00x is better than 1.05x, in my opinion. I got used to it, but the 1.05x felt slightly distorted at first. Again, once the gun is up and you're shooting, it doesn't matter or change anything. But if you sit in your living room and look for it on purpose, it would probably bother you.
Many users online indicate that they experience some glare or lens flaring under certain light conditions (especially with light coming from the rear), but I didn't notice anything out of the ordinary. Most of my live-fire use was with lighting coming from the front. I did put the rising sun to my back and noticed a small amount of glare, but I wouldn't call it a deal breaker.
Durability
I didn't run the MRO through any sort of crazy durability or torture tests. Anything that I could do to a sample size of one in a non-scientific manner would be sensationalist and essentially meaningless. I have a lot of faith in the testing protocols of companies like Trijicon. It did pass the "bounce around the vehicle for a week without losing zero or dying" test, for what it's worth.
Trijicon states that the MRO is pressure-tested to a water depth of 30 meters, which means the average user won't have to worry about a downpour or unexpected dump out of a canoe.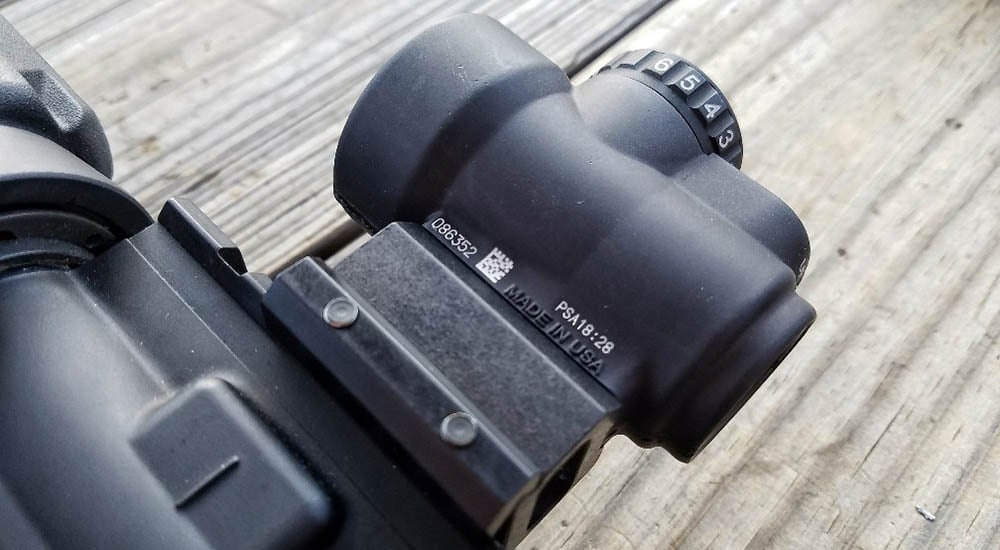 The main body is forged from 7075-T6 aluminum, just like Trijicon's legendary ACOG series. It's also tested to the same MIL-STD-810G standards as the ACOG, which ends any questions about the durability with the MRO. It's a tough little sight.
And yes, that's Psalm 18:28 engraved on the side.
Trijicon MRO In Use
For all of its unique features, the Trijicon MRO is still basically just a small-to-medium sized red dot. Once you get past the slight tint and smidgen of magnification (in the early models), there's nothing really new except the very wide field of view. I did appreciate the crisp, sharp dot, but that won't be as apparent to readers with better eyes than mine.
I mounted the MRO on my 14.5" carbine-gassed Bravo Company USA upper receiver, using a Wheel digital FAT wrench to ensure proper torque. The compact optic compliments the rifle extremely well, and is one of my favorite optics I've had the opportunity to try on the gun. It just works really nicely on such a short, handy rifle.
The few ounces saved over my Aimpoint PRO is more noticeable than I imagined it would be, and the small size just makes handling the rifle more enjoyable, if that makes any sense.
I shot the MRO on steel plates out to 200 meters, which was easy with the well-shaped dot. I also did some closer 25 meter drills as well on NRA B-8 replacement centers: 10 shots fired from the low ready with a par time of 10 seconds. None of my scores were under 90 points or over the par time. No real improvement over my Aimpoint up close, but it's certainly not any worse. They are both red dots, at the end of the day.
I only put four Magpul D60 drums through the rifle while using the MRO, so this is far from an exhaustive review. But it was enough for me to get to know the sight over a week or so, and answer some of the questions I had.
Is the Trijicon MRO for You?
The Trijicon MRO is sort of unsurprising, in a lot of ways. Realistically, it doesn't offer much that competitors didn't already provide. It's night vision compatible, has great battery life, and takes up little space on your rail. All of this has been done before (mostly by Aimpoint). However, the enhanced field of view on the MRO is awesome, and the crisp dot is outstanding to my eyes.
My biggest curiosities with the MRO were whether or not the dot would appear crisp and round, and whether or not the rumored blue tinted fish-eye effect was going to be present and/or detrimental. Long story short, the dot looks great, there was no fish-eye distortion, and the slight tint and magnification just wasn't a big deal on the range. The wide viewing window is just icing on the cake.
If you want a price-competitive, reliable red dot from a manufacturer with a legitimate track record, have an astigmatism, and don't mind a slight amount of blue tinting, the Trijicon MRO might just be the perfect optic for you.