Beretta's (now failed) bid for the U.S. military's new handgun.
by John M. Buol Jr.

The U.S. M9, a Department of Defense specification Beretta 92FS 9x19mm pistol, has been in continuous service since 1985. For several years there has been a few claimed problems and plenty of programmed concern in picking its replacement. Over a decade ago was the Future Handgun System (FHS) which merged with Special Operation Command's Joint Combat Pistol (JCP) program. The idea was to quickly and inexpensively pick a suitable, off-the-shelf M9 replacement. Several years and a couple million dollars later yielded no change. The Army and Air Force, with input from a Marine Corps committee, then decided to collaborate on a similar project. Green and blue makes purple, creating the Modular Handgun System program. MHS also sought to select an already-available commercial replacement and released a Request For Information calling for a pistol with 2,000 mean rounds between stoppages, 10,000 mean rounds between failures, and a 35,000 round service life. On a side note, data on the current M9 indicates an average reliability of 17,500 rounds.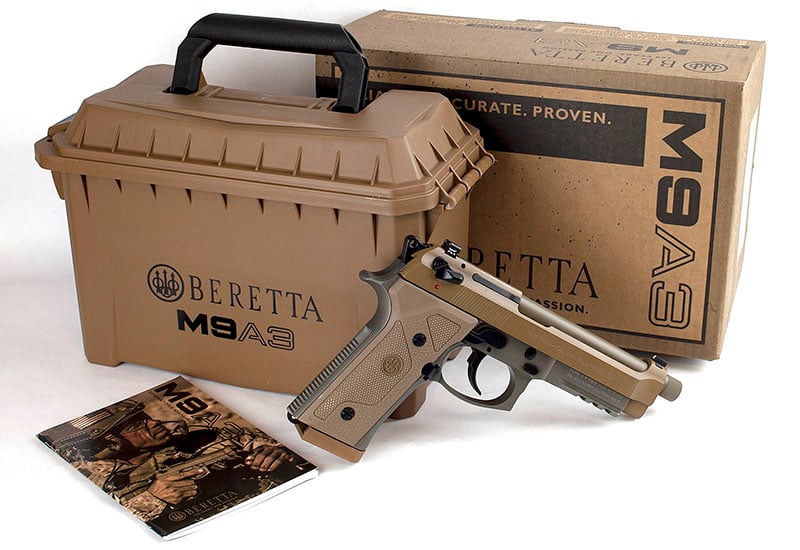 The House Armed Services Committee pushed to cancel the MHS and upgrade the M9 instead as being a less expensive option capitalizing on use of existing components and know-how. Attempting to appease the MHS specifications while meeting the House's suggestions, Beretta created its M9A3 pistol upgrade identifying Engineering Change Proposals (ECPs) under the existing contract, providing what is likely the most cost-effective solution.
Shortly after, reports circulated that the M9A3 had been rejected by the Army, seemingly out of hand. The House of Representatives released H.R. 1735, Committee On Armed Services in May 2015. Concerning the Modular Handgun System, the House budget contained $5.4 millions to procure 7,106 MHS-approved pistols. In January 2017, it was announced that a version of the SIG Sauer P320 will be replacing the M9 as the standard issue sidearm.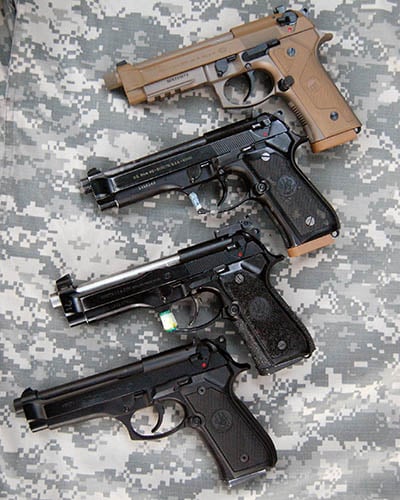 M9 History
The Beretta 92 was designed in the early 1970s, evolving from several older models. The company's M1922 featured an open slide and the M1951 used an alloy frame and articulating locking block instead of a Browning-style tipping barrel. The Model 84 .380 featured a double stacked magazine similar to the Browning Hi-Power and a direct, in-line feed eliminating the need for a feed ramp. The initial production run went from 1976 to 1983 for 52,000 total units.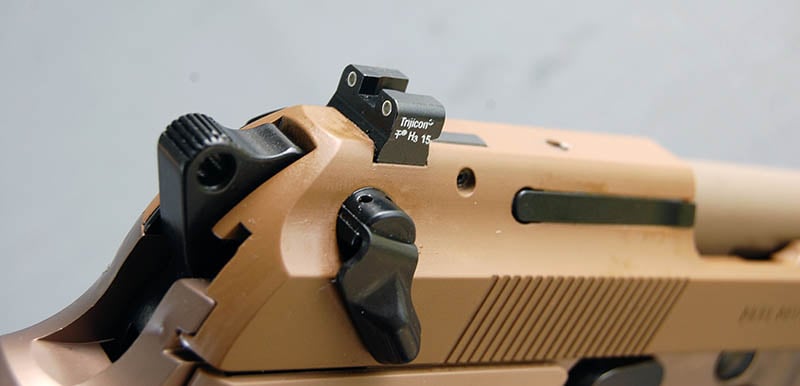 During this time the Department of Defense was maintaining a rapidly-aging inventory of over two dozen models of pistols and revolvers. A 1982 Comptroller General's report (Proposed Program for New 9-mm Handguns Should Be Reexamined, Government Accounting Office catalog number PLRD-82-42) listed 417,448 .45s in inventory and suggested converting the existing 1911 pistols to fire the NATO standard 9mm cartridge as a less expensive alternative to adopting a new weapon. Instead, the Army ordered a Formal Request for Test Samples to arms makers. Eight makers submitted 30 test pistols. Four makes were deemed technically unacceptable and two others removed themselves from the competition, leaving the Sig-Sauer P226 and Beretta 92. Both met test specifications and Beretta won the bid on price, earning a contract for 321,260 of the newly-dubbed M9.
As with nearly every weapon ever mass fielded in every military, the M9 had some teething problems. Three Navy Special Warfare Group personnel were injured training with first-run M9s when the slide broke during firing, resulting in a broken tooth and two requiring stitches. Army tests revealed a similar slide failure in testing three pistols after 23,300 rounds in one, and over 30,000 rounds in the other two. Examination of broken slides showed low metal toughness as the cause. Beretta had built a new plant in the United States and was still getting it to full production to meet the contracted numbers. Beretta voiced concerns that both non-NATO and U.S. M882 ball were higher pressures than NATO specification, though Army testing held the problem was metallurgical with newly-issued slides. In addition to fixing the metallurgical issue, Beretta modified contract M9s with an enlarged hammer pin mated to a groove in the slide to stop it in case of catastrophic failure. This modification is the 92FS model.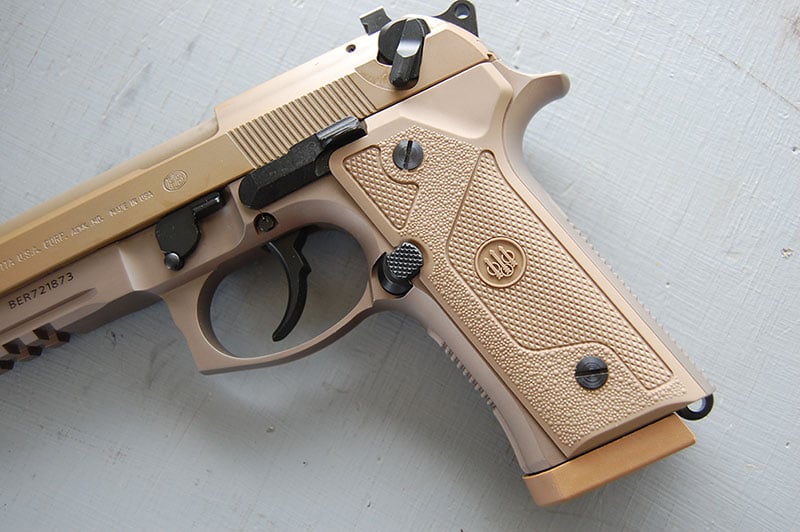 Decades later, reports from the Middle East surfaced concerning reliability with magazines. In the intervening years, alternative vendors had been supplying M9 magazines instead of the original Beretta and Mec-Gar units. Wartime experience in desert regions revealed these cheaper magazines were less durable and more sensitive to sand. The fix was to use the reliable original specification Beretta and Mec-Gar magazines.
Finally, shooters have noted the M9's Achilles heel can be the locking block, though civilian 92FS and Elite models don't seem to have suffered this. Beretta lists the average durability of M9 locking blocks at 22,000 rounds. Broken locking blocks are a potential problem with old generation parts and can be exacerbated if the recoil spring isn't replaced when needed or if the block doesn't mate evenly with the slide. Beretta has addressed this with their current generation locking block and locking block plunger.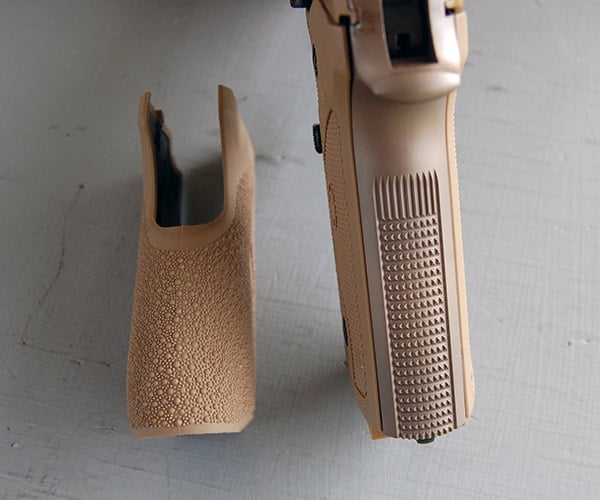 Assessing The M9A3
A person that has already made up his mind regardless of new facts, including (especially?) military personnel, won't likely be swayed and there are too many troops pre-convinced the M9 is not a good handgun. This belief is not based on demonstrated skill or intelligent side-by-side comparison. They've just decided to not like the M9. The same happens with the M16 series. In both cases, regurgitating decades-old stories about issues long since fixed is common.
For example, Soldiers failing to score well enough to make the cut for a shooting team may gripe how much better they allegedly perform with their personal or police department-issued pistols, though an actual demonstration of such is not forthcoming. Interestingly, shooting with law enforcement and other military personnel using those same makes, I often hear compliments on how much they like the M9. Where the grass is greenest usually is perception, not fact.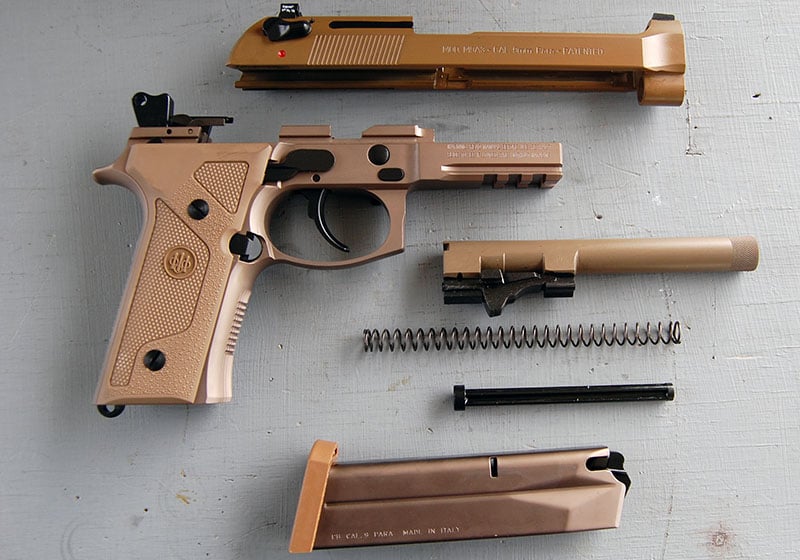 The fact is military Service Conditions matches throughout NATO nations finds American personnel frequently winning with issue M9s. Ben Stoeger, a police officer turned professional shooter, won his first series of USPSA Production Nationals and other numerous championships using the Beretta 92 series. Same goes for Ernest Langdon and his IDPA and USPSA Nationals, Area, and State championships. While striker-fired pistols are well represented in Production and Stock competition, traditional double action designs remain a preference for many high-level competitors. Good shooters shoot well with Berettas and poor ones are quick to find excuses.

The M9A3 is Beretta's material and design upgrade of the M9. The flat dark earth tone color is the first obvious difference. More than appearance, the pistol has a combination of Cerakote coating, anodizing, Bruniton, black oxide, physical vapor deposition finishes to improve lubricity, corrosion resistance, and wear resistance. Magazines have been improved to be sand-resistant and increasing capacity to 17 rounds. At the frame's front is a built-in 3-slot Picatinny rail for accessory lights and lasers. The chrome-lined barrel is extended and threaded for suppressors. Both front and rear sights are dovetailed for adjustment or removal with Tritium night sights as factory standard. The factory magazine release is enlarged and the frame has a generous bevel in the magazine well for quicker reloads.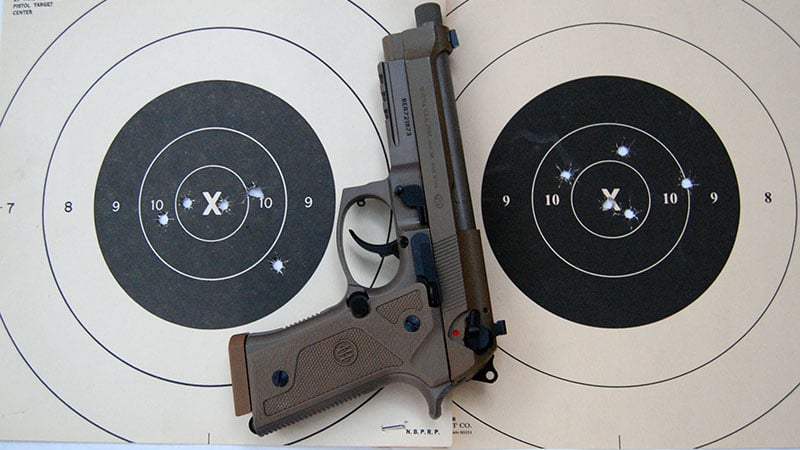 The M9A3 features a Vertec-style thin grip which improves pointability for some and reduces the "blocky" feel common with double-stack magazine pistols, slightly reducing overall bulk and making it easier to reach the trigger for shooters with smaller hands. An optional wrap-around grip can be used to improve purchase for those with larger hands. The frame is checkered on the front and back straps.
Internally, Beretta used their new generation locking block known to improve service life. The M9A3 slide can be converted from FS to G mode, changing the safety/decocker into decocker-only operation. The levers are off center and are pushed off safe more readily when used in FS safety/decocker configuration.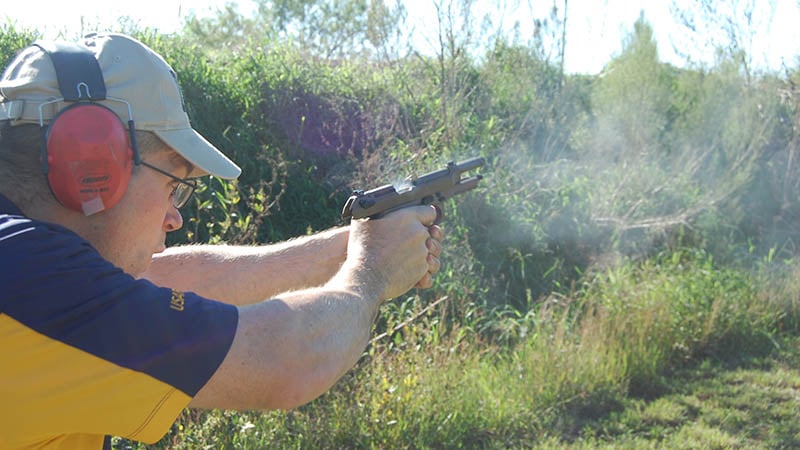 The M9A3 is the best-shooting factory service pistol I've used to date. With the obvious exception of match-prepared bullseye ball guns, it is also the most accurate. Starting with groups fired from rest, I had no trouble shooting five round groups at 25 yards in two inches or less with various loads. Between the nice single and double trigger action and Trijicon sights, holding the ten ring at 25 yards from standing unsupported was no problem. The ported magazine well, extended magazine release and other controls give it the handling characteristics found in good practical competition pistols.

Specifications
Caliber : 9mm Luger (9x19mm Parabellum)

System Of Operation: Short recoil, semiautomic, double/single action

Magazine Capacity: 17 rounds standard. Optional 15, 20 and 30 round magazines available

Magazine: Sand-resistant magazine with PVD coating

Front Sight: Blade, dovetailed to slide, tritium dot

Rear Sight: Notched bar, dovetailed to slide, tritium 2-dot. Adjustable for windage

Safety Features: Decocking/safety lever, automatic firing pin block, loaded chamber indicator, external hammer, half-cock notch, double action first trigger pull (Type F configuration)

Locking System: Tilting locking block, "3rd Gen" design for increased service life

External Hammer: Provides the energy to the firing pin, virtually elminating the possibility of misfires due to light primer strikes, even in adverse conditions. Also provides an immediate visual and tactile indicator as to the cocked/uncocked status of the pistol

Finish: Flat Dark Earth. CerakoteTM, anodizing, Bruniton, black oxide, PVD. Advanced coatings provide high lubricity, corrosion resistance and excellent wear resistance. Reduced visual and IR signature. Chrome lined bore and chamber

Accessory Rail: 3 slot MIL-STD-1913 Picatinny rail

Barrel Thread: 1/2″ X 28 standard thread on extended barrel, with thread protector

Accessories: Wrap-around backstrap grip unit for larger handed shooters

Grip/Frame: Vertec style smaller gripped frame with straight backstrap and thin plastic grips

Additional Features: Universal slide design to allow Armorer conversion to "G" decocker-only operation using Conversion Kit. "Over-center" safety lever to prevent inadvertent engagement of lever. Oversize beveled magazine well

Overall Height: 5.4 in

Overall Width: 1.5 in (1.3 in at grips)

Overall Length: 8.7 in

Barrel Length: 5.1 in

Sight Radius: 6.3 in

Weight Unloaded: 33.3 oz