By Tony Martins
Black Friday and Cyber Monday have come and gone, yet many of us still have some gift shopping to do for the Holiday Season. If outdoorsmen and/or women are on your list, here are a few gift ideas that are virtually guaranteed to be appreciated by recipients, and likely not re-gifted. The only thing more disappointing than receiving a gift that you suspect has been re-gifted is learning that a gift you gave was in fact re-gifted! These suggestions won't make you the world's greatest gifter, but I'll bet my red-nosed reindeer against your Santa suit that any shooter, hunter or outdoor enthusiast will be tickled pink to receive any of them.
1 – REMINGTON BUCKET O' BULLETS
"I have enough .22 ammo…" is a statement that has never been made by any hunter or shooter… ever! There's a reason the .22 rimfire is the #1 plinker in the world – you can shoot lots of it without breaking the bank! And, there are precisely two chances that any hunter/shooter on your list doesn't have a .22 rimfire gun to shoot the gifted ammo… (1) slim, and (2) none! The Remington Bucket O' Bullets contains 1400 rounds of 22 Long Rifle ammo featuring the Remington Golden Bullet – a 36 grain copper washed hollow point – with a muzzle velocity of 1280 feet-per-second. This ammo is ideal for small game and varmint hunting, target shooting and plinking. Made in the USA with high quality components, Remington puts the same level of care into making their rimfire ammo as their centerfire ammo to insure high performance for firearms training, hunting and of course… plinking! Delivered in a reusable plastic bucket, and you may need to borrow a stocking from Bigfoot.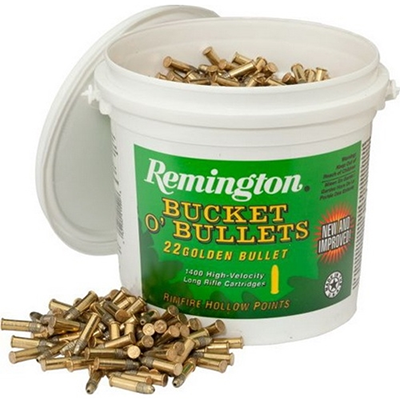 MSRP: $84.99 – Available at 1800GunsAndAmmo.com for only $69.95.
2 – RUGER 10/22 SEMI-AUTOMATIC RIFLE in .22 LONG RIFLE RIMFIRE
Honestly, it doesn't matter if you're an experienced marksman or a newbie shooter, anyone even slightly interested in firearms would be thrilled to receive what is often called "America's favorite .22 rifle." Many consider the Ruger 10/22 to be the most successful rimfire rifle design in history, with the standard carbine model in continuous production since 1964. And, with numerous third party manufacturers making aftermarket parts and accessories for upgrading and customizing, it's a fact that a 10/22 can be built without a single component made by Ruger! The rifle features a legendary semi-automatic action and detachable 10-round rotary magazine with a unique rotor that separates cartridges and provides reliable feeding for consistent performance. Other features include hardwood stock, 18-1/2 inch cold hammer-forged barrel, push-button, cross-bolt manual safety, flush mounted magazine with easy-to-use extended magazine release, and a combination scope base adapter is also included. Trust me – this one will provide a lifetime of fun.

MSRP: $309.00 – Available at 1800GunsAndAmmo.com for only $237.10.
3 – MOSSBERG MAVERICK 88 – 20 GAUGE PUMP ACTION SHOTGUN
Almost every outdoorsman/woman/hunter/shooter has a shotgun, and most are the 12 gauge variety. What every outdoorsman/woman/hunter/shooter needs is a 20 gauge shotgun! The 20 ga. is typically constructed on a smaller, lighter frame than the 12 ga. so it handles easily and more quickly, and is better suited than the 12 ga. for smaller shooters like youth. The Mossberg Maverick 88 series of shotguns was introduced in response to cheap imported pump-action shotguns, and its success is based largely on its extraordinary value when compared to other offerings. The Maverick 88 Security model is one of the most popular shotguns for home defense. The Mossberg 88 I've chosen here is the upscale 5-1/4 lb. compact/youth model, with 22-inch ventilated rib barrel, modified choke, 3-inch chamber and 6-shot capacity. With its black synthetic stock, this easy handling, quick pointing little beauty is suited for use in the duck marsh as well as the home security arsenal, and offers lots of bang for the buck. At just a tick under 40-inches in length, "yule" need a pretty long stocking!

MSRP: $249.99 – Available at 1800GunsAndAmmo.com for only $207.04.
4a – FEDERAL PREMIUM PERSONAL DEFENSE AMMO
Although a considerable portion of the populace keep shotguns handy for personal protection and home defense, many do not keep the proper ammunition at the ready with the weapon. The Federal Premium Personal Defense Ammunition was designed for this purpose. It features a load of #4 buckshot (24 pellets) in a 2-3/4 inch shell in the 20 gauge version. Packaged 5 rounds per box, you can stash several boxes in almost any size stocking.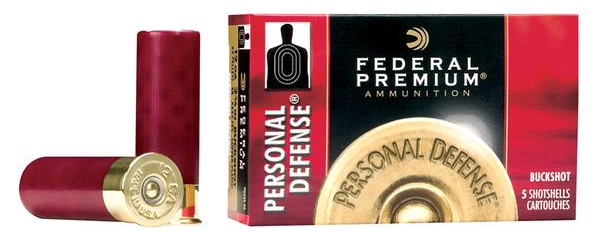 Available at 1800GunsAndAmmo.com for $14.16 per box of 5 rounds.
4b – FEDERAL PREMIUM PRAIRIE STORM UPLAND SHOTSHELLS
Federal was the first to bring the purposefully deformed pellet theory that gained popularity in their Black Cloud steel waterfowl loads to lead loadings for upland birds. Prairie Storm upland loads deliver a payload mix of 70% standard copper-plated lead shot topped with 30% of their FLITESTOPPER (dimpled/deformed) lead shot in their proven FLITECONTROL wad. Powered by a specially formulated propellant, the design of this wad ensures consistent patterning. This loading "produces full, consistent patterns and more pellets on target with less choke constriction" according to marketing claims. I know one thing for sure – with muzzle velocity of 1350 feet-per-second, the 20 gauge Prairie Storm 2-3/4 inch loads with 1-ounce of #6 shot are devastating on quail out to 60 yards! Upland hunters pack lots of ammo, so grab a 10-box case for maximum enjoyment – and be sure to nail that stocking securely to the fireplace mantle!
Available at 1800GunsAndAmmo.com for $33.84 per 25 round box.
5 – EBERLESTOCK UNDERCOVER & COMBAT OFFICE BRIEFS
You don't have to be a Clark Kent type to recognize a great brief(case) design. The Eberlestock Undercover Brief is the perfect tote for a 15-inch laptop or iPad, plus documents, office utensils, reading glasses and other personal gear. But what makes this 11-1/2"x15-1/2"x4" unisex brief special is the discreet, hidden concealed-carry holster/tapered pocket that can hold any handgun – from compact to full-frame automatic – in a place that's easy to access. The pocket is held closed by hidden magnets so access is silent, and positioned where it's unlikely to be noticed. This is also a great place to stash cash or a checkbook, and it provides quick access to a passport when traveling. And, if that executive-type on your gift list travels extensively or needs a little more room, the Eberlestock 13"x18"x5" Combat Office Brief with multiple compartments and pockets designed to accommodate the hassles of air travel may be just what they need.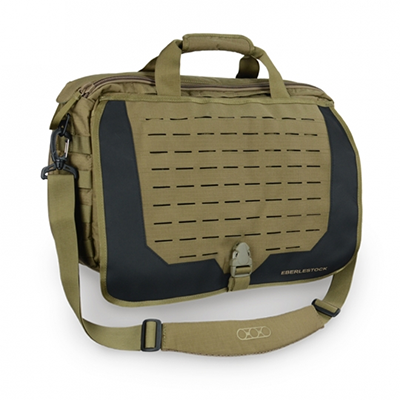 Undercover Brief is $99.00 and Combat Office Brief is $149.00. Both briefs are available at 1800GunsAndAmmo.com.
6 – CALDWELL BALLISTIC PRECISION CHRONOGRAPH PREMIUM KIT
A chronograph is one of those tools that every shooting enthusiast should have, but many never get around to buying one for themselves – thus, this makes a great gift. The Caldwell Ballistic Precision Chronograph is ideal for powder burning firearms, airguns, paintball and even arrows shot from bows. Simple to operate, the large LCD screen displays velocity in feet-per-second (FPS) or meters-per-second (MPS). Recorded data – velocity, notes, weather conditions – exports easily via SMS or email, with smartphone interface option using audio jack and 15-foot cable. Two extra wide sun shades facilitate use in bright conditions under full sun. Unit operates on 4 AA batteries or a 110-volt AC adapter. Premium kit includes; chronograph, tripod, two sun shades, two IR LED strips, 15-foot audio jack cable, 110-volt AC adapter, battery pack, LED strip splitter cable, four rods and carrying case.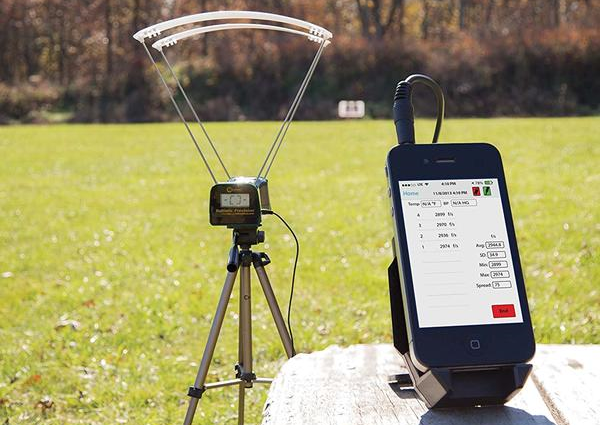 Available at 1800GunsAndAmmo.com for $127.25.
7 – BUG-A-SALT
Let's have a little fun. Correction… this contraption is a whole lot of fun. If there were a Stocking Stuffer Hall of Fame, the Bug-A-Salt would easily qualify! With the idea of killing houseflies at a distance without creating a mess, inventor Lorenzo Maggiore launched Bug-A-Salt in July 2012 with a public funding campaign on Indiegogo. Sixty days later, orders for 21,400 guns had been received! The plastic gun shoots a shotgun-like spray of regular table salt that stuns/kills flies and other flying insects from up to 3 feet away. When fully loaded, Bug-A-Salt delivers 80+ shots from its spring operated action with no batteries required! Product info includes a host of disgusting details about houseflies (EG; they carry over 100 different germs, responsible for spreading diseases like typhoid, dysentery, tuberculosis, bubonic plague, leprosy and many more). Accessories include a Bug-Beam Laser Sight adapter kit ($19.95), and High Performance Salt ($9.95) "ammo you can eat" featuring "the perfect grain size for the ultimate hunting experience."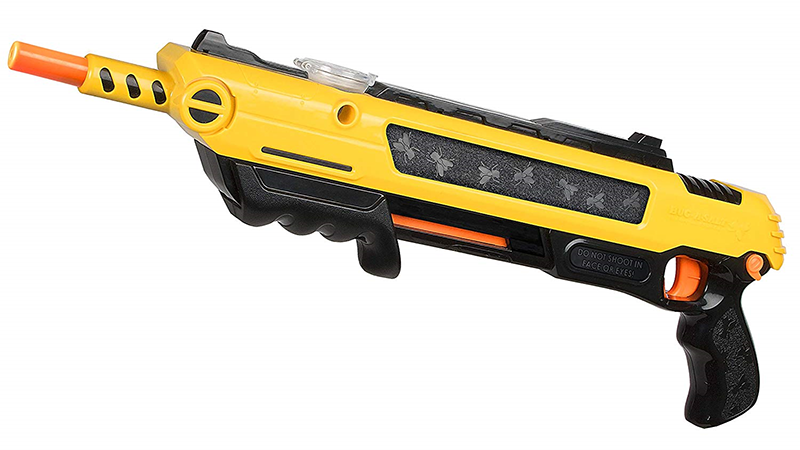 $39.95 each – Available direct from the manufacturer and other online retailers. Buddy Packs (2 guns) and 6-packs also available, so you can cover everyone on your list, and keep one for yourself!
8a – MACE PEPPER GUN with STROBE LED
Personal protection is a growing concern, and with today's political climate it's something that everyone need to consider… but many won't. Here's a great personal protection gift for that lady on your list – a Mace Pepper Spray Gun loaded with 10% oleoresin capsicum and ultraviolet dye. The pink spray leaves an invisible marker on the target, designed to assist law enforcement in identifying an attacker. Mace brand pepper guns provide distance defense with point-and-shoot accuracy. Featuring a dual mode LED light to distract attackers and facilitate aim, this little pink gun contains 28 grams of the hot pepper formula, delivering up to 7 shots with a range of 20 feet.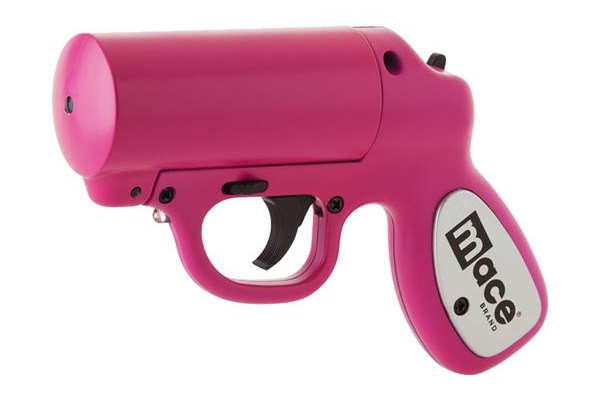 MSRP: $54.99 – Available at 1800GunsAndAmmo.com for only $36.60.
8b – UDAP SUPER MAGNUM BEAR SPRAY
Does that outdoorsman/woman on your gift list spend time in the wild where large predators roam? It's amazing how many people venture into the wild unprotected. Bear spray is the best non-lethal form of self-defense against dangerous predatory animals, and at 13.4 oz. UDAP Super Magnum Bear Spray is the largest canister available. Delivering 2% capsaicin and related capsaicinoids (CRC) in a stream with a range of 35 feet, this unit offers the greatest range and highest amount of spray volume available. Also perfect for those occasions when lefty-inspired Antifa militant protestors beat on your front door! Give the gift of safety this Holiday Season…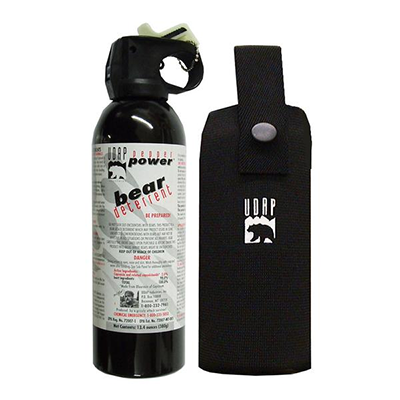 Available at 1800GunsAndAmmo.com for $54.99, hip holster included.
9a – WALKER'S GAME EAR – Razor Slim 22dB Black Electronic Quad Muff with BlueTooth
"Protect it or lose it" is the slogan of hearing protection market leader Walker's. It's a fact that even a single loud noise incident can cause permanent hearing loss. Every shooter should have and use hearing protection but sadly, many don't. Gifting a set of top line electronic ear muffs to that hunter or shooting enthusiast on your gift list shows that you care and may prompt their regular use. The Walker's Razor Slim Electronic Quad Muff boasts a noise reduction rating (NRR) of 22+ decibels and is loaded with features. These include: ultra low profile ear cups frequency tuned for natural sound clarity with low background noise, volume control, 4 hi-gain omni directional microphones, integrated communications mic, and Bluetooth synchronization with mobile devices.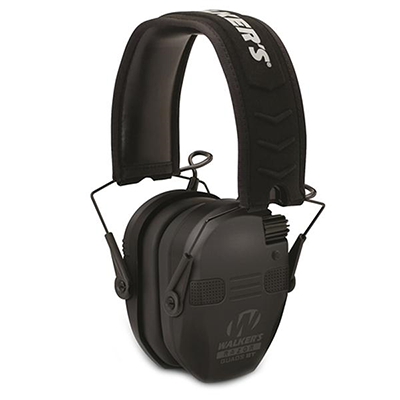 Available at 1800GunsAndAmmo.com for $66.74.
9b – WALKER'S GAME EAR – Youth Folding Muff
And, let's not forget the youngsters on your gift list… Designed to protect children's sensitive hearing, Walker's Youth Folding Muff (in pink) is ideal for babies and kids from 6 month to 8 years of age. Featuring a noise reduction rating (NRR) of 23 decibels, comfortable adjustable headband, and shamefully low price of $8.99, every child on your list that may be exposed to noise from firearms should receive one.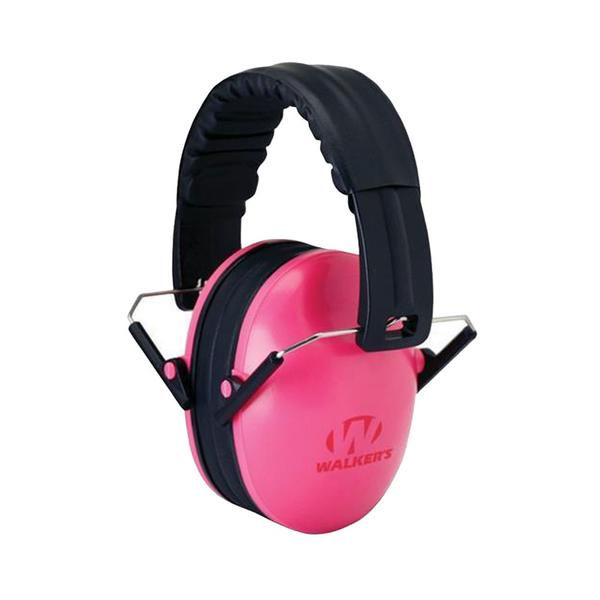 10 – KESTREL 5500 WEATHER METER
Here's another tool that every shooting enthusiast should have – particularly if their interest includes long-range shooting. The meteorological data provided by a single hand held Kestrel weather and wind speed meter used to require expensive equipment that took up a truckload of space. Today, Kestrel wind meters and weather trackers are as small as a mobile phone, and the 5-inch long Kestrel 5500 Model weighs just 3.6 ounces. This advanced unit tracks nearly 20 different weather parameters, and it can record the data for later analysis. The extraordinary range of uses for Kestrel instruments have made them required equipment in a wide range of professional settings. If that special person on your list is an outdoorsman/woman, hunter, mountaineer, firefighter, farmer, pilot, sailor, teacher, scientist, HVAC tech or just a weather enthusiast, gifting a Kestrel 5500 will brighten their day, and the day after, and the day after… Featuring a high-resolution screen with easy-to-read backlit display, scratch- and break-resistant window, customizable data storage, and LiNK connectivity via Bluetooth for wireless communication to mobile devices and computers, the Kestrel 5500 is rugged, waterproof and warrantied for 5 years.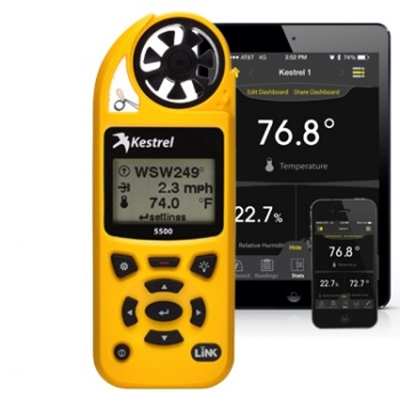 Available at 1800GunsAndAmmo.com for $399.00.
11 – SPOONZILLA by MOJO OUTDOORS
Whether your gift list includes duck hunters or not, MOJO Outdoors "Spoonzilla" is a great gift idea and a hoot to boot! Advertised as "the most interesting decoy in the world," Spoonzilla makes a great addition to the home, hunting camp or decoy spread. It started as a joke on MOJO CEO and design engineer, Terry Denmon, when Ramsey Russell had a cartoonish spoonbill head carved and attached to a MOJO spinning wing decoy (SWD). Russell (who shoots spoonbills) made several social media posts needling Denmon (who does not shoot spoonbills) that went viral, and requests for the "Redneck Spoonbill" poured in. In response to the demand MOJO developed the fully functional decoy on their Elite Series platform, featuring a structural housing, flexible body and feet, ultra realistic paint scheme with fine detail that holds its color, and magnetically attached wings that are quieter, smoother, faster, and have longer battery life than other SWD's. Cam lock support pole and drop-in battery holder are included. Supply is limited.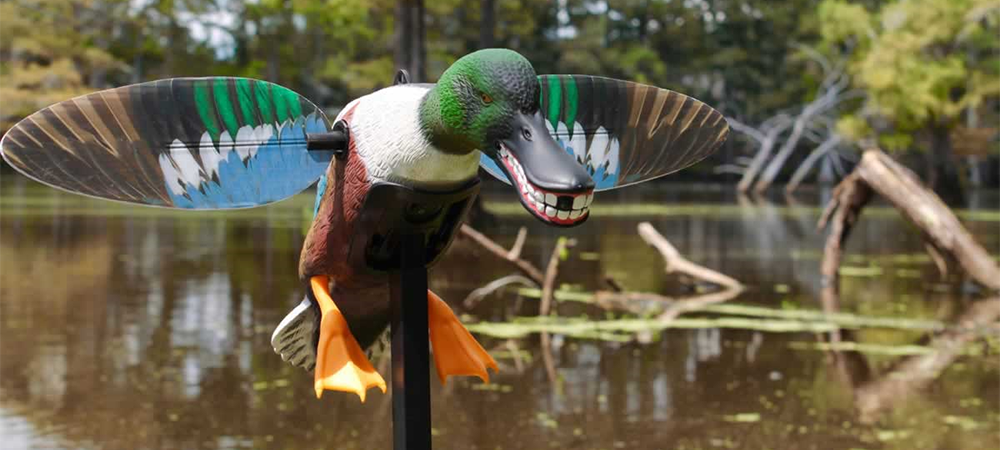 MSRP: $89.99 each.