Last Updated on
In the world of guns, few names command as much respect and recognition as SIG Sauer, a go-to brand for military and law enforcement agencies as well as civilian shooters. But SIG Sauer's expertise isn't just limited to firearms. It has also carved out a niche in the world of optics and electro-optics, earning an equally impressive reputation. In this article, we're going to explore the diverse range of SIG Sauer optics. We'll delve into their unique features and benefits, and see how they might just transform your shooting experience.
Table of Contents
SIG Sauer Scopes
SIG Sauer Red Dot Sights
SIG Sauer Reflex Sights
SIG Sauer Rangefinding Binoculars
SIG Sauer Scopes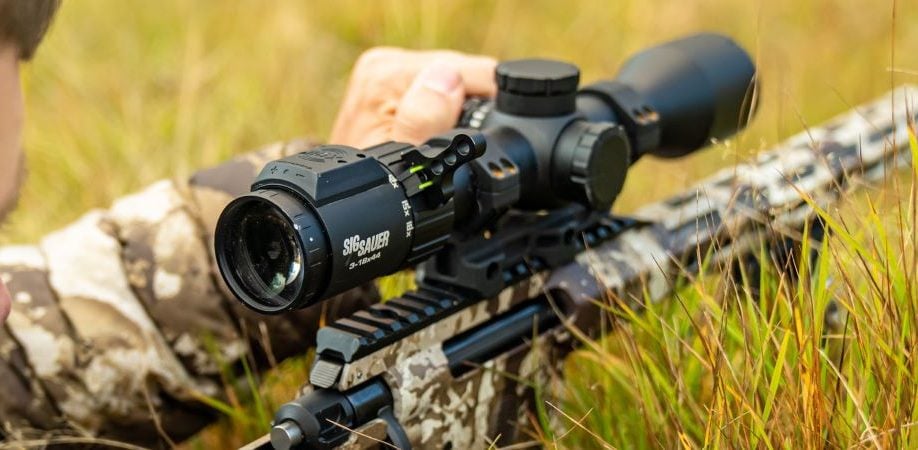 SIG has both hunting and tactical riflescope collections. But before we move on with a detailed overview, let's start by understanding the key differences between hunting and tactical scopes.
Hunting scopes tend to be lighter with simpler reticle designs, offering enough magnification for a clear shot without weighing down your rifle. On the other hand, tactical scopes are feature-packed, boasting complex reticle designs, higher magnification ranges, and robust turret systems for on-the-fly adjustments – all of which contribute to their heavier weight.
SIG Sauer Tactical Scopes: Tango6
Among SIG tactical offerings, two scope collections that stand out are the Tango MSR and the Tango6. The Tango MSR series of LPVO is a choice for those using 5.56 NATO AR-15 rifles, perfect for CQB scenarios, short-to-mid-range shooting, and fast-action shooting.
Then we have the Tango6 line-up. Primarily designed for mid-to-long-range tactical engagements, with models like 4-24x50mm and 5-30x56mm, this series also includes the SIG Tango6 1-6x24mm scope, a model selected by the U.S. Army.
Compared to the other SIG LPVO, this Tango6 scope is packed with tactical features like the Hellfire Reticle. It's an illuminated reticle system with advanced fiber-optic technology to deliver a high-precision dot with no visible "bloom." The Hellfire Reticle can automatically adjust brightness to match the ambient light conditions, from IR dim to super-bright.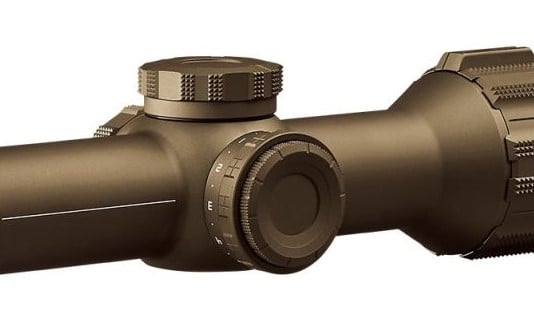 But here's the real kicker: between each brightness level, there's an "off" position. This clever feature allows you to select the appropriate brightness for your specific conditions and then turn it off with just a single click. When you need the illumination again, it's just one click away – no need to cycle through all the brightness levels. It saves time and allows for more convenient use, especially in rapidly changing lighting environments.
Stealth ID, another unique feature found in the Tango6 1-6x24mm scope, is a trapezoidal surfacing on the scope body inspired by the same principles used in the aerospace industry for the design of stealth planes. The primary benefit of Stealth ID is that it breaks up the shape and visibility of the optical device, making it harder to detect. For tactical shooters, this could provide a distinct advantage, allowing them to stay concealed while lining up their shot. Additionally, the rugged surfacing also enhances grip and handling in wet conditions.
So, if you're looking for the most advanced LPVO, the SIG Tango6 is the best you can get. However, the best optics always comes with a hefty price tag. So, if you want a more budget-friendly option, you'll be just fine with a Tango MSR. This series boasts weather-proof performance, illuminated reticle, and clear lenses and comes with a throw lever for quick magnification changes.
SIG Sauer Hunting Scopes: Whiskey3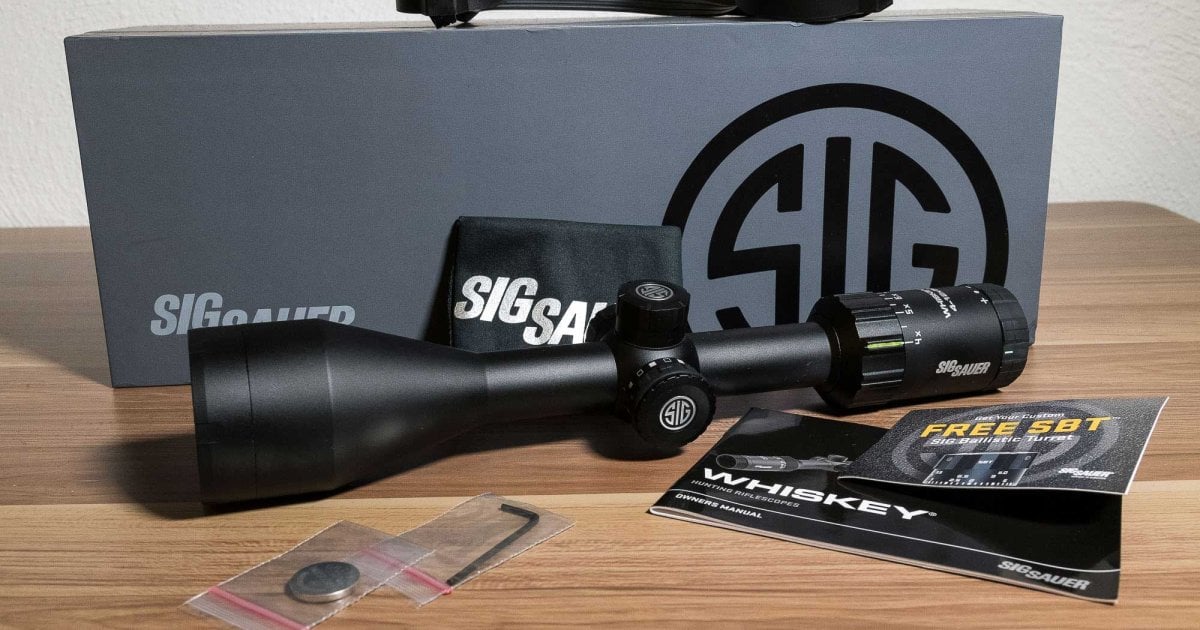 Now, let's touch on the SIG Sauer hunting scope collection, the Whiskey series, which includes the Whiskey3, Whiskey4, and Whiskey6. The number here denotes the zoom capability – so, for instance, the Whiskey3 offers a traditional "three times zoom," while the Whiskey4 scopes range from 3-12x to 5-20x.
The SIG Sauer Whiskey3 4-12x50mm is probably the most popular SIG hunting scope. To explain why, let's compare the Sig Sauer Whiskey3 4-12x50mm to another affordable SIG scope, the SIG Buckmasters 3-9x40mm.
First, the Whiskey3 4-12x50mm is a versatile scope designed for medium to long-range engagements, while the 50mm objective lens allows for excellent light transmission in low-light conditions, ensuring a bright and clear image. The Whiskey3 is also waterproof and fog-proof.
On the other hand, the Buckmasters offers a more humble magnification range of 3-9x, which is more suitable for short to mid-range shooting. Admittedly, that's enough for most hunting scenarios. The 40mm objective lens, however, is inferior in terms of light transmission.
In terms of additional features, the Whiskey3 offers a free SIG Ballistic Turret (SBT), a custom lasered elevation dial calibrated to the shooter's unique ballistics. It can be a significant advantage for shooters who want to make accurate long-range shots without having to manually adjust for bullet drop. In addition, it boasts SIG's premium crystal-clear lenses and an illuminated reticle.
What both have in common is 3x magnification in the second focal plane. In an SFP scope, the reticle is located behind the magnification lens, which means that as you adjust the magnification level, the size of the target image changes but the size of the reticle remains constant. That's an advantage for hunting, where fixed-distance shots are common.
As you can see, while a 3-9 scope is often considered the golden standard, it's always worth exploring something better.
SIG Sauer Red Dot Sights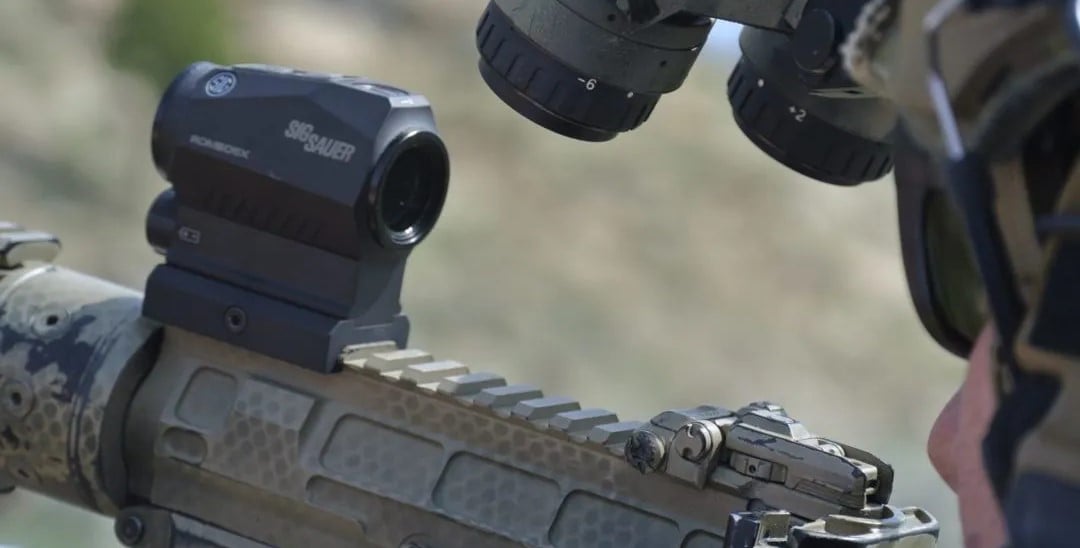 Choosing the right sighting system for your rifle can feel like navigating through a maze, with an array of options like traditional scopes, low-power variable optics (LPVOs), and red dot sights.
A traditional scope is best suited for longer-range shooting where precision is paramount. On the other hand, an LPVO offers the best of both worlds, providing the option to adjust magnification levels starting from true 1x, which makes it versatile for both short-and medium-range engagements. Finally, we have the red dot sights, non-magnified optics designed for quick target acquisition with both eyes open, making them perfect for close-quarter combat or fast-paced shooting environments.
SIG's line-up includes several red dot sight designs. Take the Romeo MSR – it's a compact, pocket-friendly option that doesn't skimp on quality. Then, there's the Romeo4 series which stands out with its variety of reticle options, including a unique circle dot. Next up is the Romeo5, famous for its motion-activated illumination system, or MOTAC, and a generous field of view. The Romeo7 boasts a total of 12 brightness settings, making it a reliable companion no matter the time of day. And let's not forget the Romeo8, built tough, ready to brave harsh environments while offering four different reticle options, each tailored for specific shooting scenarios.
Romeo5 Red Dot
If you're looking for the best value for money, you probably should consider the Romeo5. It features an illuminated 2 MOA dot with 10 brightness settings (including 2 NV), it's fog-proof and waterproof up to 1 meter, and comes with an integral Picatinny mount. The Romeo5 also employs SIG Sauer's innovative Motion Activated Illumination (MOTAC) technology. This feature powers up the sight when it senses motion and powers down when idle, with 2 minutes of inactivity. This not only conserves battery life but also ensures the sight is instantly ready when you pick up your rifle. In terms of performance, the Romeo5 is effective up to about 150 yards. A high riser is ideal for AR-15 rifles.
Romeo Meets Juliet: SIG Magnifiers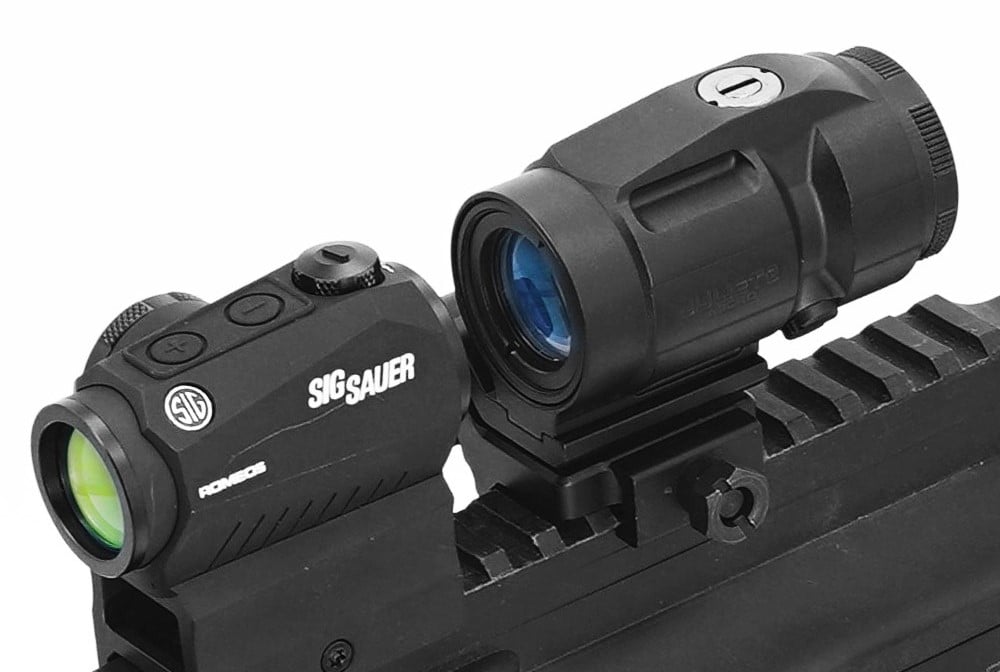 There may be times when you need to stretch your range further than what a standard red dot sight can offer. This is where the SIG Sauer Juliet magnifiers come into play. Generally, magnifiers are designed to extend your effective shooting distance without swapping out your entire optic system. It brings us to the main advantage of a red dot + magnifier combo over a traditional scope or LPVO – flexibility.
With a red dot + sight magnifier setup, you can quickly switch between close-quarters and longer-range shooting. Red dot sights can still leave something to be desired at distances up to 200 yards, but when you introduce a magnifier into the mix, this game changes dramatically. Suddenly, that distant 200-yard target becomes significantly easier to see and to hit accurately. And in situations requiring rapid response at close range, you can simply flip the magnifier to the side. This versatility is not as readily available with an LPVO.
So, the SIG Sauer Juliet collection offers a range of magnifiers, from 3x to 6x. For many rifle shooters, a 3x magnifier hits the sweet spot, providing just the right amount of magnification to comfortably bring you to mid-range shooting while maintaining a compact and lightweight profile.
The Juliet3 3x magnifier is a prime example of this balance. It offers a generous field of view, an adjustable diopter for precise focus, and a quick-release mount for easy attachment and removal. The Juliet3 features SIG Sauer's renowned durability with its aircraft-grade CNC aluminum housing. Plus, it's waterproof and fog-proof.
In essence, the Juliet3 3x magnifier can be an invaluable addition to your shooting arsenal, extending the capabilities of your Romeo red dot sight.
SIG Sauer Reflex Sights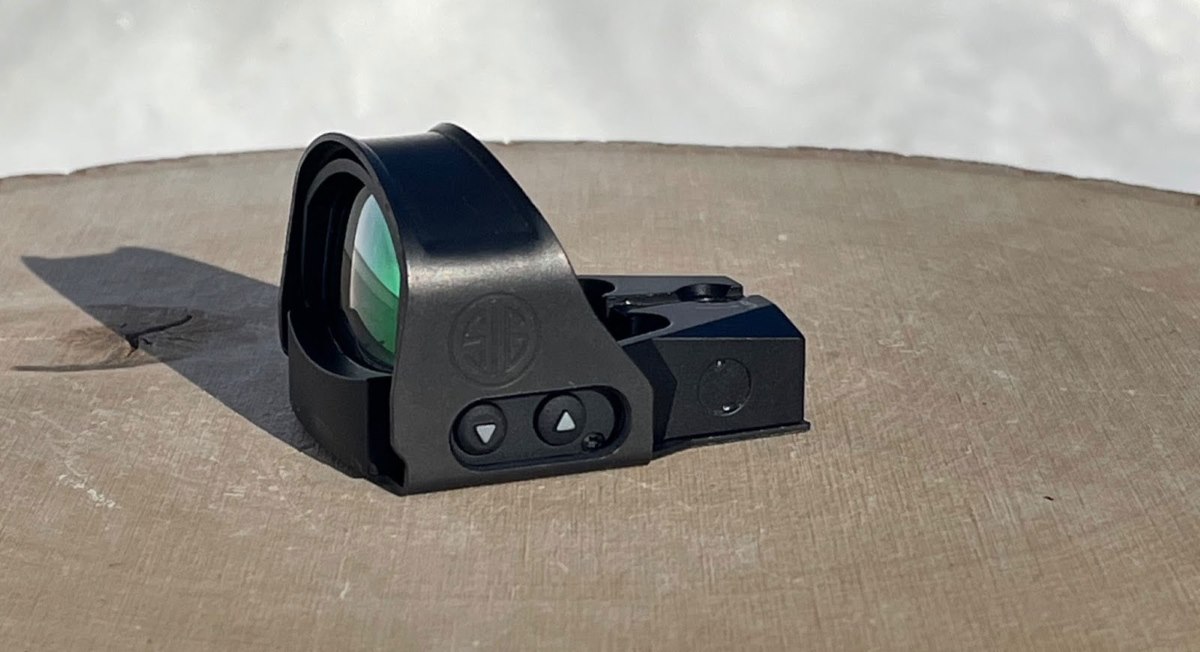 It's not uncommon to hear the terms "reflex sights" and "red dot sights" used interchangeably. Both use LED technology. However, optic manufacturers often distinguish between these two types based on their construction. In essence, the term "red dot sight" is typically applied to reflex tube sights. On the other hand, "reflex sight" is often used to describe open sights, distinguished by their exposed, non-tubular design.
One of the major benefits of an open-style reflex sight is the unobstructed field of view it offers. When using these sights, you become less aware of any obstructions to your vision, allowing for quicker target acquisition.
Each SIG Sauer reflex sight stands out for its unique features and capabilities, catering to various shooting needs. The Romeo Zero, for instance, is a micro-open reflex sight ideal for concealed carry pistols. The Romeo M17, a massive sight developed to pair with the U.S. Army's M17 full-size handgun, provides excellent optical clarity and brightness settings. The Romeo-X military sight features a slimmer housing, which makes it more suitable for EDC pistols. The Romeo3 is a weather-proof professional-grade sight.
Romeo1Pro Sight
If you're on the hunt for a high-end SIG optic for a handgun offered at a budget-friendly price, you may want to try the SIG Romeo1Pro reflex sight, a lightweight, handy, and ergonomically designed device compatible with P320 pistols and all PRO-CUT slides.
Weighing in at a mere 1oz, the Romeo1Pro is perfect for those who prefer to keep their pistol light. The CNC-machined aluminum body is robust, durable, and water- and fog-proof, offering combat-level resistance to protect your sight against external damage. Its 30mm aspherical lens delivers a zero-distortion image, ensuring comfort for your eyes, and features coatings that reduce glare and improve light transmission.
The Romeo1Pro also uses TruHold technology. It employs twin adjustment springs that endure the recoil of a handgun, ensuring the sight returns to zero shot after shot.
The Romeo1Pro comes with a 3 MOA or 6 MOA dot. With a 3MOA red dot, the sight is perfect for longer-range targets, while a 6MOA dot is best for those who carry a compact P320 to use in a CQB self-defense situation.
The sight offers 12 brightness levels, including 2 NV, and the SIG's motion-activated illumination system. To further enhance your shooting experience, the sight features large push buttons for quick brightness adjustments.
Finally, the top-loading battery compartment makes changing batteries a breeze. No tools are needed – just open the compartment, replace the battery, and continue shooting.
SIG Sauer Rangefinding Binoculars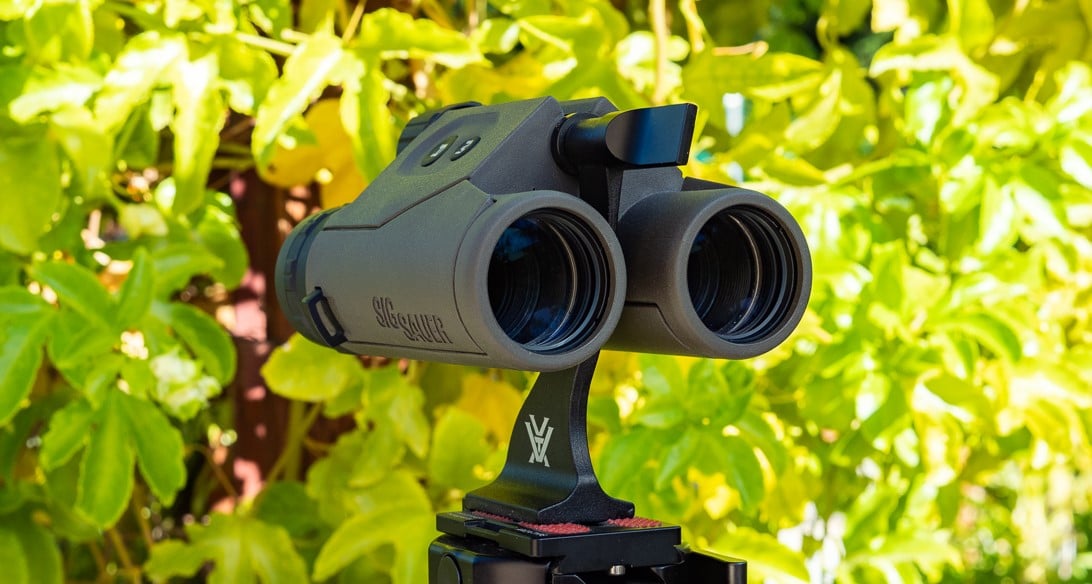 Investing in a quality rangefinder and binoculars can certainly put a dent in your budget. But what if you could combine the two into one compact, high-performance device? This is where SIG Sauer's rangefinding binoculars come into play, offering a practical solution for passionate hunters who don't want to pay for or carry more glass than they really need.
Of course, SIG Sauer offers a range of traditional rangefinder monoculars and standard binoculars, but it's the Kilo rangefinding binoculars that truly stand out.
Take the SIG Sauer Kilo6K HD as an example. This model merges a 10x42mm binocular (there are versions in 10×32 and 8×32) with a 6000-yard rangefinder, capable of accurately ranging a deer up to 2,000 yards. But there's much more.
SIG has integrated its Ballistic Data Xchange Technology into the Kilo6K HD. This technology uses low-energy Bluetooth with an embedded ballistic calculator (ABU) that provides ballistic solutions out to 800 meters. The Kilo6K HD also supports Applied Ballistics External (ABX), which allows the Kilo to be paired with an external device like Kestrel Elite or Garmin Foretrex for more precise ballistic solutions beyond 800 meters.
The Kilo also pairs seamlessly with the free BDX App, allowing for syncing custom gun profiles and environmental conditions (yep, the bino features environmental sensors, too) to your Kilo and any BDX-enabled riflescope.
Of course, the optic offers line-of-sight or angle-modified range, with measurements in yards or meters to tenth Y/M resolution, displayed on an advanced segmented OLED display along with full ballistic holdover and windage results. The display automatically calibrates the brightness according to changing ambient light conditions. Another great thing about this SIG Sauer optic device is that it provides four range updates per second in scan mode and reports the last range result when ranging distant targets.
As you can see, SIG Sauer rangefinding binoculars offer a cost-effective and efficient solution for hunters and shooters, combining the functionalities of a rangefinder and binoculars into one easy-to-use device.
FAQ
Where are SIG scopes made?
SIG Sauer optics are designed in the United States and manufactured in various locations including the U.S., Japan, and the Philippines. For instance, the Tango scopes are made in the U.S., but Whiskey and Sierra are not.
What SIG Scope does the U.S. Army use?
The U.S. Army has adopted the SIG Sauer Tango6T 1-6x24mm riflescope for their Squad Designated Marksman Rifles. The Tango6T has been ruggedized and optimized for military use, providing reliability, durability, and optical clarity.
How good are SIG Sauer optics?
SIG Sauer optics are highly regarded for their quality and performance. They offer a wide range of options to suit different shooting scenarios, from traditional scopes for long-range precision to red dot sights for quick target acquisition. Notably, their optics are used by military, law enforcement, and civilian shooters worldwide, which speaks to their reliability and effectiveness.