Last Updated on
There has been a lot of talk lately with SIG Sauer as the hero of the occasion. It's not the first time the brand has been involved in the controversy; it probably won't be the last. But such is the essence of big business. What is important in moments like that is to remember where people and companies come from. A single alleged mistake shouldn't be able to cross all the previous accomplishments and merits. We offer you a trip down memory lane to learn the history of SIG Sauer. 
Table of Contents
The Origins of SIG
First SIG Pistols
Becoming SIG Sauer
SIG Sauer in the USA
SIG Sauer in the New Millenia
The Recent Challenge
Conclusion
FAQs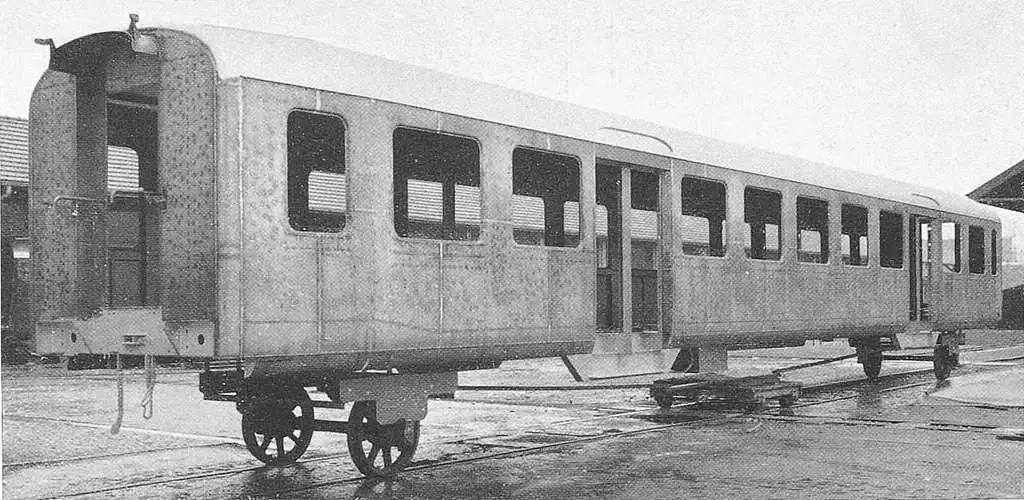 The Foundation of Schweizerische Waggonfabrik 
The year is 1853. The world is rapidly industrializing, steam engines are transforming travel, and the railway industry is booming. Amidst this era of innovation and transformation, three visionaries – Friedrich Peyer im Hof, Heinrich Moser, and Johann Conrad Nehe, decided to form a company in Switzerland called Schweizerische Waggonfabrik.
Their focus? Building ​top-notch railway cars. The trio ​brought a compelling mix of ​expertise to the table – engineering​ prowess, financial acumen, ​and entrepreneurial spirit. They were ​all set to make their mark in the ​railway industry. But then something unexpected ​happened. 
Just six years into their ​venture, they made a pivot that would forever change ​the course of their journey. The year was 1859, ​and the Schweizerische Waggonfabrik​ took a detour from the ​railway tracks and​ ventured into an entirely new ​field – firearms.
Switzerland's Federal ​Ministry of Defense was to adopt a ​new rifle and launched a competition ​to find a fitting one. ​The trio dove headfirst into their new endeavor, ​inventing their first firearm – the Prélaz-Burnand system. ​This wasn't just any old gun; it was a marvel of its time, ​a testament to the company's innovative ​spirit and engineering excellence.
Fast forward to 1864, and ​their bold pivot had paid off big time. The ​Swiss government, recognizing the superior quality​ and innovation of their firearms, awarded them a ​contract for a whopping 30,000 rifles. This marked a ​significant turning point in the history SIG Sauer , signaling ​their transition from wagons to​ weapons.
To reflect this ​shift, they changed their name​ to SIG (Schweizerische Industrie-Gesellschaft), marking​ the birth of a legendary firearms manufacturer. From railway ​cars to rifles, who could​ have seen that ​coming? But, as we'll see, this was just the ​beginning for SIG.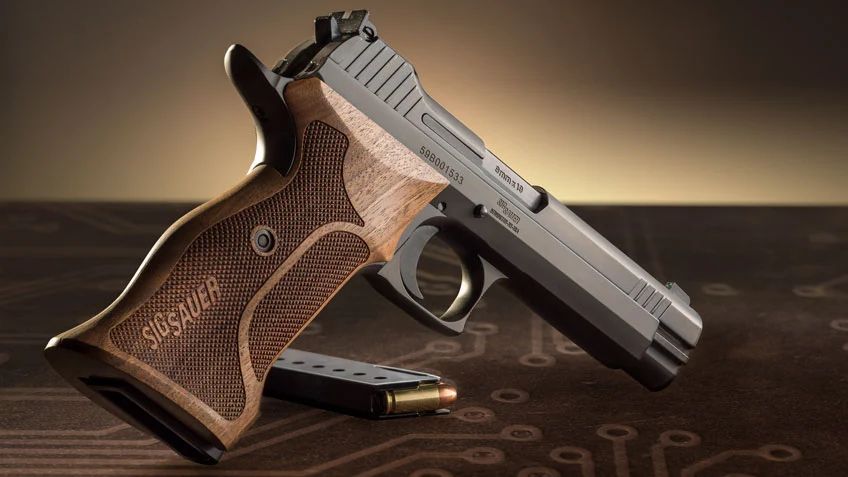 First SIG Sauer Pistols
Pistols weren't originally the primary focus of SIG Sauer. The premise of their future success saw the light of day in 1894. SIG, already an established name in firearms, decides to venture into uncharted territory – pistols. This early foray laid the groundwork for what was to come. But it wasn't until 1949 that SIG hit its stride with the SIG P210. 
Loosely patterned around the French Model 1935 handgun, the P210 took the gun world by storm. Its exceptional accuracy, reliability, and build quality set a new standard for service pistols. It's still treasured by enthusiasts and collectors today, so the people of the 20th century had no chance of resisting its charms. The Swiss military adopted it as P49.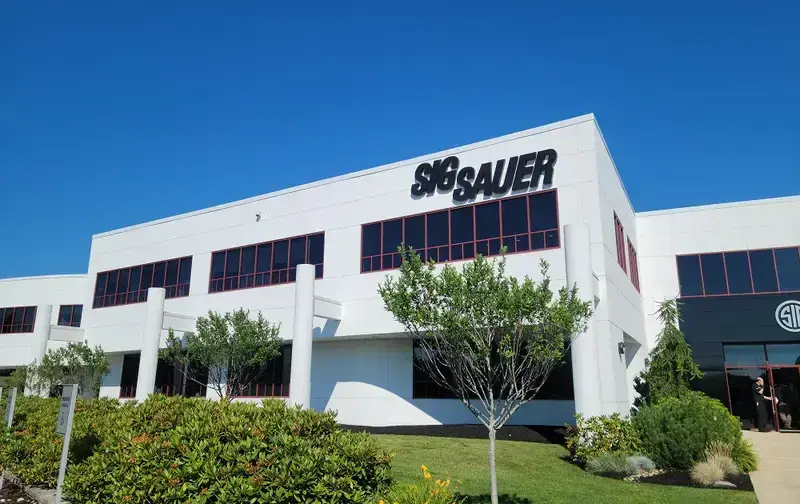 Becoming SIG Sauer
The U.S. is a coveted market for any firearm manufacturer, so SIG's arrival was only a question of time. The markets of other European countries were ready for SIG even earlier than that. But there was a catch. Swiss law bans any firearm company from exporting their goods unless the company has a foreign partner. So, SIG needed to find one. And J. P. Sauer and Sohn was a great choice.
Both companies brought their unique strengths to the table – SIG with its innovative designs and Sauer with its 200 years of experience in firearm making. Together, they formed SIG Sauer as we know it today.
Their first joint creation, the SIG Sauer P220, was a runaway success. This semi-automatic pistol showcased the best of both worlds – Swiss precision and German engineering. It was more than just a gun; it was a symbol of their shared vision and passion for excellence. The gun boasted an innovative double-single-action trigger mechanism and a decocking lever as a safety measure in addition to a plethora of other features that made it a people's favorite.
SIG Sauer in the USA
Only in 1985 SIG Sauer crossed the Atlantic and established an American subsidiary called SIGARMS, Inc. The first guns imported and sold were the P220 and P230 models. Since then, SIG Sauer has grown exponentially in America: it moved its larger facility to Herndon, Virginia in 1987 and relocated to Exeter, New Hampshire in 1990. The company has even established a Training Academy. SIG Sauer has also introduced a variety of models in the US, including pistols P225, P226 and P228 and Blaser R93 rifle, further solidifying its reputation. Today, SIG Sauer has grown into the largest exporter of small arms in the U.S.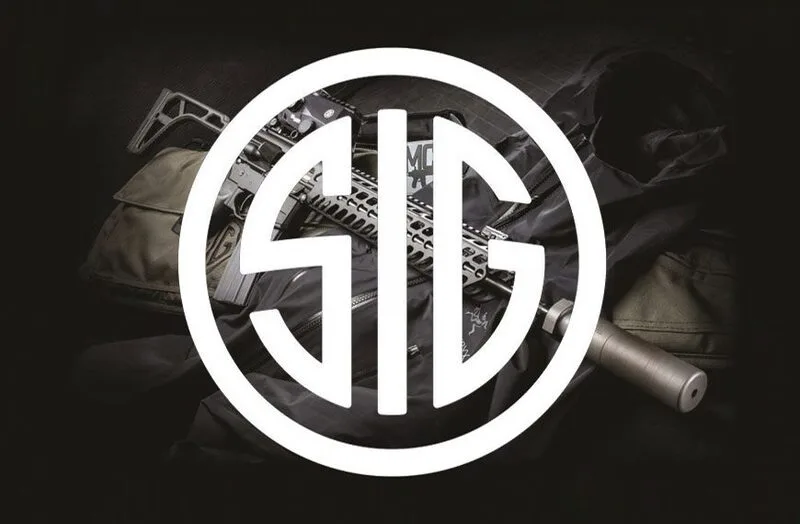 SIG Sauer in the New Millenia
The 21st century has been something of a roller-coaster in the history of SIG Sauer, marked by notable challenges, strategic shifts, and impressive growth. In the early 2000s, the company faced significant struggles. By 2004, SIG Sauer counted only 130 employees in five separate entities in Switzerland, Germany and America. The company was in perilous waters due to declining sales and profits. However, a pivotal decision made by the CEO Ron Cohen, saved the day. The​ company began producing AR-15 rifles, a​ move that not only saved the business​ but also propelled it to new ​heights.
This period of turbulence​ ultimately catalyzed innovation and ​expansion. All new SIG Sauer ​designs were now conceived​ and developed in the USA. That ​marked a significant shift for the​ brand, allowing them to ​cater more effectively to the specific​ needs of the American ​market.
By 2015, SIG Sauer ​had evolved far beyond its roots as a ​firearms manufacturer. The ​brand expanded its product​ line to include suppressors, ​optics, ammunition, and airguns. This diversification ​demonstrated SIG Sauer's commitment to providing ​comprehensive solutions for shooting sports ​enthusiasts, law enforcement, and ​military personnel.
In the years that ​followed, SIG Sauer continued to push the boundaries of ​innovation, maintaining its position as a leading player​ in the firearm industry. The company's journey through ​the 21st century serves as a testament to its​ resilience, adaptability, and relentless pursuit of ​excellence. In 2016, SIG's P320 won the contract ​to become the US military's primary handgun. No other pistol in the history of SIG Sauer has enjoyed equal popularity with the military and civilians alike.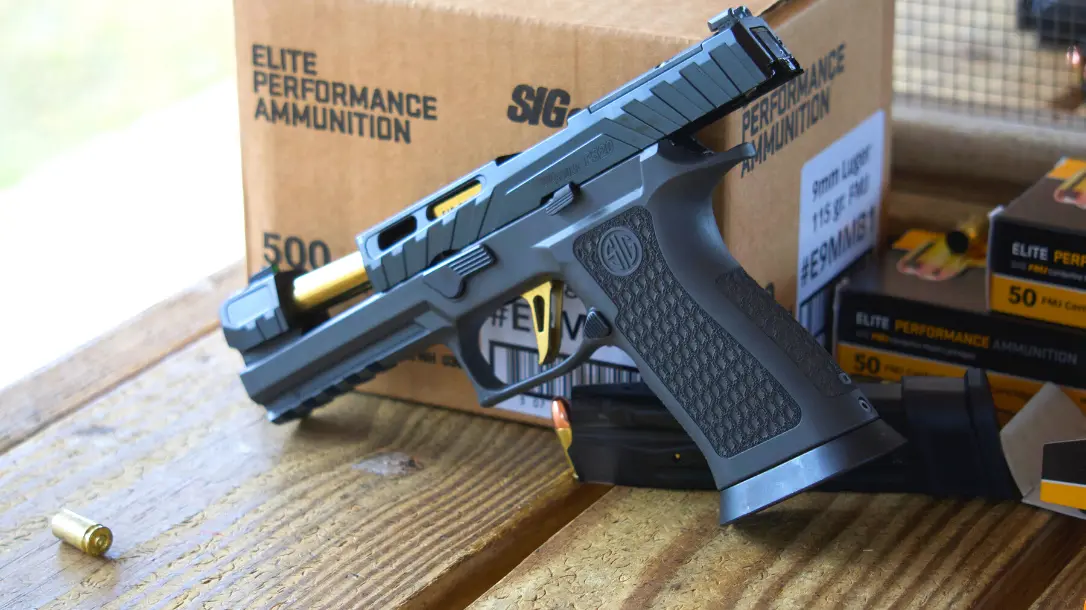 The Recent Challenge
The last year has ​been challenging for SIG Sauer, as the ​company had to navigate rough ​waters. SIG Sauer faced allegations that the​ P320 could unintentionally discharge. That sent shockwaves through the firearms ​community, as the P320 is a popular ​handgun model among law ​enforcement and civilian gun owners alike. About ​80 lawsuits followed, with plaintiffs across ​seven states, alleging that the P320 ​could fire while holstered. This serious ​safety concern resulted in increased scrutiny ​of the brand and its​ products.
However, it's worth ​noting that this issue was localized ​primarily in North America. Despite ​the P320 being sold worldwide, no ​such reports of unintentional discharges​ emerged from other ​countries. This geographical discrepancy ​raises questions about the factors​ contributing to these incidents ​and suggests that the problem ​might be more complex​ than it initially appears. You can​ read more on ​this topic in our​ article "Safety Concerns Surrounding the​ SIG Sauer P320".
Conclusion
In conclusion, ​the history of SIG Sauer is one of a ​bold venture into the unknown ​field and mastering​ it like few others can. It's a ​testament to the brand's resilience, ingenuity, and ​commitment to ​delivering high-quality firearms. Despite ​all the challenges, the company has ​consistently demonstrated ​its ability to adapt and innovate. ​From its early beginnings in Switzerland to its ​expansion into the U.S. and beyond, SIG​ Sauer has remained at the forefront of firearm​ technology and design. As​ SIG Sauer moves forward, it will ​undoubtedly continue to ​shape the landscape of the ​firearms industry.
FAQs
What was the first firearm produced by SIG Sauer?
The first firearm produced ​by​ SIG Sauer was a SIG P220 pistol. ​However, ​the company ​existed since 1864 under​ a ​different name and their first ​firearm ​was a Prelaz-Burnand 1860 rifle.
Which SIG Sauer firearm models have been most influential?
Some of the most ​influential SIG Sauer firearm models ​include the P220, SP 2340, P250, and ​the P320.
Where are SIG Sauer firearms made?
SIG Sauer firearms are ​manufactured in both the United States ​and Germany. The U.S. ​production takes place in Exeter, New ​Hampshire, where they​ moved in 1990 to increase ​market share and begin manufacturing. Apart​ from that, SIG Sauer ammunition is made in ​Arkansas, while SIG Electro-Optics are ​made in Oregon.