By John Buol
Cool gifts for the upcoming holiday season.
It's that time of year again! Here's a list of gift ideas that your favorite shooter just may be yearning for or that you might add to your own list.
GLOCK, Inc.
1. Glock MOS
Handgun carry optics suitable for real world use are a thing. Red dot sights used to be the province of specialized, high-dollar competition guns only. For years, they were considered overly bulky, fragile, and too "Star Wars" for practical carry. Competition experience and development made reflex-type optics durable and readily available, which had them trickle down to field use on long guns.
IPSC Modified division pushed for anything-goes handguns that still had to meet reasonable size restrictions. Competitors began experimenting with the first generation micro reflex-type sights small enough to ride a reciprocating handgun slide. This experimenting and development led to micro sights durable, reliable, and available enough to be considered for routine carry use.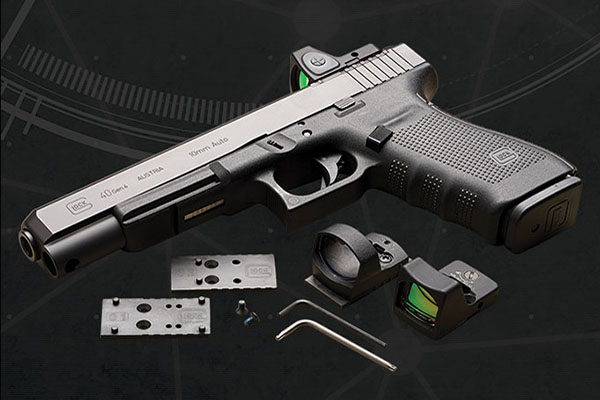 The problem switched from if to how as handgun carry optics remained a custom-only proposition. No longer. Glock's MOS (Modular Optic System) provides a factory standardized configuration consisting of four included plates that match up to nearly every suitable carry optic option. Select the appropriate plate that matches your optic, mount it to the slide with the two provided screws, then mount the optic as per the manufacturers instruction. The process takes a few minutes and no specialized tools are required. Plus, regular open sights are included and a matching cover plate can be used with no optic.
Glock MOS handguns offer a complete range of sight options for only a few dollars more than the open sight only equivalent, which is much less than the cost of custom machining an existing slide that will fit only one optic configuration.
Vortex Optics
2. Vortex Solo R/T Monocular
I was first introduced to the Vortex Solo R/T Monocular with reticle focus by several of my teammates on the USAR Marksmanship Program while shooting CAFSAC at the Connaught ranges near Ottawa. As a Service Conditions match, we were shooting out to 500 meters and needed optics to identify spotted shots on targets (which were usually scored silhouettes mounted on 2×2 inch sticks, not full-size six foot boards in target carriers) but had to conduct timed run down sprints between shooting points and yards lines while wearing full fighting order and carrying all the gear used. A quality optic capable of spotting targets and picking up mirage, yet small and lightweight for carry was essential. For other training uses, the ability to range targets and direct impacts of crew served guns via mil scale is useful. The Vortex Solo R/T Monocular is ideal for all of this.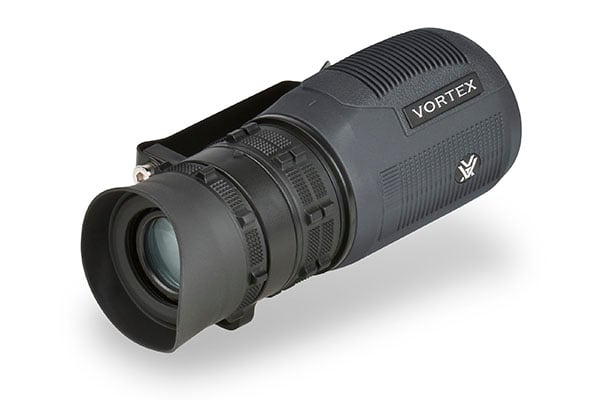 The Solo Monocular is a 8×36 optic with 18 mm eye relief and 7.5 degree (393 feet at 100 yards) field of view. At 10.2 ounces and 5.3 inches long, it is built to be carried close-at-hand. The Vortex R/T Ranging Reticle combines a milliradian scale with several E-type silhouette outlines for quick range estimation. An integral utility clip and rugged exterior makes the unit waterproof, fogproof, and shockproof, suitable for field use.
Galco International
3. Cobra Tactical Belt
A product improvement of Galco's Instructor's Belt, the Cobra Tactical Belt features a quick-release "cobra" style buckle. Made of Type 13 nylon webbing, five independent rows of stitching for extra rigidity, the 1.5-inch width and four available sizes to fit most shooters and is well-suited to all-day carry of even heavy handguns and accessories.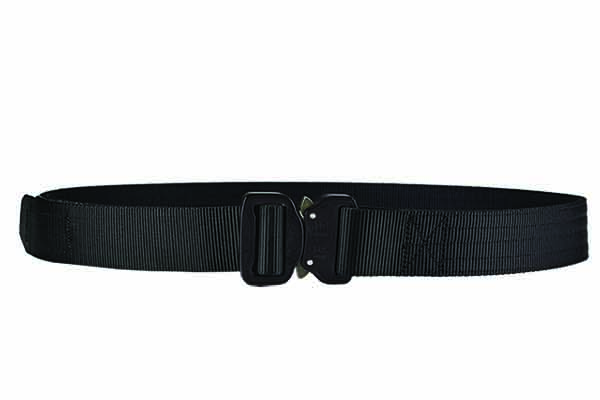 4. KingTuk 2 Holster
The next evolution of the popular KingTuk, this hybrid Kydex and premium steerhide holster provides a comfortable backer of lined saddle leather with Napa leather front combined with a rigid Kydex holster pocket for speed and easy reholstering. The KingTuk 2 integrates a Velcro-attached adjustable magazine carrier and has removable metal belt clips that can slide the holster up and down for improved fit. Optional C-Hooks offer an even lower profile on the belt for improved concealability.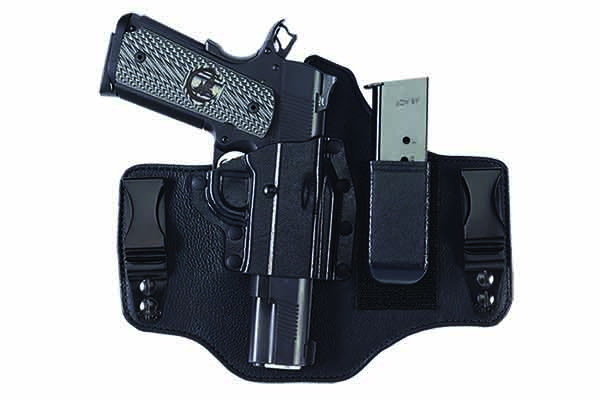 5. Corvus Holster
Made of Kydex, the Corvus can be used as a belt holster and inside-the-waistband design. The Level I retention, open top rig provides a fast draw and is adjustable for height and cant. Complete with 1.5 and 1.75-inch belt slots, this versatile holster is an excellent range speed holster and concealable carry rig.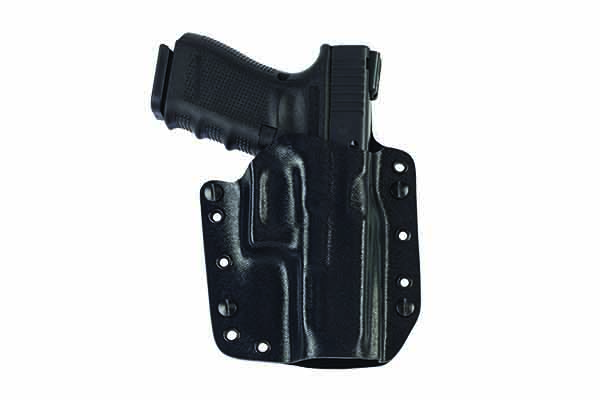 EOTech
6. G33 Magnifier
EOTech's G33 Magnifier is a 3.25x magnifier with an adjustable diopter that only increases the apparent size of the target and not the reticle. More compact than the previous G23, the G33 takes only 3.9 inches of rail space and offers 2.2 inches of eye relief with a 7.3 degree field of view. The Quick Switch to Side mount twists the magnifier out of the way allowing normal, unmagnified use of the EOTech holographic sight it pairs with, allowing effective short and long range capability. Service Conditions competition shooters have combined this with EOTech's 557 AR223 HWS Rifle Sight with BDC Reticle 4, creating an instantly-switchable 1x and 3.25x optic with BDC. Available in black and tan the G33 has an MSRP of $589.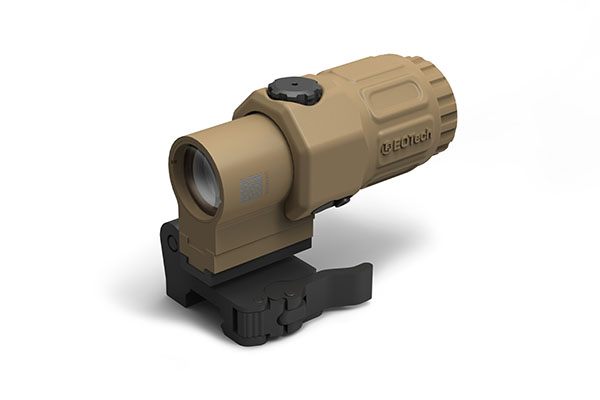 7. Integrated Tactical Shotgun LED Fore-End Light
The Integrated Fore-end Light (IFL) for the Tactical Shotgun features ambidextrous on/off pressure pads located on the texturized fore-end. Settings include constant on, momentary, strobe and off and the pads remain easily at hand for instant use. The integrated lights are available in either 125 or 200 lumen outputs, run for over 90 minutes of constant on with a CR123 Lithium battery and are waterproof to one meter. Designed to fit the Mossberg 500/590 and the Remington 870, the IFL has an MSRP of $269.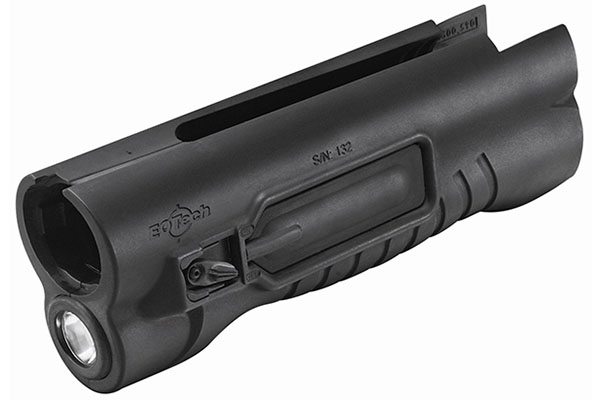 Trijicon
8. TA02 ACOG 4×32 Battery Illuminated LED Scope
One of Trijicon's newest ACOG (Advanced Combat Optical Gunsight) designs is the 4×32 battery-powered ACOG. The sight provides shooters six dialable levels of reticle intensity with a battery life of over 12,000 hours of red, non-forward emitting illumination from one AA battery. Previous models are illuminated with tritium and/or a light gathering fiber optic. The new battery powered version grants the ability to adjust reticle illumination on demand and is made with the same forged aluminum, waterproof/fog-proof, mil-spec construction as the rest of the ACOG line.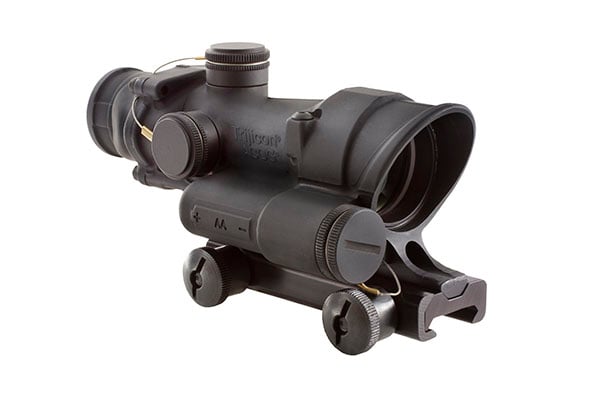 9. ACOG Crossbow Scope
More state game agencies recognize crossbows as legal arms for archery seasons, Trijicon has created an optic for them. The three power, 24 mm objective ACOG Crossbow Scope is a multi-coated optic with a tritium-and-fiber-optic illuminated range-finding reticle calibrated for crossbow ballistics. Users choose one of three reticle models depending on their crossbow's velocity. Reticle XB1 accommodates 300-340 fps, XB2 from 340-400 fps and XB3 accommodates speeds of 400-450. Given the proper reticle, zero at 30 yards and hold the corresponding crosshair for pinpoint accuracy out to 80 yards in 5-yard increments. Ranges can be estimated with the same reticle.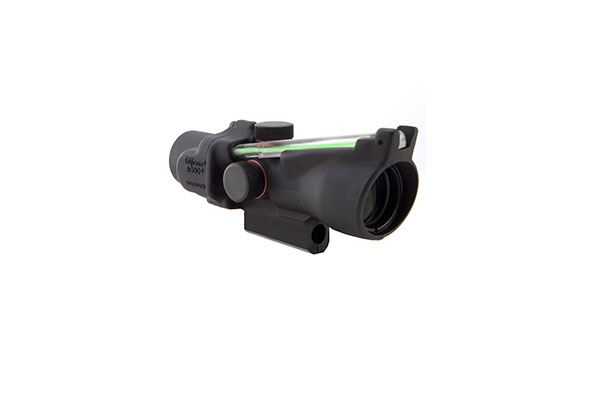 10. Trijicon SRS
Trijicon's SRS (Sealed Reflex Sight) is a 3.75 inch reflex-type sight designed to eliminate the "tube-effect" obstruction for clearer field of view. The LED lighted 1.75 MOA aiming point includes ten brightness settings – three for NVG use – and is dual powered by a solar panel and a single, common AA battery. This patented configuration allows years of illumination life from a single battery via a "solar assist" that only draws on battery power only when the solar cell requires additional energy support. The SRS is tested to the same requirements as the ACOG and is parallax-free and waterproof-tested to fifty meters.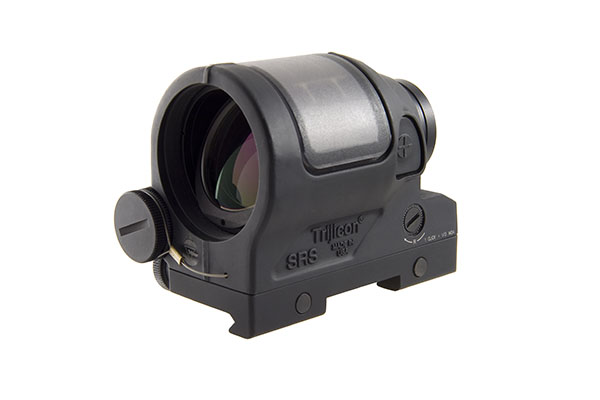 11. Trijicon TARS
The Trijicon TARS (Tactical Advanced Riflescope) is a 3-15x variable magnification, 50 mm-objective, illuminated-reticle optic designed for long range tactical and sporting rifles. With a 3.3 inch eye relief, overall length of 13.9 inches and 3-15x magnification, TARS features a patented illuminated-reticle system with 10 levels of intensity, including two for night vision use. Its non-forward emitting LED is powered by one CR2032 battery and provides 30,000 hours of use. Four reticle choices are available: MOA reticle (Model 101), Trijicon-exclusive JW mil reticle (102) and two duplex versions (103 and 104). All are located in the first focal plane, so subtension values remain constant across the magnification range.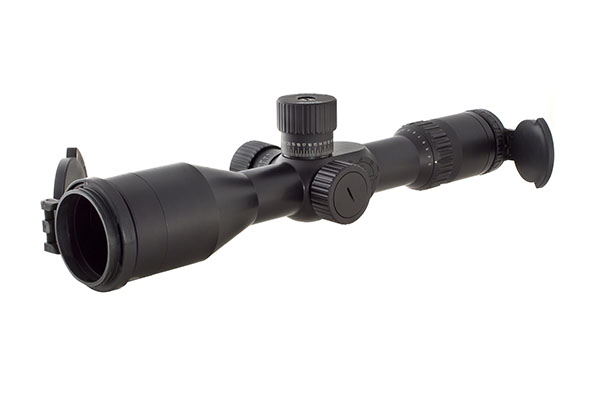 Mako/Meprolight
12. Mepro M21 Self-Powered Day/Night Reflex Sight
The M21 Reflex Sight provides constant, all-light aiming capability, without batteries. Designed through close collaboration with Israeli Special Forces, the M21 was the first reflex sight design to not require batteries and has been continuously improved upon as new technology emerged. The unit includes a dust cover and carry handle mount.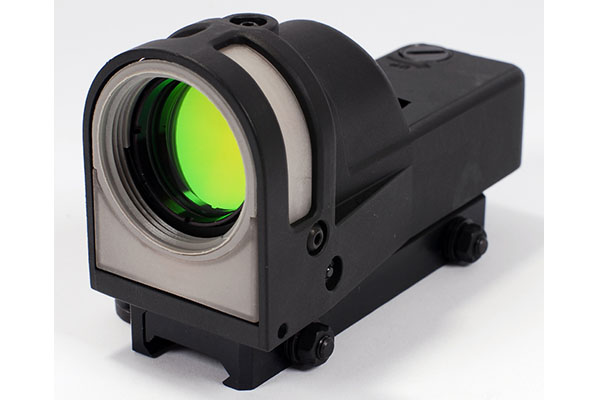 13. Mepro MOR Tri-Powered Reflex Sight with Laser Designators
Mepro MOR is an all-in-one electro-optical sight with reticle illumination powered by ambient light during daylight, by tritium during darkness, and by battery as needed to overcome difficult lighting situations. It includes built-in visible and IR laser designators. Both lasers and the reticle are zeroed simultaneously using a one zero system.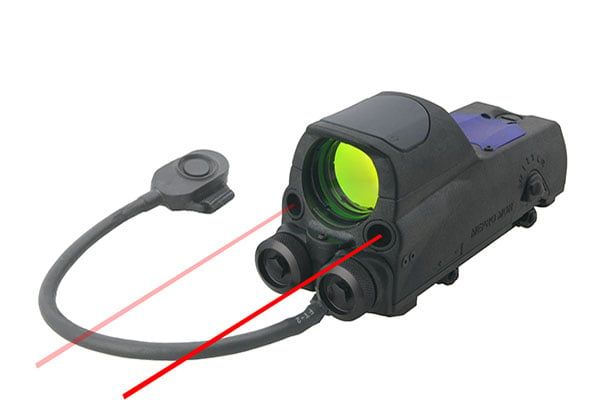 15. Mepro Grenade Launcher Sight
For the enterprising gun owner that truly has everything… the Mepro GLS is a dual self-illuminated optical sight for grenade launchers capable of mounting on a Picatinny top rail – alone or behind a reflex sight – or on a side adapter. In normal daylight conditions a collector tube concentrates available ambient light into a dot and projects it onto the sight lens and in darkness a small tritium light source powers the dot and elevation scale.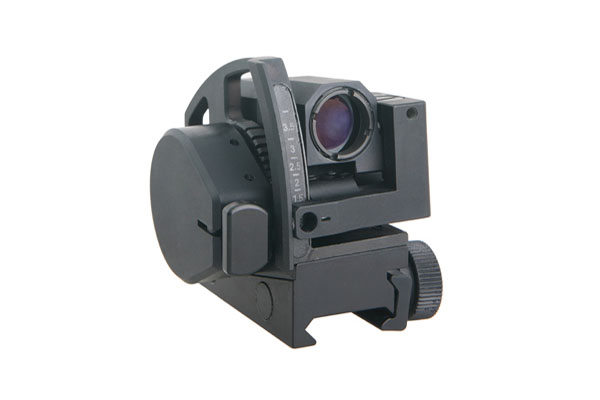 Blade-Tech
15. OWB Holster
Blade-Tech Outside the Waistband (OWB) holsters are among the most popular and versatile designs on the market today. These OWB holsters are suitable for concealed carry, duty use, personal protection, yet are fully competitive rigs and are worn by some of the best shooters in various competitive practical shooting sports.
Blade-Tech OWBs are good for two reasons. They are simple and they work. The base models give a reasonable range of adjustments and this can be added to as needed. OWBs can be had for any popular handgun model in right or left hand configuration for guns with or without rails and for accessories such as mounted lights.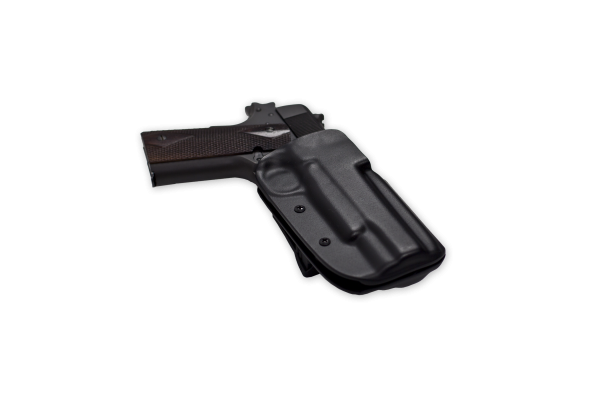 Mounting attachment options include a quick-on-or-off adjustable paddle mount with multiple cant options, Adjustable Sting Ray (ASR) loop with multiple cant options that accommodates belts with included shims from 1.25 to 2.25 inches, an adjustable three-inch duty loop to accommodate full-size standard duty belts, adjustable Tek-Lok that offers the security and rigidity of a full belt loop while being quickly releasable for on/off without threading the belt through and needing to remove other accessories in the process. All these mounting options are available in standard for easier concealability and dropped offset for quicker access.
In addition, the Ben Stoeger Pro Shop offers their BOSS DOH holster hanger, which converts the Blade-Tech OWB into a full-race competition holster with a complete range of adjustments that make it competitive and legal for multiple equipment divisions. The hanger is stable, instantly adjustable, and holds the pistol in legal positions and heights for multiple practical shooting events.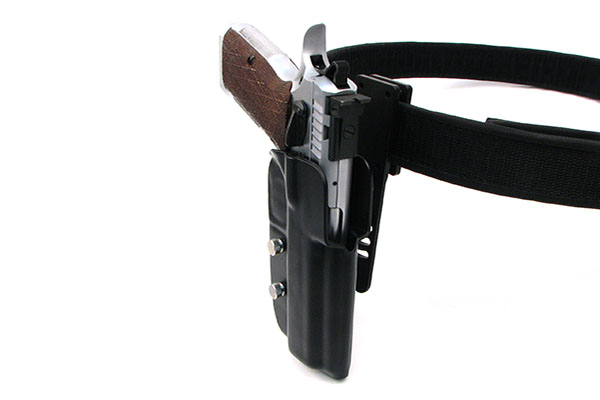 For more information on the Ben Stoeger Pro Shop BOSS hanger with a Blade-Tech holster for competition use, contact 866-374-4185, or visit http://benstoegerproshop.com.