In the optics market, there seem to be specific categories of scopes and common misconceptions about them. On the bottom of the spectrum, there are your "plinker" or "starter" scopes that come in blister packs hanging on peg hooks in your local sporting goods store. These are commonly accepted as the low budget scopes great for the .22 rifle shooter or sportsman just getting into hunting and spent most of the budget on the rifle to begin with. These usually range from $60 to $150. On the extreme opposite end of the spectrum, the tactical shooter and advanced technical hunter spend a large budget on rifle / scope packages with military grade optics and features commonly never used by the average hunter. With prices exceeding $1000+ on just the scope alone, the standard recreational hunter often wonders if these shooters have kids, light bills or house payments like you or me.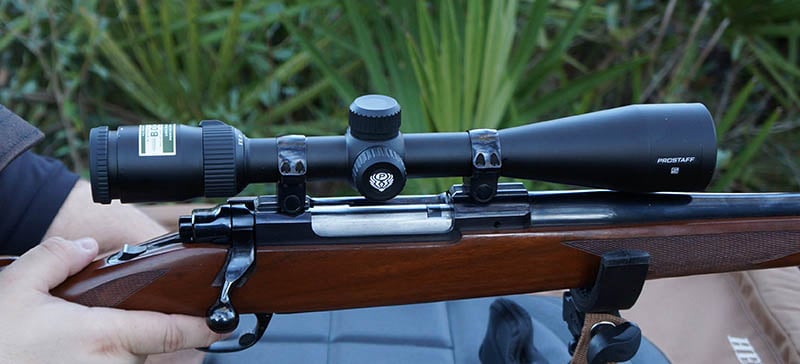 Thankfully, there is a happy and reliable mid-range scope market that offers quality options and well-built products that easily defeats the misconception of having to spend thousands of dollars to get something that won't fail you when that big buck is 200 yards out and waiting for you to take a shot. These mid-grade budget scopes range from $150 to $600 which has always been the bread and butter of companies like Nikon, who start their focus at this level. Several good features can be found in this category that are sadly marred by some lackluster products from lesser companies. This week, we take a look at the Prostaff 5 3.5-14×40 FFP scope which was built by Nikon to have quality and performance that exceeded its budget class price point.
First Look
The Prostaff series has been a solid fixture for years for Nikon consistently offering the highest quality for any scope in its price line featuring ¼ MOA adjustments, a quick-focus eyepiece and multi-coated optics glass. The newest version, the Prostaff 5 has really stepped up its game. While this series has been released in different variable zoom magnifications, the particular model tested ranged from 3.5-14 power with a 40mm objective bell. This model features a 1" diameter main tube allows for plenty of light gathering for late afternoon hunting while being able to be mounted lower to the barrel to cut down on the height over bore ratio.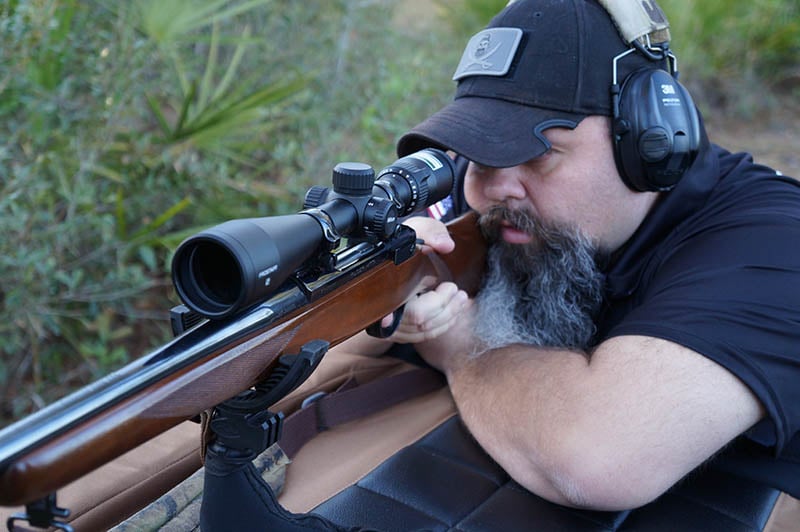 This version offers a crystal-clear reticle with BDC or Bullet Drop Compensation set on a highly-sought after First Focal Plane or FFP in which Nikon calls their BDC Distance Lock. With this feature, your reticle adjusts accordingly as you increase and decrease magnification. This allows for the use of the same holds to be used regardless of magnification power unlike the more common, yet normally much more affordable second plane reticle scopes on the market. This fact is one of the things that sets this Prostaff 5 apart from others in its class.
When used in combination with Nikon's Spot On application, shooters can choice their exact model scope, input their specific loads, what magnification level they will be using and distance zeroed. With the FFP reticle, shooters will not have to adjust for magnification in their onscreen date because the ratio of the reticle to the zoon will not change (this is a huge plus if you have experience using an apt like this with second plane scopes). Once this is accomplished, the shooter needs only to enter the distance from the target and press the "fire" button on the screen. Immediately, the screen will display the hold over information as well as approximately which distances corollate with the circles imbedded into the crosshairs.
SPECS
Model: Prostaff 3.5-14×40 mm Matte BDC

Length: 13.6"

Weight: 17.2 ozs.

Objective diameter: 40 mm

Magnification: 3.5-14

Tube diameter: 1"

Adjustment range: Elevation – 74 MOA Windage – 73 MOA

Adjustments: hand turn, ¼ MOA

Parallax: Adjustable (side) from 50 yards to infinity

Focus method: Fast-focus eyepiece

Eye relief: 4"

Reticles available: BDC, Mil Dot, Nikoplex

Suggested Retail Price: $359 – $369
Range Time
To get a good feel for the Prostaff's performance, I mounted it on my Ruger MK77 bolt action rifle chambered in .257 Roberts. This rifle served my Grandpa well for years as an excellent choice for hunting white tail deer in Eastern North Carolina. The rifle came into my collection upon his passing last year and became one of my prized possessions. With custom hand loads, I have seen this rifle produce 3 shot groupings resulting in a single jagged hole multiple times, so I was confident it would be a consistent platform for testing the Nikon Prostaff 5.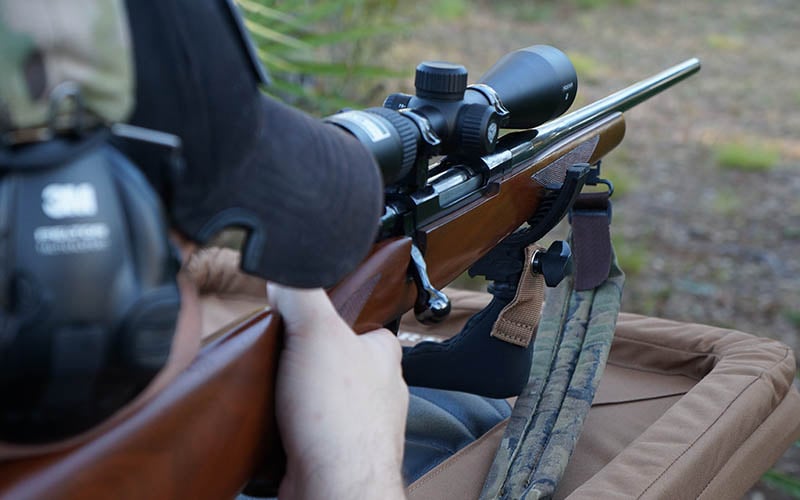 Once the Prostaff 5 was mounted and bore sighted, I took it to the local range to dial it in. The load I used for the range session was a 120 grain Nosler Partition by Federal Ammunition. Starting at 50 yards, my first three shots were touching in a tight group approximately 2 inches low and 1 inch to the right. I couple of quick clicks for windage and I moved out to 100 yards to zero the rifle. The side focus knob located on the left side of the scope keep the image of the target crisp and clear while sighting in. My next 3 shots were still very tight in a group and only needed a couple of clicks. The capped turrets offered very solid, clean clicks for adjustment which is often a rarity in this price range. I have regularly found "budget" scopes offer sluggish and dull feeling clicks.
Once my rifle was zeroed at 100 yards, I decided to bring up the Nikon Spot-On ballistic application on my laptop (yes, I carry my laptop everywhere along with a MiFi). The goal was to work up the distance formulas for stretching my shots out to 200 and 300 yards. I moved the target out to 200 yards and entered my data into Spot-On. According to the application, the first circle below the crosshairs would be dead on. I fired 3 rounds to confirm. Upon checking the target, my impact was ¼" high and to the right of the bullseye in a 1" group. I returned to my shooting bench and fired 3 follow up shots. These 3 were less than an 1" apart with the bottom of the grouping inside the bullseye and the top touching the first grouping slightly to the right. Gold star for Spot-On! The scope was easy to get on target and offered a clear view through the crosshair circle of the bullseye.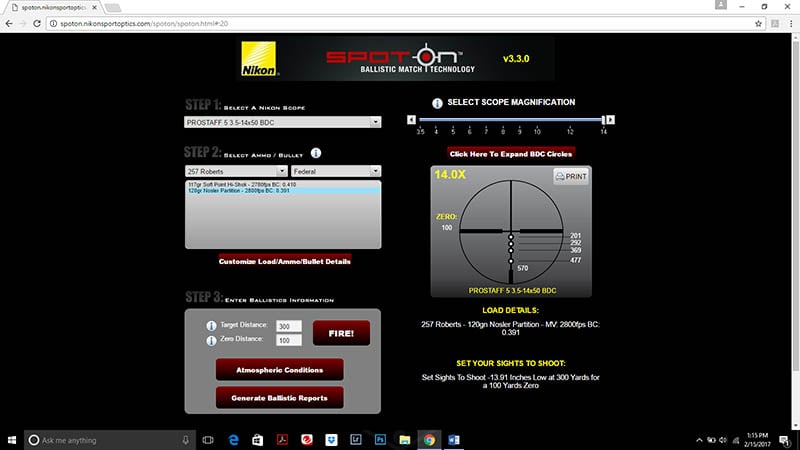 I then moved my target out to 300 yards and again entered my date into the Spot-On apt. The suggestion I received from Spot-On was, "Set Sights to Shoot -13.91 Inches Low at 300 Yards for a 100 Yards Zero". From the reticle display on the screen, the second circle down from the crosshairs would be 290 yards. I decided to hold the bottom of the circle onto the bullseyes and fire 3 shots. Upon inspecting my target after my brisk walk, I discovered my shots to be roughly 1" high of center holding a 2" group. I decided to follow up this group with a second round of 3 shots but this time holding dead onto the bullseye with the second circle. This group would have two shots touching the bullseye with a 3rd shot as a shooter error flyer 2" from the other two. Score another gold start for the Spot-On application as well as the sweet shooting Ruger .257 Roberts!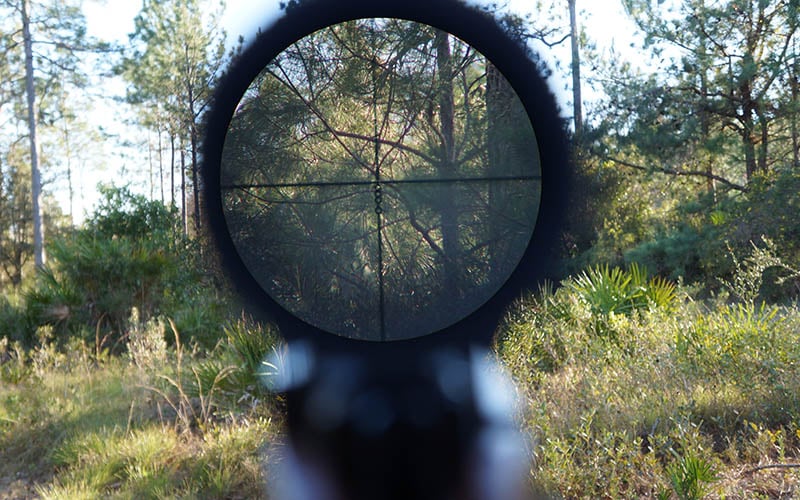 As the range day quickly passed by, I decided to wrap up and not push out to 400 yards mainly due to the limitations of the caliber and my feasible range of where I would be taking a shot on game using it. I found both the scope and Nikon Spot-On application easy to use and more than accurate to help get on target quickly for mid-size game and even elusive paper bullseyes. According to the Nikon website, optional Spot-On designed turrets can be ordered specifically for your rifle, load and scope which would make the process even easier and faster for shooters to use.
Final Thoughts
During my time using the Prostaff 5 3.5-14×40 FFP, I was surprised at the amount of top end features the scope offered. With having an extensive background with shooting high end rifles through hunting, teaching and as a former Law Enforcement sniper unit, I have been able to extensively use some of the top names in the optics industry. Through all those experiences, I have always recommended investing in top quality optics just as much as using quality rifles. While it's true, this scope is not built to jump out of airplanes and swim a mile to shore during a "secret squirrel" tactical raid, it is however built for real people with regular, everyday budgets. With the Prostaff 5 retailing around $360.00, I believe this scope is a top notch optic full of high end features at a lower end price tag which frees the buyer up to invest more money into a quality rifle it will be mounted to. If the Prostaff 5 3.5-14×40 FFP falls into your price range, I highly suggest giving one a try for yourself and enjoy the shooting luxuries traditionally reserved for the shooters with deep pockets.