Perhaps one of the biggest challenges for hunters in the wild is judging distance. Depending on the tool used, whether it be bow, crossbow, rifle, shotgun, or pistol, factoring in the wrong distance can mean the difference between a clean, humane kill and a complete miss. I have often met lifelong hunters who have practiced estimating ranges for decades and freely admit that changes in terrain can greatly complicate the task. For those who regularly hunt the same areas, physically measuring off distances and marking them has always been the best method. However those who hunt different areas may often not be an option. In these cases, hunters need to rely on a laser rangefinders. For those new to these products, selecting the right device can a bit overwhelming with a wide range of features, manufacturers and most importantly, prices.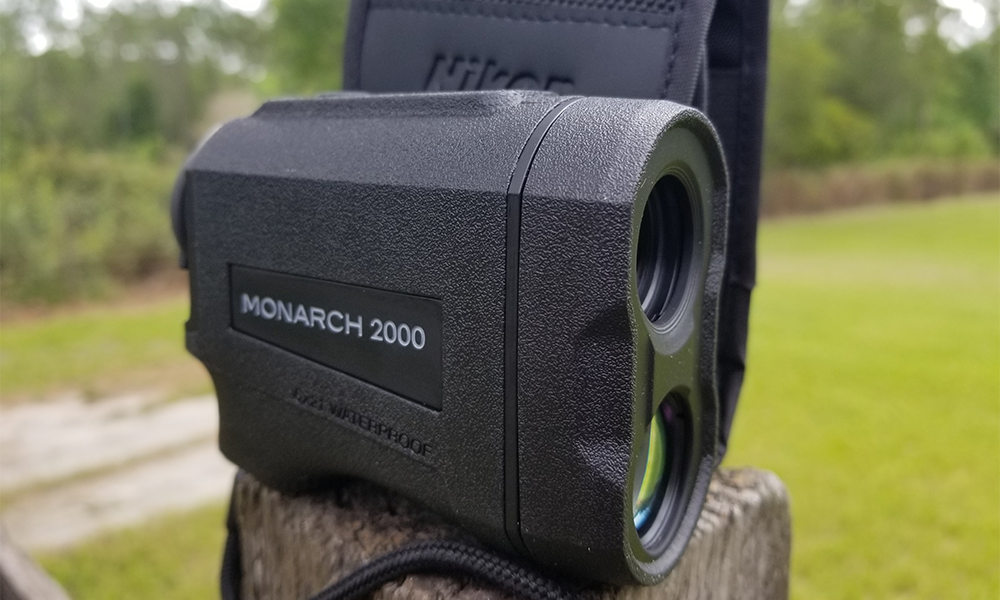 During my nearly forty years of hunting experience, two decades of that have been spent serving as either a SWAT sniper or Firearms Instructor. Over this time, I have seen rangefinders progress from the mechanical era to the modern digital age of laser technology. Every year, it seems companies release new devices with even more bells and whistles than the next, complete with a larger price tag.
Truthfully, the average user will only need the basics such as exact range and angle compensation for shooting up hill or down. So why pay for features you don't need? Recently, I was asked to review the new Nikon Monarch 2000 Rangefinder. After spending a few weeks with it during my outdoor excursions, I already knew it was a winner. To my delight, what I discovered was a budget friendly rangefinder that offers everything a shooter will need for the routine hunting trip. In this article, we'll look at why we enjoyed testing this product.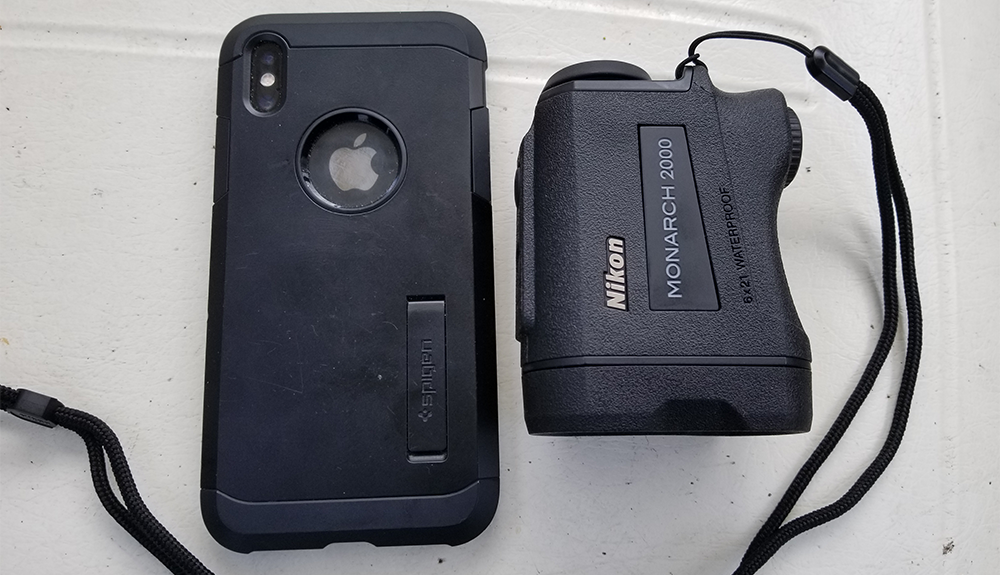 First Impressions
When the rangefinder arrived at my office, it was in a small box with Nikon logos and a photograph of the product on top. As I opened the box, I saw the small user's manual along with the rangefinder securely housed inside a carrying case. As I removed these items, I discovered a CR2 battery, carry strap and a Nikon Sport Optics five-year warranty card underneath. After I installed the battery into the rangefinder, I picked up the carry case and inspected it. With elastic sides and a pull over hood, the case was made to fit snuggly around the range finder to prevent rattling or accidental release. The back of the case featured a loop for belt carry as well as a small carabiner to clip to the MOLLE loops on my pack.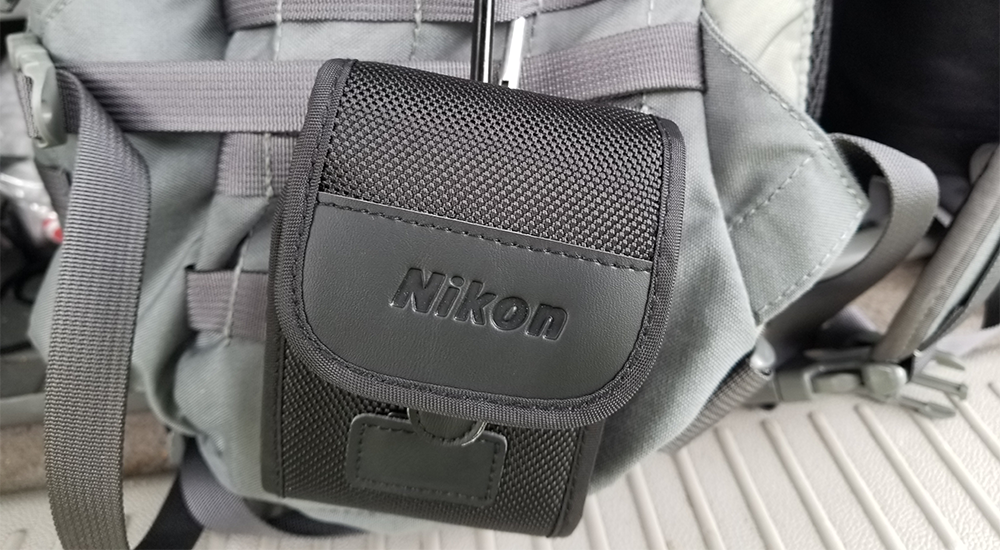 To further educate myself on the rangefinder's capabilities, I flipped through the manual and read Nikon's list of included features. As with most of their products, the rangefinder was listed as Nitrogen purged and O-ring sealed to protect it from moisture. Also, the product featured the standard Nikon multiple layer lens coating. Normally I don't point this out in optics, but Nikon products have always seemed to be some of the crispest images I have seen despite their price points. Most importantly, I read about the rangefinder's 15mm eye relief. While this may sound short, it is quite generous in the field while wearing a mask or eye protection.
More product specific information included were items such as the 2000 yard max ranging, .8 yard increments measurement used and of course the claim of 8500 uses of battery life. The overall size of the rangefinder itself was roughly that of a cell phone, deck of playing cards or a pack of cigarettes. When I held it to my eye and clicked the ranging button located on top, a bright digital crosshair reticle appeared to aid on sighting in on my intended ranging target. The second top mounted button adjusted features such as meters / yards measurement, light adjustment and actual range / angle compensated range. (More on these shortly.) After an hour of studying the rangefinder and manual, I was eager to get the great outdoors to range some places of known and unknown distances that I regularly frequent such as our private training grounds known as "The Swamp."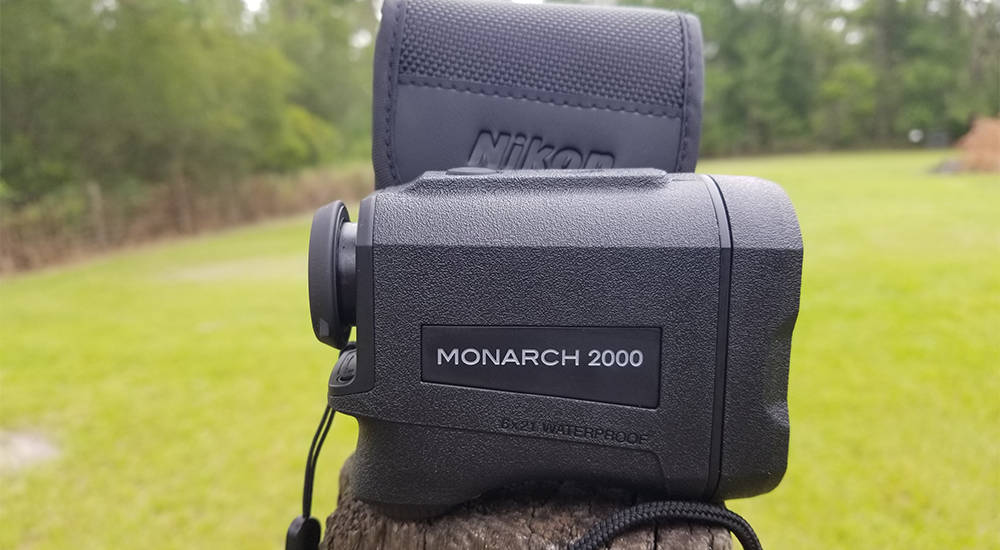 Monarch 2000 Specs
Measurement Range: 8- 2000 yds

Increment Reading: .1 yds

Magnification: 6x

Angular Field of View (Real): 7.5°

Viewfinder Display: meters/yards

Eye Relief: 18mm

Diopter Adjustment: +/- 4°

Power Source: 1 CR2 Lithium Battery

Size (Length x Width x Height): 3.8" x 1.7" x 2.9"

Weight w/o Batteries: 6.1 oz

Objective Diameter: 21mm

Exit Pupil: 3.5mm
Field Testing
After three straight days of Florida rainfall, I had managed to accurately range everything in my office, my house and backyard. Given most of these were known distances, I could tell the rangefinder was already spot on in measurement. The compact size of the Monarch 2000 combined with its contoured design made for very easy one hand operation from the start. The lowest adjustment on the five brightness settings allowed for a crisp reticle against the dark afternoon ambient light. Once the rain finally left the area and the summer heat returned, it was off to our private training grounds to do some long-range work.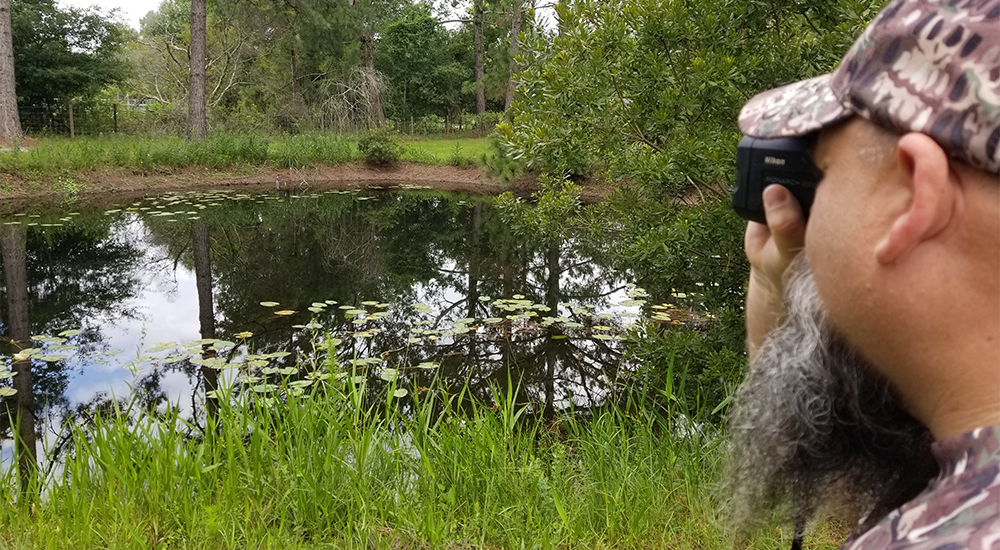 One of the benefits of our training grounds is the wide variety options it provides with wooded areas, large open spaces, shooting ranges, and in this case, ranging over water as well. Working from an elevated distance of 15 feet inside a relatively thick wooded area, I started with ranging several small animals and trees at typical shotgun, bow and pistol distances. The angle compensated range option worked well even at close distances in giving me a more accurate measurement even on something as small as a squirrel.
The easy to see illuminated crosshairs (5 brightness settings) (Manual or Automatic setting based on ambient lighting) was quick to cycle through and set. I discovered over time, the automatic setting was much easier on the eyes to use for adjustment and helped eliminate eye strain over time. Moving from item to item ranging distances, I was able to try out the First Target / Last Target option to help me quick reference two previously measured distances as I scanned. The Continual Ranging Scan Mode allowed me to scan across open spaces as it constantly updated its distances for a period of 8 seconds at a time versus constantly clicking the scan button.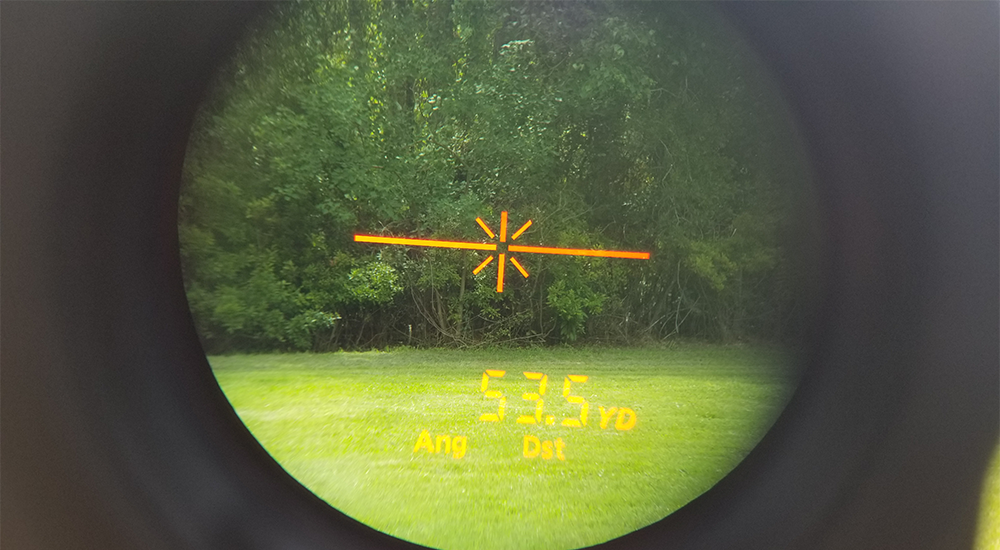 As distances grew longer, the Diopter focus ring really helped maintain a clear view of the subject I was ranging by simply twisting the ring back and forth until everything was perfect. Thanks to a horse in the field of a neighboring farm, I was able to confirm soft target ranging out to almost 1000 yards (989 yards to be exact) when bracing off a tripod or fence post. Trees typically ranged between 1200 – 1300 yards at the furthest readable distance. The rangefinder maxed out with my testing at just under 2000 yards at approximately 1940 yards off a reflective target such as a tin roof building or large sign down a long highway.
Ranging Quick Reference
Deer size target 1000 yards.

Trees 1200 – 1300 yards .

Highly reflective targets (tin roof building) maxed at 1940 yards secured on tripod.
Final Thoughts
Overall, I really enjoyed how easy it was to work with the Nikon Monarch 2000 Rangefinder. I have used and reviewed dozens of Nikon products over recent years, and I have been thoroughly impressed with how far the company has come. The Monarch series has always been one of Nikon's centerpiece series across the board from scopes, binoculars and rangefinders. The Monarch 2000 Rangefinder is well at home in this series. For hunting applications, this rangefinder offers everything needed and more to take game at realistic distances. For steel shooters, it offers precise ranging out to distances even some of the more advanced shooters have difficulties hitting.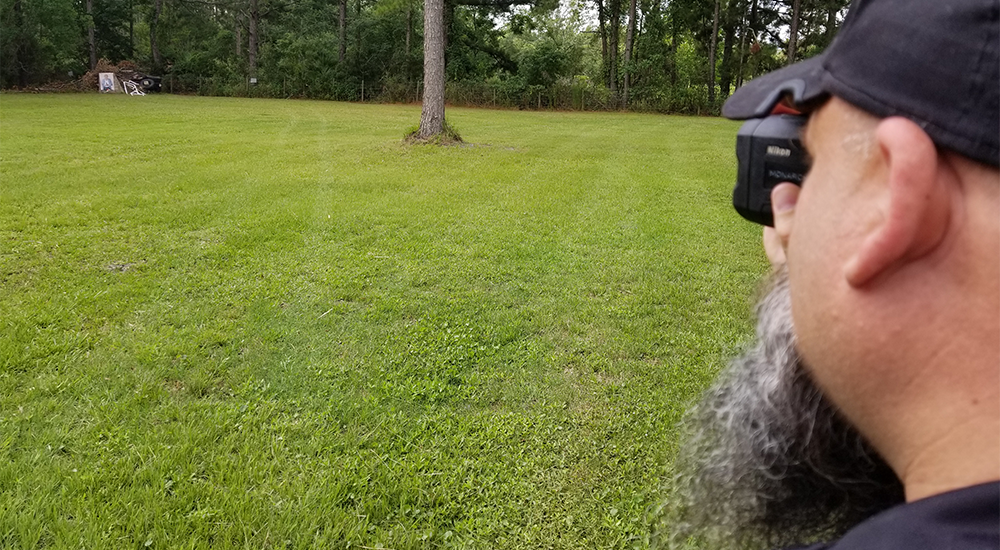 With a MSRP of $299.95, I feel the Nikon Monarch 2000 Rangefinder is possibly the best bang for your buck. It has shown to be a good balance of between quality, core features offered and price. You would be hard pressed to find a better value currently on the market fit into one easy to use package. Basic options keep it user friendly without having to read a small phone book size instruction book. For those who require more features and max range, I would suggest checking out Nikon's Monarch 3000 as well as the latest rangefinder in their Black series maxing out distance at 4000 yards. Until next time, help expand the future of enjoying the outdoors by taking a kid hunting or fishing this weekend.