By Guy Sagi
Simpler and Better – Leupold's new VX-5HD 2-10x42mm CDS-ZL2 continues the company's dedication to innovation internally, but shuns the kind of useless modern-day complication on the user interface that so-often muddies field expediency. It's a refreshing in a world of technological confusion, and an under-reported subtle leap forward for shooters more interested in connecting downrange than firing-line fashion.
Don't get me wrong. The Leupold VX-5HD carries that classy Leupold look—signature gold ring and the sleek, battle-tested-tough black finish we've come to expect. Unlike many of its competitors, though, the company hasn't surrendered to the urge to chase trends in a business where physics is trump, regardless what marketing departments might think.
Performance is king and the Leupold VX-5HD 2-10×42 mm CDS-ZL2 is certainly part of the firm's royalty. In bright daylight at 10 power—using the USAF Resolving Power Test Target at 100 yards—the decreasing-in-size six-bar groups were clear and distinct (no fringing) until the "target" size was just a little less than a postage stamp. That's impressive with old eyes.

Chromatic aberration, that annoying color fringe that appears on the edges of objects (usually purple or green), only appeared when I broke my cheek weld. It's common at steep angles of incidence, though, even in professional-level camera lenses. When viewed straight on, properly, there was none of that color rimming. Lower-end scopes can do it all the time, and once you've seen that paranormal-looking ghosting and suffered the headaches, you'll never buy cheap again.
Where the optic really shines, though, is dawn and dusk. Leupold's tight lipped about what exactly it did, but its 2017 catalog explains the Twilight Max Light Management System is really a recognition of biological reality: Humans see green much better than light in the blue and red spectrum. Unfortunately, the latter wavelengths occur most often in the morning and evening, when the big game we're after usually appears.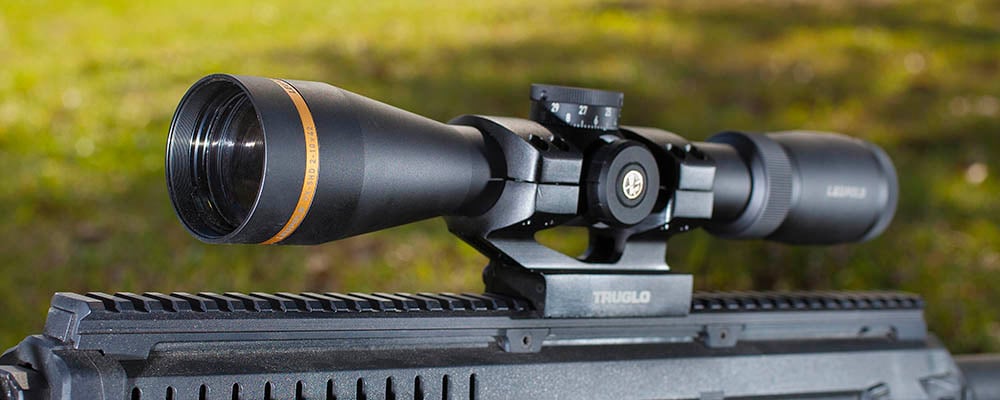 It's not earthshaking news, but the company's common-sense solution seems to make a huge difference. Rather than tuning the glass/coating/system to maximize mid-day bright light that leans green (which can trick you into purchasing a bargain-basement riflescope because it looks great in a daytime parking lot), the Leupold approach is equal transmission of the entire visible bandwidth. If the blues and reds aren't being rejected by your optic on opening day, the odds of filling that dusk and dawn tag are improved.
Branches in early morning light were clear and bright, even when scoping toward the east. If there were antler in that forest, any movement was going to be noticed instantly.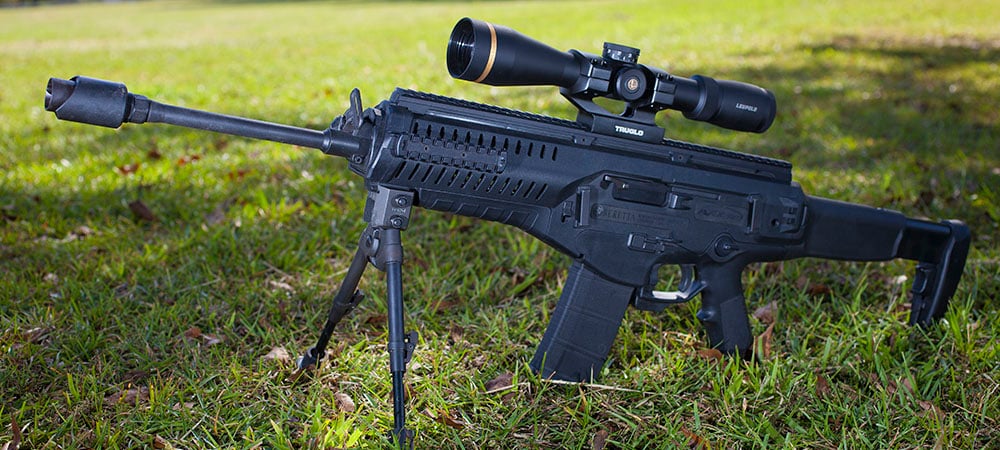 All of the exterior glass on the VX-5HD series comes with Leupold's Guard-Ion coating, which is "ionically bombarded to the molecular structure of the lens," according to the company. I'm not quite sure how that's done, but I do know the treatment sheds water, dirt and fingerprints very well.
The claim was inadvertently put to the test after the scope spent a week in my freezer's solitary confinement. OK, it wasn't alone, but I'm sure broccoli didn't mind the company.
The moment it was removed from the cold confines, and subjected to 85 degrees with 64 percent humidity, it collected atmospheric moisture that frosted on the metal and slightly on the glass. Interestingly, though, unlike some competitors, it didn't develop ice enough to even show up in photos. In fact, how fast it thawed and water dripped probably set some sort of personal-testing record.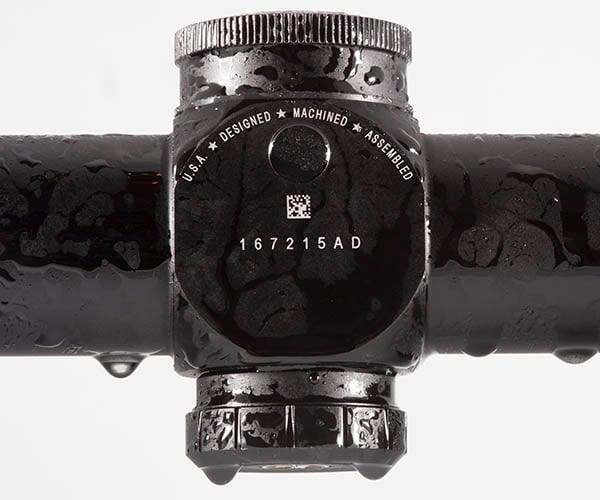 Interior nitrogen purging isn't used in the VX-5HD scopes. That element's small and nimble enough to escape those airtight seals, sooner or later. Plus, its thermal conductivity is dismal when compared to the larger argon-krypton mixture keeping things dry in these scopes. All we need to know is the bulbous and noble gaseous mixture bouncing around inside clears the optic fast, and resulting water droplets literally race their way off the glass. Impressive, particularly if foul weather could be part of your hunting season.
It passed range-session testing with flying colors. Windage and elevation adjustments held between multiple strings and each click—all reassuringly positive— moved point of aim by 1/4 MOA. Maximum adjustment of both settings is 120 MOA.
I've grown to expect nothing less from Leupold, but the low-drag user interface that reduces the chances of anything getting hung or muddled up during a hunt was a nice surprise. For one thing, the turrets aren't elevated to NBA-starting-center height. Parallax is zero in the optic, so there's no need for that dial, anyway. Windage adjustment is hidden and protected by a cap. Some might claim that's a drawback, but I was taught to "dial for elevation, hold for wind," so once it's set at the range for my load, I'm not fiddling with things after the season opens—unless something goes drastically awry.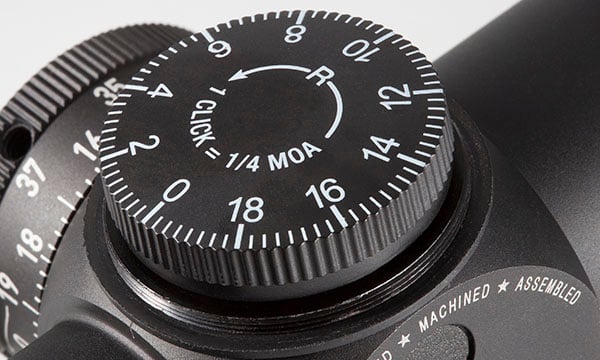 Naturally, there's a diopter adjustment, although that falls into windage's "set it and forget it" category. Elevation can be dialed without removing a cap, but the Custom Dial System ZeroLock 2 (CES-ZL2) allows you to find your load's zero and lock it in. When afield, press the bar and the turret can go two complete rotations before stopping. At that point, the bar recesses to signal extreme settings, but still allows a shooter to continue. Its secure locking mechanism prevents movement when you're on the go, but field expedient adjustments are still fast and precise. I like the glove-friendly system, a lot.
The unit I tested had an illuminated FireDot duplex reticle (second focal plane). To power it on, press the Leupold logo on the cap where the parallax adjustment is traditionally found (left side of the body). Maintain pressure and it slowly dims, and as it reaches desired illumination, simply release. Hold it long enough and it powers off. There are no rotations, gyrations or contortions involved. It's high-speed simple.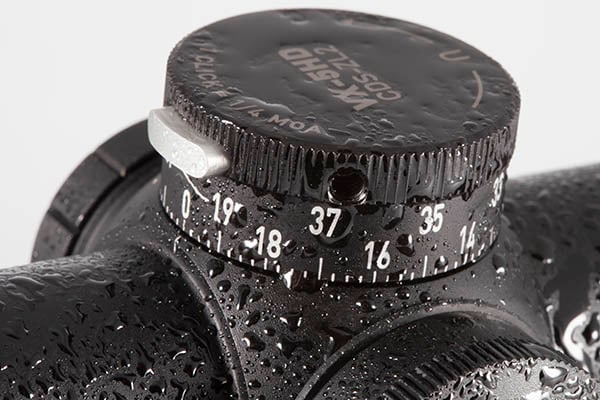 The red dot isn't 3 MOA wide, either. It's slender and even at the highest setting doesn't paint your entire field of view pink. The unit is powered by a single, easy-to-find CR 2032 battery.
The duplex reticle itself is refreshingly simple and the crosshairs are still there, even if the scope's power source dies. Leupold's had it around for years and the lack of Christmas trees beneath or trigonometric-thick numbers makes it a pleasure to use.
As for the mechanics, the VX-5HD 2-10×42 mm has a five-power zoom range—2X to 10X. A speed bump makes changing magnification fast and easy, even with gloves. At low power, you can use the Bindon Aiming Concept and keep both eyes open, but it wasn't designed for that. Stray slightly in cheek weld/alignment and it's not quite perfect. Practice if you're going that route.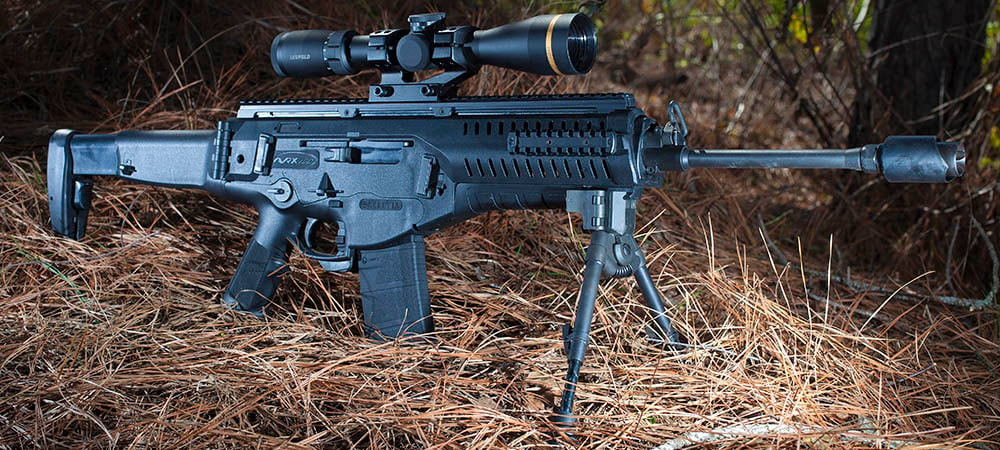 At 2X field of view is 57.5 feet at 100 yards. With a magnification of ten it goes down to 11.7 feet. Eye relief is 3.8 inches at all magnifications—a plus when you might be shouldering the rifle quickly.
The objective lens is 42 mm in diameter, and certainly seems to outperform its size. Weight of the scope is 16.4 ounces, it has a , has a 30 mm tube and the unit is constructed from 6061-T6 aircraft aluminum. Overall length 12 1/2 inches.
You know performance is mission first when a company explains its warranty with: "If your Leupold product doesn't perform as promised, we will repair or replace it for free, whether you are the original owner or not — forever (excludes electronic components)." There's more than just pride in everything that goes out the door and Leupold's new VX-5HD 2-10x42mm CDS-ZL2 is no exception.
All images by Guy Sagi.