Last Updated on
In the firearms world, optics are no doubt some of the best tools we have at our disposal. From large diameter objective lens optics for long distance and low light to small, quick handling 24mm objective lens optics for competitive shooting and Close Quarters Combat, This doesn't even touch on the wide range of 1x red dots available. The beauty of all these options is the ability to custom tailor the right tools for the right job without having to worry about having to use one "do all" optic that, much like a Swiss Army knife, may serve several purposes but fails to do any of them exceptionally well.
For the past few months, I have been working with an excellent medium sized scope, the Leupold VX-Freedom series, for use on my short-barreled AR-15 chambered in .300 BLK. Paired a Leupold Mark 2 one-piece scope mount and a T-3 .30 cal suppressor from Torrent Suppressors, this little rifle is the complete package for shooting hogs and medium sized white tail deer out to a max distance of around 150 yards. This week, we take a close look at the VX-Freedom series and feature the 3-9x40mm model used for testing.

Debuted during the 2018 industry only trade show in Las Vegas known as the SHOT SHOW, Leupold Optics launched their midrange priced VX-Freedom series for hunters looking for a top-quality scope with a budget friendly price. With an MSRP between $235 – $390, the first models released in the series included a 1.5-4x24mm, 2-7x33mm, 3-9x40mm (tested), 3-9x50mm and a slightly larger 4-12x40mm scope. A few months later, during the Nation Rifle Association Annual Meeting (NRAAM), more versions of the VX-Freedom optic were released in the form of an extended eye relief 1.5-4x24mm Scout model, 3-9x33mm with an Extended Focus Ring (EFR model) and a completely customizable 3-9x40mm model featuring Leupold's new Custom Dial System (CDS).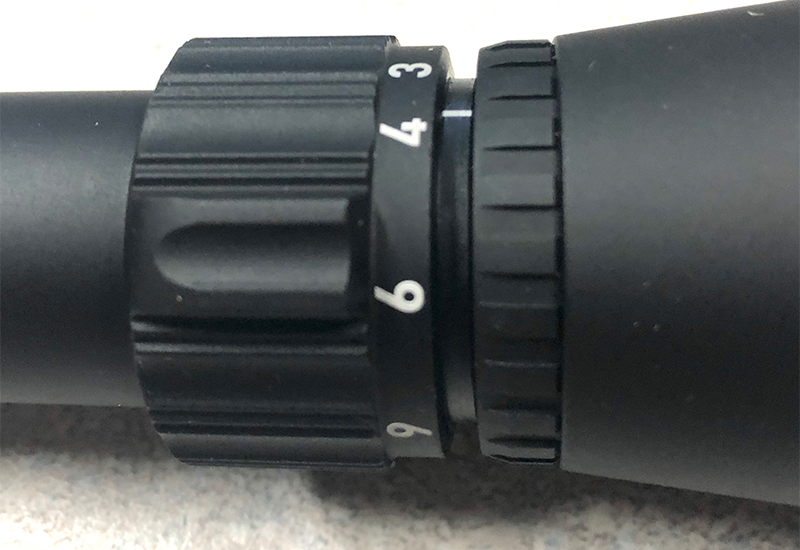 Leupold VX-Freedom Specs
Power: 4-12X (tested)

Objective: 40mm

Tube Diameter: 1 in.

Adjustment: .25 MOA per click

Windage: .25 MOA per click

Reticle: Leupold Tri-MOA

Length: 12.39"

Weight: 12.2 oz.

Eye Relief: 3.74" to 4.92"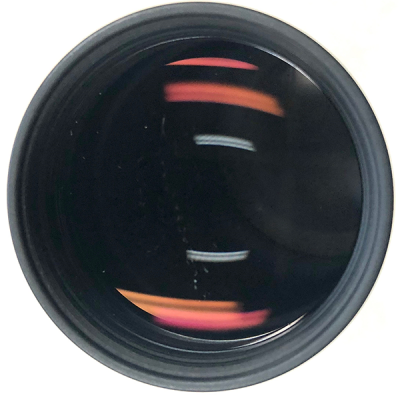 Range Time
When the Leupold VX-Freedom 3-9×40 Scope and mount arrived, I was able to get everything mounted and bore sighted quickly and easily that afternoon.
When the Leupold VX-Freedom 3-9×40 Scope and mount arrived, I was able to get everything mounted and bore sighted quickly and easily that afternoon.
As I turned through the magnification range starting at 9x to down to 3x power, I noticed the eye relief seemed to span from approximately 3 ¾" at full 9x zoom to a very generous 5" at the 3x setting. A mid-receiver placement of the scope with the ocular lens projected just above the rifle's non-reciprocating charging handled seemed to be the perfect position to mount the optic. The one-piece construction of the Mark 2 mount eliminated the need to ensure the rings were straight to prevent uneven tension on the scope's one-inch main tube. I also used a set of torque limiters from Fix-It-Sticks ensured all screwed were tightened to recommended factor specifications. In less than an hour, I was ready to head to the range to bore sight the scope and start having some fun.
Indoor Testing
My first test session came on a rainy Florida morning, so I headed over to my indoor local range, On Target Sports to get started. Using a drop-in laser bore sighter from Guide Gear, I was able to dial the scope in close enough to ensure my first test shots were at least on paper for final fine tuning afterwards. I set up a small 5" target and ran it out to the maximum distance of the 25 yard mark on the range. My first 3 round group was roughly 2 inches low and an inch to the right. In my next pair of groupings, I was able to track my hits and adjusted based on the data gathered until I reached a point that my shots were all dead center laterally and only one inch low of bullseye. This would leave me room to calculate for a 100 yard zero later.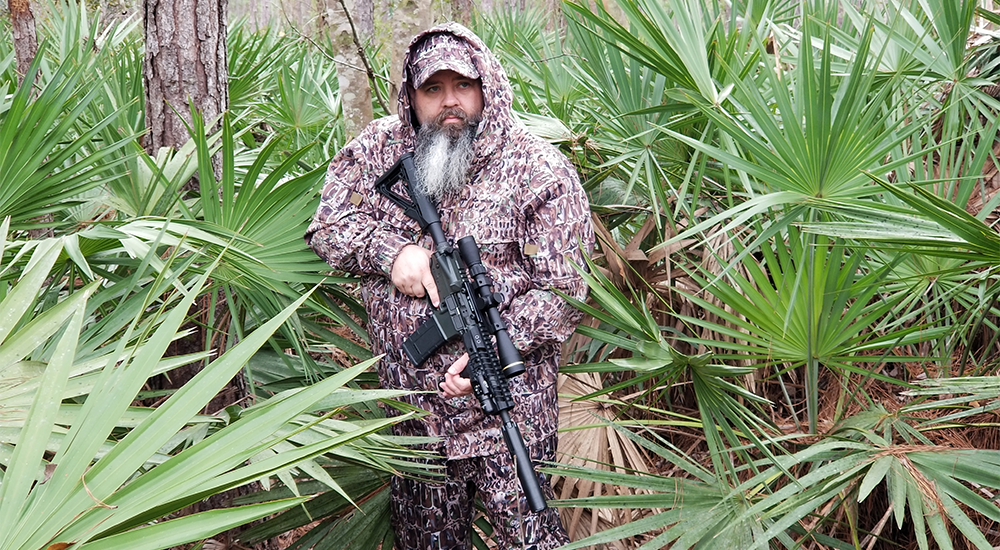 Even in the lower light settings of the indoor range environment, I was impressed by how clearly the one-inch main tube and 40mm objective gathered light and projected it as such a crisp image from a medium size scope. Due to regularly running much larger optics weekly, smaller scopes have always seemed to have a slight tint to them. The VX-Freedom did a good job with it its light and clarity. The needed adjustments were easily done without the need of a special tool or the all elusive spare change to correctly fit the coin slot of a turret. The VX-Freedom had simple dials manipulated by your fingers and protected by screw on caps to prevent exterior forces from knocking your scope out of zero. Honestly, I wish my larger scopes had these caps simply because inexperienced shooters will see one of my rigs at the range and want to play with the target knobs as if they are going to get a radio station to tune in music.
Outdoor Testing
At my next available range day, I met up with fellow Swanson Media Group writer, Clint Steele at a private training grounds affectionately known as "The Swamp." The day's goals were to shoot a few photos / videos as I finished dialing in the zero as well as work on in the field shooting. Any hunter can tell you, the perfect shot on your intended game will never come. Hunting is a matter of the predator adapting to the prey's environment to ensure a successful harvest in an effective and humane kill. This involves offhand shots in which should be regularly practiced.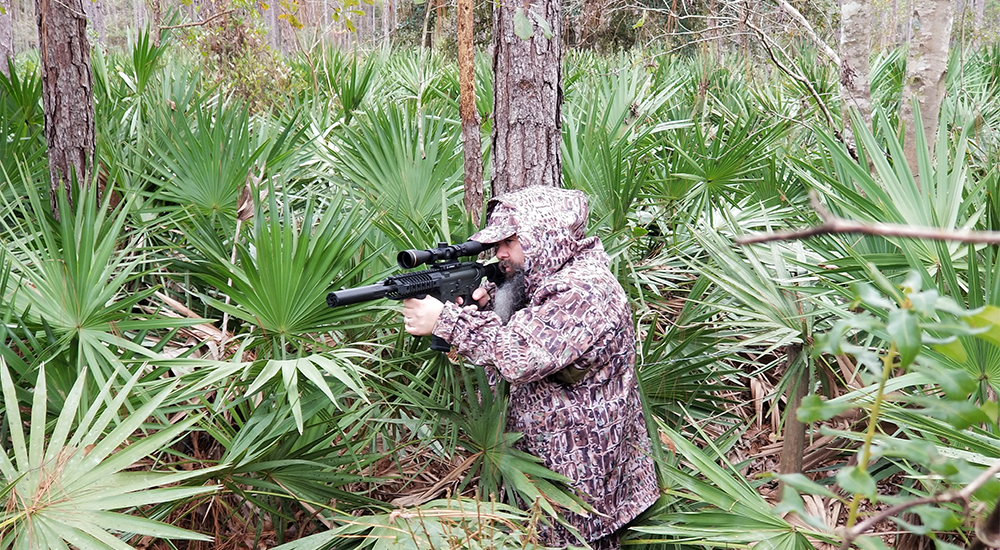 As I scanned the horizon with the scope magnification set at full 9x power, the tree line of in the distance came alive with crisp details and beautiful natural colors that are often distorted by "budget friendly" optics. The scope offered a great field of view at distances of 100 and 200 yards in which would be realistic of the environment I typically hunt. Working back down the magnification range, I noticed how smooth the adjustment ring rotated and securely stopped throughout the 9x to 3x travel. The low-profile lever on adjustment ring was large enough to positively manipulate while still being small enough to not interfere with a high-throw bolt action handle if it were to be mounted one of my Remington model 700 rifles.
As I finished dialing in the rifle at 100 yards, the Tri-MOA reticle really came in handy at this distance. With the scope graduations adjusting at ¼ MOA per click, even someone like me who hates math can figure changes left, right, up and down quickly. It should be noted the reticle is in the traditional second focal plane or SFP, so the reticle size will appear to remain the same even as the target size increases and decreases through its magnification range. If you are coming from regularly using a first focal plane or FFP scope, there will be a slight learning curve before you are comfortable working with the VX-Freedom. For most shooters, second focal plane optics are what we grow up using and it will simply be second nature to use this scope.
The Tri-MOA reticle proved to be very easy to incorporate hold over at varying distances quickly and accurately. When shooting offhand, the reticle will rise and fall with each breath more noticeably than from a bench or prone position. Having clearly visible crosshairs broken into measured hashmarks such as the Tri-MOA is very important to acquire a sight picture and get on the trigger smoothly without losing focus on the target.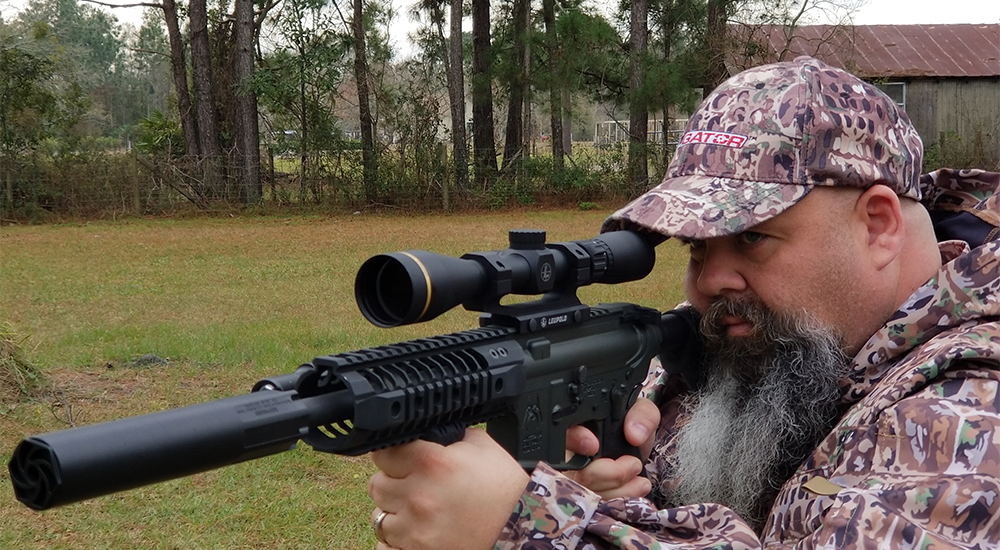 Working through some thick brush around the range, the scope sat low enough on the rifle as not to snag on branches or vines on the move. The Torrent suppressor mounted on muzzle of barrel balanced the rifle perfectly with the scope set at a natural eye relief. Overall, the whole rifle made for a great stalk and shoot style hunting AR-platform rifle. The scope allowed quick transitions for snap shooting while still having enough magnification to really lay some precise fire on target at 150 yards. I am looking forward to moving off the range and into the woods this fall to gather further data on this package for future updates.
Final Thoughts
In wrapping up on the initial range trips with the Leupold VX-Freedom 3-9x40mm scope, I had several points to take away from the experiences. I really enjoyed how compact the scope was, especially mounted on a rifle as short as the .300 BLK. I was really impressed with the quality of the VX-Freedom given the price range. Most budget rifles tend to leave a lot to be desired.
With a MSRP of $259, this optic is a solid mix of quality and performance. When you consider the next magnification level above this scope is the 4-12x40mm with almost a $200 increase in cost, it is easy to see which the best value model is. Once the prices start to top the $500 mark, companies such as Vortex and Nikon offer comparable packages with just as many or more features in the same range of quality. Moving forward, I would enjoy testing several of optics at the level head to head to see which offers the best features for the money.
For new rifle shooters starting out who want a well-built scope from a prominent name in the optics market, I highly recommend the VX-Freedom. Additionally, those who hunt in thick environments such as young coastal NC pine stands, Florida swamp lands or eastern Canadian forest where maximum distances of available shots fall between 80 – 150 yards, this is the perfect, low drag, solid performing optic at a great price.