By Tony Martins
So, your fabulously rich uncle passed on to the Happy Hunting Grounds and left you his fortune, or maybe you won the lottery and have been wondering what to do with all that surplus cash. Ranking high on my wish list would be a new "dream" rifle – possibly unique, and certainly expensive. Fantasy can be fun, so let's have some! Following are a few ideas, ranging from conservative and practical to outrageous and opulent.

Image courtesy of Dakota Arms – www.dakotaarms.com.
Dakota Arms Model 76 Classic Deluxe Hunting Rifle
The Model 76 Classic was born nearly 30 years ago, when stock-maker Don Allen and master gunsmith Pete Grisel mated functional excellence with classic form in high grade walnut and steel. The result is a masterpiece that handles as good as it looks – and look good it does with genuine head-turning beauty. Recognized today as a premier builder of classic bolt-action hunting rifles, Dakota Arms could be considered "the American equivalent of Rigby or Holland & Holland" according to good friend and noted gun scribe Ron Spomer.
The upscale Deluxe version of the Model 76 features a cheekpiece with shadowline in the XXX grade English walnut stock, in right- or left-hand configuration. Hand-cut point wrap checkering compliments the forend, along with a stylish ebony tip. Each rifle is fitted with barrel band, straddle floorplate, front ramp site with rear island single blade, and in-letted Ken Howell swivel stud. Bisonite bedding and guaranteed accuracy complete the package, available in a wide range of chamberings from 22-250 Remington to 416 Remington. With MSRP around $8000.00, a modest lottery score should get you one.

Images courtesy of Erik Eike, President, Kilimanjaro Rifles – www.kilimanjarorifles.com.
Kilimanjaro Custom Hunting Rifles
American rifle manufacturer Kilimanjaro offers a line of fine hunting, safari and dangerous game rifles fully customized to specifications of the customer. The company's flagship rifle, The Kilimanjaro, is promoted as "the pinnacle of strength, beauty and accuracy," and there is truth in this lofty advertising claim. Each rifle is hand-crafted in highly figured Turkish walnut, enhanced with Diamond Fleur wrap-around hand checkering, and a proprietary Stealth Lamination process adding strength and stability. Available actions include refined and improved versions of premium Dakota 76, Sako 85, Kimber or Winchester Model 70, or you can supply your own. Barrel options include high grade offerings from quality manufacturers like Pac Nor, Douglas, Shilen, Lilja and Krieger, in virtually any cartridge chambering, including most wild-cats. Metal is coated with space-age ceramic in an elegant non-glare finish available in several color options, and fitted precisely to the wood. Extensive testing, accuracy verification and lifetime guarantee are included in the $17,500.00 MSRP. And of course, options like wood upgrades, custom grip caps and forend tips, muzzle braking, and custom engraving can add several thousand dollars to the price!
My personal favorite is the lightweight Kilimanjaro Tigercat Custom, built around the Kimber 84M or 84L action, modified to achieve desired compactness in this 6-pound rifle. It's available in chamberings from 22-250 Remington to 30-06 Springfield. Other features include match grade air-gauged Douglas stainless steel barrel, a fine 3-position safety ala pre-64 Winchester, and lamination strengthened AAA grade American walnut stock. This little jewel will set you back $14,500.00 (MSRP) plus options – probably manageable even if that rich uncle's fortune must be shared with a dozen siblings.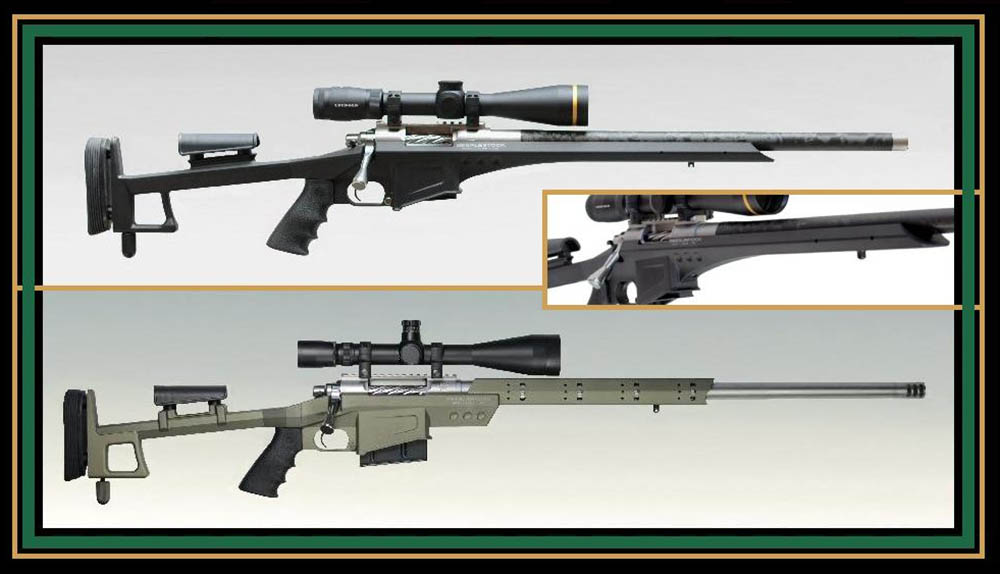 Images courtesy of Eberlestock Precision Rifles – www.eberlestock.com.
Eberlestock Precision Rifle
Those unfamiliar with the Eberlestock story may be surprised to learn the company offers impeccably designed precision rifles, capable of shooting 1/2-MOA with match grade ammo right out of the box, in addition to their world-class backpacking gear. Company founder and design genius Glen Eberle's first product was actually a rifle stock he built for fellow Olympic biathlon competitors, and in 1985 the original Eberle Stock Company was born. He went on to become one of the early pioneers of the chassis-based rifle system, and in January 2014 introduced the limited production, semi-custom Eberlestock Precision Rifles to rave reviews at the SHOT Show.
Rifles are available in two stock configurations, Cobra and Stealth in hard-coat camouflage finish, with Proof Research heavy carbon-fiber wrapped, or Bartlein fluted stainless steel barrel, Eberlestock-Defiance short or long action, Timney trigger and Defiance muzzle brake, with a pinned 20-MOA Picatinny scope rail and a 5-round AI-type magazine. Popular chamberings include 308 Winchester, 7mm WSM and 6.5 Creedmore for the Cobra, and 300 WinMag, 338 Lapua and 338 Norma in addition to 308 Winchester and 6.5 Creedmore in the Stealth chassis. Requests for custom chamberings, barrel lengths and twist rates can often be accommodated. Undoubtedly a "dream" for most of us, these are nonetheless masterpiece rifles that won't break the bank, with MSRP starting around $4500.00 (plus accessories and options, like special finishes).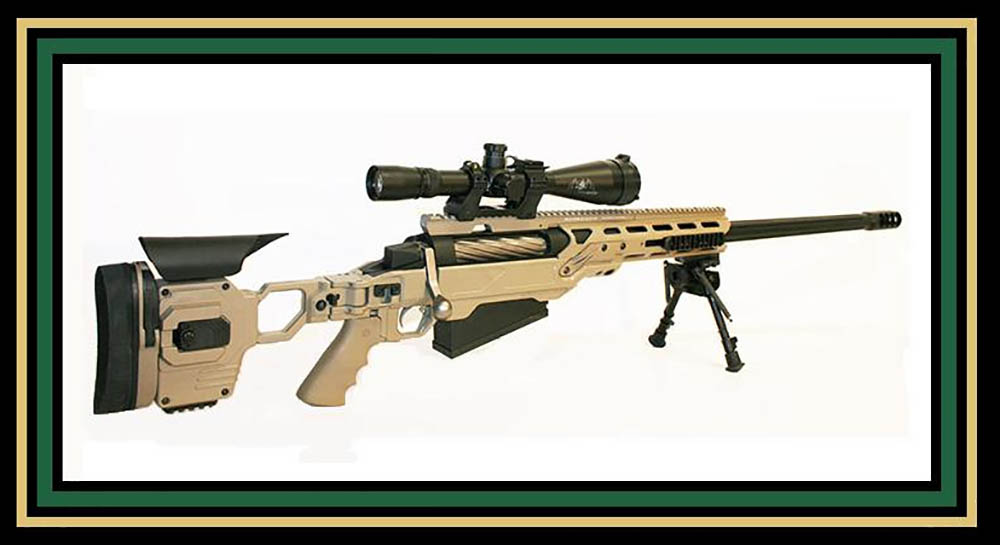 Image courtesy of Drake Associates – www.drakeassociates.us.
Drake Associates Stalker MK15 .50 BMG Super Match Grade Rifle System
What tactical rifle enthusiast/AR-aficionado doesn't have a 50-Cal on their wish list? If we're gonna dream, let's dream big – so how about the stylish Stalker MK15 in .50 BMG from Drake Associates in Shelter Island, NY-? The Drake Stalker MK15 is a match-grade rifle that uses the McMillan TAC-50 2-lug bolt action, mated with a Cadex Strike Dual 50 chassis. Its Satern barrel with 1-in-15 twist is available in black Cerakote or stainless steel bead blast finish. With folding stock and 26-inch barrel the 27-pound MK15 is very portable, and the SLAM (Sniper's Light Anti-Material) model with 17.5-inch barrel is even easier to tote and deploy. Other features include X-Treme adjustable trigger set at 3.5 lbs., Drake 3-port muzzle brake, 20 MOA long rail and accuracy truing. Color options include flat black, flat dark earth/tan, olive drab & even pink (lady snipers-?!!), with an MSRP of $8699.00.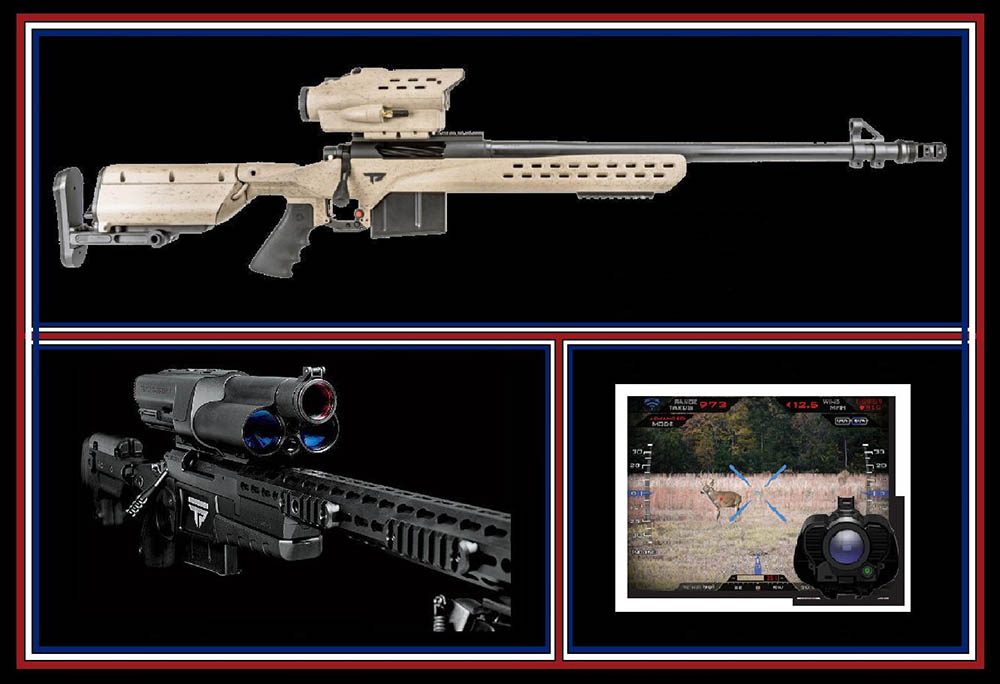 Images courtesy of TrackingPoint – www.tracking-point.com.
TrackingPoint Precision-Guided Bolt-Action .338 TP
Moving from brute force to technological wizardry, this listing would be deficient without a precision guided firearm (PGF), and Tracking Point boasts theirs is "the most accurate shooting system in the world." Their Xact System ensures repeatable performance and accuracy at extended ranges out to 1400 yards, with applications launched through embedded wifi servers to share real-time or recorded data and images with smart devices.
The XS1 is the largest caliber PGF available, based on a Surgeon XL .338 Lapua Magnum bolt-action with 27-inch Krieger cut-barrel, fitted in an Accuracy International AZ chassis. The 6x-35x Networked Tracking Scope with Heads Up Display provides ballistic and environmental data – wind speed is the only data input manually to the scope. Ammo is Barnes XactShot firing 300-grain Sierra Match King Open-Tipped bullets at 2750 fps (+/- 10 fps). Some models feature trigger-to-scope wiring to eliminate improper trigger press, integrated with tracking data from a laser rangefinder, and controlled by the scope which computes a ballistic solution on targets moving as fast as 20 mph, at ranges out to 1 mile! The new M1400 Extreme Marksman Rifle offers advances in performance, cost and weight over previous PGF models. With RapidLok Target Acquisition, Elimination and Fire-Control systems, the target is acquired, tracked, ranged, measured for velocity and inescapably captured by the time trigger press is completed. M1400 EM is available to select non-military individuals with MSRP of $16,995.00, other systems available from $12,500.00 to $22,500.00. Note: The Nevada Wildlife Commission recently banned the use of PGF's and ammo with case length exceeding 3-inches for sport hunting in the state.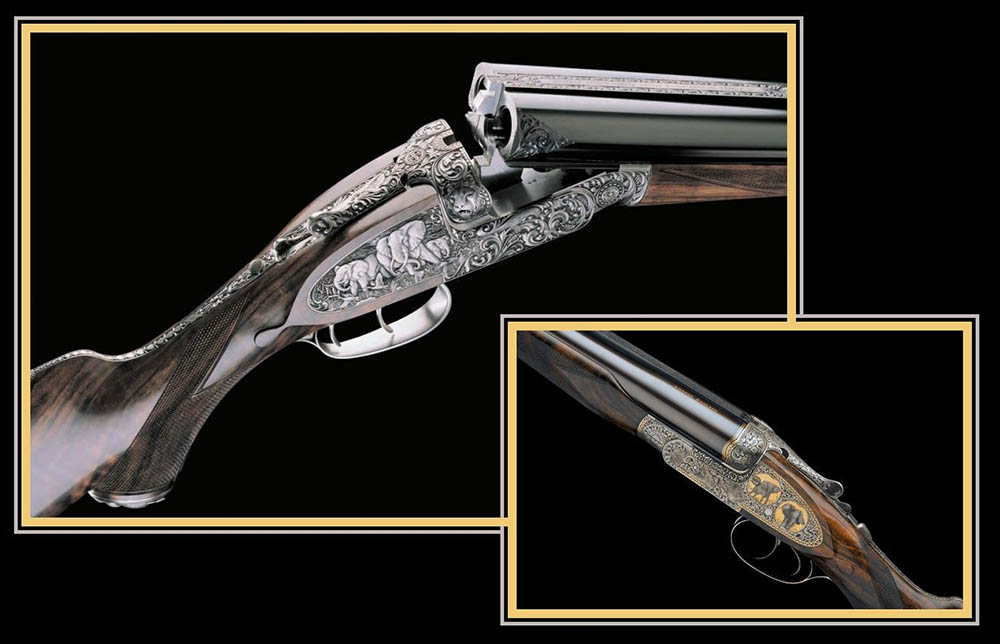 Images courtesy of James Purdey and Sons – www.purdey.com/guns-rifles.
The Purdey Express Double Rifle
For hunting rifle historians as well as incessant stalkers of dangerous game, a finely crafted Express Double Rifle chambered for cartridges the size of cigars may be considered the "holy grail" of hunting weaponry. A trio of legendary English gunmakers have been crafting the cream of the crop for two centuries, more or less. John Rigby & Company (est. 1775) is the oldest firearms manufacturer to maintain continuous operation in the English-speaking world. Holland & Holland (est. 1835) holds two Royal Warrants, for rifle manufacturing and supplying guns and shooting accessories. Regarded as a luxury sporting gunmaker, the company is also known for creating the all-time favorite safari cartridge in the .375 H&H, and other notables like the 700 Nitro Express elephant slayer. James Purdey & Sons (est. 1814) has been building fine double barreled sporting rifles from day one, and it was the founder's son James who later coined the term "Express" rifle. The high initial velocity, flat trajectory, heavy weight and deep penetration of bullets fired from their large caliber rifles reminded James the Younger of the "express" railroad trains – easily the fastest transportation form of the era – that didn't slow down until reaching their destination.
Demand for double rifles actually peaked in the 1870's, with dangerous game hunters seeking rifles offering the security of two independently firing barrels – vital for terminating a potentially deadly charge. As safari hunting in Africa has grown in popularity since the 1990's, so has interest in the double rifle and British big bore calibers like the 470, 500 and 600 Nitro Express. Touted as the world's finest double rifle, today's Purdey Express is available in these chamberings as well as the .375 H&H. Each is constructed around a traditional square bar bolstered action, with 24" Chopper-lump barrels, double triggers (spring bladed front), non-automatic bolted safety catch and Express sights on quarter ribs. Stock features include pistol grip with metal cap and trap, cheek piece, beaver-tail or splinter forend, sling swivels and leather covered recoil pad. Standard embellishments include traditional fine rose & scroll engraving with color hardened or bright finish and inlaid gold lines and lettering. Investing $125,000.00 of your winnings or inheritance will secure a basic model to call your own. Special engraving, inlays and custom chamberings can add another $100K.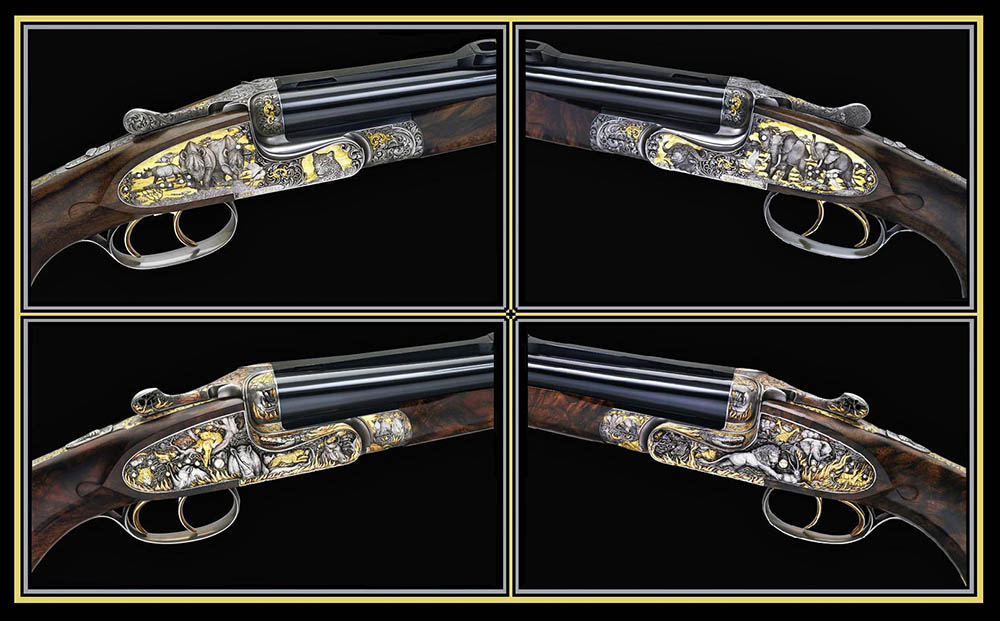 Images courtesy of Peter Hofer Jagdwaffen – www.hoferwaffen.com.
Peter Hofer Rifles – "As Good As It Gets"
Austrian gunmaker Peter Hofer is widely acclaimed as the finest rifle maker in the world.  His workshop, a centuries-old patrician house, sits in the shadow of the church tower in the heart of the famous village of Ferlach – known as "the city of gunmakers" – where specialized craftsmen have been building firearms since the mid-1550's. His clients are often fabulously wealthy – Saudi sheiks, Russian oligarchs, Asian magnates – and rumored to include Ugo Beretta, President & CEO of the legendary Italian firearms manufacturer. Hofer's firearms are known for their ingenious mechanisms and magnificent engraving, handcrafted in forty-plus different barrel arrangements, more than three hundred calibers and a dozen different systems. The diversity of his creations is mind-boggling – from a tiny ultra-light double rifle in .17 HMR to a massive 33-pound 4 bore behemoth that fires 2000-grain bullets with modern smokeless powder. Some bear names, like "Brushfire in Africa" which features 7 levels of stunning engraving, depicting elephants, lions, a hippo and 24 carat gold inlaid giraffes fleeing the fire, to adorn this double rifle chambered in 500 Nitro Express. Another, "TechnicArt" is a technological marvel with embedded programmable microprocessor that regulates functioning of a rangefinder, shot counter, altimeter, barometer, thermometer, digital compass, clock, theft alarm, emergency locator transponder and satellite GPS. This unprecedented double rifle chambered in .375 H&H can alert your iPhone to its location if moved a single meter without authorization, or lead you back to your secret hunting spot with precision.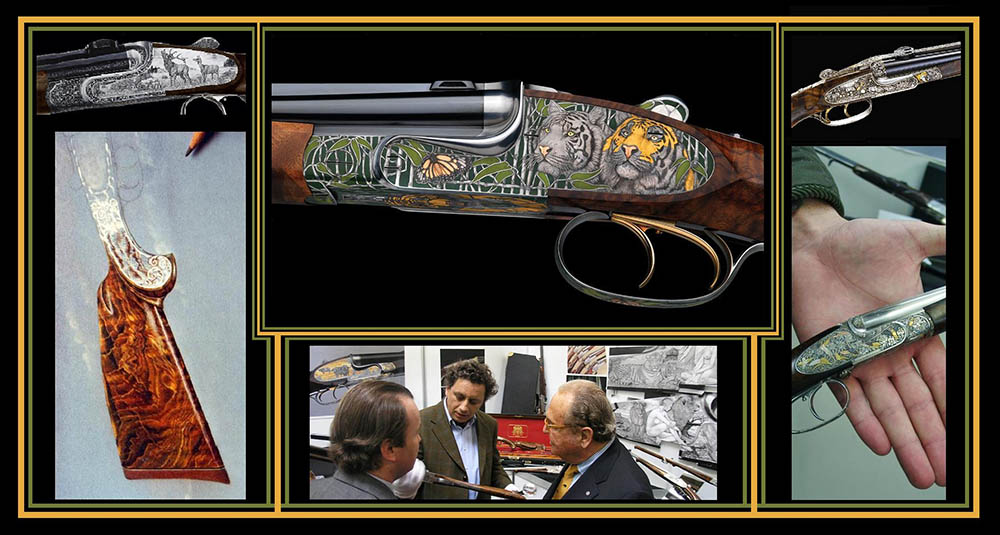 Each Peter Hofer rifle is unique – none will ever be duplicated – yet all share a few common elements. Actions are worked out of the full material. Stocks are crafted from exquisite 900 year old walnut burr, the best in the world, by the world's best stockmaker. Artistic engraving, whether 3-dimensional relief or 8000 dot per square millimeter Bulino – accomplished with hand-held needle-like chaser under 40x magnification – is based on design sketches approved by the client. Completion can take several years, with prices ranging from $100,000.00 to $300,000.00, based largely on that time element. Elaborate and flawless engraving can triple the price. One .470 Nitro Express double rifle required 21,400 hours of labor spread over 12 years, and it's been reported that individual Peter Hofer creations have fetched more than $7 million. If you fancy a one-off masterpiece in metal and wood, a true work-of-art with impeccable functionality, and price is truly no object, there is only one maker for your dream rifle: Peter Hofer.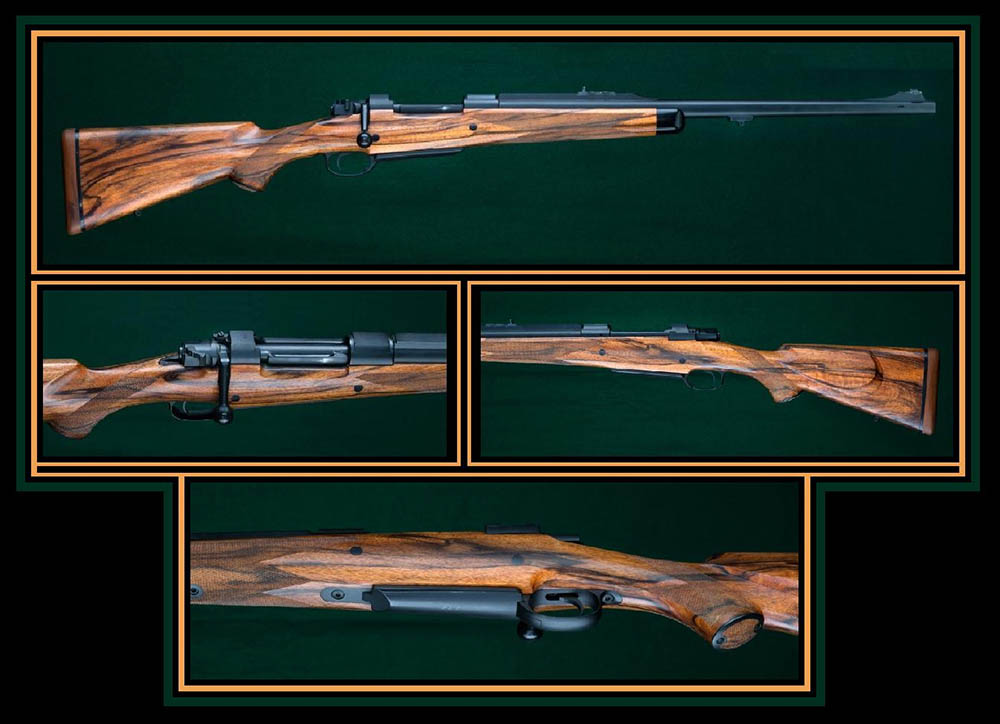 Frank Wells Custom Hunting Rifle
Truth be told, it's doubtful that I would buy a million dollar techno-marvel/work-of-art rifle, even if a $500-million Powerball jackpot came my way. Instead, I'd probably buy my own island in the South Pacific or the Caribbean… but of course I would also order a new high-grade hunting rifle, to be made to my exact specifications!
In discussing this assignment with gun writer, mentor and blackpowder authority Sam Fadala, we gleefully roughed out specs for such a rifle. And, it just happens that our friend and neighbor Frank Wells is also a world-class custom rifle builder who graciously provided expertise and advice. Following are details of our collaborative efforts in designing this rifle:
Caliber – .270 Weatherby – It's been said that nothing shoots flatter, hits harder or is more accurate than Roy Weatherby's original magnum big-game chambering. It's our choice for North American big game as well as non-dangerous game worldwide.
Action – Mauser Custom Double Square Bridge – Milled from a single block of solid tempered steel, machined for Talley rings, completely honed and trued with bolt, follower and extractor engine-turned to insure smooth and flawless function from this magnum strength action.
Metal Finish – cold rust bluing.
Trigger – Canjar Double Lever, Set Type – The late Matt Canjar's triggers are universally recognized among the best and most reliable made, and his set type was top-of-the-line… if you can find one.
Safety – Mauser 3-position Wing Type – provides better bolt clearance in combination with the gas deflecting design of the original Mauser bolt shroud
Barrel – Schilen Select Match Grade 26-inch, octagon to round transition – button rifled, stress relieved, hand lapped, air gauged and optically inspected
Magazine – drop-box with hinged straddle floorplate, release inside trigger guard.
Stock Material – Turkish Circassian Walnut, pillar bedded with ebony forend tip – This variety of walnut is recognized as the king of gunstock wood due to beautiful coloration and fine texture.
Stock Checkering – classic wrap-around, muted border point-pattern, 26 lines per inch, handcut by the master, Frank Wells.
Pistol Grip – steel skeleton checkered within.
RecoilPad – leather covered.
Sling Swivels – 2 screw bases on slightly raised pads.
Embellishments – simple and tasteful – rifle owner's name in gold script, as well as case coloring of rings, drip cap and bolt safety shroud.
ScopeBase – machined onto bridge of action.
Scope – Swarovski Z8i SR 1.7–13.3x42mm – top quality glass and coatings, slim 30mm tube, optional ballistic turret & switchable reticle from dot to circle-dot (MSRP: $3139.00).
A custom rifle like this can take 2-3 years to complete, with 6 months lead time to acquire the necessary components, and a projected price tag of $30,000.00 to $34,000.00 (plus scope). There is no one more qualified to create our dream rifle than Arizona's Frank Wells – if we could just come up with that huge pile of cash to lure him out of retirement!