The Importance of On-Body Carry! Part I:  Fanny Pack and Pocket Carry  
By Linda M. Gilbertson
www.ladiesdayllc.com
When asked to do an article about On-Body Carry, I was a little hesitant.  When I worked plain clothes in the late 70s and 80s with Federal and State agencies, On-Body Carry consisted of a waist, shoulder or ankle holster.  That was pretty much it.  Those holsters were made for men with no regard for the shape of a woman.  Very uncomfortable, very loose (women lacked adequate belts and beltloops), sometimes painful and therefore dangerous, these holsters were eventually traded for the purse which was definitely more comfortable and more secure for the pistol.  The only problem with the purse was that manufacturers hadn't developed the separate pistol compartment.  Many times finding your pistol amongst your wallet, cosmetics, hair brush and the kitchen sink was a challenge.  And the question became, how do you practice with your pistol when you have no idea where it is in your purse?  The development of Concealed Carry Purses revolutionized women's choices.
With some research and further consideration to this topic, I uncovered a myriad of possibilities for On-Body Carry for women that exist today.  I now consider this a challenge.  I'm open minded enough to perhaps find an alternative to my concealed carry purse.  But, I'm not easily convinced, so let's get to work.  If I'm not carrying a Concealed Carry Purse, what are my options?
Part I looks at the Fanny Pack and Pocket Carry.  Fanny Packs were somewhat a passing trend until manufacturers got the idea to turn them into Concealed Carry alternatives.  Originally, used for hiking, biking etc., they were the replacement for the men's wallet or the woman's purse.  They were generally black in color and fit around your waist.  I purchased such a pack from Tommy's Gun Pack out of Simi Valley, California in the early 90s when Arizona got its Concealed Carry Permit.  Yes, it is black, so I purchased a smaller version in turquoise when colors became available.  So, I have a fanny pack for the 4" 9mm and a smaller pack for a 2" .38.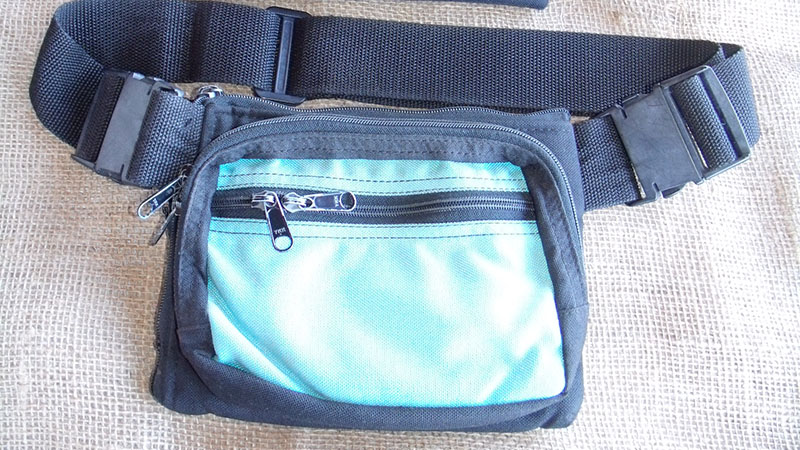 I believe Tommy's Gun Pack, tommysgunpack.com, may be leaders in the industry.  What I like about them is a gun-rug with a web belt and quick release clasp.  The gun-rug consists of padded material which securely holds the pistol in one position.  A zipper holds the padded material around the pistol.  The pistol doesn't require additional support with Velcro or rip cord to keep it in a ready position. You are guaranteed that when you reach for it, the pistol is upright and the grip is accessible.  If you're a right hander, the pack must be carried on your left side for a cross-draw effect.  When you need access to the pistol, hold the end snaps with both hands.  Your strong hand is holding the clasp attached to the web belt.  Your weak hand is holding the clasp attached to the gun rug.  Your left hand releases the clasp and you rip open the gun-rug with the left hand, revealing the pistol.  Keeping the zipper waxed will help in the ease of the rip.  I enjoy this fanny pack but have also found it to become more difficult to manipulate the clasp as my arthritis has developed.  Then it's back to the purse for ease and comfort.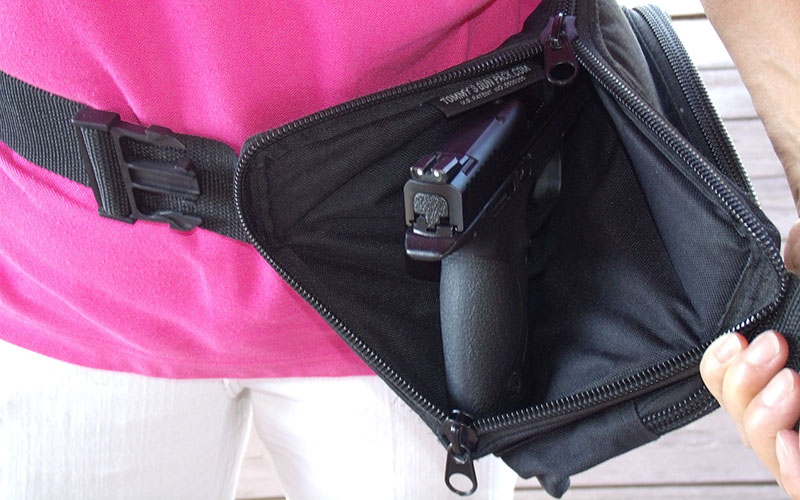 Some people say that Concealed Carry Fanny Packs are ancient history, but horseback riders, bicyclists, motorcycle riders and hikers still use them today.  It is more comfortable for them to have something resting on their hips than under their shoulder or on their ankle.  Also, most Fanny Packs have additional compartments for keys, phone, glasses, money, extra ammo or whatever you need to carry with you.  The only drawback is that because of the Fanny Pack's popularity as a concealed carry method, you're broadcasting that you're carrying every time you wear one.  In Arizona, it doesn't matter since this is a "Constitutional Carry" state, but in other states where you're trying to be secretive, it's a dead give-away.  To avoid this you can always purchase a color other than black or decorate your fanny pack with artistic patches, sequins, or hobby memorabilia.
Pocket Carry is more difficult for women and is going to require them to shop around for the appropriate clothing.  Many of our styles of pants do not have pockets and those that do, are not deep enough for the Pocket Holster.  Here you see a basic 'Uncle Mike's' pocket holster called the Sidekick.  Below it is the 3" 9mm custom made Nova which fits snuggly inside.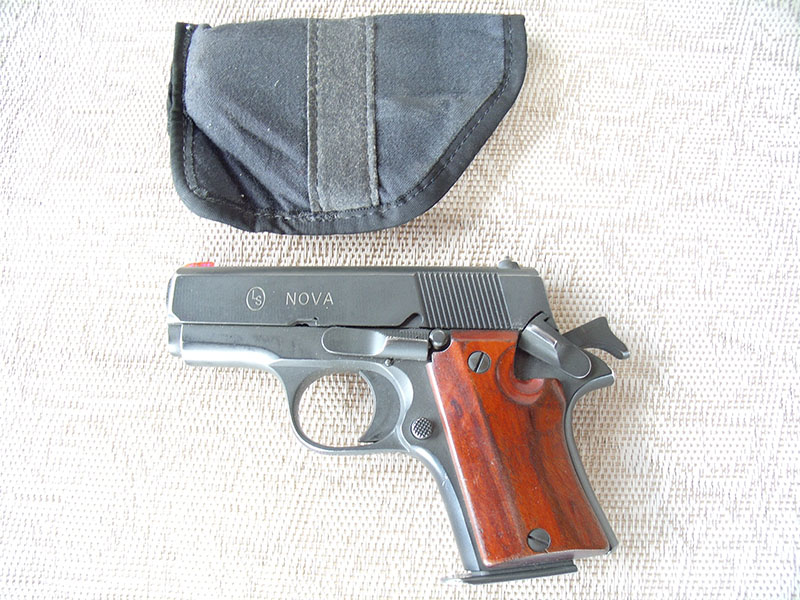 I tried it in my right pocket wearing a basic pair of jeans.  Besides the pocket not being deep enough, it imprinted on the outside, could not adequately hide the full grip and was heavy as I walked.  I didn't even try it in the pocket of my dress slacks, as I knew there was no way for me to be discreet and blend in.  It would have looked like an ugly growth.  As most women's styles are form fitting, I'd have to purchase at least a size to two larger to secure a lose pocket, to discreetly carry this small of a pistol, without imprinting the frame of the pistol on the outside.  If needed I could wear a loose fitting shirt over the pocket to further disguise it.  In addition, even with the appropriate sized clothing, how am I going to access my pistol when I'm sitting down?  It will require me to stand in order to draw it from my pocket.  Standing may not be an option especially is I'm driving my car.  The pocket holster is not a woman's idea of being stylish nor comfortable, nor accessible.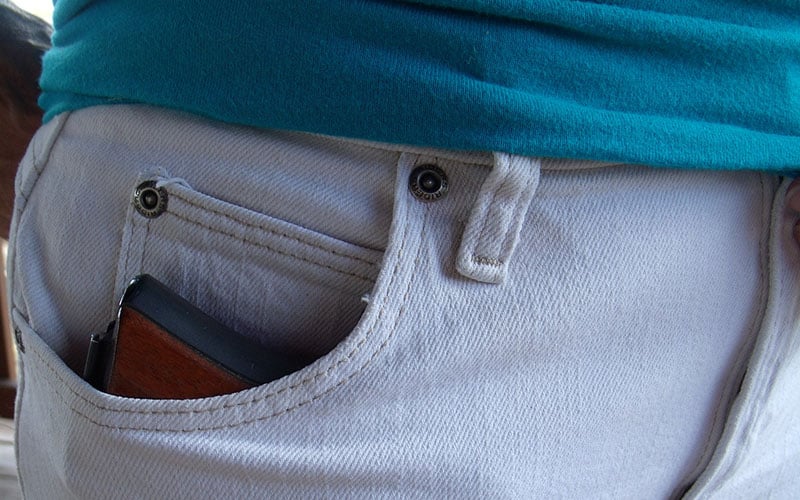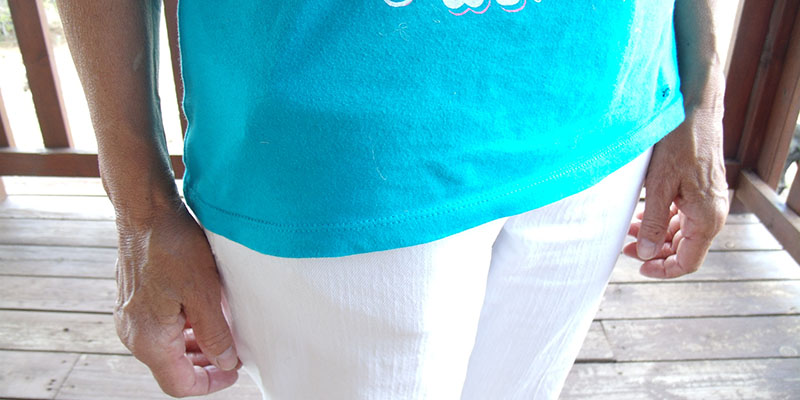 I'd like to recommend an alternative to the pant Pocket Carry for women.  Here's something I discovered from a company in Reno, Nevada.  Silver State Apparel, silverstateapparel.com,  "provides women's concealed carry clothing that is feminine and fashionable with tactical functionality."  The 'Elegantly Concealed' clothing line is designed for women by women.  It allows for comfortable pocket carry "while wearing a beautiful embellished shirt." Silver State Apparel loaned me the 'Minden' to try.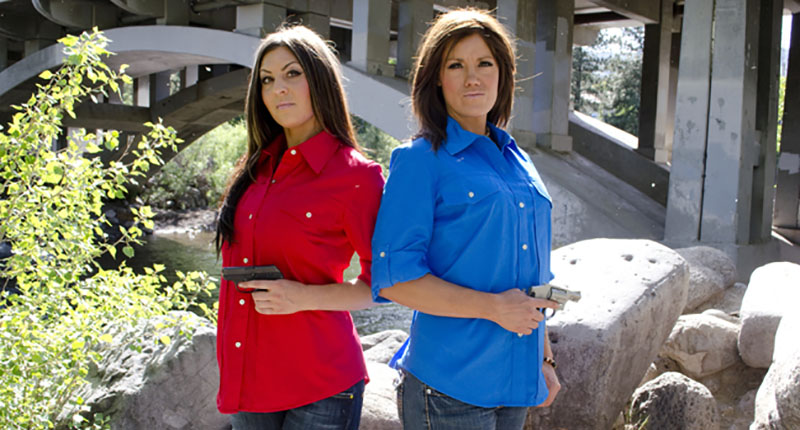 This shirt is made of Cotton/Spandex Poplin.  There is a double layer of fabric in the front of the shirt.  Both right and left handed shooters are able to acquire their firearm by using a cross-draw method, parting the hook and loop closure, sewn into the pocket.  The double layer of fabric supports the pistol weight and elastic retention keeps the pistol positioned with the muzzle down.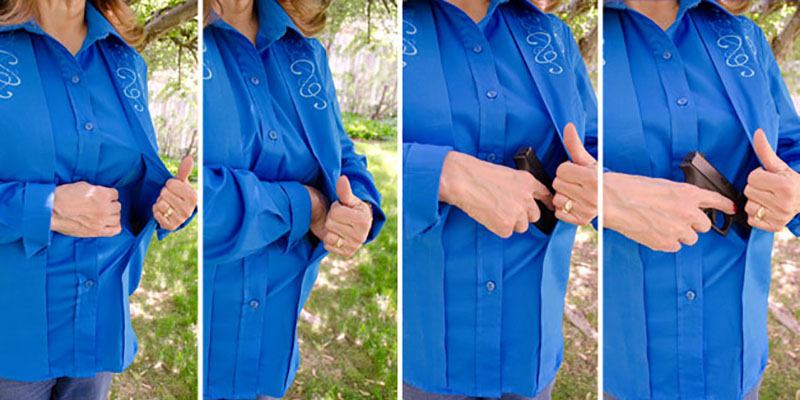 The shirt accommodates a compact light weight handgun up to 6 ½ inches in length and weighing no more than 16 ounces.  I tried my Smith and Wesson full-size M&P and though larger and heavier, I was able to carry and retrieve it with little difficulty.  But, any larger semi-automatic would be difficult to maneuver through the shirt opening and its heaviness might make you look lopsided.  I did wear the 'Minden' around town carrying a Charter Arms .38, 2″ and I admit it was quite comfortable and nobody knew I was carrying.  I think that in order to avoid imprinting on the outside and the fear of looking lopsided, I recommend staying with the size pistol recommended by the manufacturer.  Even though you know based upon my recent articles, I'm not a compact nor light weight pistol advocate, looking at the New Styles available through Silver State Apparel, I might convert to carrying something smaller.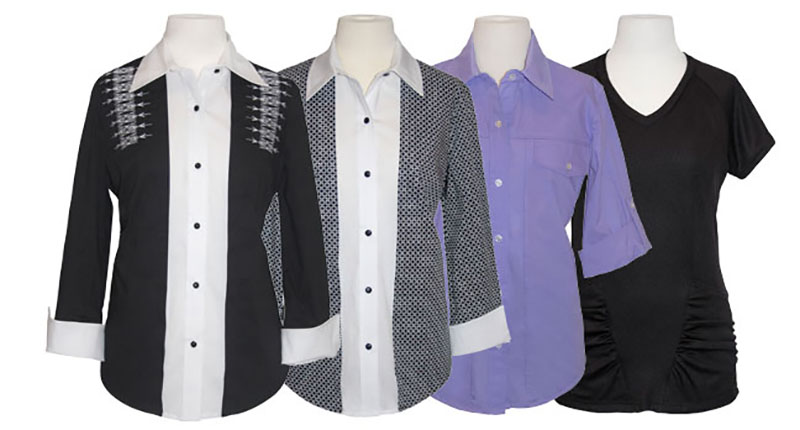 The advertisement received with the 'Minden' advised that the pockets can also be used to carry other items such as documents like a passport, or women's personal items like lipstick, a wallet, keys or perhaps a Taser or pepper spray.  I'm purchasing this shirt and taking it with me on an upcoming vacation to test its versatility.  I'm not going to be able to carry a pistol with me but I like the idea of carrying documents and money safely tucked in my shirt, leaving my shoulders free of a purse.
Of the three On-Body Carry options just discussed, you'll agree that I've spent a considerable time discussing the Fanny Pack and 'Elegantly Concealed' pocket carry shirt.  My comments concerning both are favorable.  I'm not yet convinced they will replace my Concealed Carry Purse.  I still like my Gun Tote'n Mama Purse with its ease of access to my pistol.  Call me old-fashioned but it will take a lot of convincing for me to change my ways.
Part II I'll discuss Women's Belly Bands, Corsets and Compression Clothing.  They sounds racy but I'll try to treat each with dignity and maturity.