By Guy J. Sagi
There's a migration to Canada every spring you should consider joining, even if you're not a hunter. For most, the attraction is a good chance to take a black bear, but it's the fishing, wildlife, wilderness and people that make it a trip of a lifetime—even without a gun or bow.

Let's get this on the table right away: Most spring black bear hunts in Canada are over bait. The approach may not be your first choice, but—as my story illustrates—claims that it guarantees success are an urban myth.
There are other reasons I don't have a problem with the technique. For one thing, the bruin population in those thick and remote forests to the north is way too large and attracting sportsmen willing to travel the distance is tough. Without their aid, scientific management of any renewable wildlife resource is impossible—fiscally and physically.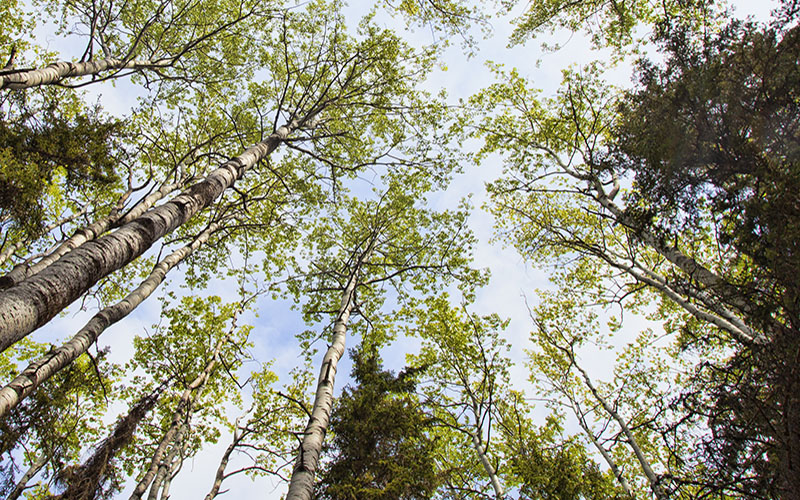 In addition, baiting is selective. I'm no expert on judging bear size, and it helped me make the right decision to pass on the one I saw this spring. The big and hairy omnivore looked large as it lumbered through the trees, even stomped the ground with authority, but at the bait the two- or three-year old's size was obvious. And, as for claims that pizza and donuts are used, reaching the nearest Dominos this year required driving two hours on pavement, and another hour and a half by dirt. I went in by floatplane on my first Canadian bear hunt and, unless I'm mistaken, aerial delivery still isn't an option. It's usually grain, oil, molasses, and an occasional beaver carcass in the pungent mix.
One thing there's no dissent about, however, is Canada's spectacular wilderness and scenery. If you haven't made the trip, or at least thought seriously about taking one, my mid-May adventure might change your mind.
Tower Lodge Outfitting was the destination, 210 miles north of Saskatoon, Saskatchewan, on the shores of Dore Lake. Ice was on the water only two weeks before, but things warmed fast and the bears were coming out of hibernation. Their initial feeding frenzy was obvious by the number dining on roadside dandelions.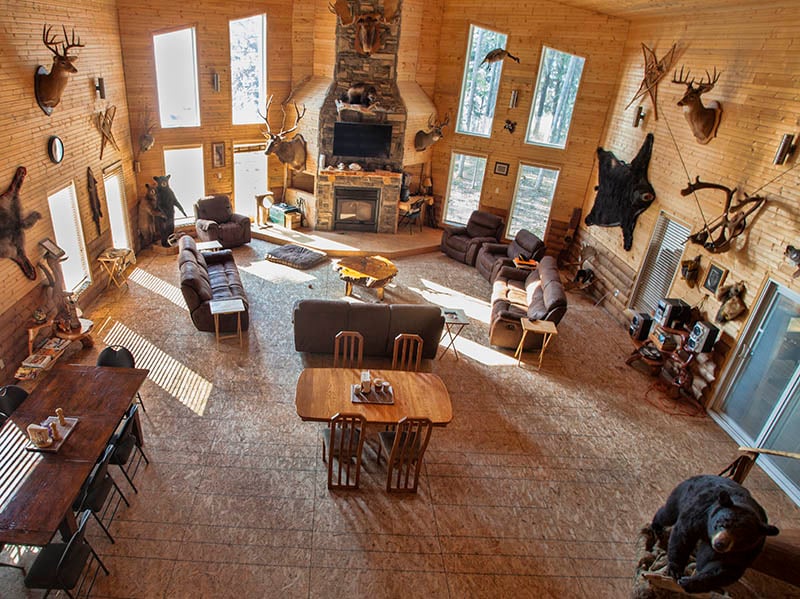 The Boreal Forest is thick with evergreens, but it's also tall with black and white poplars, providing a unique look and feel. What it lacks in mountainous scenery it makes up in lush vegetation that provides prime wildlife habitat.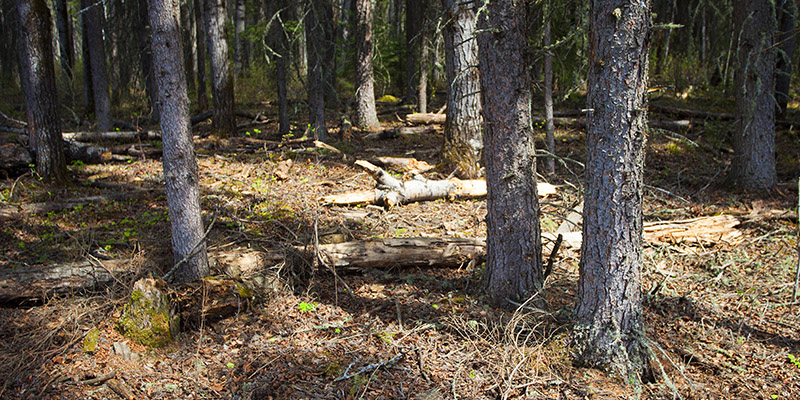 Dore Lake covers 247 square miles and its pike are voracious, particularly after the water warms enough to launch the spawn. The third day the temperature was ideal during my trip, and Johnny Poole, from Georgia, claimed top honors in camp when he boated a 40-inch, 15-pound specimen. The lake surrendered dozens of fish during my trip, usually on spoons or big crankbaits (Bomber Herky Jerky among them)—so stock your tacklebox accordingly. Five years ago, a 51-inch, 37.5 pounder was caught by an angler staying at Tower Lodge, where boats and outboards are available. Sportfish species also include walleye, yellow perch and whitefish.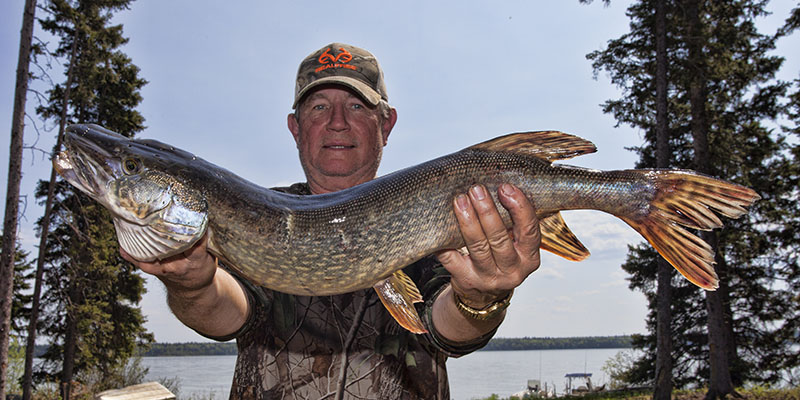 The lodge is only five years old, but don't book one of the rooms if you want to rough it. It's more tenderfoot-spouse ideal, with a bed and breakfast feel, complete with family atmosphere provided by Vi Popov doing her magic in the kitchen. Her husband, Val, is in charge of maintenance and serves as a guide—with more than a decade of experience in the area, he is a wealth of knowledge. The couple offers cabin rentals as well, which have a more rustic feel if that's your preference.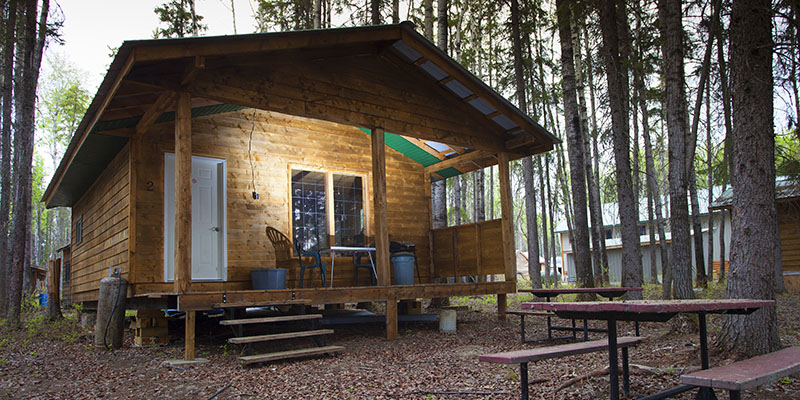 I avoid hunting from treestands, a byproduct of another trip in which I watched wood snap under my feet and considered the levity of an obituary that referred to my demise as a "gravity-fed human avalanche." With that in mind, I told Val I'd rather hunt from terra firma than teeter in the breeze. He set up a ground blind, delivered plenty of cautionary tales, and I spent the first four nights there waiting for a blond bear that verges on legendary in the region. Not every guide is comfortable with someone on the ground, especially once it turns dark.
The first two days nothing appeared, but that's hunting and illustrates why bait doesn't mean automatic success. On day three, the small bear snuck in, strolled past the bait station without slowing and disappeared. The flyby was silent. At about the time I started theorizing it was an imaginary, 150-pound stealth bruin, it made another strafing run, but this one began with audible foot stomping, rock tossing and an authoritarian "huff."
For 20 or 30 minutes the bear hung around and put on one of those rare shows that are so much fun. When it grabbed anything to eat, it usually ran back into the trees for privacy from that big green blind with the audacity to stick around on the forest floor—it had, after all, tossed the thing over and pinned it the night before. The bear laid down once as if to taunt its nylon adversary, but always kept an eye my way to detect movement. It sniffed, snorted and finally sauntered off with a confident gait as if to ask, "You want some of this?"
At about the same time, a mile or so away, Marsha Shearer took a 350 pounder. Shearer and her husband Chad star on Pursuit Channel's "Shoot Straight TV," and arranged the hunt with CVA. The one she took was the bigger of the two trying to establish dominance under their treestand that evening, although the second bruin wasn't much smaller according to the couple.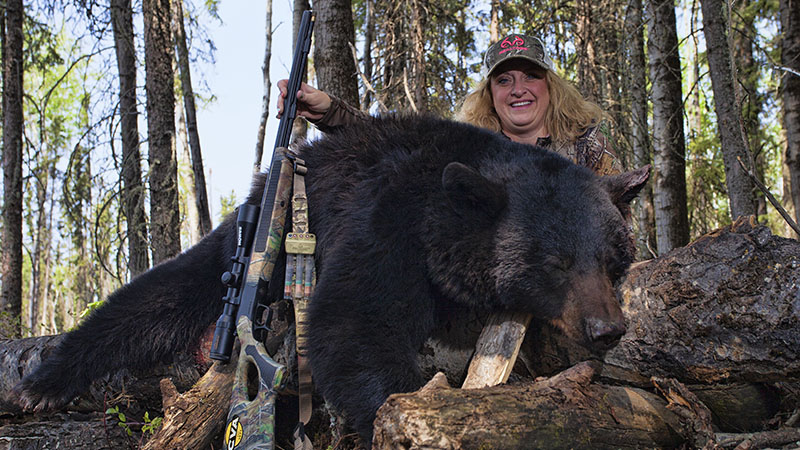 Val had to deal with her downed bear, though, and that left me out after nightfall, on the ground. It's not like I'm afraid of the dark, but when I hear a twig snap in pitch black about 10 yards in front of my blind I tend to turn on my flashlight—call it morbid curiosity.
I blinked my eyes at first, thinking the big black blob was a tree. Nope, the bear turned its head and I could see eyes reflecting as it closed the gap. "Bad bear," I said loudly, in a deep voice, following Val's advice. It stopped. I said it again, and the bear turned into the darkened forest and started tossing things around like a spoiled brat sent to his room. I couldn't see it, but there was a lot of noise.
I abandoned the blind so I could rotate my headlamp to create 360-degrees of light coverage—rotating in lighthouse fashion. In all the excitement, I'd even forgotten to put a primer in the muzzleloader—not that I would have gotten off a good shot if a real charge occurred. Val told me later bears often come to flashlights out of curiosity, and jokingly added, if he got real close I should escalate my warning to, "Very, very bad bear."
It's funny now, not so much that night. I thought at first comparing my experience to Custer's Last Stand, with danger circling, was a mistake after he put me in a treestand the last evening. It turned out to be like a stay at the Hilton. It's amazing how nice a little elevation can be, especially when your outfitter takes care of his gear.
Three out of six hunters took bears during the hunt, with Marsha's the biggest. I chose my original stand because a big, platinum-blond color-phase black bear frequented the location. It's not the first time the siren call of golden locks have been my downfall, although had I chosen to ignore them this time my Canadian hunt this year would have never been as memorable.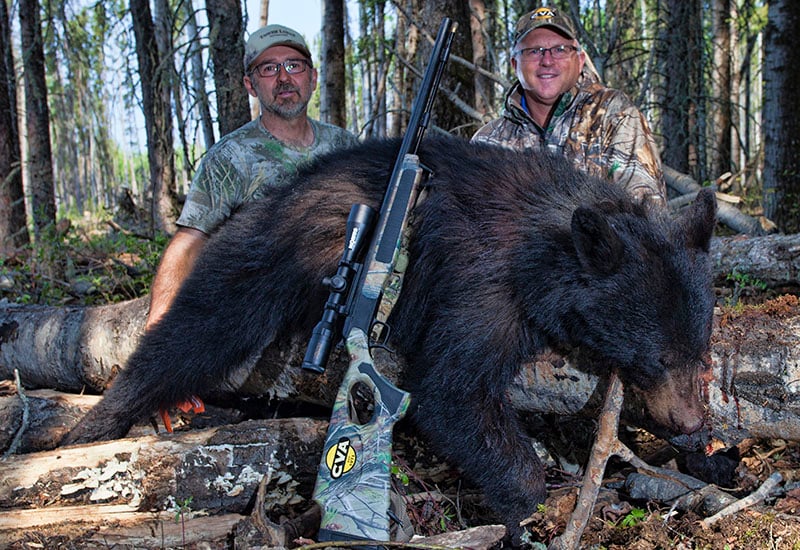 Getting There
Getting to Canada for a hunt is easy. Obviously, booking the flight and rental car for the drive is a no-brainer, but customs at this time of heightened security can feel intimidating. Relax. It's stress free if you prepare.
A current passport is a prerequisite, but the next mandatory step for American citizens is completion of a Certification of Registration of Personal Effects Taken Abroad followed by a visit to a U.S. Customs Office for a signature. The latter sounds painfully complicated, but it's simply an agent inspecting high-priced/valuable items before you leave. When you return all you do is produce the document(s) to prove you didn't purchase them abroad to avoid paying import taxes or tariffs. Offices are at major airports with international service. Call ahead to determine hours and bring everything on the list when you visit.
I filled out four forms and included a laptop and two cameras I didn't take to Canada this trip (that way I can take them on future trips when needed without a return visit to government offices). The gun/bow and optics should also be itemized by serial number on the form, and before you ask, Customs doesn't make copies that go into a secret database—in my case, a polite agent simply double checked descriptions, numbers, signed and reminded me not to lose the paperwork.
I was taking a CVA Accura V2 muzzleloader, the most accurate frontstuffer I've ever used. I can attest to the .50-caliber's accuracy on prairie dogs—believe it or not—so I wasn't worried about it being on target and the big bore is known for its ability to drop black bears. For my optic, I went with the Konus 3-9×40 mm IR, with lighted reticles that help in low light and hashmarks that match CVA muzzleloader bullet ballistics.
Canadian laws on firearms are restrictive, but hunter friendly. Getting semi-automatics and handguns in the country is practically impossible, but the greeting by Canadian customs is warm, friendly and informative when you declare other firearms.
Officials there will inspect your gun (checking the serial number) and issue a permit that requires a $25 fee. The paperwork must be with the gun at all times, and you should fill it out before leaving—but do not sign that last line until "authorized" to do so in Canada.
If you haven't taken a firearm in your checked luggage, just remember to say, loudly and clearly to the ticketing agent, "I have an unloaded firearm I need to declare." You'll be asked to sign a small form, which you toss into the case, relock and hand to TSA. They X-ray and if something amiss is spotted they'll ask you to open the case. Make a similar declaration of ammunition and always consult the airlines website for requirements. Some want it in a hard case inside your other luggage and others limit the amount you can take.
Call me paranoid, but I always remove a bolt-action rifle's bolt to make TSA determination easier. The breech plug in my muzzleloader was removed for that reason. I also put on a trigger lock. It's not required on most airlines, but it is on Air Canada, and if your flights rerouted/rescheduled, there's no reason that lack of a $5 item should waylay your travel plans.