By David Link
The Boker Plus Bushcraft XL Knife is a strong, streamlined fixed-blade knife well worth taking with you into the backcountry.

Bushcraft knives are truly in a category of their own. Just like EDC knives designed for first responders, you want to choose a bushcraft knife you can bet your life on. Yes, most bushcraft knife owners fantasize about a scenario where they'll need the knife to save the day. While in reality most of us never need a bushcraft knife in a life or death situation, you never really know. Since this is the case, it's best to invest in a knife you can trust should you ever get in a tight spot. Of course a good knife will easily perform all the tasks you want it to, and a sharp, quality knife is actually less likely to injure its user. This said let's look at a great bushcraft knife option for many users, the Boker Plus Bushcraft XL Knife.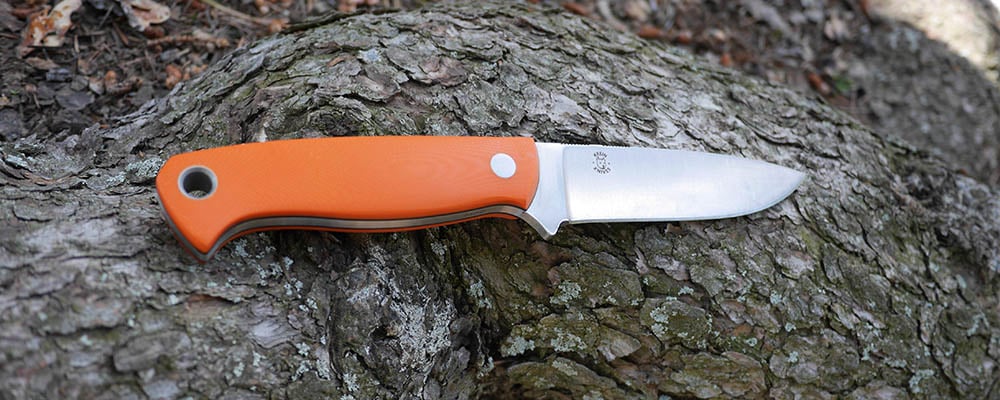 What To Look For In A Bushcraft Knife
At the bare minimum, a bushcraft knife should have several basic characteristics. First and foremost, it should be a fixed blade knife. While it may be tempting to select a folding knife for outdoor survival applications because of its compact size, the folding joint simply isn't strong enough for many bushcraft tasks. The best bushcraft knives have thick, full tangs and a general "beefy" feel and appearance. This ensures the knife will stand up to any chopping and pounding tasks. In addition a bushcraft knife should be made of quality stainless or carbon steel, and the blade should be of a reasonable length, not oversized but not too small either. Generally speaking a 4″ blade is a good place to start.
While it may be tempting to choose a serrated / straight blade combo, a sharp, straight edge blade is the better option. Serrated knives are difficult to sharpen effectively, and a sharp straight edge will really perform much of the same functions a serrated blade would. As for the knife point, drop point is really the most versatile option, however some users may select other points as a matter of personal preference. A thick flat edge opposite the blade is another aspect to look for in a bushcraft knife, and this allows for pressure to be applied with your thumb when needed. Double-edged blades really have no place in bushcraft applications, so choose a knife with a blade on one side. Finally the handle should fit your hand well so you can use it easily. You'll want a grip made of non-slip material so you can operate it even in wet conditions.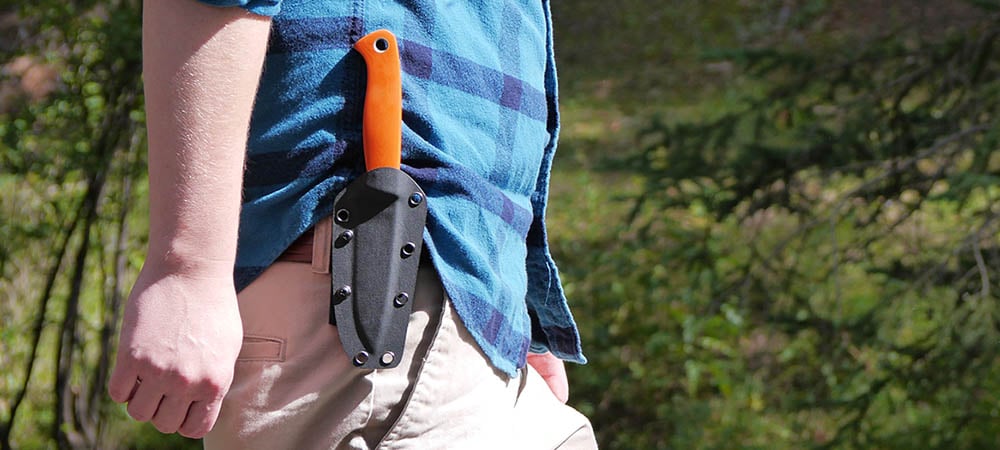 Boker Bushcraft XL Basics
Boker works with a wealth of knife designers, and the Bushcraft XL is the brainchild of designer Tom Krein. A custom knifemaker since 1993, Krein specializes in quality, handcrafted fixed-blade knives. His expertise is right in line with the best bushcraft designs, and Boker has found the perfect designer to work with for their Bushcraft XL Knife. Based around a thick, fixed-blade design, the Bushcraft XL is made with the versatile 440C stainless steel. This type of steel holds an edge well and is relatively easy to sharpen. At the same time, 440C is tough and doesn't corrode very easily. In short, what you get in the 440C is a steel well suited for outdoor uses and one that won't easily rust on the user. Corrosion resistance is especially important because a bushcraft knife will be exposed to a lot of moisture over its lifetime. The Bushcraft XL sports a drop point which is ideal for most outdoor applications. It also has thumb grooves opposite the blade to aid in slicing tasks.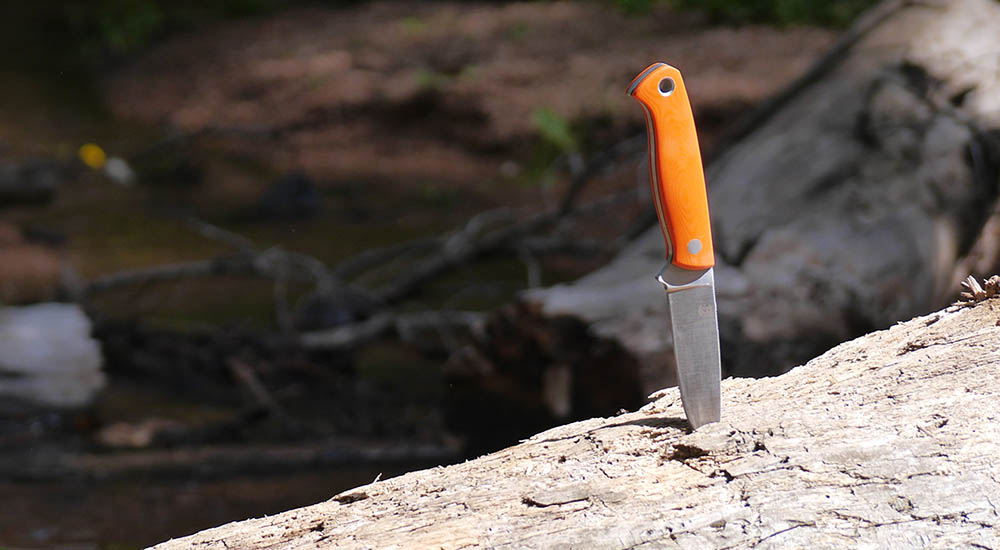 Opposite to the 440C blade is a G-10 handle material, which like the blade component, is well suited for outdoor applications. G-10 is used extensively in electronics, but it shines as a handle material for several reasons. It is very resistant to water absorption, and it won't shrink or warp when exposed to the elements. G-10 is a durable, strong material, but it is also relatively lightweight compared to some alternatives like wood. Finally G-10 provides a solid grip, and this reduces the likelihood of slippage when using the knife. G-10 is definitely an upgrade compared to some materials, and it's a welcome addition in the Bushcraft XL. There is also a cordage loop at the back of the knife for securing it with paracord or other cordage.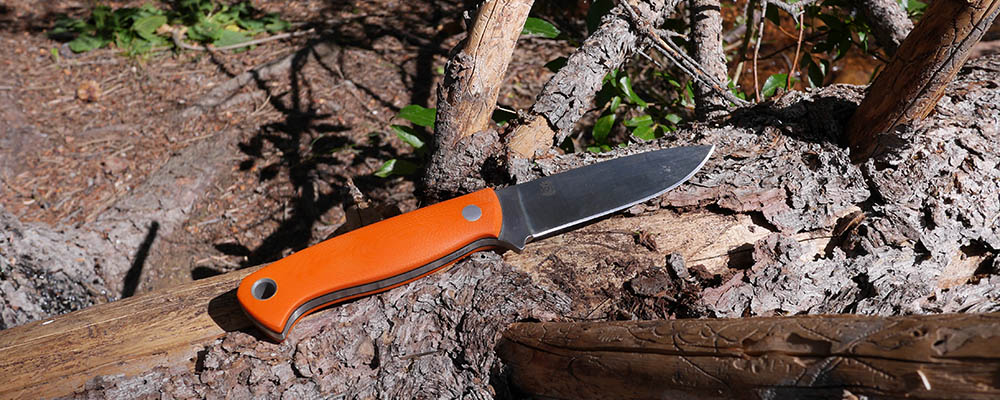 Finally a quick word about the Kydex sheath. While certainly not as flashy or beautiful as a leather sheath, the kydex sheath is extremely lightweight and functional. Kydex is a relatively hard material that will fare well in outdoor applications, and it does an excellent job of securing the knife. Drawing the knife out of the sheath requires some effort, but personally I think it is right in the middle and dialed in well for it's purpose.
Specs
Steel: Stainless 440C
Handle Material: G-10
Overall Length: 8 7/8″
Blade Length: 4 3/8″
Blade Thickness: 0.2″
Weight: 7.8 oz.
Sheath: Kydex with modular belt adapter.
In The Field
I've carried the Boker Plus Bushcraft XL on several treks into the high country, and I have to say it's hard not to feel prepared with this knife strapped to my side. One particular outing found me at 13,000 ft above the treeline following a mountain stream. Thick scrub brush surrounds treks like that, and you never quite know what is lurking in those areas. While my bear spray was the most easily accessible self-defense tool on my pack, the Boker Bushcraft XL was never far from reach on my belt either. In Colorado large animal encounters with black bear (no grizzlies in this country) and the very rare mountain lion attack are best responded to by fighting back. It's good to know that should the bear spray fail (or worse I botch it), there is still a strong knife to fall back on in a dire situation. The same goes for if I'm lost or injured. A good knife is truly one of the best companions you can take on a hike.
As far as general bushcraft tasks go, the knife can peel bark, remove smaller branches, and field dress game and fish in a pinch. It is strong enough to baton with as well. All told, the Bushcraft XL is a good mid-priced option for these applications, and while it may not be the only survival knife you buy, it's a great option for those looking to upgrade their go-to outdoor tools.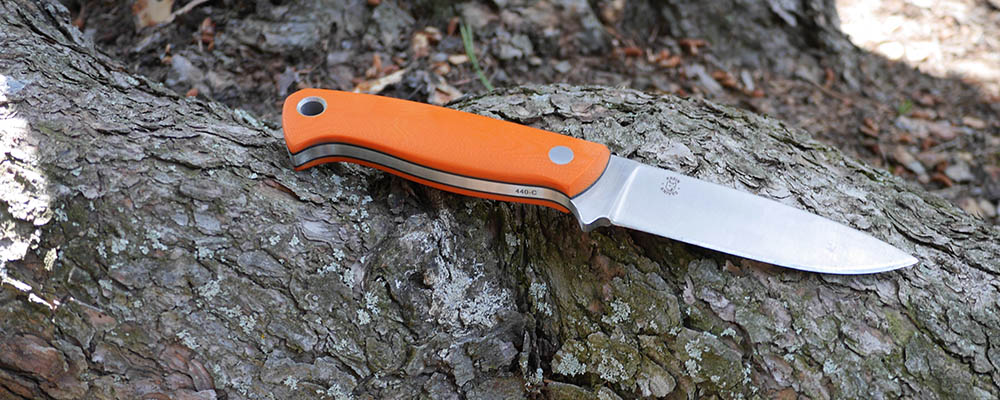 Determination
While the Bushcraft XL won't be the most expensive bushcraft knife you come across on the market, it truly does offer a ton of value at its price point. Tom Krein has designed a streamlined yet effective knife, and it comes at a more affordable price versus a custom bushcraft knives. The G-10 handle material is a quality option, and while 440C isn't the most expensive steel you'll see on the market, it balances function with price to present a good intermediate option that doesn't require too much care. It would be a little tricky to effectively sharpen this knife in the wild, but it handles most other bushcraft tasks with no issues.
The knife is heavy, but that's not a bad thing when considering bushcraft knives. You really do want a knife with a thick blade and girth for bushcraft applications. If you're looking to pack light, this knife may not be for you, but at the same time, if you're looking to get off the beaten path, it may be worth the extra weight. This knife also works great as a "mountain truck knife" as I like to describe it, and you can pull it out of the glove box whenever heavy tasks are encountered. All told, the Boker Plus Bushcraft XL is a good value intermediate fixed-blade knife worth checking out.