For those of us that have spent any considerable time shooting handguns, you will enviably end up with wide array of holsters. Whether its from "trial and error" holster testing, changing preference in carry or simply owning a variety of holsters for a variety of guns, just about every seasoned handgunner I know has that all too familiar box of holsters. Over the years from my law enforcement career and personal life, I have probably sold or given away ten times the number of holsters I currently own now.
Often my shooting buddies and I have pondered what it would take to make one holster for most common handguns on the market today. Large and small frame revolvers aside, most firearms seen on ranges and in the classes I teach are semi autos very similar in size, shape and function. The quick and easy answer has always been some sort of simple nylon pouch, but safety and retention have always overruled the real functionality of this option. Recently, Blackhawk! has ventured to offer a more complex and real-world functional option for using a wide array of handguns in a single, secure holster called the Omnivore.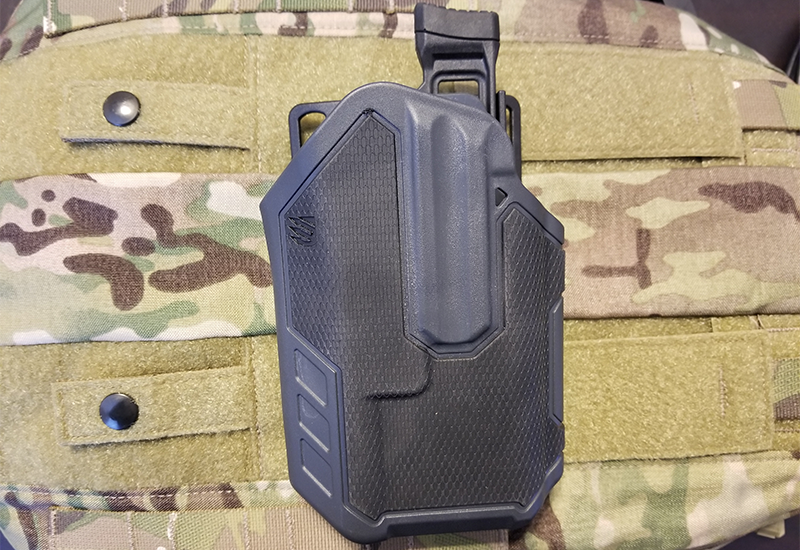 First Look – Blackhawk! Omnivore
A few months ago, I received a test sample of the Blackhawk! Omnivore set up for right handed use with a light bearing handgun. As I removed it from its packaging, I noticed the mounting system was set up to be compatible with all options offered from the vastly successful Blackhawk! Serpa Holster series. With three small screws, the end user can fully adjust the cant as well as switch mounts. The holster comes standard with a paddle mount and fully adjustable belt slide mount. A very underrated aspect of the belt slide mount is the fact that Blackhawk! offers small clips in which regulate the width of the belt opening to keep it secure on a 1 ½ or 1 ¾ inch belt with zero wobble or lean.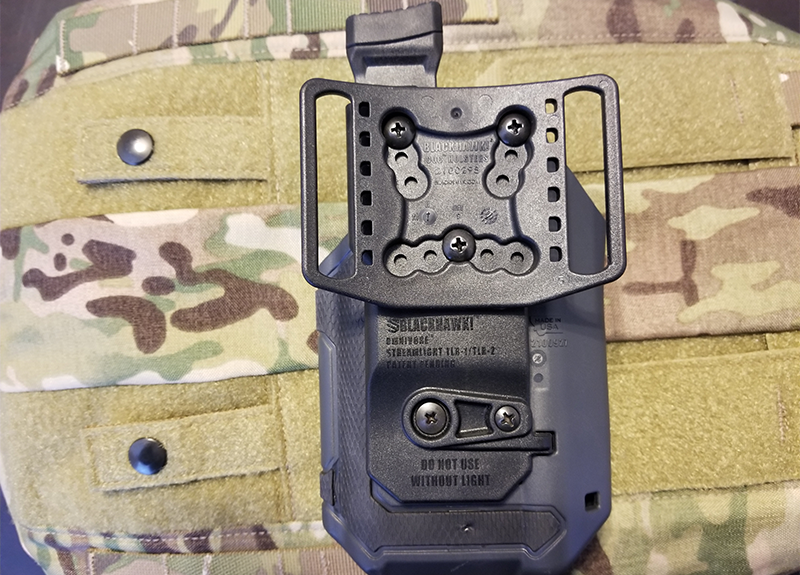 Switching from a belt or paddle mount, to an available accessory drop leg or mid ride height mount can be done in less than a minute using only a Phillips head screw driver. For operators, the holster can even be direct mounted via Molle to a plate carrier just like the military issued Serpa holsters. Without knowing anything else about this holster, the Omnivore already started off the review session with some serious bonus points for versatility.
According to the Blackhawk! website, this injection modeled (Kydex) holster could fit up to 150 different semi-auto pistol models with a TRL 1 or TRL 2 weapon light from Streamlight. Other models offered in the Omnivore series are standard holster for pistols without lights attached as well as a second weapon light equipped holster that fits the Surefire X300.
The Omnivore is considered a level two retention, meaning, you must actively perform some secondary process in order to draw the firearm from its holster. The key being the retention focuses on using points around the light to lock the gun into the holster. On the standard, nonlight oriented holster, the retention is based on an attachment supplied with the holster which fits onto rail equipped pistols. In my opinion, if I must add anything to my firearm for it to secure into a holster properly, I much rather have it be something as functional as a white light rather than a plastic clip on device only used for the holster.
Compatibility
Curious to see how the holster would fit, I went to my gun safe and pulled out three pistols regularly used in the firearms classes I teach that all currently have Streamlight TRL 1 or 2 lights on them. These guns included a Glock 17 9mm, a Glock 21 .45 ACP and a SIG Legion 226 9mm. Each of these pistols have a noticeable size or shape difference with the commonality being the same style light. *Disclaimer: As much as I enjoy the wide array of well-made Blackhawk! products on the market, I really had my initial doubts about this "too good to be true" holster.
Glock 17
On my first attempt to holster the Glock 17, it missed its mark due to the angle I was not paying attention to using. Once I dropped the gun straight down into the holster, it positively locked into place without any wiggle room. As I grabbed the pistol with a master grip, my thumb naturally came down on the inside mounted lever and disengaged the retention for a quick, smooth draw. I noticed the angle mistake came from trying to holster the gun while holding it instead of wearing it on my belt. After I mounted the holster onto my belt at my 3 o'clock strongside position, the straight drop of the pistol was very natural and done so without a second thought.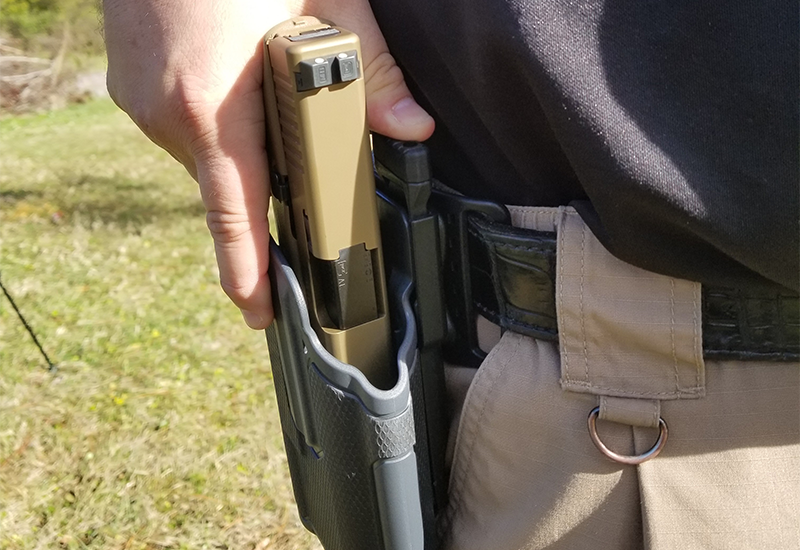 Glock 21
When I switched to the larger, thicker framed Glock 21 chambered in .45 ACP, the gun smoothly went into the holster without a noticeable pinch or any feeling of squeezing the gun into place. As I established a master grip on the gun, I noticed my thumb did not engage the thumb lever in a downward direction as it did with the Glock 17 due to the model 21 being thicker. By adding one of the three extra extenders on to the lever, it sat higher up on the holster to engage my thumb sooner. It now felt just as smooth and comfortable as it did with the Glock 17.
Curious to see how the lever would feel with the smaller framed Glock, I switched back to the model 17. I could not tell a difference in draw speed or application between using the extended lever and before. Everything felt solid, secure and quick to get into action.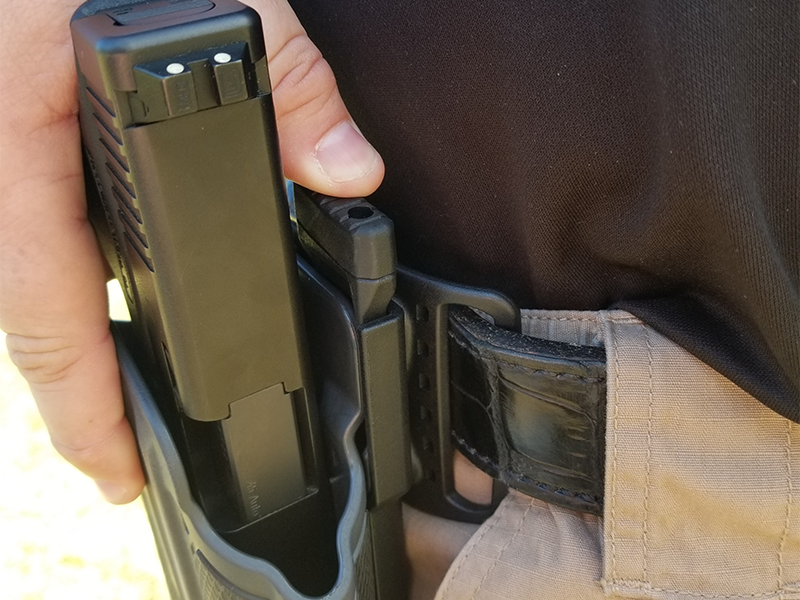 SIG Legion P226
Finally, I changed up entirely with the SIG Legion 226. This is a wider, heavier, all-metal gun with a much more noticeable curved contour. As I began to holster the pistol, I caught myself staring to see when or where the gun would hang up and not seat properly. All the way down, the pistol holstered smoothly to the final "click" of the retention device. To say I was a bit surprised would be a polite way of saying it. I quickly drew the gun from the holster and seated it back in. After roughly 15 to 20 series of draw and holster cycles, I finally believed the holster would reliably work with all three guns equally.
Field Testing
Once I knew the holster could fit the available light mounted pistols I had for testing, I attached the Omnivore to my training rig and hit the range. With a small learning curve, I was able to switch relatively easy from pistol to pistol as I worked through a wide range of draw and shoot drills. The vertical groove along the side of the holster fit my trigger finger comfortably, keeping it in line with the side of the pistol during the draw and out of the trigger area until ready to fire. On the opposite side of the holster, the thumb driven retention lever could be engaged without a second thought as it was placed in a natural position on body side of the holster. Anyone who has ever carried a firearm professionally with any sort of retention strap across the top will have practically zero learning curve on the Omnivore's thumb lever.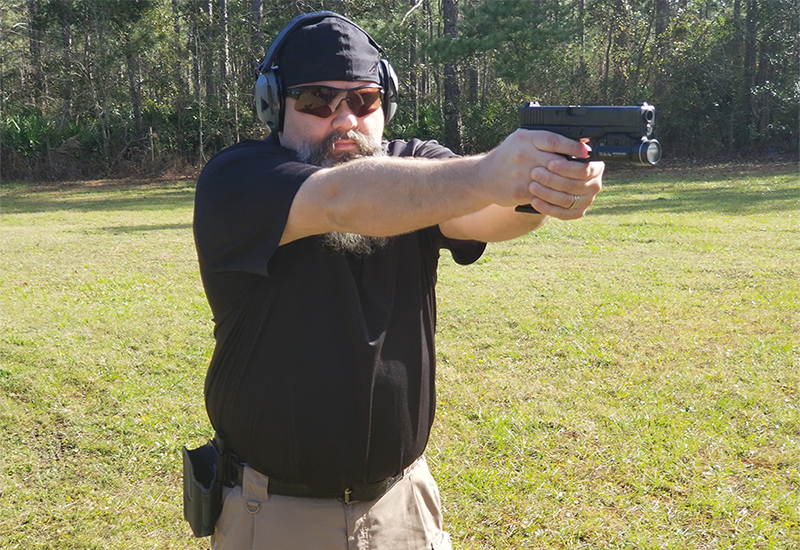 Size
Over a period of three months, I worked with the Omnivore while teaching classes, doing T&E on various handguns and carrying every day working from home with just my shirt pulled over to conceal it. What I learned from shooting, working and living with the Omnivore boils down to a few outstanding points. First, the overall size of the holster. Blackhawk! lists the Omnivore in its Concealed Carry section of their website. In my opinion, this is like listing my Chevy Suburban as a compact SUV. Nothing about its design lends the Omnivore to be a CCW holster other than pulling a long-tailed shirt or jersey over it as I did. It's not a huge holster, but its not thin or an inside the waist band design to really make it go unnoticed.
Fit
Having worked for over a decade in Law Enforcement as a SWAT operator, I am no stranger to light bearing holsters. Traditionally, these holsters have all been model specific which normally affords the manufacturer to use only the bare minimal material needed to fit the gun. My early assumption before seeing a sample of the Omnivore in person was that in order to fit over 150 models, it would need to be bulky and oversized.
I am not afraid to admit when I am wrong. In comparing the Omnivore to several of my model specific light bearing holsters from other manufacturers, I was just that; WRONG. While the Omnivore is comparable in size for a tactical light bearing holster, it still fully encompasses and protects the light and handgun with its tough injection molded shell and shock absorbent rubberized outer coating. I had to wonder if this rubberized outer layer was meant to grab onto the inside of a shirt covering over it. In wearing it in this manner while working in the office, I couldn't see much use for it other than giving a nice contrast in color to the gray Kydex. (Other available colors were Black / Black and Coyote / Black.)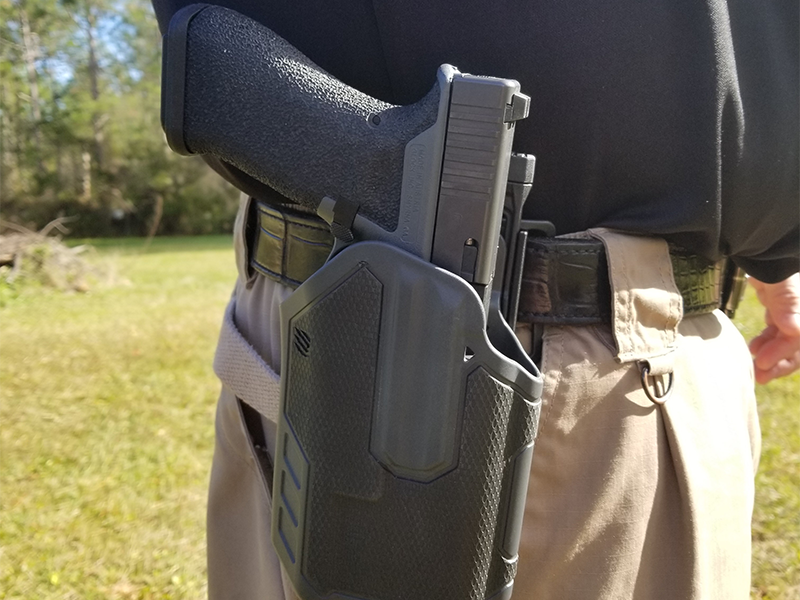 In some cases, the Omnivore may be the ONLY option for certain specific pistols to mount onto Molle equipped gear or drop leg holsters. Most manufacturers only offer those options in the most popular models. Shooters who enjoy pistols from companies such as CZ, Walther, Archon or other smaller brand products may want to take notice. These mounting options have all been battle proven for well over a decade and bring a huge X-factor to the Omnivore platform.
Price Point
Finally, the price point for the Omnivore at a MSRP of $59.99 is perfect for budgets ranging from police departments, self-funded operators and new shooters alike. The concept of manufacturers charging over $200 for a model specific injection modeled holster is simply mind blowing! The Omnivore is not only battle ready, it's regularly been mission proven by many private military contractors around the globe. Most of these operators previously used Blackhawk!'s Serpa series of products and smoothly upgraded to the Omnivore holsters. The dozen or so operators I have spoken with about the Omnivore since this summer all highly recommend it due to its light weight, versatility and overall toughness.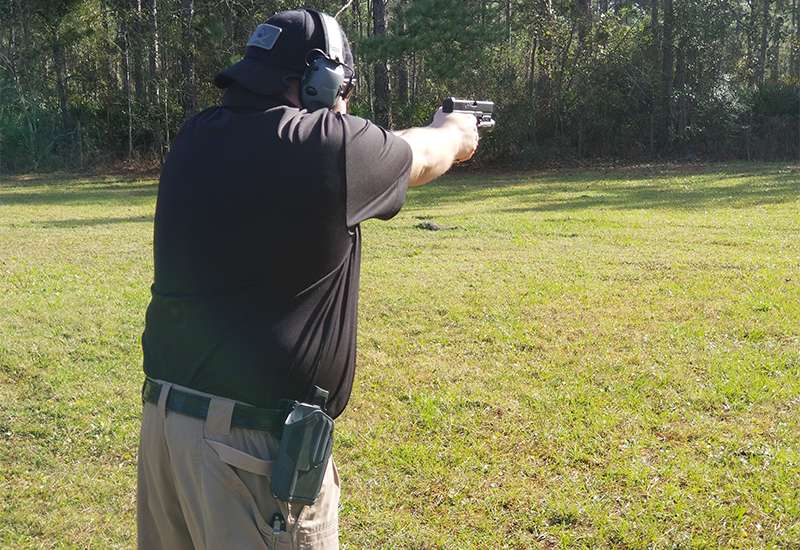 Determination
Overall, my initial concerns about the Omnivore were eliminated and I enjoyed working with the holster. During the test period, I did switch my lights out onto a HK USP .45, a Springfield 1911 and a red dot equipped Glock. I noticed a difference in tension with some pistols, but there was no real need to adjust the tension screw on the back. I was impressed that the holster gave plenty of clearance for suppressor height sights as well as cut low enough for the red dot. Some model pistols did seem to ride noticeably higher in the holster than I would prefer due to where the light was mounted on their frames. While the pistols were still very secure in place, they certainly were not the most aesthetically pleasing gun / rig combination.
Somewhere in the back of my mind, I'm not sure my brain is fully ready to toss out all my holsters and switch solely to the Omnivore. Whether this hesitation is due to years and years of traditional indoctrination of gun specific products or simply that I am a guns and gear hoarder, I can't honestly advise. I will say however, since testing this holster, I have included the Omnivore as part of my regular training kit for continuing to test new firearms that come onto the market. I think Blackhawk! put a lot of research and thought into the Omnivore's development and it is a solid product for a lot of shooters looking for real world gear. Until next week, Train Hard and Continue the Fight!