Sleek western styling, a gorgeous stag bone handle and top quality Damascus steel highlight this small fixed blade knife with a lot on display.

By David Link
Bear and Son Cutlery is a family-owned company from Alabama, and they pride themselves on their commitment to craftsmanship. While many knife manufacturers simply order parts and assemble them in their factory, Bear and Son goes above and beyond by handling every aspect of construction in house. Bear and Son knives are even hand finished so you know you're getting the highest quality product right out of the box. From affordable folding knives great for every day carry to fixed blade knives that look like they're straight out of a Western film, Bear and Son has quite the catalog of knives on display. Today we're going to look at a beautiful and unique knife from the Bear And Son 2017 line, the Baby Bowie 500D 1/2 fixed blade knife.

When you hear Bowie knife, it's natural to picture a giant knife strapped to the side of your belt. While the Baby Bowie is equally worthy of strapping to your belt, it comes in a far smaller package than its full-sized cousins. Not to worry though, the Baby Bowie can still tackle a variety of tasks. Let's take a closer look at the Bear And Son Baby Bowie 500D 1/2, made in the USA.
Damascus Steel
The most noticeable aspect of the Baby Bowie comes in its gorgeous Damascus steel blade. The blade is 3″ long and 0.14″ thick, and it is composed of Bear And Son's High Definition Damascus steel with an acid etch finish. A quick word on Damascus steel for those unfamiliar. It is one of the most sought-after steels for knife craftsman, and it gives any blade an unique and ornate appearance. It's not just for looks either, Damascus steel is an extremely hard blade material and it holds an edge very well. This particular knife comes with a hardness of 58-60 on the Rockwell scale (used to measure blade steel hardness).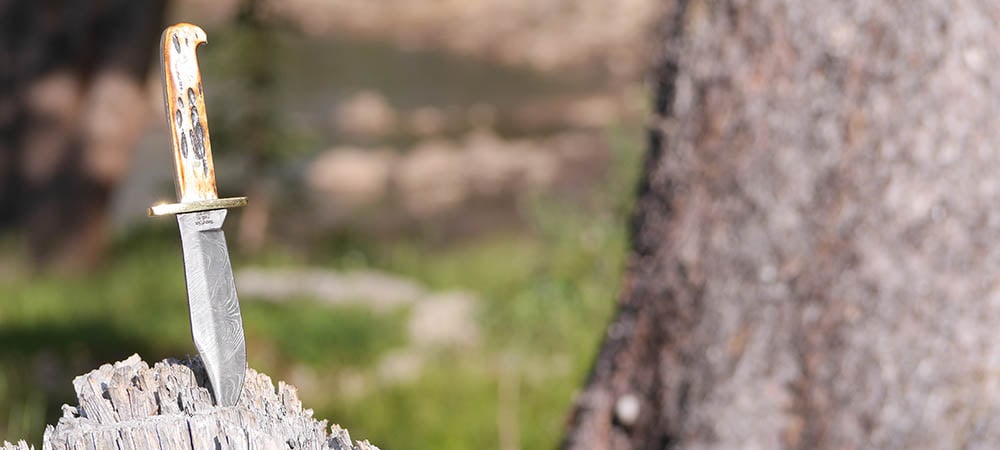 A note on accuracy, Bear and Son (as with all other modern manufacturers) does not technically use Damascus steel. This type of material originated in India as far back as the 3rd century, and it was used to craft the best swords of the day. However, modern Damascus steel (as it has come to be called) is crafted in the same spirit as classical Damascus steel. It consists of various steels and irons welded together to create a billet that can then be used to craft a knife. Depending on how the manufacturer works the billet, different "organic" patterns appear which is a common trait in modern Damascus blades. The acid etching process used in this blade helps increase the ornate appearance of the blade.
Basics
Aside from the impressive blade, the Baby Bowie has several other appealing elements. The first is a bright polished brass guard that offers a nice contrast to the dark gray steel of the blade. Moving onto the handle, it is composed of genuine India Stag Bone. This stag bone handle really finishes the knife off nicely with a light tan coloration contrasted by black inlets to encourage a better grip. Two gold brass screws secure the handle to a substantial full tang that is visible in the middle. The handle is balanced with the length of the blade at 3″, and the knob at the back of the knife as well as the brass guard make up the extra 1/2″ in length (total 6 1/2″).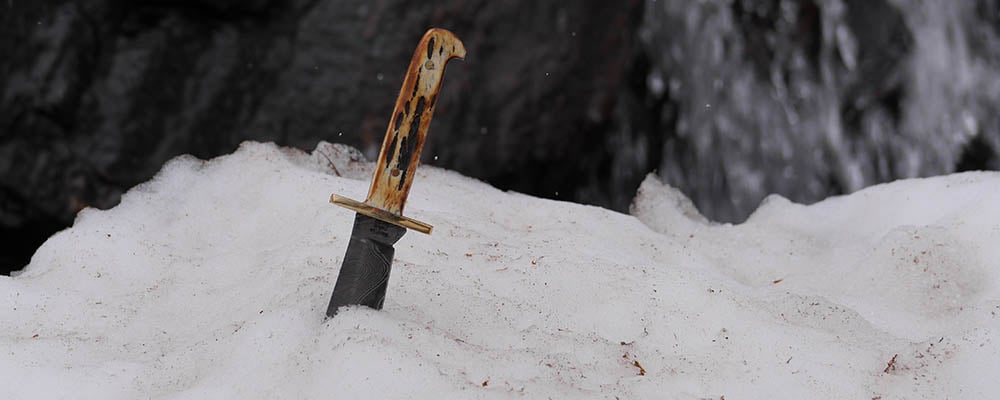 The final element of this package is the leather sheath, which is beautiful in itself. A thick leather loop on the back of the sheath secures it to your belt, and an ornate checkered pattern in the leather gives it a classic yet rugged look. One firm brass snap button secures the knife in place, and quality stitching secures the sheath together. All in all its a higher quality sheath than you see with most knives.
Specs
Blade Material: High Definition Damascus Steel
Handle Material: Genuine India Stag Bone
Overall Length: 6 1/2″
Blade Length: 3″
Weight: 2.5oz
Rockwell: 58-60
Extras: Leather sheath with brass snap button and belt loop
In The Field
While it was difficult to take a knife this beautiful out into the field, I certainly didn't want it to gather dust on the shelf either. Plus what is a good knife for other than use in the field. Outwardly the Baby Bowie felt a little small for outdoor use, but what did I expect given the name of the knife? However when I strapped it to my belt for a long weekend of camping, the blade felt comfortable at my side. It is very light and it goes almost unnoticed on my belt loop, something a full-sized Bowie knife certainly wouldn't do. Draw from the sheath is smooth and the case offers adequate constriction of the knife.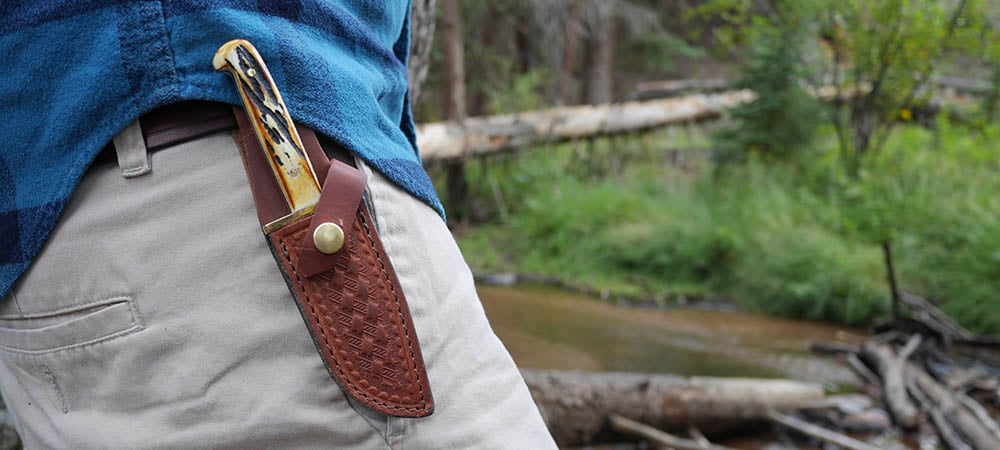 The blade itself is extremely sharp as you would imagine given it is Damascus. The Rockwell hardness is more than adequate for a knife at this price point, especially if it comes in at 60 RC. After testing it with a variety of materials, I was satisfied with its performance. Paper and food slicing tests were no problem with this blade. It is certainly not a large blade, but it will tackle every task a folding knife would with the added stability of a fixed blade. Anyone who saw the blade on my belt wanted to know what I was wearing, so there is definitely a wow factor that this knife brings. Needless to say this is a unique knife that stands out among others I have tested.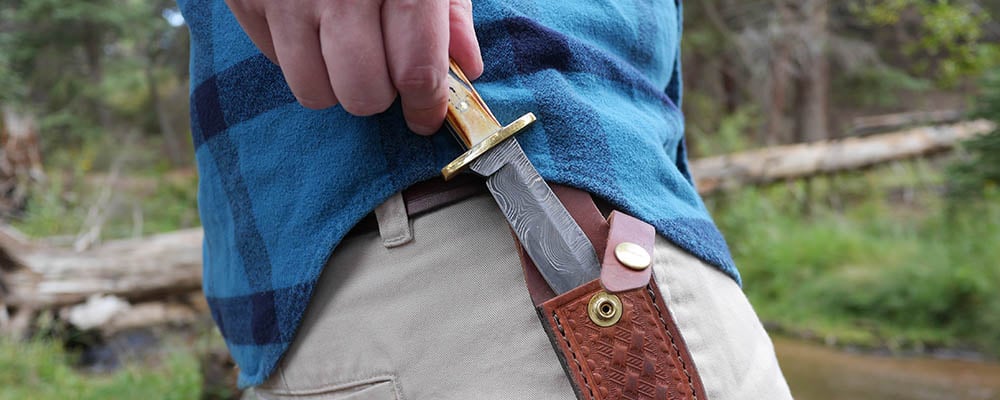 Determination
Beauty and quality craftsmanship are the high points of this unique knife. It is compact and easy to handle, and at a mere 2.5oz it weighs almost nothing when fixed to your belt. It's no secret this isn't a survival knife, and it's really geared more towards collectors and casual use. Does the novelty of a baby Bowie knife wear off? Well after a long period of use I wished the knife was just a little bit longer, both blade and handle. The handle is really the only deal breaker for some as it isn't big enough to accommodate the grip of those with larger hands. Still I can see this knife as a great gift, and as I said its beauty is something you won't forget. It doesn't have the intimidating look that larger Bowie knives have, but it still pays tribute to the classic design. Check it out if you're looking for a one of a kind knife with classic styling.