A throwback to WWII – that's what first came to my mind when I saw this 9mm pistol by American Tactical Imports in our store in NRH, Texas. And that wasn't just me. The manufacturer says they meant to create a reproduction of an original WW2 MP-40. And they nailed it. It looks very much alike, luckily it functions as a modern one.
Who would decide to buy this gun? – you may ask. Well, it's definitely, too sophisticated for hunting and too noticeable for self-defense. We, guys at GritrSports, like it because it's cool. It looks original and it can take you back in time for a while. So if you intent to buy your first 9mm, this is not the perfect choice. But if you are an avid gun owner, that's the historical weapon you'd love to add to your collection.
MP-40 Specs
Enough with the feelings, let's get to the point. Here's what the manufacturer claims the MP-40 has:
5" Overall Length
7" Height
Zamak 5 with Polymer Accents Frame Construction
Weapon Weight W /Magazine (Unloaded): 126 oz
Caliber: 9x19mm
10" barrel
Detachable 25 round magazine – All Metal
The distinguishing thing about the gun is that it has no foldable stock so it's technically a pistol. It's semi-automatic. It comes with one 25 round magazine. The safety is down at the bottom.
The frame is constructed from Zamak-5, which is a relatively tough zinc alloy often used in Europe. The firearm is well-designed. All the parts are well-machined, so it feels solid in the hands.
The rear sight has 2 settings – for short range and for longer range. The package comes with several different heights of front sights, so you can choose the height that matches the point of impact. The package includes an instruction that helps with the assembly.
A little bit of history
The original MP40 was based on the MP-38, a similar "machine pistol" designed by Ermawerk a year before the war began. MP40 is a simplified version of the MP38 and it was also a cheaper version of the firearm which was achieved by using stamped steel rather than machined parts. This simplification allowed the German army to manufacture huge quantities of this firearm.
The MP40 gun retained the folding skeleton stock and telescoping recoil system of its predecessor MP38 but incorporated a sheet steel receiver and a pressed steel fire control housing.
The firearm proved to be so effective that it became common among Germans during WWII.
People can now see the original MP40 in movies and video games. However, we shouldn't forget that this historic firearm claimed thousands of lives in WWII and remains one of the most famous guns in the history of war.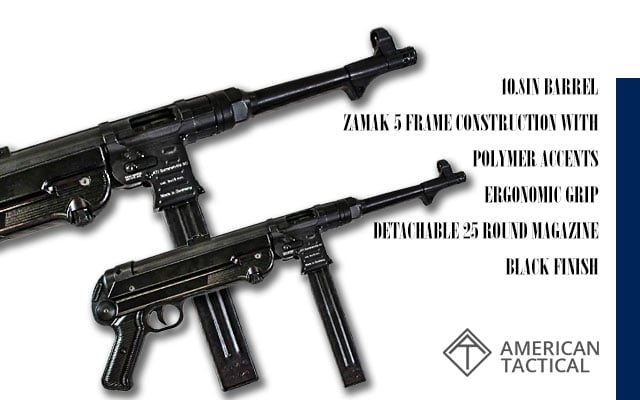 Shooting experience
We have read other reviews of this gun before shooting and were afraid of the feeding problems other writers reported. Luckily, we didn't experience any with the item we tested. We used loads from Federal and there were no issues at all.
So some of you may experience some minor issues while shooting, but don't forget that this pistol was created to pay tribute to its German ancestor in the first place.
So we have enjoyed testing it. Shooting was a blast. It's a great range gun and it's fun to shoot.
If you admire history of WW2, American Tactical Imports created its MP40 just for you.
Btw, visit our Gritr Range at 7901 Boulevard 26 #200, North Richland Hills, TX 76180.