Last Updated on
If you've read any of my gun reviews, you easily learned that they come from a "regular guy's" point of view. So, here's what I think of my new Walther P22.
For a while now I've been eyeballing a .22 pistol. Why? I wanted something cheap to shoot and small enough to be easy to carry. I had heard mixed reactions on the Walter and my decision got down between the Walther P22 and the Ruger SR22. I personally like to carry with a gun in my pocket, or the pouch of my hoodie and both of these guns would have fit that bill. I ended up going with the Walther because it was a bit easier to come by, and a little bit cheaper as well. The Walther P22 is just over 6 inches long, 4 and 1/2 inches high, and a bit thicker than an inch wide. It weighs in at just over a pound, and to me that is the perfect size for an inconspicuous carry gun. I ordered my Walther P22 from gritrsports.com for $279.99. Every Ruger SR22 I looked at online or in shops was priced well over $400. I'm sure the higher price of the Ruger is well worth it, but $400 was too much for me in this case.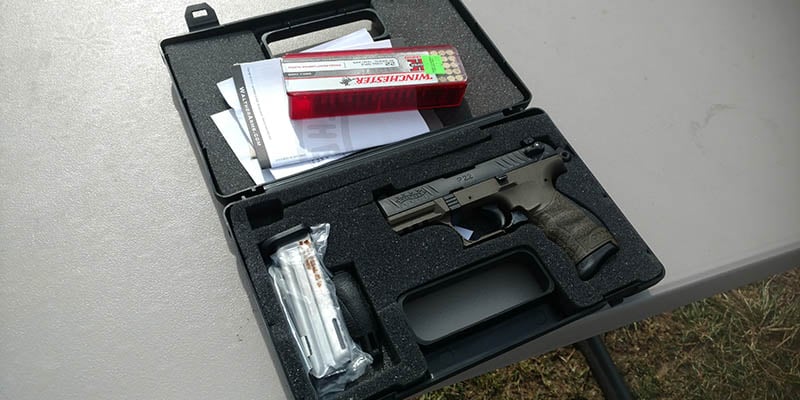 The Walther P22 is built like but smaller than the company's famous Walther PPK. I'm six feet tall and 210 pounds and it slides easily into any one of my pants pockets without being really obvious. The prepper in me wanted to continue to purchase more weapons that shoot .22 caliber ammo because I own more .22 ammo than anything else. I know in a long-term emergency a common ammunition like .22 will be easier to find than something obscure. I know it sounds silly, but I also think the gun looks really cool
From everything I had read online and people that I had talked to, opinions varied on the reliability of the Walther. From what I have come up with through my experiences, the gun will shoot fine and reliably with high quality ammunition. It also helps to make sure that the gun is properly lubricated. I spoke to a local gun shop who also teaches CPL classes and the Walther P22 is there rental gun for people who are taking the class, but do not own their own handgun. I asked them about their experience with the weapon and if it jammed it all. The guys at the shop said the same thing that I had kind of come up with, that the gun shoots fine as long as you using high-quality ammunition and keep it clean and well lubricated. I guess you could probably say that for any gun really.
Before I officially ordered my Walther, I went to the local shop and got my hands on one and I really liked how it felt. Like I said, for someone of my frame, it's sort of on the small side which I was looking for. Now that I own mine I have not taken advantage of this yet, but the gun does come with two removable backs to the grip, where if somebody didn't like the stock grip that it came with they can add on a thicker back to fit in their palm better.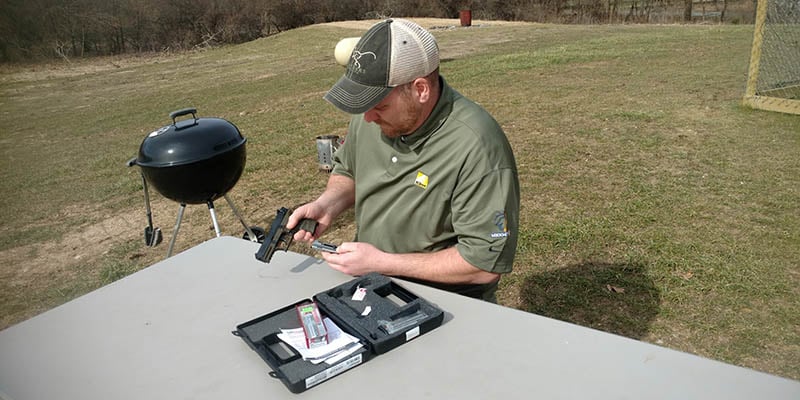 I like how this gun has an external safety which helped me convince my wife that I needed to have it. It is a double and single action. The gun is really easy to operate, the slide moves back nicely, the clip goes in and out well, and it is simple to take apart and field strip. The clip also holds ten rounds and I find it really easy to load and unload. The Walter has a loaded chamber indicator as well, which is important to me and is completely set up for a right or left-handed shooter. Although I predominantly shoot right-handed, I am left eye dominant and pride myself on being able to shoot accurately both ways.
This gun is really a lot of fun to shoot as well. Being that it's a .22, it doesn't kick nor is it loud and a side bonus to this weapon is that my family like shooting it too, not just me. I remember when I was younger shooting a featherlite snub nose .357 revolver and I felt that I had hit a steel pole with an aluminum baseball bat. Needless to say, shooting that pistol hurt whereas shooting my Walther is enjoyable and pain free.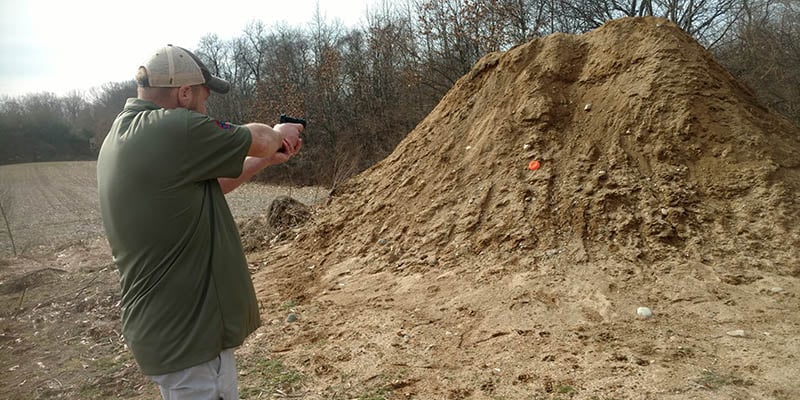 The Walther P22 is very user friendly. There are adjustable sights but I haven't screwed around with them too much. I can hit what I'm aiming at within 10 yards or so, and further than that out I can certainly keep my bullets on a paper plate. I personally like shooting a pistol with a bit of a scattered group. I learned when I took my self-defense course that you don't want your pistol shots in a defensive situation to be touching each other, but rather would want a loser group about a foot in diameter hoping to hit the bad guy in the head chest shoulders etc… Although I hope I'm never in a firefight with my Walther P22, it is nice to know that the bullets will land close to where I'm aiming, yet in a bit of a defensive scatter.
A couple other things I liked about the Walther P22 is that it came with an extra clip and it also comes in its own locking box. I know someone can buy more clips, and someone can go buy a locking box, but to me these are nice little bonuses. If you've read other pieces of my writing, you'll know that I'm an active family man with a house full of hungry kids and I generally empty wallet. So for what I need it for: plinking, introducing other shooters to the sport, and carrying from time to time, I really felt that the Walther P22 was my pistol of choice.