Last Updated on
Searching for the best AR-10 magazines to fit your rifle setup? We understand that, with so many options out there, it can be hard to decide which is right for you. But, no worries, we're here to make that decision easier with our in-depth comparison of notable brands, including Magpul, Lancer, and more. Our guide covers all kinds of shooting – whether you're a competitive shooter or just enjoying target practice at the range – by exploring features like capacity, construction materials, and more! Get ready as we dive into this comprehensive showdown between some of the leading names on the market today.
Table of Contents
About AR-10 Magazines
AR-10 Magazines vs. .308 Magazines
AR-15 Magazines vs. AR-10 Magazines
The Best AR-10 Magazines
– Magpul LR/SR Pmag AR-10 Magazines
– Lancer L7AWM AR-10 Magazines
– Hexmag AR-10 Magazines
– ASC Metal AR-10 Magazines
Conclusion
FAQ
About AR-10 Magazines
Before we touch on the brands and their state-of-the-art AR-10 magazines, we'd like to give you general information about AR-10 magazines, in case you're a beginner.
AR-10 Magazines vs. .308 Magazines
Some might say that history is boring. Well, sometimes, learning about the history of firearms and cartridges can be beneficial because it helps to sort things out a little. So, the original AR-10 rifle was introduced in the late 1950s by Armalite and chambered the 7.62x51mm NATO cartridge. The cartridge was being developed for military use, but, you know, all the military testing and approval takes a lot of time. So before the 7.62 NATO officially saw the light,  Winchester dropped the .308 Winchester cartridge that had similar ballistics and dimensions.
In most cases, the 7.62 NATO and .308 Winchester are interchangeable because they are very similar. However, there still are differences. The .308 Winchester is rated for slightly higher max pressure (62,000 psi vs. 60,000 psi of the 7.62 NATO) and has thinner case walls. Besides, a .308 chamber is shorter.
Basically, it means using .308 Win ammo with a rifle chambered for the 7.62 NATO can lead to malfunctions, damage, and even injury. But most manufacturers design their components to accept both cartridges. Still, you need to pay close attention to the specs of the components and accessories – magazines as well, of course. Besides, not all AR-10 rifles are chambered for 7.62 NATO or .308 Win. There are many designs in 6.5 Creedmoor, .22-250 Remington, and others.
AR-15 Magazines vs. AR-10 Magazines
That's easy. Since the AR-15 was designed after the AR-10 (basically, the AR-15 is a carbine version of the AR-10), and both have components that are interchangeable between the platforms, several are not, including magazines. AR-15 magazines are designed to be used with the smaller .223 Remington/5.56mm NATO, while AR-10 magazines are designed for the larger .308 Winchester/7.62 NATO cartridges. AR-10 magazines are generally larger and heavier than AR-15 magazines, as they need to accommodate the larger cartridges. They typically have a capacity of 10 rounds, although there are extended magazines available that can hold up to 25 rounds. AR-15 magazines are available in capacities ranging from 5 to 30 rounds.
The Best AR-10 Magazines
Magpul LR/SR Pmag AR-10 Magazines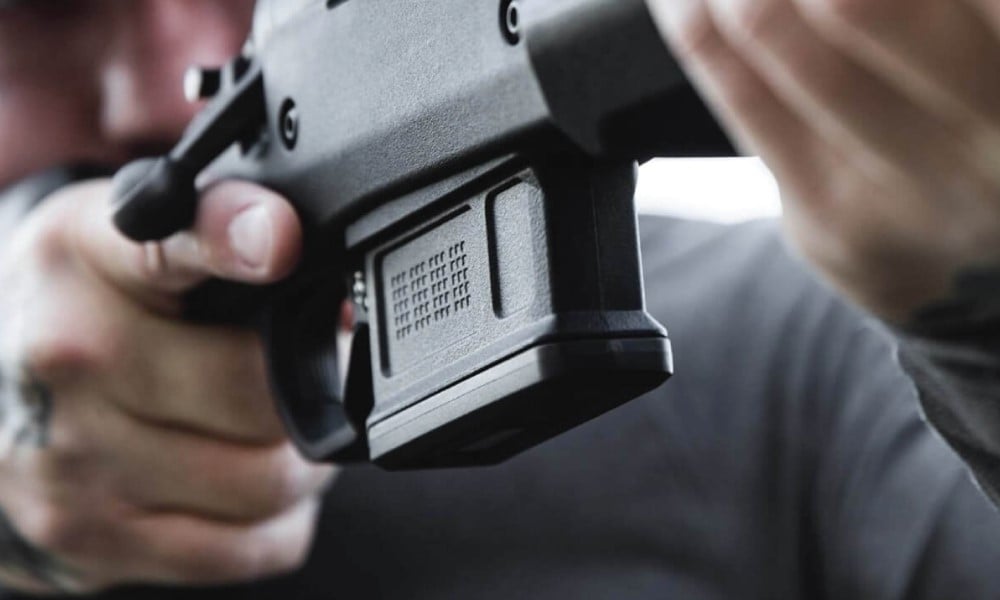 There are few names as reliable and trusted as Magpul. The company has been delighting firearm enthusiasts with high-quality components for years, providing affordable and value-driven products.
One of Magpul's most highly-regarded products is the AR-10 Pmag series of magazines. These are meticulously designed components engineered to deliver exceptional performance and longevity. The magazines are constructed from durable polymers resistant to impacts, corrosion, and harsh environmental conditions.
The AR-10 Pmag series is packed with a range of sophisticated features that make firing your AR-10 rifle an absolute pleasure. These magazines boast advanced self-lubricating anti-tilt followers and constant-curve internal geometry, which provide consistent feeding for each and every round. This means that you can fire consistently without worrying about misfires or jams. 
Magpul AR-10 Pmags are available in several capacities, including 10, 20, 25, and 50-round options. A 50-round AR-10 drum mag is perfect for extended shooting sessions. Although it's worth noting that it can represent a bit of a weighty investment, meaning a .308 magazine fully loaded with .308 Winchester rounds is pretty bulky.
Another benefit of the AR-10 Pmag line-up is the ease of handling they provide – all mags feature low-profile ribs, aggressive texture on the front and rear, and a flared floorplate. The floorplate is easy to disassemble, which makes cleaning Pmags a breeze. Another security feature is the proprietary impact/dust cover designed to protect Magpul magazines when not used.
For easy identification of different rounds and loads, Pmags have a paint pen dot matrix.
As for the build, Pmags feature rugged polymer that is crush and impact-resistant, tough feed lips, and stainless-steel spring. 25-round Magpul AR-10 mags also feature transparent windows to keep track of how many rounds are left.
Lancer L7AWM AR-10 Magazines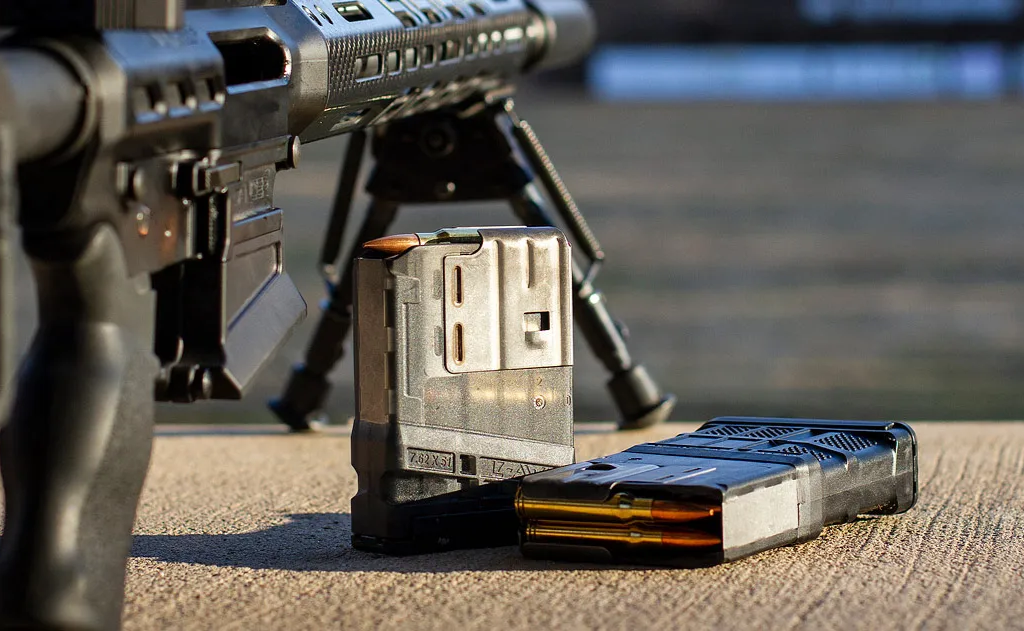 Lancer is a relatively new name in the game, but it's already won the hearts of many shooters. One of Lancer's most celebrated products is their L7AWM series of AR-10 magazines. These magazines are exceptional in every way and are a testament to the company's commitment to quality and superior performance.
Lancer mags are built with a mix of two materials – the mag body is made from a proprietary advanced polymer that provides superior strength and resistance to impact, heat, and sub-freezing conditions, while the feed lips are made from hardened steel. Steel lips are a must for high-performance firearms because they stand up to the shock better than polymer and are less likely to break, bend, deform, or crack.
Like Magpul, Lancer offers L7AWM AR-10 magazines in various capacities. Shooters can choose from 5-round, 10-round, 20-round, and 25-round options.
Compared to Magpul, however, Lancer L7AWM magazines have several disadvantages. For example, regardless of the capacity, all have straight bodies. These tend to feed cartridges to a feeding point a notch less smoothly compared to curved magazines that allow tapered rounds to stack naturally and be supported along their full length. (Nonetheless, Lancer AR-10 mags feature anti-tilt followers responsible for reliable feeding.) Besides, steel feed lips make them a bit heavier than their fully-polymer counterparts.
Unlike Magpul mags that feature transparent windows and only in the 25-round configuration, Lancer has several variations of the L7AWM that feature translucent bodies that make visual confirmation of ammo faster and easier.
Hexmag AR-10 Magazines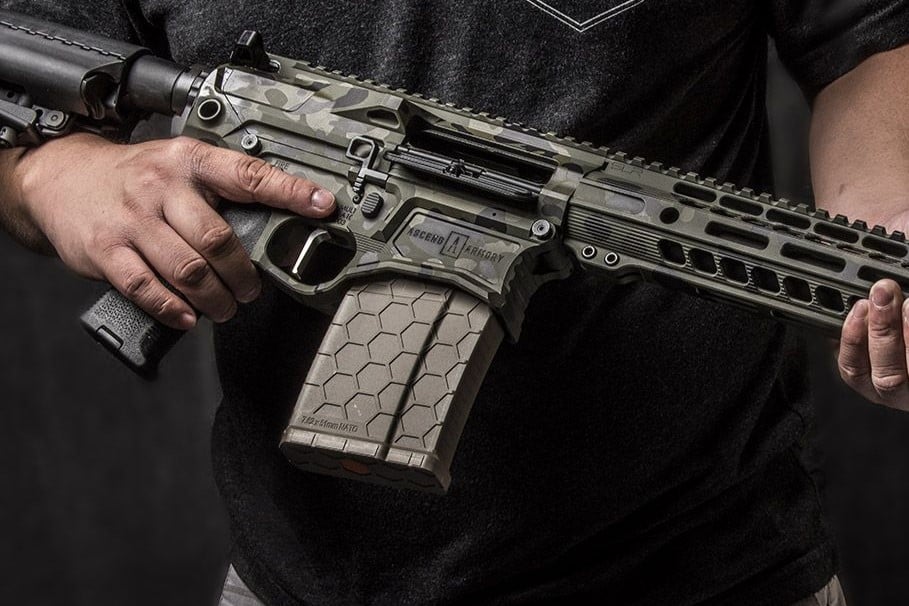 Hexmag has earned its reputation as a manufacturer of high-quality and feature-rich magazines that make handling them a pleasure.
First off, Hexmag AR-10 magazines are built with highly specialized Carbon Senthex Advanced Carbon Fiber polymer. This material is lightweight yet strong and reduces the magazine's weight by a stunning 20% (even lighter than the Magpul Pmag). The magazine also contains stainless-steel springs that offer dynamic feeding, reducing the risk of malfunctions.
One of the coolest features of Hexmag AR-10 magazines is a signature HEXTURE hexagonal design that not only adds a notch of style but ensures a secure grip under all conditions, providing shooters with ultimate confidence.
Understanding the importance of easy maintenance, Hexmag has supplied their AR-10 magazines with a toolless floorplate construction that makes disassembly and cleaning of the magazine an easy task. 
Additionally, they are equipped with a HexID color identification system (a colored hexagon on the bottom) that enables quick recognition of the magazine type and caliber, saving time in high-stress environments. Compared to the Magpul matrix system, it's much more efficient.
Hexmags are offered in two capacities – 10 and 20-round capacities.
ASC Metal AR-10 Magazines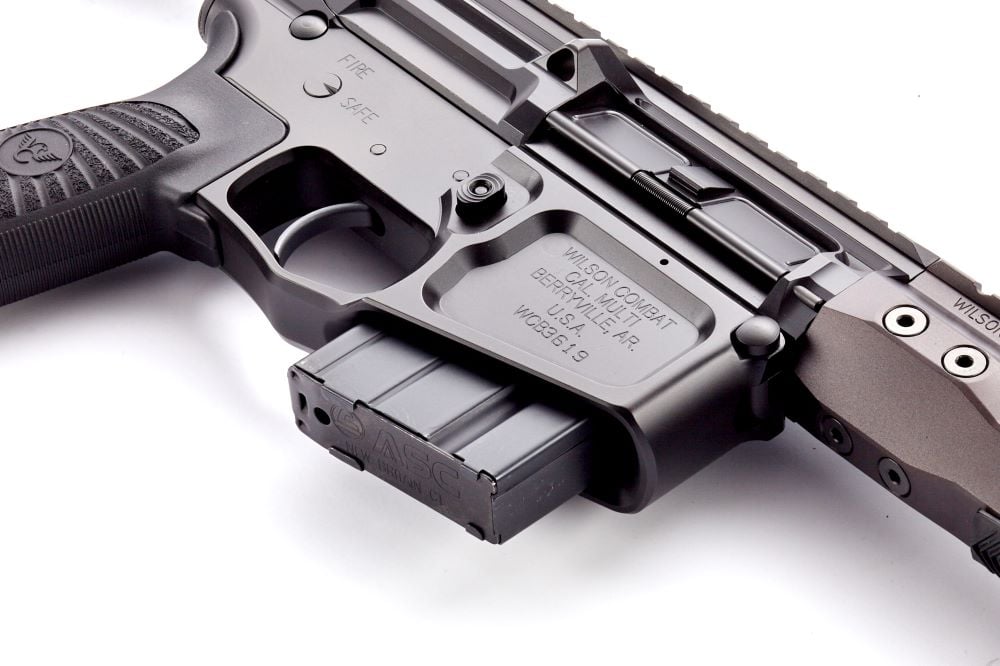 Finally, if you're a fan of tactical games in severe conditions, you must consider ASC (Ammunition Storage Components). One of the main benefits of metal magazines is their durability and strength. Metal magazines can withstand heavy use and rough treatment without deforming, cracking, or breaking. Metal magazines also have resistance to high temperatures, making them ideal for use in high-performance firearms or weapons with rapid-fire capabilities. All this is good, but the biggest advantage is metal feed lips, which tend to be more abuse-resistant than polymer ones.
The ASC AR-10 metal magazines are built with a .020″ gauge 410 alloy stainless steel body, providing maximum durability and long-lasting strength compared to regular steel mags. They also feature a proprietary self-lubricating coating that assists with reducing friction between the magazine and ammunition. For even smoother feeding, ASC AR-10 mags have Enhanced Anti-tilt Polymer Followers with PTFE – the polytetrafluoroethylene-infused polymer followers are specially engineered to reduce friction and wear caused by repetitive contact.
The ASC AR-10 metal magazines also feature chrome silicon springs. They are similar in strength and durability to stainless steel springs, but chrome silicon springs maintain their resilience under high-temperature and harsh environmental conditions, which provides the shooter with superior reliability in any situation.
Conclusion
When choosing an AR-10 magazine, it is essential to consider your personal preferences and the shooting context. Polymer AR-10 magazines, such as those from Magpul and Hexmag, provide weight savings and reliable performance at an affordable price point. They are ideal for plinking and competitions where every ounce counts. However, when you need enhanced durability and reliability, an AR-10 mag with metal feed lips may be necessary, such as ASC and Lancer. Metal magazines are more robust and can handle rough weather, long-term storage, and rigorous use without losing structural integrity.
FAQ
What are the benefits of using AR-10 metal magazines?
Metal magazines provide a more robust, durable, and corrosion-resistant structure than polymer magazines. They are generally more expensive and weigh more than polymer magazines; however, they can withstand heavy use, rough treatment, and long-term storage without losing structural integrity or giving rise to malfunctions.
What are the benefits of using AR-10 polymer magazines?
Polymer magazines are lightweight and affordable. They are ideal for recreational shooting and competitions where weight is critical. Polymer magazines offer advantages, such as rust and corrosion-resistant, and low maintenance, making them an excellent cost-effective alternative to steel magazines.
Can I use my AR-15 magazine in my AR-10 rifle?
No. Even though an AR-15 and an AR-10 may have certain similarities, they are different firearms, and their magazines are incompatible.
What is a high-capacity magazine, and are AR-10 20-round mags legal?
A high-capacity magazine is defined as a magazine that can hold over ten rounds of ammunition. Various state and local laws regulate the possession, purchase, sale or transfer of high-capacity magazines, and failure to observe those laws may lead to civil and criminal liability. Therefore, it is essential to research the restrictions in your state, county, or municipality before purchasing any magazine.