By Candace Swanson
With shooting sports becoming vastly more popular in recent years as well as the rapid growth of pro-gun organizations such as The Well Armed Woman Shooting Chapters (TWAW), I am pleased to see more new faces each time I arrive at my local range. As a TWAW state leader here in Florida, I have to the pleasure of instructing new and experienced shooters alike monthly during our chapter meetings. I also teach NRA courses in between through the Swanson Training Group. One of the biggest tell-tale signs of an inexperienced shooter is their lack of organization heading to and from the range. I have always felt this is an issue that should be properly addressed to help shooters from being overwhelmed by the time-intensive logistics of spending time on the range shooting safely. Frequently I'm asked what are considered "must haves" for training on the range and how can I keep them all together? Let's take a closer look at range bag essentials before you head to the range.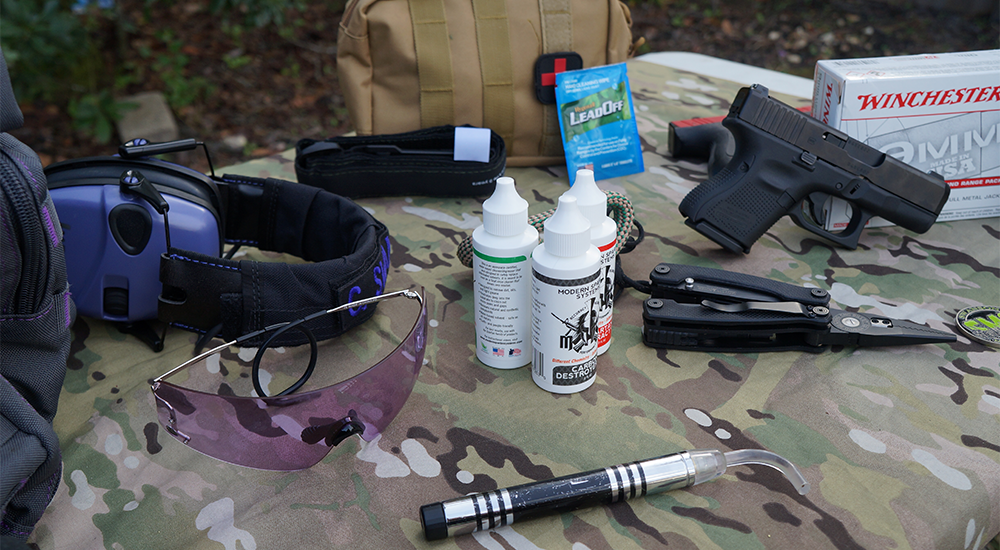 Range Bag
First and foremost, you can't enjoy shooting if you can't get all your equipment to the range in a timely manner, right? The simple solution is the trusty range bag. This is an often overlooked piece of equipment since it doesn't have the allure of cool guns and shiny new brass ammo. Range bags come in as many different styles as the shooters who use them. While some prefer a spacious carry bag with a few separated internal pockets, the best place to start is usually a sling pack or light day pack to throw over your shoulder. These usually feature a large, sturdy main compartment and several individual pouches. If your focus is going to be mainly on handgun shooting, you may want to seek out a bag with a large padded pocket for pistol storage.
I started out years ago with a standard hand-held bag but quickly learned it became too heavy to comfortably carry like a purse. I recently decided to switch to the backpack style Mini Tobago Pack from Voodoo Tactical in order to distribute weight on my shoulders and be able to comfortable carry everything I need. Retailing for around $79.00, not only did the pack offer a large main compartment for the bulk of my gear, but it also has several individual pouches for my eye and ear protection, keys, ammo and cleaning kit. This was a big selling point for my organizational needs. The Molle loops located on each side and front of the pack for attaching items such as my NotchGear hat when not in use. The fact that Voodoo Tactical offered the pack in a stylish grey with purple accents that matched the TWAW signature colors was a great bonus! Regardless of which bag you decided is right for you, the next question is "What are the best choices for items to go inside?"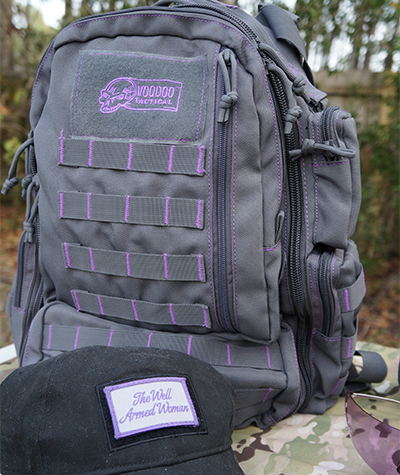 Eyes
Let's start with one piece of equipment that is mandatory at all ranges, eye protection. Commonly referred to as "eyes," proper eye protection or shooting glasses can definitely be classified as a must. Shooting glasses can protect your eyes on the range from ricochets, flying debris, wind, sun and the occasional ejected hot brass. Glasses made of polycarbonate have proven to be the better materials on the market for lens. Companies like Oakley and ESS make excellent products and provide some of the highest quality on the market. Both companies have even been chosen to provide eye protection to some of the world's foremost military forces.
Things to take into consideration when choosing the right pair for you are:
How do the frames fit your face? How well does the lens provide eye coverage? Do the glasses slip or fall off during recoil? Do they fully protect your eyes all the way from side to side and top to bottom?

If shooting outside, do they offer UV protection?

What is the lens color? If shooting in low light, clear is good. If shooting outside in bright sunlight, choose darker lenses. If shooting skeet or trap, yellow lens may help your eyes pick up the clays faster.

What is the lens impact resistance level? You may want to research products from various manufacturers and find out what sort of impact the lens can withstand.
NOTE: Once you decide which shooting glasses are right for you, make sure they are in some sort of protective case or bag to help protect the lenses from getting scratched while they are stored inside your bag.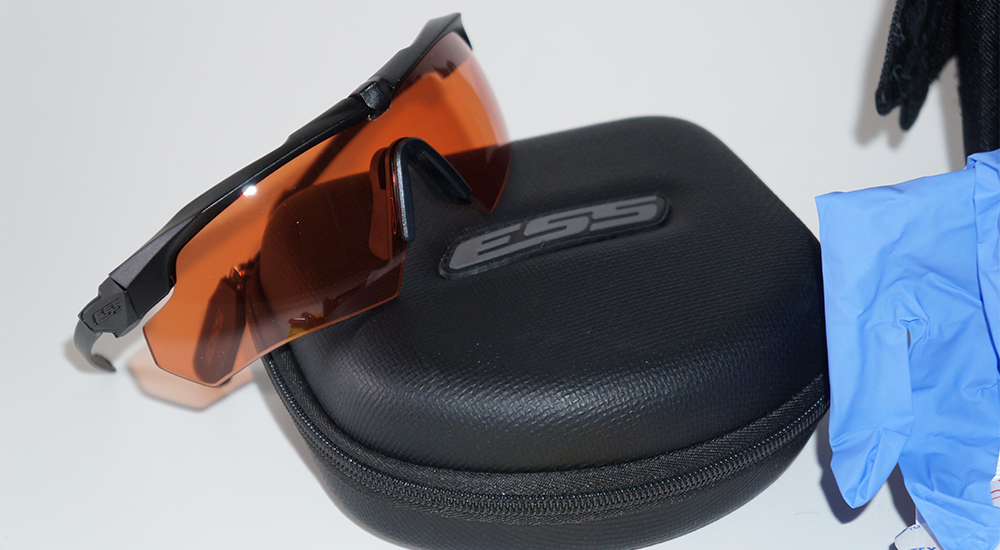 Ears
Now that your eyes are protected, let's look at another must have. Along with eye protection, most ranges require ear protection or "ears." Just like the research required for eye protection, you'll need to evaluate which hearing protection is best for you as well. Your first choice is ear muffs or ear plugs. As a cheap and fast solution, you can start with the simple $0.99 cent foam ear plugs that are meant to be used once and tossed away. At some point, you will want to try hearing protection that will be a bit more robust and effective. While there are more expensive options of custom molded ear plugs and electronic options, I have found the $12.00 rubber plugs by SureFire as a great inexpensive option. In the five months I have been shooting with them, I have found they stay in well during movement drills and keep extreme noises to a minimum.
As you take on more substantial courses like the NRA's Personal Protection in the Home or any advanced firearm training, you will find yourself spending 6 to 8 hours on the range for classes. For these type classes, inside the ear style ear plugs can become uncomfortable. A good quality set of electronic ear muffs such as Howard Leight by Honeywell Impact Sports can be a much more comfortable and provide a better level of hearing protection. I have been using these muffs regularly since December of 2016 with zero issues or complaints.
NOTE: In selecting which hearing protection is best for you, pay attention the decibel ratings printed on the package. This will state how effectively the ear protection will reduce noise for the average user.
Ammo
No range session can fully get started without ammunition. If you have your eyes, ears and gun at the range, you certainly need ammo. One of the requirements of any range bag is to have a sturdy bottom in the main compartment to support boxes of ammo while in transit. If your bag doesn't have a sturdy bottom, you will just have a saggy grocery bag on your hands. To cut down on unnecessary weight, try to only carry enough ammo in your bag for what you're realistically going to shoot during your range session. Typically 200 rounds can last at least an hour during dedicated training between changing and scoring targets. To save time reloading magazines on the range and wasting valuable training time, consider taking extra magazines preloaded prior to arrival. If shooting a revolver, several speed loaders preloaded may be helpful.
Put a Snap in Training
One of the best training tools to combat issues such as anticipating recoil is a product known generically as Snap Caps. These are metal "dummy rounds" with spring loaded primers designed to take the impact of a hammer strike while dry firing your firearm. Made in a wide array of popular calibers, Snap Caps are often found in packages ranging from 2 to 6 rounds depending on caliber or gauge size. By mixing Snap Caps with real ammo, you can quickly tell if you are pulling your firearm off target in any direction when the dummy round cycles to the chamber. This ensures you aren't distracted by the recoil of a live round. Often retailing between $14.99 – $19.99, this product is one of the best value training aids you can buy.
Getting a Grip
Regardless of the temperature of the range, there is a glove that can help you. The obvious advantage of shooting gloves is for shooting outdoors in the extreme cold / heat and helping keep control of your firearm. Lesser known advantages are extra padding for the hands in shooting larger caliber firearms such as a .44 magnum revolver, grip enhancement for charging a stiff action weapon like a handgun slide or assisting in retention during movement drills. Companies like Mechanics, Hatch, Oakley and Kryptek all are well known for providing superior products to a large part of the world's elite military forces. Ranging from $39.99 to $129.99, different weights, materials and colors are up to the end user to decide what is right for them.
Continued In: Range Bag Essentials – Maintenance.