Over recent years, the market has been flooded with a wide range of multi-tools due to an increased demand in "all-in-one" products for the growing public trend to streamline their lifestyles and yes, even their tools. A general rule of survival, even in the urban jungle is to carry items that serve at least three functions or it is just perceived as added bulk to your daily carry. Products range from bottle openers to lasers but all similar in shape and size. Truth be told, the multiple purpose tool platform has rarely changed from its Swiss Army knife roots starting in 1891. As the multi-tool has evolved in limited capacity, various manufacturers have only added bulk and reduced user friendliness in the process.
Earlier this year, SOG Tools debuted their fresh new take on the multi-purpose tool in the form of what they titled the "Q" series at the industry only SHOT SHOW in Las Vegas, Nevada. This new series of tools takes the platform in a new and different direction by simplifying and slimming down the traditional form by putting it into a small baton. While only the pre-production models were on display at the show, I arranged to get samples of this four-part series once they were released.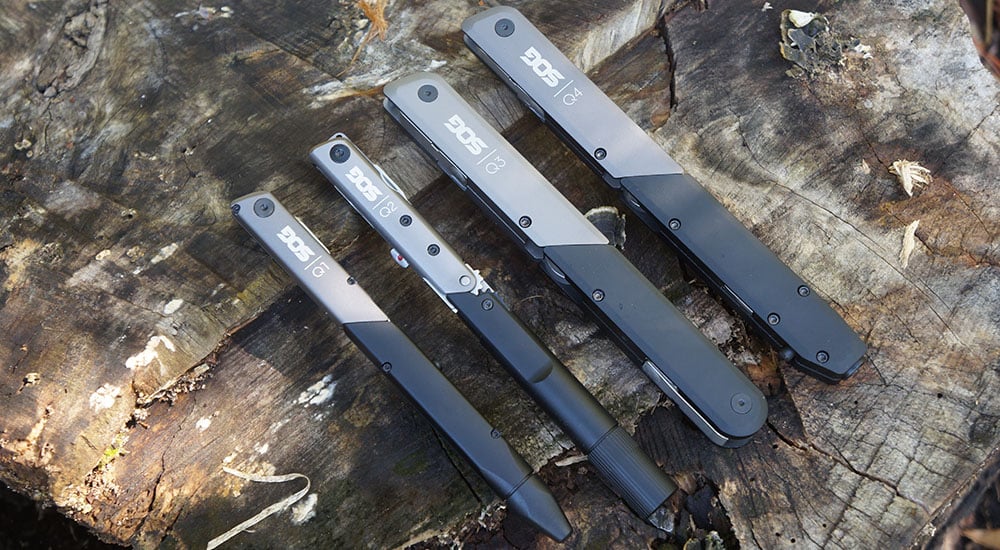 A few months later after a pair of setbacks on the actual production release, the SOG Q1 and Q2 batons arrived at the Swanson Media Group office for review. Each baton arrived packaged in a clear plastic box similar to a new cell phone accessory with only the baton and a one-page instruction guide. Each baton was roughly shaped like a medium size highlighter finished in a very attractive black and matte grey anodized finish. These sleek little batons offered a very impressive and modern look compared to the traditional "tool" connotation.
Once I really had time to spend with the Q1 and Q2 using them in daily activities, the final two tools in the series, the Q3 and Q4 arrived. This would allow for well-rounded and complete review. The last two tools would come in the same style boxes along with similar instruction sheets but would be physically a bit larger in size. These two batons would be along the lines of a large, full-size highlight marker. All offered a handy SOG branded metal clip to hold the baton upright in a pocket or backpack.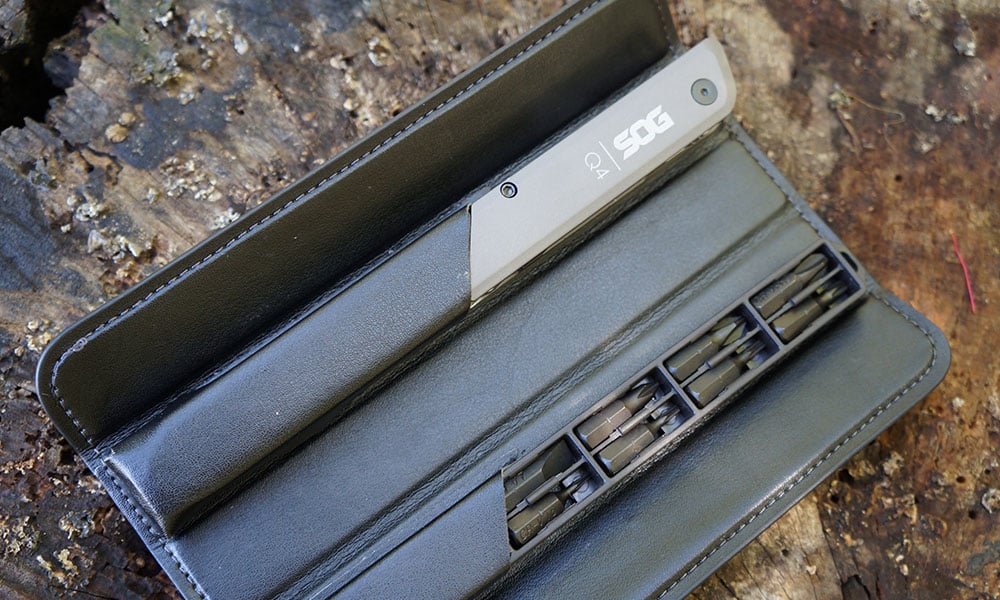 Q1 Specs
Closed: 6.4"

Weight : 2.4 oz.

Features: Replaceable pressurized ball point pen

Flat screwdriver

Bottle opener

Scissors

MSRP: $54.00
Q2 Specs
Closed: 6.4"

Weight: 3 oz.

Features: Straight edge blade

75 Lumen LED flashlight

Bottle opener

Flat screw driver

MSRP: $67.00
Q3 Specs
Closed: 6.5"

Weight: 6 oz.

Features: Awl

Blade (Straight Edge)

Bolt/Nut Gripper

Bottle Opener

Can Opener

Chisel

File (3-Sided)

Flat Screwdriver (Medium)

Flat Screwdriver (Small)

Jewelry Driver

Phillips Screwdriver

Pliers

Wire Cutter

MSRP: $94.00
Q4 Specs
Closed: 7.1"

Weight: 6 oz.

Features: Blade (Straight)

Bolt/Nut Gripper

Bottle Opener

Can Opener

File (3-Sided)

Flat Screwdriver (Medium)

Flat Screwdriver (Small)

Hex Bit Driver (Magnetic, 1/4″, Ratchet)

12 Piece Hex Bit Set and carry case

Pliers

Wire Cutter (Soft)

MSRP: $120.00
Q1 & Q2 Field Testing
I started my review time by carrying both the Q1 and Q2 batons regularly for over a month in my range pack and daily "go" bag with mostly positive results. Let's take a look at some quick "pros and cons" have found during my time with these two SOG tools.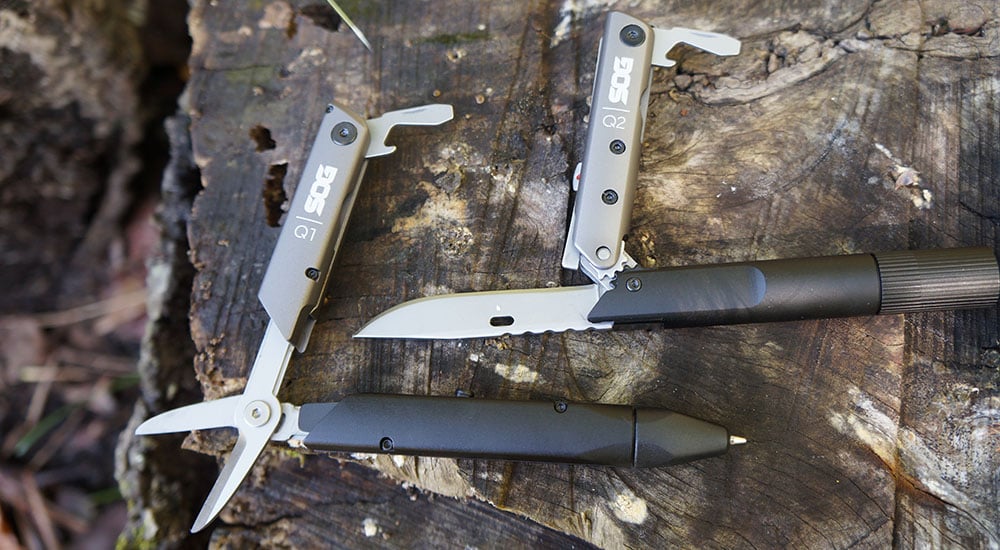 Pros
I liked that the batons are slim and easy to slip into my pocket or even clip into an outside Molle loop on one of my bags if I need to quickly store them. There was no noticeable bulk and did not flop around in my gear like a traditional multi-tool would.
The Q1's retractable pressurized pen came in handy when needed because I habitually do not carry an ink pen in my kit although I am always finding myself in need of one. The fact I can easily find inexpensive replacement cartridges for the pen is a huge plus.
The Q2's straight blade arrived out of the box razor sharp and ready for real world use. I have used the blade regularly without having to re-sharpen it yet.
The Q2's 75 lumen LED light is bright, easy to use and holds up to having been accidently dropped several times on tile, hardwood and concrete. It's tough, bright and very user friendly. Changing out the battery is fast and easy. The use of a very common AAA battery is a huge plus because it doesn't involve a trip to a specialty store to replace.
With the Q1, the scissors feature a few years ago would not have very much use other than being the only allowed cutting device to fit TSA standards. However, at this point in my life, I am a father for two young daughters who are constantly buying clothes, toys and other items in need of having tags, strings and wire holders cut off in a hurry before the world ends. My formerly lease favorite multi-tool feature has now become one of my most used. While a straight knife blade could do the same task, the scissors offer a quick and safe way to cut small items while having small children hovering about in the zone a straight knife may swing once finally cutting through.
Cons
As with any product, there were things not very useful for my daily duties such as the bottle opener. Again, looking at social trends, the world is moving away from traditional bottles without twist-off tops which made the bottle opener feature on both the Q1 and Q2 an archaic item for my needs.
The flat head screw driver on the end of this opener tool was also not much use as the world is predominantly full of Phillips head screws if not individually licensed proprietary patterns. This space on each baton would be much better suited by eliminating two items for one decent sized Phillips head driver.
While I liked the Q2's straight blade, I did end up poking myself in the finger with it a couple of times when I first learned out to fold the baton to expose it. The end of the blade is very close to the top of the baton where the hand naturally wants to apply pressure to fold it. There is a definite self-correcting learning curve built in for most end users.
Q3 & Q4 Field Testing
Although a bit larger, the Q3 and Q4 were definitely more up my alley when it came to hard use tools. I respect what the Q1 and Q2 offer most people who may not even carry a pocket knife with them daily (personally this befuddles me), but the larger tools offer the hunter, firearms instructor or outdoor enthusiasts a much wider range of real world tools. Let's take a look at some top pros and cons of each.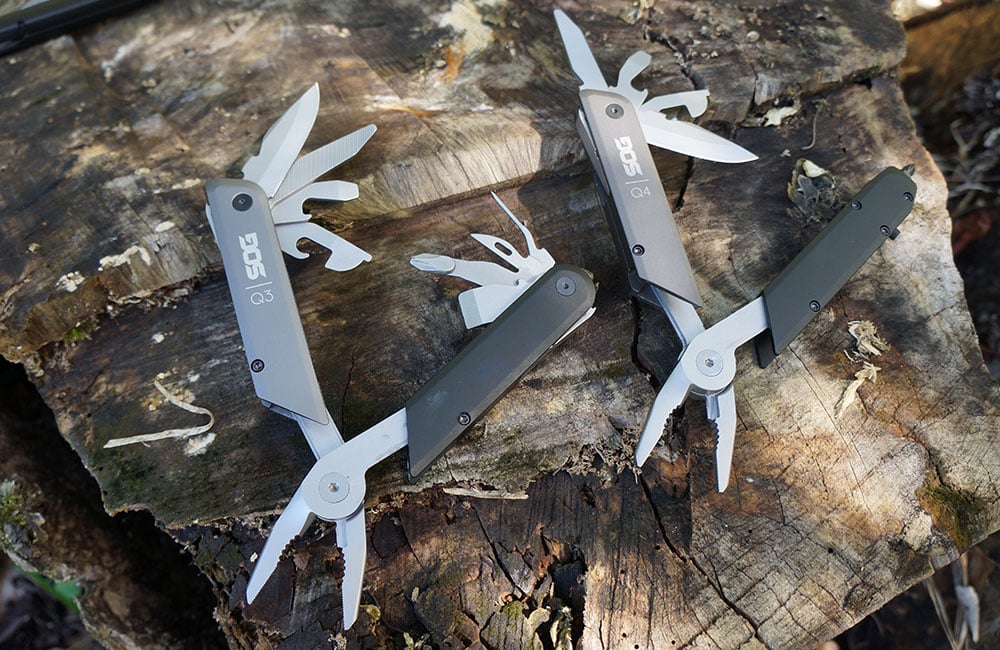 Pros
Both the Q3 and Q4 offered a better "meaty" grip when having to apply pressure with the tool.
Real tools! The pliers on both batons came in handy on a regular basis and actually work unlike some cheaper made multi-tools.
The Q3's jewelry driver and chisel both came in very handy on the range and in the field. The driver was excellent for punching the pins out of my Glock pistol for maintenance while the chisel was perfect for scrapping off bark, making notches and other small wood working chores when setting up camp.
Bits, bits and more bits! The carrying case and driver bits were an excellent addition to the Q4 baton and offered a great way to keep all items together.
Cons
The larger tools come with a heavier weight. Carrying inside the pocket tended to make my pocket feel weighted down. These were much more suited for carrying in a pack or vehicle.
The wire cutters are a "last resort" item. When needing to cut wire, it is always best to find specifically designed wire cutters to do the job safely and efficiently.
Bottle opener, as with the other tools, the bottle opener on all of the tools just seemed like a waste.
Final Thoughts
Coming away from the SHOT SHOW, I was initially concerned about the MRSP of the Q series ranging from $54 to $120 with the Q4. The products seemed to offer a limited number of features for the price of some full-size tools. After spending time with the entire Q-series, I clearly see where the value lies. While these are slim-lined and minimalistic tools, they are in no way flimsy or cheaply made like lower priced items from SOG's competitors in the market. It becomes obvious when handling each baton in the series, the company carefully built them with quality materials.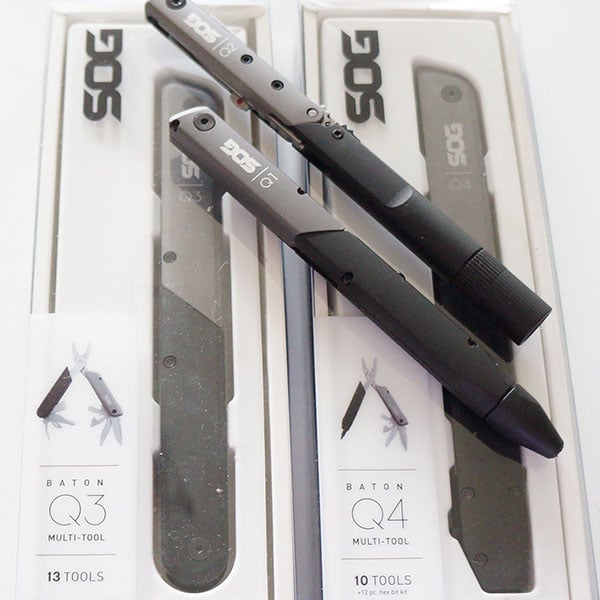 All of the batons reviewed were very well-made, light-weight, easy to use and very durable. Each tool offered something valuable based on the end-user's particular needs and requirements of daily life. SOG has built a great reputation for quality products in the industry and the Q series looks to be yet another hit for this respected company. If you are looking for easy to carry daily items that meet the needs of urban survival, I urge you to check out the entire Q-series from SOG at 1800GunsAndAmmo.com for yourself and find out which is right for you.