By Guy J. Sagi
There's no denying the optics are crystal clear in both the Nikon P-Tactical and Nikon M-Tactical series of riflescopes, with the kind of edge-to-edge color rendition and contrast that reflect the quality we've come to expect from Nikon. You can't go wrong in choosing either line, but there are advantages with the latter, and the reasons they carry a slightly higher MSRP are easy to understand.
The question then becomes whether your shooting and hunting styles will ever harness enough of the features in the higher-end line to make the added investment a wise one. Here are a few considerations, starting with the most obvious differences.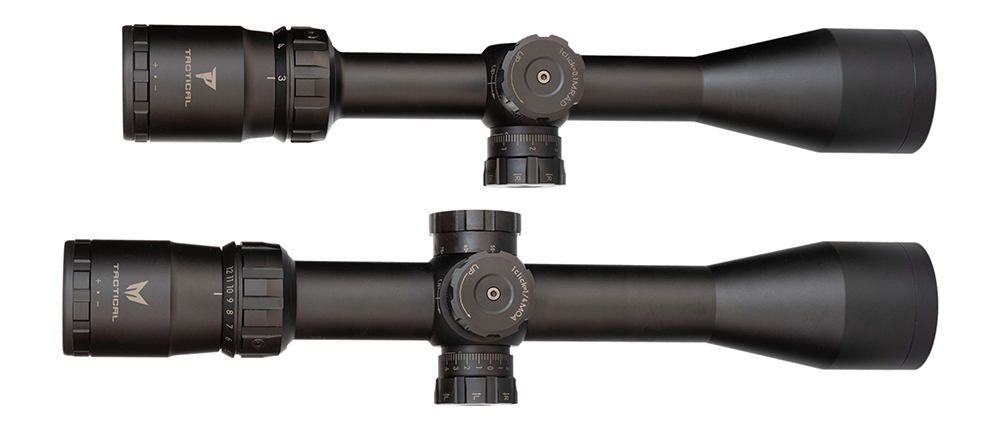 Zoom Ratio
The M-series allows you to dial magnification up to four times the riflescope's lowest power—a scope with a base of three can go up to 12, one to four, etc. The P-series line's zoom ratio is three.
Nikon has made it obvious a 4x zoom is not cost prohibitive, but don't underestimate the technology harnessed to generate that added versatility. Not long ago riflescopes with the zoom ratio were pricey.
The ability to zoom out allows a shooter to find the target fast and dial up to make the shot. As an added bonus, one probably associated with the bigger objective lens, field of view on 3X at 100 yards with the M-series 3-12×42 mm is 37.2 feet, versus the 33.5 feet displayed by the P -series 3-9×40 mm.
Higher power isn't always an advantage, but that's a discussion that deserves an article in itself, though.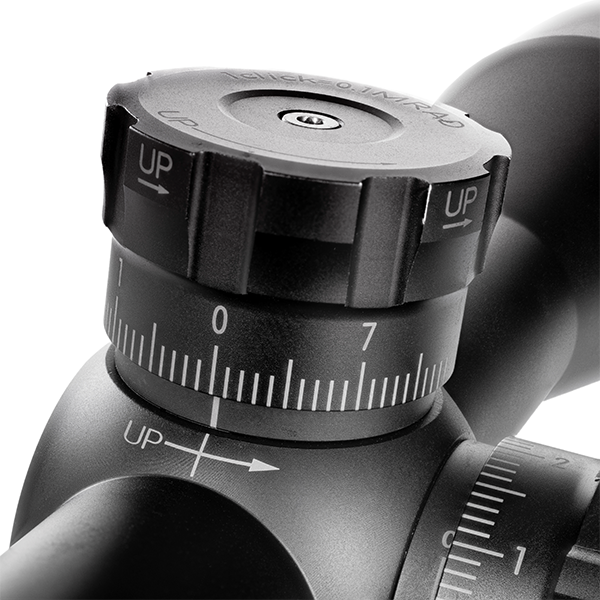 Light Gathering
All things being equal, larger objective lenses collect more light, although the proprietary coatings optics companies guard like Presidential atomic launch codes play a huge role. Performance during testing seems to indicate comparable or similar magical elixirs are used on both lines' exterior glass, though.
That gives the M-series a mathematical advantage with objective lenses as wide at 42 mms, compared to the P's maximum of 40. The difference wasn't obvious in our range sessions, but opening morning—if the sun is struggling to worm through a dense fog—there's no doubt it will be evident. Shooters at dusk and dawn, sooner or later, will appreciate the added visibility.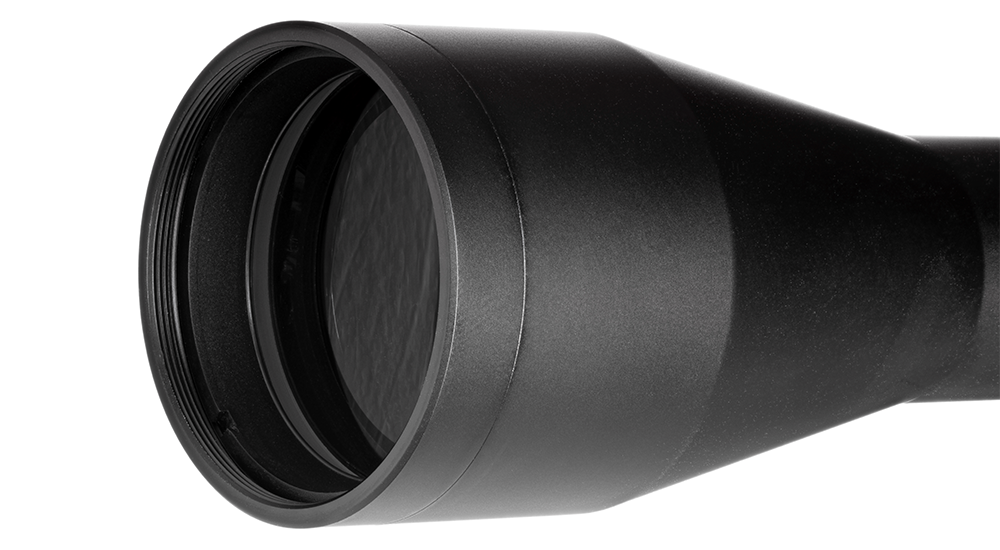 Transmission
Physics also tells us a 30-mm tube can usher more material (including photons) through than a thinner, 1-inch version (25.4 mms). All M-series scopes have the larger body, and P-series versions are limited to the latter.
In all practicality, the difference is hard if not impossible for the average shooter to detect. They will, however, probably have 1-inch bases and rings laying around their workbench someplace, reducing initial setup cost.
It is important to note the larger size provides more gripping surface. That fact allows it to anchor optics more solidly, minimizing the chances of unexpected shifts in point of aim often caused by inadvertent bumps at the range, drops in the field or even the vibration in a plane's cargo hold.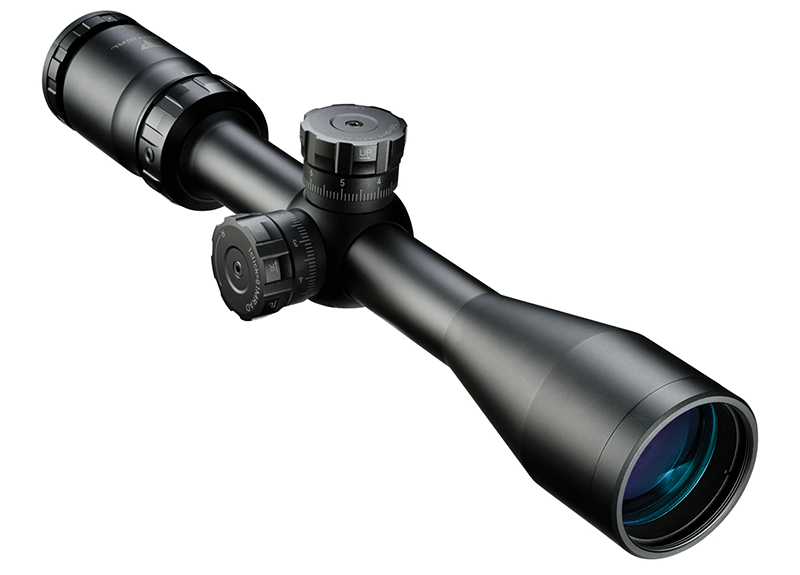 Parallax
None of the P-Tacticals have a parallax adjustment knob—each come from the factory at a fixed setting. For long-distance shooters, that means it's possible in some cases for point of impact to wander slightly from point of aim.
If you're not into dropping lead into the same spot on steel at jaw-dropping distances, the odds are you'll never miss the feature. It's one less thing for hunters to worry about, too, unless you're just looking for a technical-sounding excuse for a clean miss.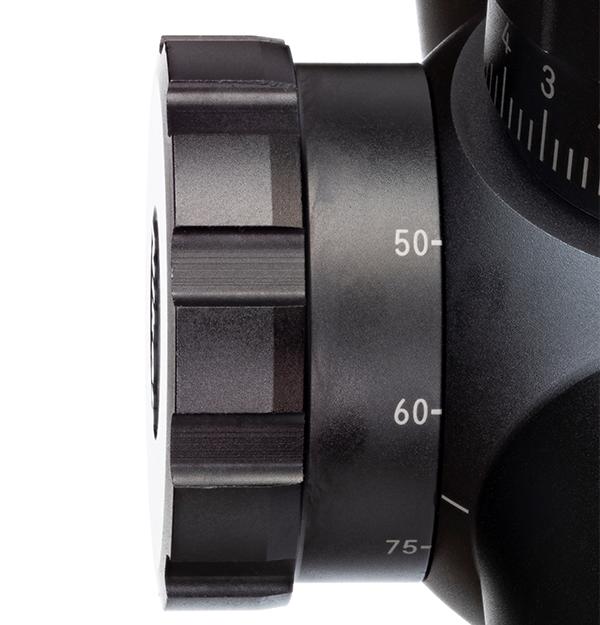 Focal Planes and Ranging
Both versions offer MOA- and Mil-based reticle, the latter greatly speeding the ability to range the distance to a known-size target (or with practice, even judge antler spread). Doing so fast and efficiently, is best down with the reticle placed in the first focal plane of the riflescope.
That feature is available on select M-Tacticals but not on any of the Ps. Judging distance, however, can still be accomplished on the second focal plane by using one magnification and sticking with it every time you do so.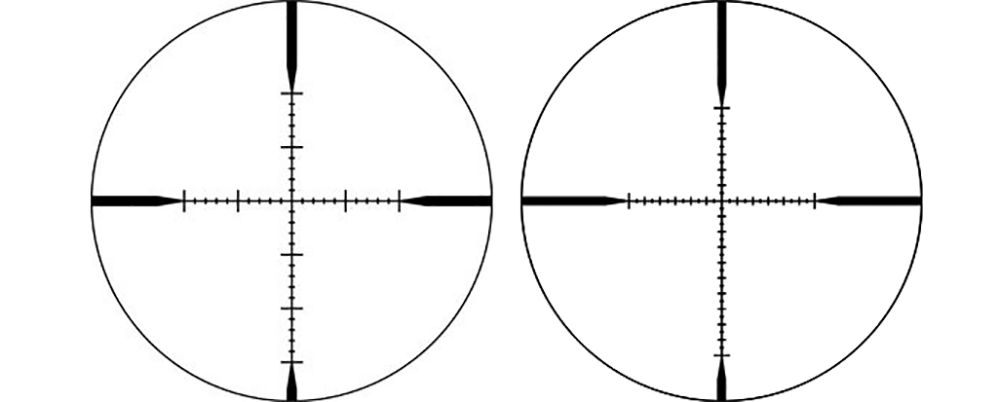 If you rely on a laser rangefinder, you're probably good—unless that battery dies at the worst possible time and the crosshair remains the same size regardless of magnification when it's on the second focal plane, a more familiar setup for most shooters.
Rimfire Specific
Another big difference is that a 2-7×32 mm is available in the P-Tactical lineup specifically designed for rimfires. It's a good matchup at the price it seems an ideal addition. A version tailored for subsonic Blackout loads is also an option, with seemingly identical specifications.
Conclusion
The advantages available in the M-Tactical lineup are many and none are inexpensive to manufacture into an optic. Whether you'll ever see the dividends associated with added investment is entirely determined by a shooter's riflescope use and shooting preferences.
Traditionalists and most "recreational" shooters will extremely pleased with the P-Tactical versions and probably won't notice any difference from the higher-performance optics they hesitated purchasing a few years ago. How far the industry has come in its technology is positively amazing today.

You can't go wrong with either the Nikon M-Tactical or Nikon P-Tactical lines. Each are covered by the famed Nikon warrantee, adjustments on the tactical-style turrets are positive and repeatable with fast zero-setting capabilities and the optics are nitrogen purged to prevent internal fogging. Each are also water and dustproof.
The biggest considerations then become budget and the scope's duty. If you can afford an M-Tactical now and are in the market, spend the money and resign yourself to looking through the optic on a lot of your new gun purchases for years to come. If money is tight, and the riflescope is going to ride a brush-busting buck getter for the next decade, you won't regret mounting a P-series on that rifle, either.