Last Updated on
Everyone who's ever shot a shotgun knows that they are something special. Not quite like regular bullet-shooting firearms, shotguns have a very distinctive feel to them. If you are curious about trying one for yourself or looking for another worthy piece for your gun collection, consider getting something with a Mossberg in its name. Known for their rugged reliability and versatile performance, Mossberg shotgun family have earned a special place in the hearts of shooters of all stripes, from competitive folk to hunters. In this guide, we'll explore the diverse range of options that Mossberg offers, starting from the hardy, ever-reliable pump-action to the swift and smooth semi-auto ones. This ride will take a minute or two, but you can right away jump to the model that piques your interest.   
Table of Contents
   Mossberg 590A1
   Mossberg 940 JM Pro
   Mossberg 930
   Mossberg 590 Shockwave
   Mossberg 935
   FAQs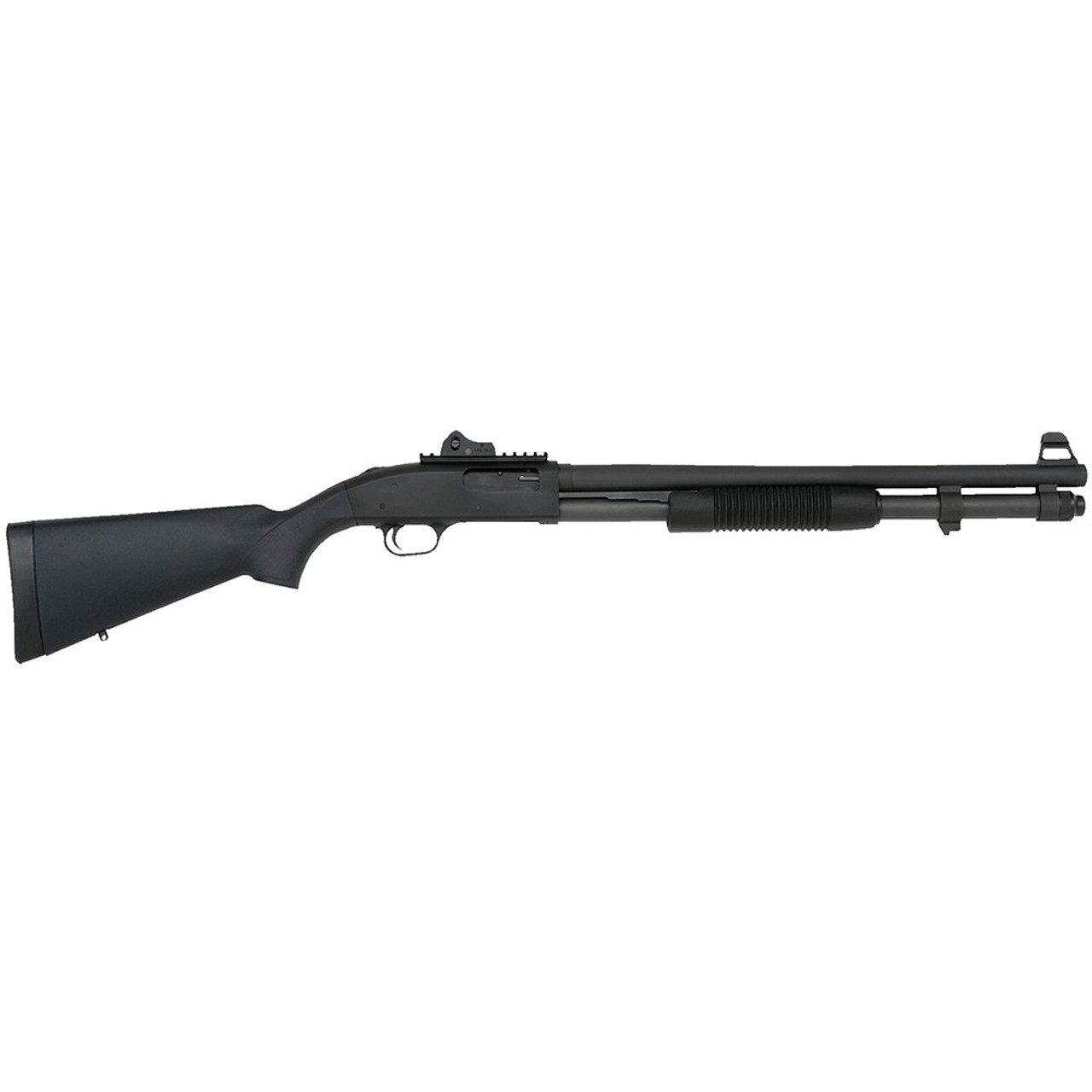 Mossberg 590A1
In the world of shotguns, few can hold a candle to the Mossberg 590A1. Calling this shotgun a mere firearm would be an insult – I can't settle for anything less than a true testament to craftsmanship and design. I might be a bit subjective here because I myself am the owner of a Mossberg 590A1, but hey, from whom else would you want to hear a review?
The first thing I'd like to highlight is its robust build quality. The 590A1 is a full-bodied, heavy-duty firearm made to withstand the rigors of harsh environments and high-pressure situations. You can literally use it as a melee weapon – it won't compare in effectiveness with its ranged form but will nonetheless leave a very visible mark on your target. After all, the Mossberg 590A1 is the only pump-action shotgun to pass the U.S. Military's Mil-Spec 3443E test. Is there better proof of its durability? You'll need to get one yourself to find out.
Design-wise, this shotgun is a nonpareil, at least when it comes to shotguns featuring tactical design. Coupled with a comfortable, ergonomic grip, the 590A1 ensures you can control every element unhindered. The 20-inch barrel length and 9-round capacity give you the firepower you need to perform whatever task you set your mind to (given it's nothing fishy). However, since the walls of this 20-inch barrel are quite thick, the shotgun ends up feeling hefty by the end of your shooting session.
The performance of the Mossberg 590A1 won't leave you craving more. The action (pump action, as you can see) is smooth and reliable, allowing for quick and efficient cycling of shells (just make sure you give your pal a thorough clean every once in a while). There are also plenty of other features that work for the same goal: the dual extractors, positive steel-to-steel lockup, twin action bars, and an anti-jam elevator bestow additional layers of performance upon this canvas.
My personal experience with the Mossberg 590A1 has been nothing short of fulfilling. I take it out for a walk every now and then since we don't have a skeet shooting range here at Gritr. Even during initial testing, the shotgun functioned flawlessly. The recoil was manageable, and the accuracy was commendable, especially considering its design as a close-quarters firearm. Even some two years later, it serves as dependably as it used to. We did have our miscommunication moments (two or three times, the shell lifter is to blame), but the bigger picture doesn't become flawed because of that.
To sum it up, the Mossberg 590A1 is a remarkable shotgun that combines the best of design, build quality and performance. I chose this shotgun for myself some years ago, and I didn't regret my decision one bit. It's a no-brainer of sorts, you'll see a 590A1 in any "top" shotgun review, but hey, its worth doesn't fade because of that.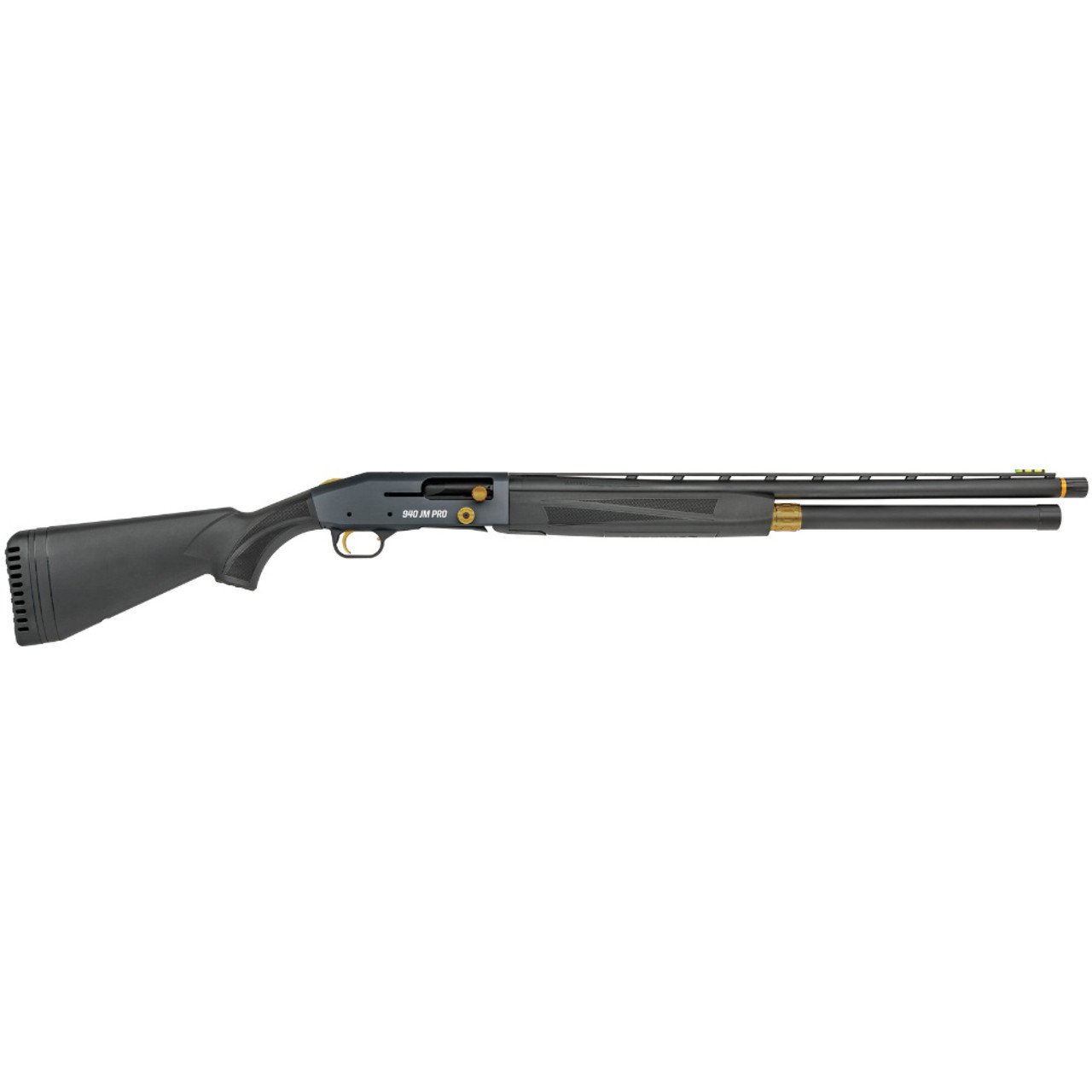 Mossberg 940 JM Pro 
Next on our list is a Mossberg 940 JM Pro, a shotgun that's as ambitious as it is impressive. If you are in the market for a finely tuned firearm engineered for speed, reliability and versatility, then this shotgun is likely to be what you are looking for.
Let's start with the key features for a change. The Mossberg 940 JM Pro is a semi-automatic, gas-operated shotgun with a capacity of 9+1 rounds in its extended tube. That's not the greatest shell capacity you can see in a shotgun, but it's more than an average shotgun has. Mossberg revealed that this shotgun was developed in collaboration with world-class competitive shooters Jerry and Lena Miculek. They have a reputation to uphold and wouldn't join just any random shotgun development process. Take it as another point in favor of 940 JM Pro, if you will.
The design of the 940 JM Pro screams functionality and ease of use. Honestly, I think it looks more appealing than the 590A1. But the latter is a tactical pump action, so the looks aren't the best point for comparison. The loading port has been redesigned for fast, fumble-free reloads. The oversized charging handle and bolt release button are easy to operate even under pressure. That's my best bet, at least, for I have been testing this shotgun in a relatively calm environment. The 940 JM Pro also boasts an adjustable stock and fiber optic front making sure that this shotgun can be of use in a variety of situations.
The build quality is top-notch. The receiver is made from durable aluminum, and the barrel and gas system components are finished with a hardy matte blue. All internal parts are nickel boron-coated, resulting in smooth operation and relatively easy maintenance. The synthetic stock and forend feature Mossberg's signature texturing for a secure grip, so neither oily nor sweaty hands should be a problem.
As expected, the 940 JM Pro shines when it comes to performance. Even though I'm more of a pump-action guy myself, I enjoyed shooting this shotgun immensely. Nothing went awry during the testing. The cycling was exemplary, having handled many a shell load with ease. The recoil was pretty manageable, so there was no problem with follow-up shots. The accuracy was commendable, especially for a shotgun designed for fast-paced shooting competitions.
Compared to other shotguns in its class, the 940 JM Pro stands out for its competitive-oriented features. While other models might offer similar basic features, the 940 JM Pro goes above and beyond with its shooter-friendly design and high-capacity magazine tube. 
If you ask me, Mossberg 940 JM Pro is a formidable shotgun. If you are looking for a semi-automatic shotgun, you might want to seriously consider this gun. The controls were intuitive, the recoil was manageable, and the accuracy was spot-on. It's clear that a lot of thought went into the design and construction of this shotgun, and it shows in every aspect.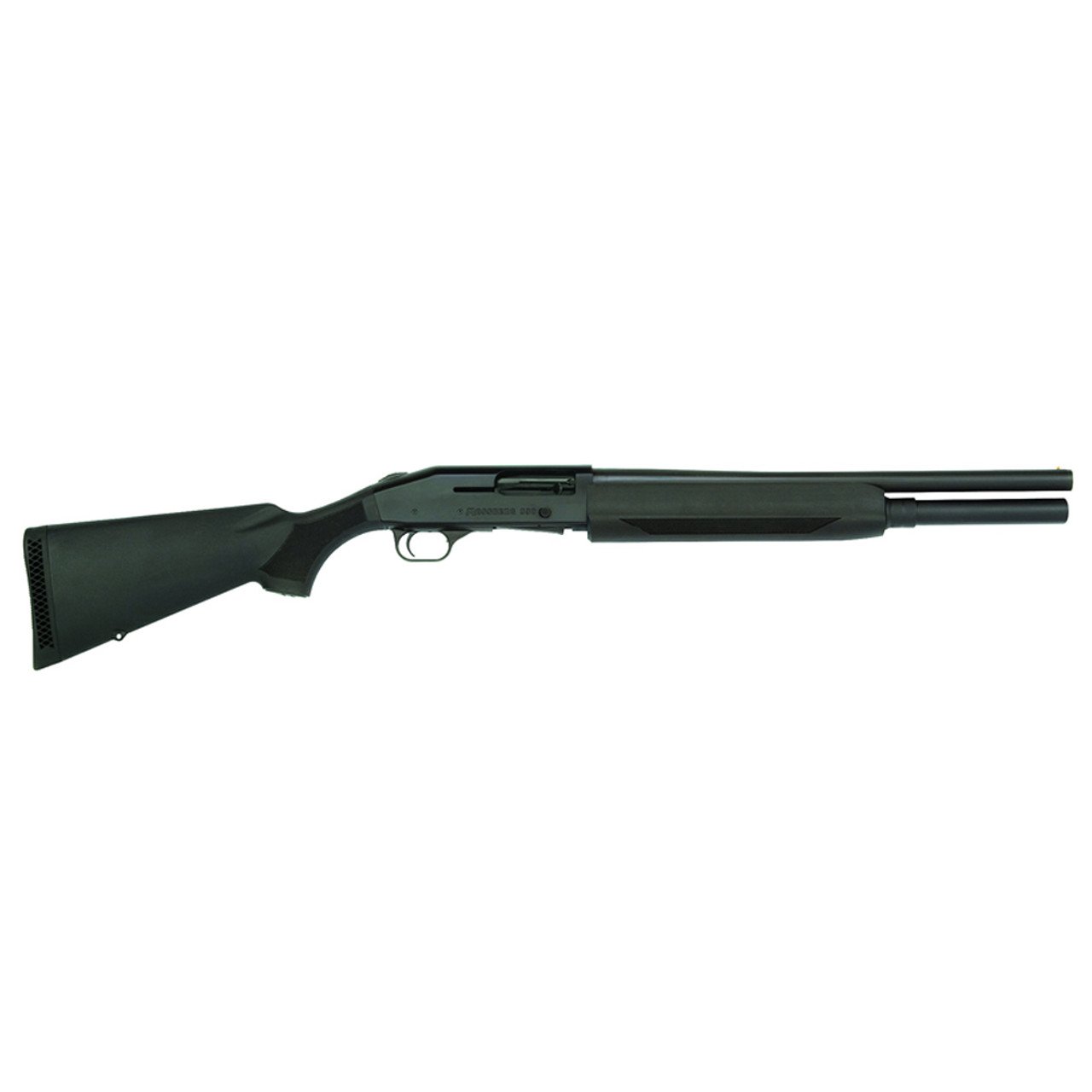 Mossberg 930
Continuing our trip into the world of semi-automatic shotguns, we simply cannot skip the renowned Mossberg 930 Tactical. Unprecedentedly affordable for a semi-auto shotgun, this brainchild of O.F. Mossberg & Sons made waves in the firearm industry upon its initial release in 2005. The wavelets are still in place, though, as Mossberg 930 Tactical is nowhere near sinking into oblivion.
This shotgun seamlessly blends superior safety features, top-notch engineering and customization opportunities. The tang safety is easy to access and, among other things, ambidextrous. You couldn't ask for better safety, really, at least not for a traditional straight shotgun stock. 
The Mossberg 930 Tactical boasts some impressive specs. It sports an 18.5-inch cylinder bore barrel and is chambered in 12 gauge for both 2.75″ and 3″ shells. As befits an exemplary gas-operated semi-auto, it's not too picky about what you feed it, which is a considerable advantage if you ask me. The stock and fore-end are crafted from black polymer, while the receiver and trigger guard boast an anodized finish. Overall, the matte black finish imbues it with an air of rugged charm.
Let's talk about what spoiled the first impression. The charging handle was a little too tiny even for me, and I don't have huge hands. This aspect is easily fixed, as you can simply replace it with the one you feel comfortable using. But since I only had it for a test, I didn't change anything. Also, this shotgun bites. Literally, I got my finger pinched by a shell lifter when I was loading the gun, and well, I'd rather it didn't do that. 
In all other respects, the testing was a delight. The trigger was lovely (with little to no take-up), and the recoil was quite soft. Even after firing several rounds, the gun maintained its cool, and I guess I have the gas operation system to thank for that.
Comparing it to similar firearms in its class, the MOSSBERG 930 Tactical holds its own. Its unique blend of affordability, reliability, and performance gives it a competitive edge.
All in all, Mossberg 930 is a very solid shotgun. It's not without its flaws, of course, flaws that aren't present in Mossberg 940 JM Pro, for example. But keep in mind that Mossberg 930 is almost twice as cheap. Not exactly twice, but you could easily get another gun for the price. Nonetheless, I can assure you it will make for a great home-defense shotgun.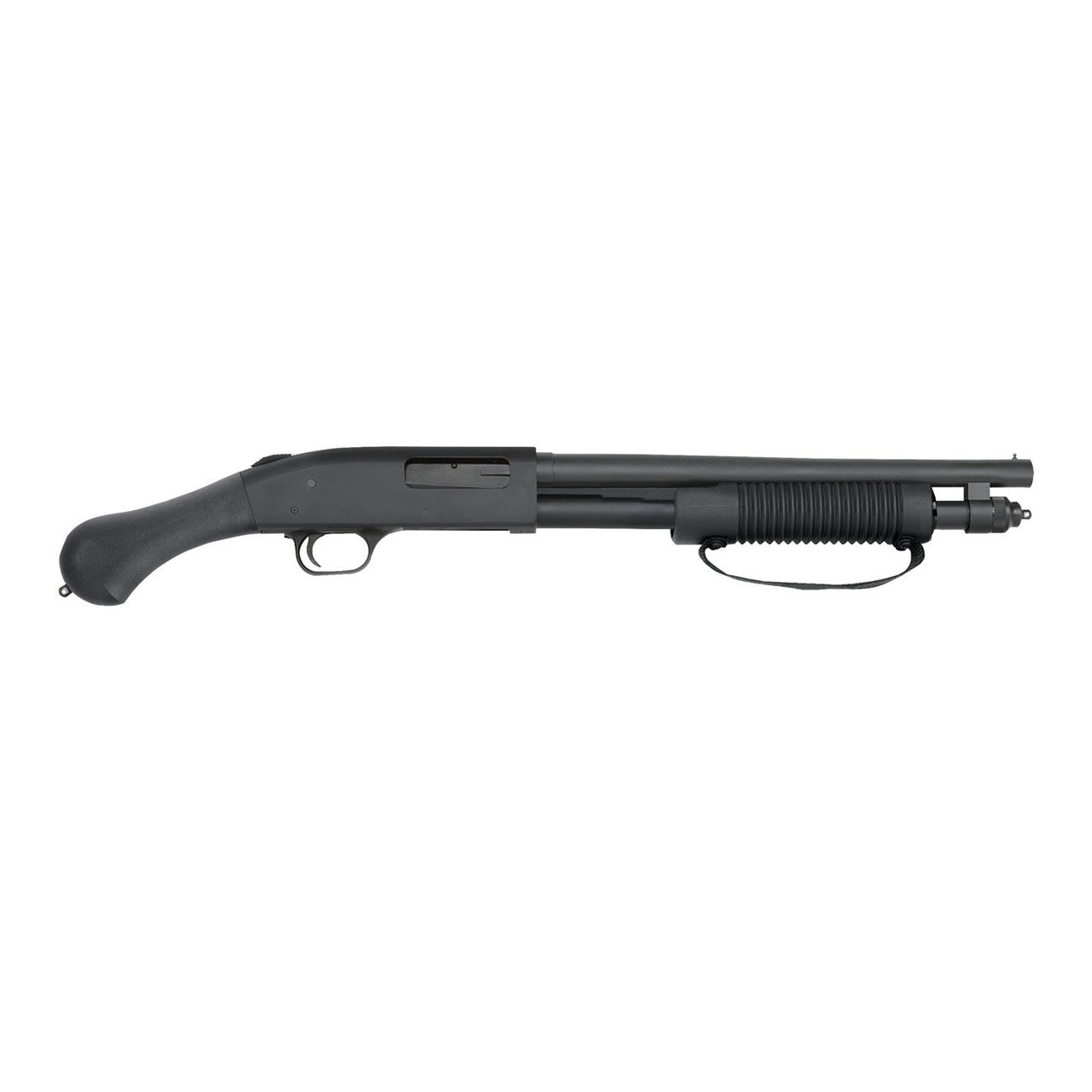 Mossberg 590 Shockwave
That's one of the rare cases when I'll try to talk you into considering a gun not because of its advantages but despite all the flaws it may have. Some might say it's an unnecessary compromise but I call it true love. And you guessed it right, that is the second gun on the list that I personally own. To make things clear: I consider Mossberg 590 Shockwave to be a "fun" gun, the one you purchase for challenge and entertainment and not for home protection or competitive shooting. If you are in need of a latter, there are four more shotguns on the list.
First and foremost, what is a Mossberg 590 Shockwave, exactly? You might've noticed it looks short, and it is indeed shorter than the majority of shotguns. In fact, with its 14-inch barrel, it had all the chances of making it into the NFA league. If not for Mossberg's cunning, you'd need to pay an extra $200 and do a ton of paperwork to get one. But Mossberg 590 Shockwave is a regular firearm, and…well, it's just that, a firearm – not a shotgun. At least, technically. It still accepts shotgun shells and does all the things that regular shotguns do but doesn't bear their name while doing so.
Now, what else sets the Shockwave apart from other shotguns? The apparent answer is the lack of stock. It is, in fact, the very feature that allows this firearm not to qualify as a shotgun. As such, you won't be able to fire it from the shoulder, and well, it shows. It determines your potential style and possible speed of shooting, it determines how you will handle recoil and a bunch of other factors. It definitely doesn't add to the comfort of the firearm, but it was meant this way. Without stock, that is, not uncomfortable.
The gun features a signature Shockwave Raptor bird's head grip, hence the name of the shotgun (I'll call it that if you don't mind). Even though it adds to the gun's general length, allowing it to classify as a Type I firearm, it is pretty functional in and of itself. It's not textured, so there is still room for improvement, but you can get a different grip should you want to. The original grip performs well if you fire a standard buckshot load. 
A word about recoil. It kicks. It's a 12-gauge shotgun, and the lack of stock doesn't make the recoil easier to handle. The Raptor handle actually offers a bit of help here: it redirects recoil into an upward motion, which can prove helpful for managing the pump.
Reloading also turned out to be more laborious than with a usual shotgun. Since the additional point of contact is missing, you'll need to reload the shotgun while holding it with one hand. Not the most fun experience, but we have what we have.
Is there anything that can make up for all these inconveniences? The fun you have shooting this gun. Many of the features that may disturb a novice user aren't bad, necessarily. If a gun is meant to be stockless, you can't really consider it a drawback, can you? The same goes for the rest of the features. Yes, the grip could use some texturing, and the forend itself isn't the most forgiving when recoiling, but both those things can be replaced with aftermarket options. In return, you get the unique experience of shooting a short shotgun. I must warn you that this gun is better left for shooters with some pump-action experience. It won't be gentle with you if you are a novice shooter, and it will seem capricious even if you already have some experience under your belt. But if you are looking to add an achievement to your accomplishment list, you can try to tame this stallion. And it is tamable, believe you me.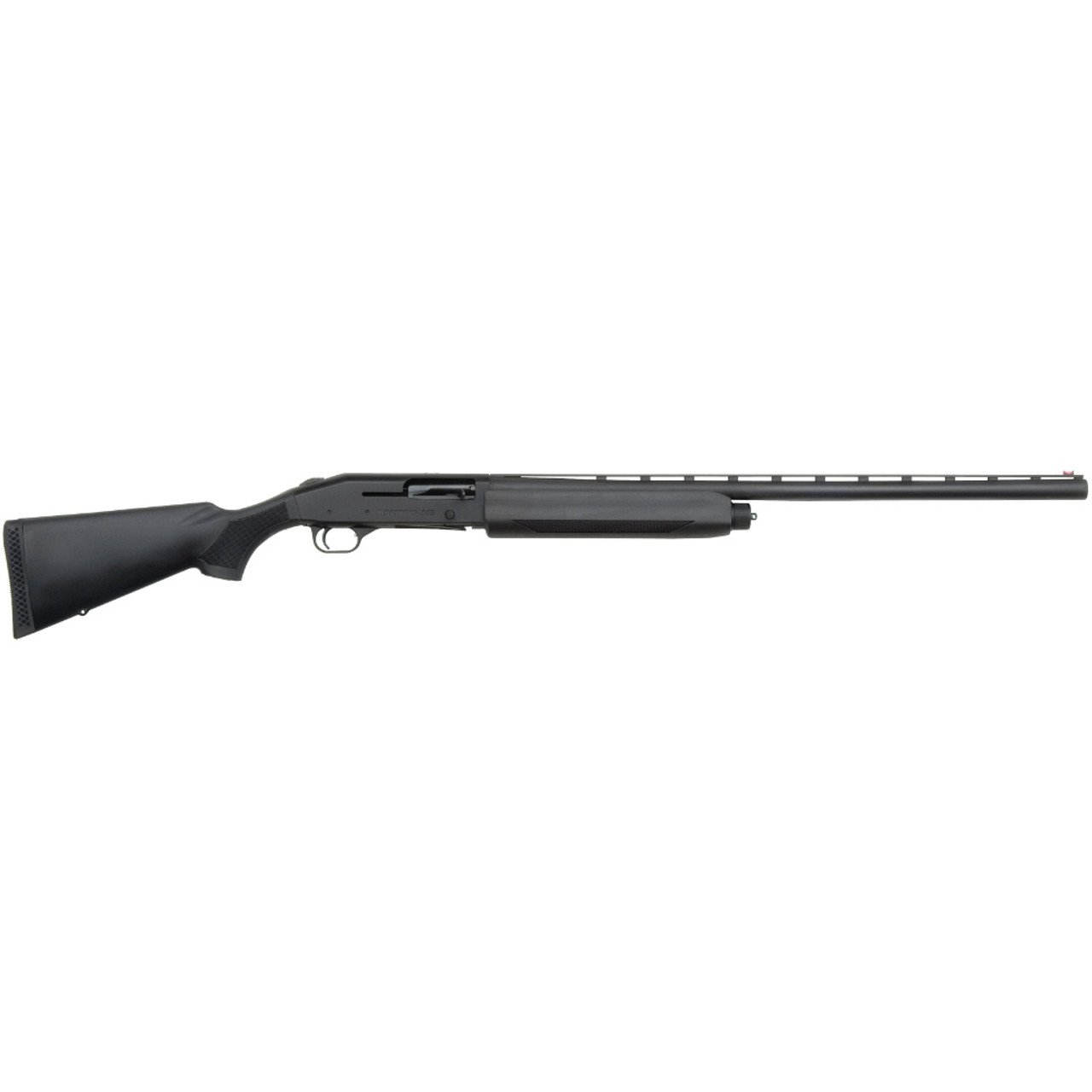 Mossberg 935 
Our reviewing journey ends with the Mossberg 935 Tactical. This 3.5″ chambered beast, designed for hardcore hunters and tough game, offers smooth-as-silk shooting courtesy of its dual gas-vent system.
The 935 Tactical boasts an impressive 28-inch barrel (twice as long as that of Mossberg 590 Shockwave) and a standard 5+1 round capacity. It's a semi-automatic shotgun that doesn't shy away from heavy loads, so it will be a perfect choice for your next waterfowl or turkey hunting trip. 
In terms of features, the 935 Tactical can be considered a sweet spot. Its dual gas-vent system ensures smooth operation and recoil reduction, while the ergonomic design provides comfortable handling. Loading and operating this firearm is as easy as pie, even for beginners.
However, there is a fly in this ointment as well. The 935 Tactical, while powerful, isn't the best choice for shooting anything but 3" and 3 ½" shells. Many owners reported that feeding 2 ¾" shells results in not particularly reliable performance. If you decided to try 2 ¾" after having been using it for a whole, consider giving your gun a proper clean. Otherwise, if that's not a matter of principle to you, use the 3" and 3 ½" shells.
I didn't have a chance to test it while pursuing a turkey (tis not the season yet ), but it performed pretty decently at the range. The bundle included three choke tubes, I've tried them all, and they do what they are designed for. I had no issue shooting a couple of 2 ¾ rounds, but It might have been just luck, I wouldn't choose them as primary ammo anyway. I think I'll ask to take this one with me when heading out for the next turkey hunt. It did catch my attention, and it will be nice to switch from a pump-action for a change.
Conclusion 
And there you have it, folks, our Mossberg shotgun review. Some moments probably seem pretty biased, but well, there is actually only one way to form an opinion about something – trying it out for yourself. I hope I've given you some sort of idea of what you can anticipate from all the shotguns, but the rest lies with you. There are many more models of shotguns and not-shotguns that await their moment in the spotlight, and I hope you'll be there to see them when the time comes. See you in the next review!
FAQs
What is the difference between a pump-action and a semi-automatic shotgun? 
Pump-action shotguns require manual cycling of the action to eject and reload shells, while semi-automatic shotguns use the energy from the fired shell to eject and reload the next one automatically.
What are some popular Mossberg pump-action shotguns? 
The Mossberg 500 and 590 series are among the most popular pump-action shotguns. They are known for their durability, reliability, and adaptability to various shooting scenarios.
What are some popular Mossberg semi-automatic shotguns? 
Mossberg's semi-automatic shotgun lineup includes models like the 930 and 935. These shotguns are favored by waterfowl and competition shooters for their smooth operation and rapid follow-up shots.
Which Mossberg shotgun is best for home defense?
Many experts recommend the Mossberg 500 or 590 series for home defense due to their reliable design and versatile features.