Last Updated on
The John Wick franchise is one of the most influential action movie series filmed in the last decade, and its significance is quite hard to overestimate. Very rarely do we see movies featuring eye-popping fast-paced gun-fu scenes of such authenticity. Besides, thrillingly choreographed violence is decently edited, with no shaking cams and crazy cuts. It allows us to notice, process, and savor every movement. True eye candy! We are not movie critics, though. We want to tell those interested in action movie weaponry about John Wick guns here because it features A LOT. And that's one more beauty of the franchise. But first, let's talk about prop guns.
Table of Contents
What's a Movie Prop
Top John Wick Guns
Heckler & Koch P30L
Glock 34
1911 Pistols
Sig Sauer MPX
Kel-Tec KSG
   TTI Pit Viper
   TTI Dracarys Gen-12
What's a Movie Prop
Prop guns used in action movies vary from airsoft guns to real-live models chambered in blanks depending on a particular scene and its complexity. In the Wick series, the actors use only real firearms for realism. So what about safety?
Though capable of firing live rounds, the Wick series prop guns use blank rounds that lack bullets. That doesn't mean, however, that blanks are 100% safe. They do contain gunpowder and can sometimes have wadding that seals powder into the cartridge. When a person fires a blank round, there's a muzzle explosion dangerous at close ranges.
So when you see a close-quarter combat scene, you see real guns cycling blank rounds, but their barrels are plugged, and muzzle flashes are added during post-production.
Top John Wick Guns
Heckler & Koch P30L (John Wick, 2014)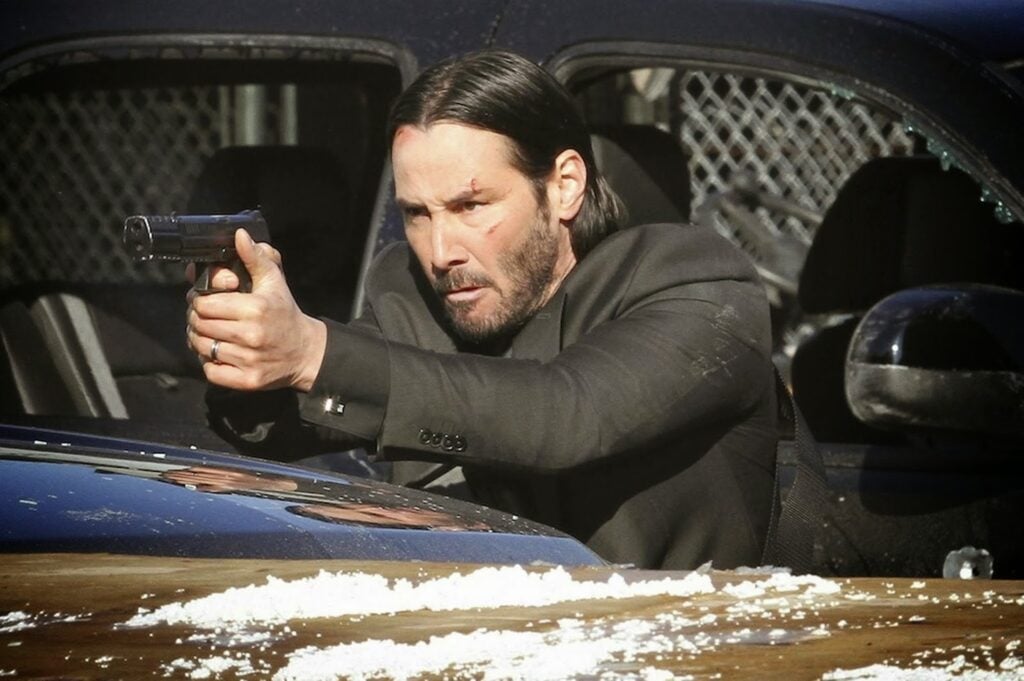 If you're wondering what the original John Wick's weapon of choice is, this is it – the HK P30L hammer-fired DA/SA 9mm pistol developed by the German gun manufacturing company. The firearm first appears in the digging scene and helps John in several firefights, including the iconic home invasion and nightclub chase scenes.
The model featured in the 2014 movie is chambered in the 9mm Luger cartridge and has a 15-round mag capacity. The barrel is longer than the original HK P30 and equals 4.45 inches. A long barrel gives a shooter several crucial benefits, such as more firepower and a longer sight radius for more accurate shots.
Returning to the digging scene, when John opens a case, we see the P30L pistols alongside two smaller Glock 26s. As a professional assassin, John knows that a compact pistol won't hurt as a secondary arm. So we see this gun used at the beginning of the bathhouse shootout. He takes a few shots but then switches to the P30L outfitted with a compensator because it's a more massive gun that is easier to control for accurate follow-up shots. Want John Wick's pistol? Follow this link.
Glock 34 (John Wick 2, 2017)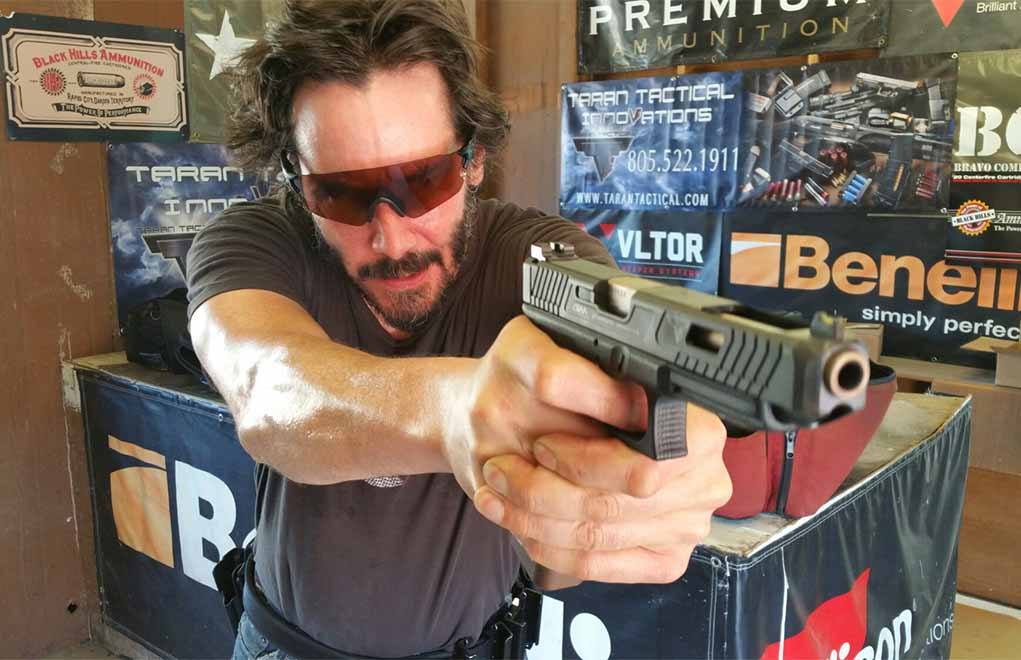 So what gun does John Wick use in Chapter 2? It's the Glock 34, but unlike the original model, this one features numerous upgrades and modifications by Taran Tactical Innovations (TTI). Notably, the company developed upgrades for many models featured in the movie series, while the company's director, Taran Butler, trained Keanu to make him the John Wick we all admire.
The Glock 34 is a competition-shooting version of the legendary Glock 17 full-size 9mm pistol. Thanks to a long barrel of 5.31 inches, the pistol provides a significant increase in accuracy and iconic firepower.
When you look at the Glock perfected by Taran Tactical, you barely recognize it because the modifications are pretty intensive. John Wick's Glock boasts a flared mag well for faster reloads, recontoured grip, a competition trigger, slide porting, and an easy-to-pick-up fiber optic front sight. These modifications make the gun smoother, more accurate, and more powerful.
1911 Pistols (John Wick 2, 2017)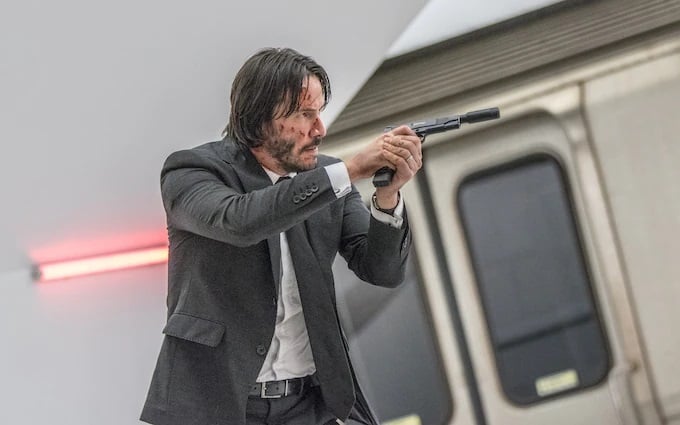 Because the 1911 is a legendary design, no wonder there are several 1911 pistols in the franchise. Some of them play a key role in the Wick movies.
In one of the most iconic scenes of John Wick: Chapter 2, where Wick and his fellow assassin Cassian, played by Common, fire at each other as they move with the crowd in the subway, the former uses a suppressed SW1911SC (E-series) manufactured by Smith & Wesson.
Well, the dramatism of the firefight and the fact that no one notices anything strange keep the audience on the edge of their seats, but generally, the scene is humorous because it's not realistic. While a suppressor can affect the noise generated by the muzzle blast, it does nothing with the mechanical noise of the moving parts and the sonic boom caused by the bullet flying downrange (in the case of supersonic ammunition). So no suppressor is capable of completely muffing the gun.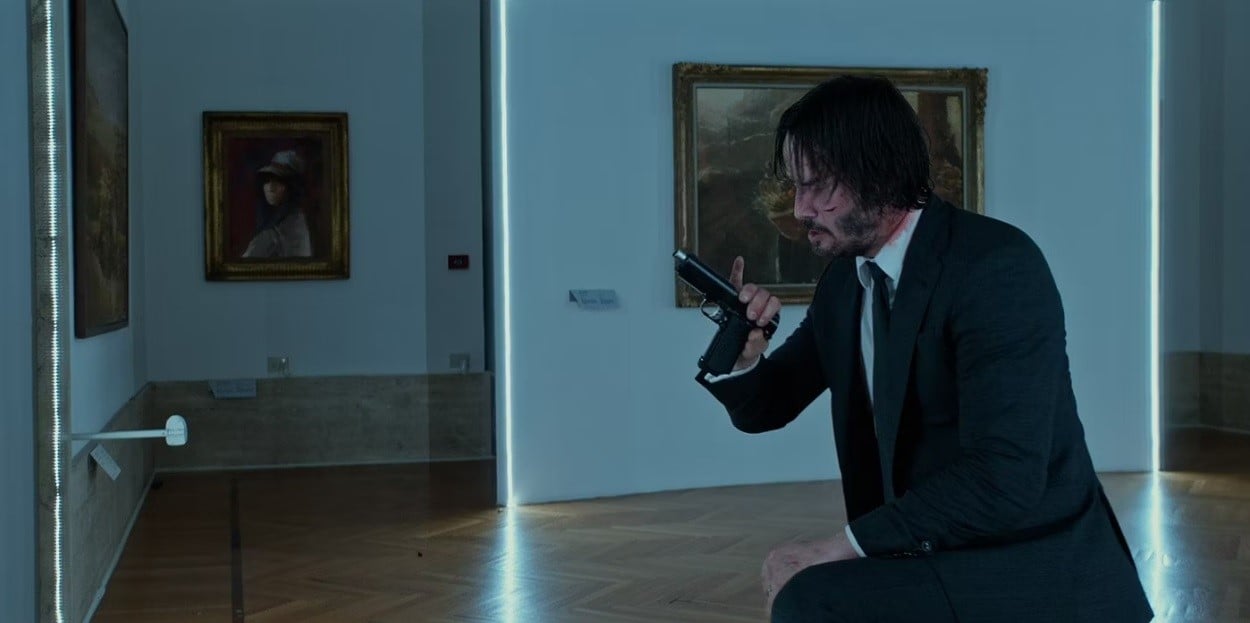 After Cassian is done, Wick turns to the Bowery King, who gives him the Kimber Warrior (theatrically saying: "Somebody PLEASE get this man a gun!"). The Kimber Warrior is a 1911 pistol chambered for the .45 ACP, holding only seven rounds in the magazine. The Bowery King intentionally supplies Wick with this gun – one bullet for each million of the kill contract. Later, John masterfully uses the pistol at the beginning of the firefight in the art gallery. Several minutes later, he reloads his Kimber with a mag taken from a fallen opponent and does a one-handed press check with one fluid motion, which looks very cool.
We see another John Wick's 1911 Kimber in the Continental lounge, where Wick kills Santino. The model is the Kimber Super Carry in .45 ACP outfitted with a compensator. This scene looks great because cold-blooded Wick does what he intended to do.
All three pistols are gorgeous, potent, dependable 1911 designs.
Sig Sauer MPX (John Wick 3, 2019)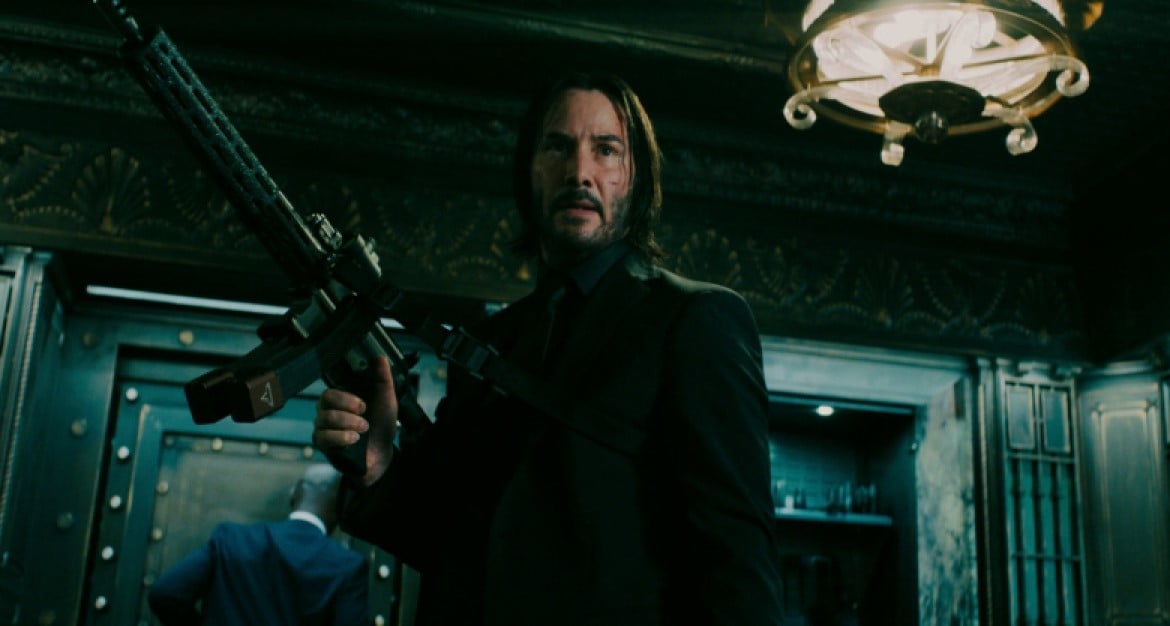 One of the most intense Chapter 3 scenes is the Continental shootout, where Wick annihilates his armored opponents. During this firefight, he uses several guns, including the SIG MPX carbine. The particular model from the movie is the MPX, heavily improved by Taran Tactical and equipped with the Trijicon MRO sight and a laser module. One of the most crucial TTI improvements includes the +11 base pad.
The original MPX 9mm PCC from Sig Sauer has a 16-inch long barrel, shoots great, and gives virtually no recoil. However, the 9mm Luger handgun cartridge isn't the best choice for firefighting men wearing body armor. That's why John switched to something more powerful – the Benelli M2 Super 90.
Kel-Tec KSG (John Wick, 2014)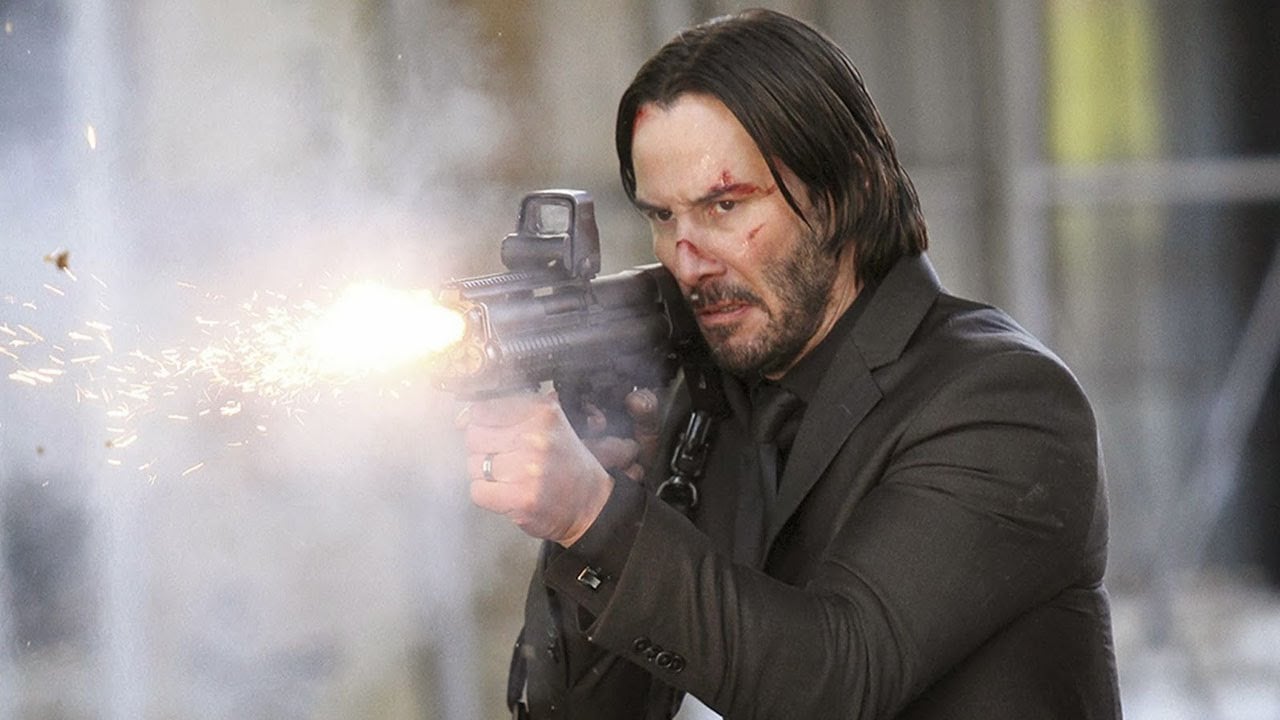 Compared to handguns, rifles, and PCCs, shotguns aren't seen very often in the Wick series, but when they do appear, they are devastating. Kel-Tec KSG is one of the most unconventional John Wick shotguns seen briefly in the 2014 movie. It's a slick tactical 12-gauge bullpup shotgun, which means the action is located behind the trigger, allowing for more maneuvering, less recoil, and more stability. The magazine of John Wick's KSG shotgun holds 7+7 rounds.
TTI Pit Viper (John Wick 4, 2023)
The community of gun enthusiasts and action movie fans has been eagerly awaiting John Wick 4 for four long years. Finally, it happened – the new movie was released in March 2023, stirring up the fan community with renewed vigor. As always with the franchise, all guns used in Chapter 4 not only have a great appearance but also shoot well.
One of the coolest John Wick 4 guns is, of course, the Pit Viper, a bespoke 2011 pistol from Taran Tactical Innovations. Now, a couple of words for beginning shooters. The 2011 is basically an improved version of our beloved 1911 platform, designed to meet the requirements of modern shooters who got accustomed to certain standards of modern combat weapons. A 2011 pistol features a grip module that allows it to take a double-stack magazine, hence, has a higher capacity, while a traditional 1911 has a whole frame with grip panels. However, all the merits of the 1911 platform – the light and crisp trigger that moves straight back to the rear, accuracy, and reliability – transitioned to the 2011 one, making it one of the most outstanding pistol platforms currently in existence.
The TTI Pit Viper 2011 pistol we see in the John Wick Chapter 4 is a 9mm handgun, and it's loaded with various features. Some of them include a built-in single-port compensator for the mildest recoil; flared magwell for faster reloads; an enlarged ejection port; seamlessly blended ambidextrous grip safety; the Extreme Engineering Fire Control Group that includes extremely lightweight but sturdy match-grade hammer, sear, and disconnector; a 1.75-2.25 lbs trigger; accessory rail cuts; and extended mag and slide releases.
The Pit Viper will be available for purchase in May 2023, but expect a heavy price tag – $7,000. If you want to try out the 2011 platform, consider the Staccato 2011 optic-ready 9mm pistol.
TTI Dracarys Gen-12 (John Wick 4, 2023)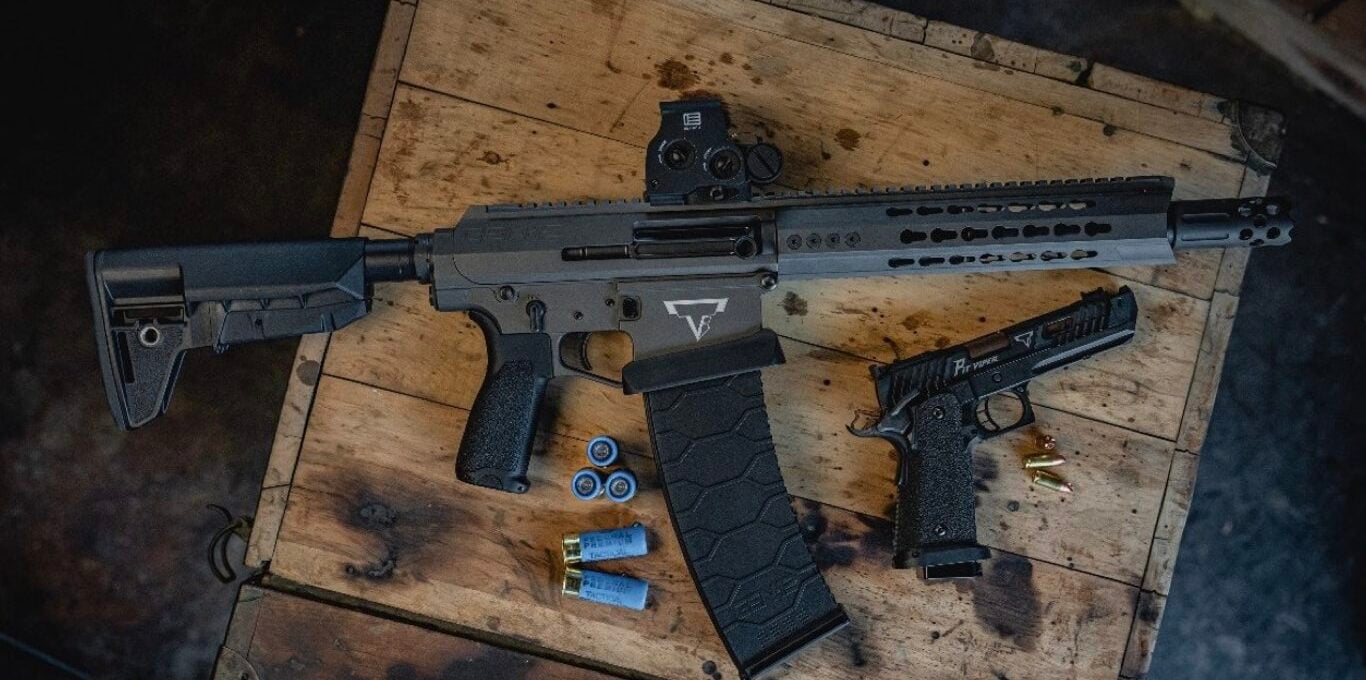 Remember the scene in the third movie where John annihilates armored guys with a Benelly M2 shotgun? Well, reloading a tube magazine looked cool, but it would be too slow should this scene happen in the real world. That way, a semi-auto AR-style tactical shotgun that John uses in Chapter 4 is a smart choice.
Actually, the Dracarys is one of the fastest semi-auto shotguns, outcycling even the Genesis Arms Gen-12, which is the gun the Dracarys is built on. It's a 12ga shotgun fed from a 10rd magazine with a barrel length of 10.5 inches for more maneuvering. It's equipped with the Eotech holographic sight and a KeyMod handguard. Why not M-LOK? Because the barrel is short, and KeyMod allows you to put your gun accessories further back.
If you're wondering what makes the Dracarys shoot out the flame in the movie, the answer is that it is chambered with Dragon's Breath rounds loaded with magnesium pellets.
If you're looking for a semi-auto tactical shotgun at a reasonable price (the Dracarys will be marketed at $4,600), consider Kalashnikov shotguns, the AR-style VR60 from Rock Island Armory, or the ATI Bulldog bullpup shotgun.
Our list isn't exhaustive. Dozens of firearms and weapons appear in the Wick movies, from the Glock 17 and Walther PPQ to the Benelli M4 and Colt 1860 Army – each is a genuine work of art. Yet, we've tried to collect the coolest and most memorable guns from the franchise and tell you a little about their place in John's story. If you wish to purchase one of John Wick handguns, rifles, or shotguns, go to our store and take a look at what we've got.