The AR-15: Perhaps the most widely sold firearm in American history; truly today's modern musket in all sense of the term. It's not uncommon for the average AR-15 enthusiast to own not one, but multiple rifles of this design. As the industry develops new and better ways of getting the absolute most out of this platform, shooters are starting to stray away from the traditional fixed A2 sight rifles and look more into free float handguards and other accuracy enhancing features.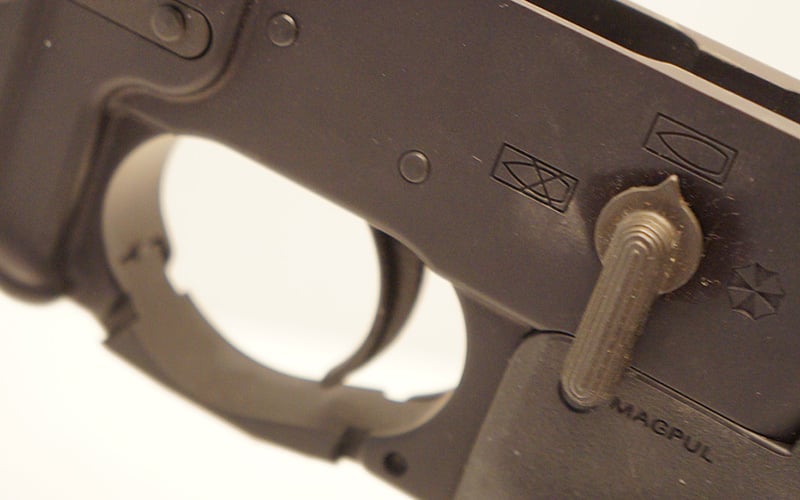 While experts will argue the key to any reliable and well performing rifle is in the chamber and barrel, no one can debate accuracy starts at the first point of contact between man and machine: the trigger. On average, the stock trigger assembly on a mil-spec production AR-15 rifle or in a standard AR parts kit will run between 6.8lbs – 8.5lbs as per the original specifications for the U.S. military. While it is fairly easy to adapt to this mildly heavy trigger pull, it can cause the shooter to pull his or her shot both horizontally and laterally depending on how much finger pressure is required to fire. With the recent popular trend of firearm enthusiasts building their own AR-15 platform rifles, the best place to start your stripped lower receiver project off with is a quality aftermarket trigger. In this article, we'll take a look at some of the more popular options on the market getting a lot of "buzz" in the industry in order to weigh the benefits and cost of choosing the right one for your needs.
Geissele Automatics
No this trigger will not allow you to shoot full automatic. What this company DOES offer is one of the biggest names in the aftermarket trigger community. Geissele currently offers several different models of light pull weight triggers from the 3 Gun completion model to the single and two stage models, there is something for every shooter's taste. Two noticeable choices offered in most aftermarket triggers are the option of flat or curved trigger bow. Many experts will say the flat trigger bow is better for competition shooting due to less creep and a more straight rearward swing. The problem lies when tactical shooters take these suggestions to go for them as well, but I would argue the natural curve of the shooter's finger is best mated to the curve of the traditional trigger during high stress situations where gross motor skills quickly take over. Averaging around $230 – $240 per trigger, they are on the upper end of the spectrum.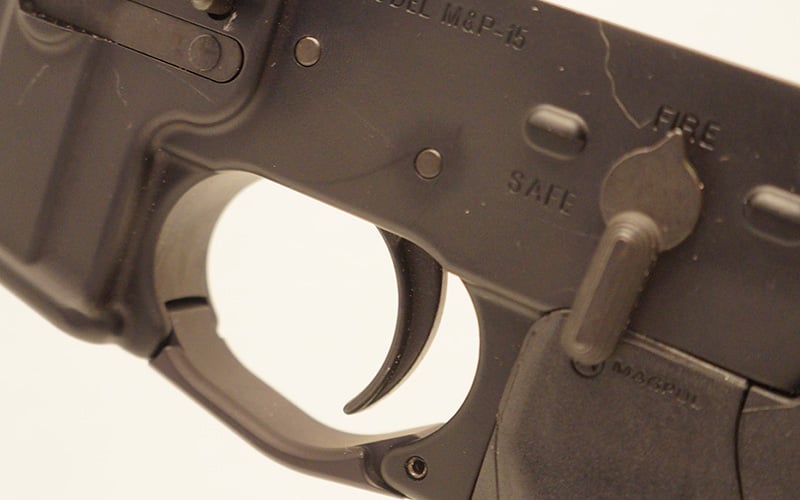 Installation of the Geissele trigger is relatively simple as it is the same as the standard AR-15 trigger assembly in that regards. It still retains a separate hammer, springs and trigger assembly they has to be dropped in and aligned in order to work. All parts are finely honed to give very little creep and a high performance.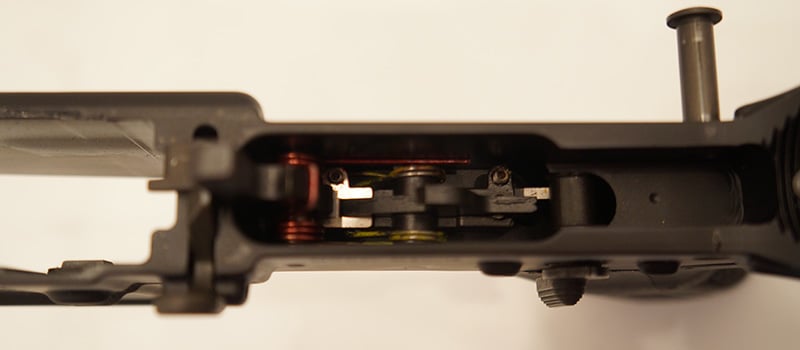 I first came across this company in 2009 while still working as a SWAT operator for my local Sheriff's office. I had recently completed an Urban Rifle class and purchased a Viking Tactics edition Smith & Wesson M&P AR15 with a factory installed Geissele single stage trigger. Having approximately 10 years of prior experience with mil-spec 8lb triggers, the 3 ½lb trigger of the Geissele was a breath of fresh air. Although I was originally worried about rumors of lighter triggers failing to fire more often and accidental discharges, time and experience spent with the Geissele system have put those fears to rest. I have run my Geissele equipped rifle through SWAT completions, several training classes, and numerous hours of SWAT training before retirement into the private sector currently teaching rifle courses without a single safety or failure to fire issue. Geissele triggers are tough, reliable and worth the money.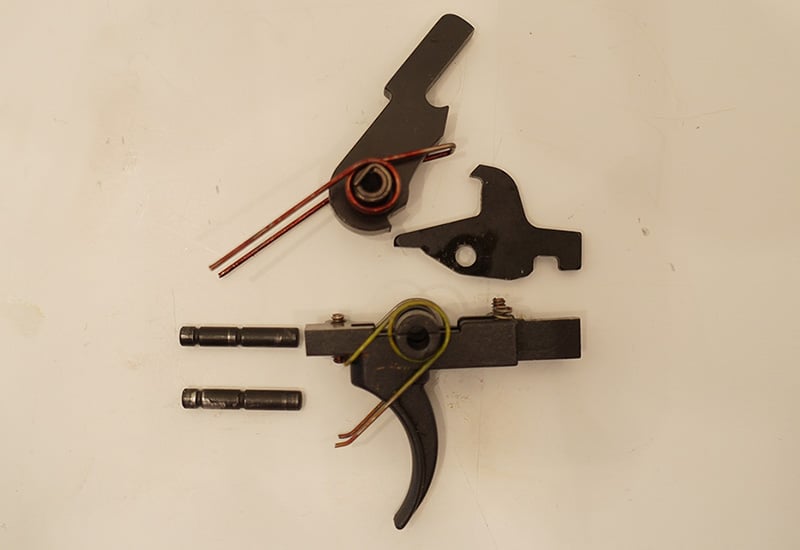 Timney
Timney is perhaps the largest name in aftermarket triggers, regardless of the rifle platform. Mostly known for their sleek bolt action hunting rifle triggers, Timney was one of the first to offer a convenient and easy to install single unit trigger pack for the AR-15. Essentially, the Timney trigger pack is a small metal casing with the trigger protruding from the bottom. Instead of having to put pressure on springs and line up the hammer, sear and trigger to capture, the user merely has to drop the housing into the receiver making sure the trigger clears the receiver on the bottom and insert the pins to be done.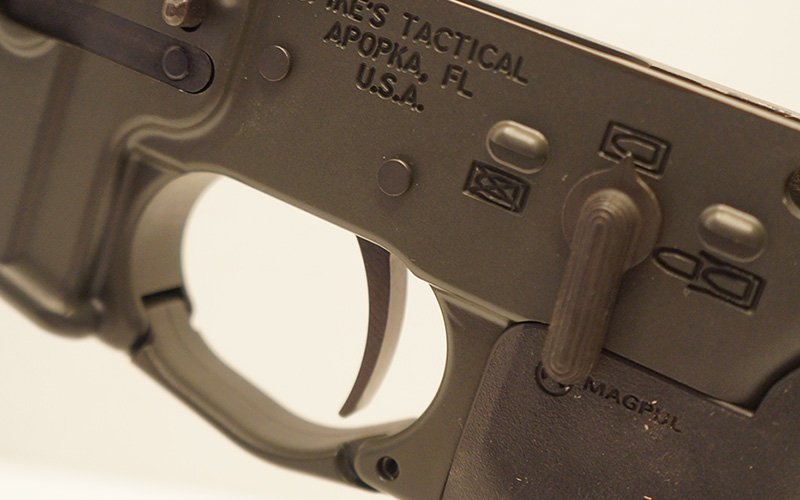 The result of a Timney trigger is a simple trigger with very little creep and about a 3.5lb pull. Options for this trigger are both curved and flat bow as with the Geissele. One unique option for Timney is an interesting skeletonized curved trigger to give your rifle a custom "one off" look. Coming in at an average cost of approximately $225, it holds on average with other top names in price and performance while offering the more inexperienced shooter not familiar with the AR-15 trigger set up a much easier installation process.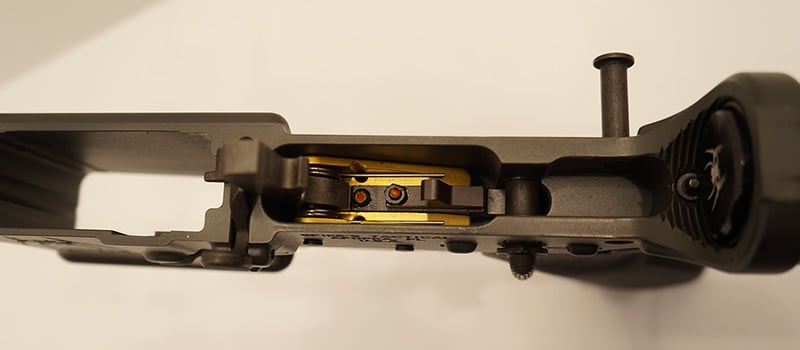 As an owner of several Timney triggers on my personal AR platform rifles, I would like to mention two definite draw backs to this product. First, if you do not have a fully milled out lower receiver such as an older model Colt lower, you will not have room for the trigger extension leg to clear the inside bottom. Secondly, you will need to use a set of anti-rotational trigger and hammer pins which can be found for around $30 on most AR-15 parts website. The standard pins are designed to be held in place by the tension asserted by the internal springs, but with the single piece housing, all springs inside are captured and do not interface with the pins. This will result in standard pins "walking" out during recoil over time.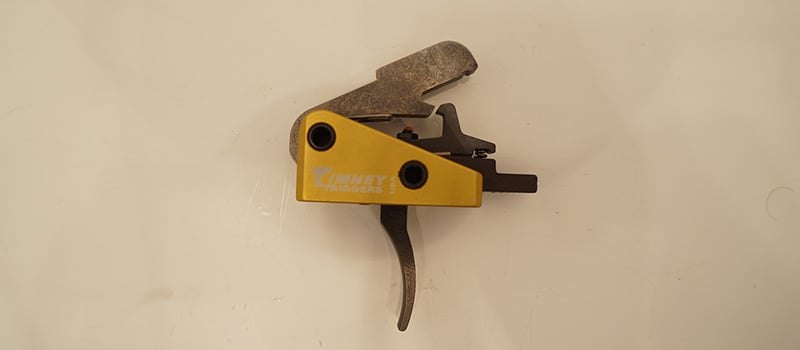 The Timney trigger is another great product that makes life easy for the shooter if you take some prior planning with your project ahead of time. Definitely a good buy for the right situation.
Hyperfire
A great new product in its early years on the market, the HyperTouch 24 series of triggers are super reliable but may be intimidating for the untrained AR shooter with its various arrays of springs and options. Introduced last year at SHOT SHOW 2014 in Las Vegas, owner / inventor Terry Binder unveiled the answer to a long standing issue of too light of a trigger pull inversely causing light primer strikes and misfires. Terry's answer was simple to change the correlation between the trigger, sear and hammer with the addition of two independent sprints for extra primer striking power.
For the past year, I have been running these triggers in some of my personal AR-15s with great results. Each trigger kit comes with a set of 3 different sets of power springs to adjust your trigger pull from 2.6lbs to a modest 5.6lbs. Even in my short barreled NFA rifles, these triggers have allowed for reliable firing when some lesser quality yet more expensive triggers clearly failed.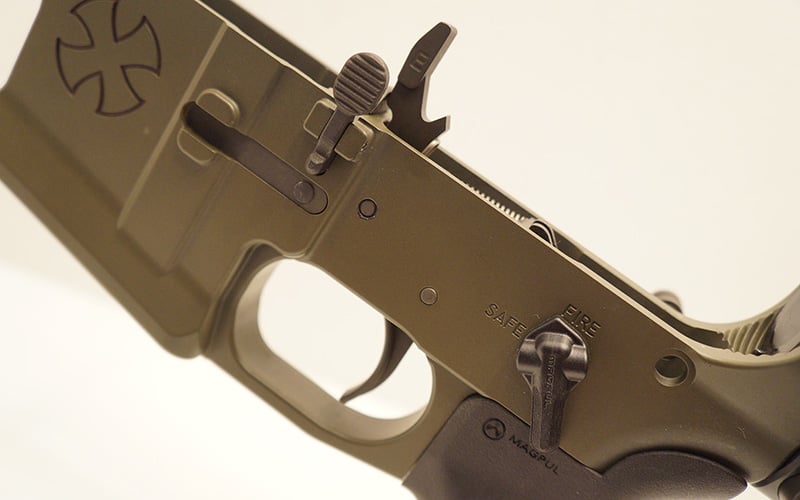 Aside from a bag full of color coded springs, the trigger, hammer, and sear are slightly different in appearance. Sporting a sleeker design with a notch in the trigger for an included spring bar, the core is installed like a traditional trigger pack. Once the hammer, sear, and trigger or set and pins are installed, the addition power springs and bar are seated in as you exert pressure on the bar to snap it into place. While each trigger comes with a full color sheet of installation instructions, a quick trip to the HyperFire website to watch the tutorial video will make life a lot easier during the process.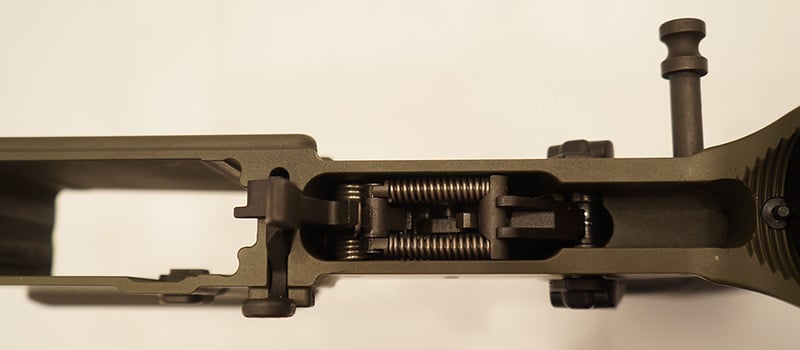 With over a 50% reduction in standard pull weight and an increase of almost 30% in hammer striking power, the HyperFire series is a good choice for those choosing to regularly shoot lower grade 5.56 ammo such as that not of US origin which includes the much harder primers than industry standard.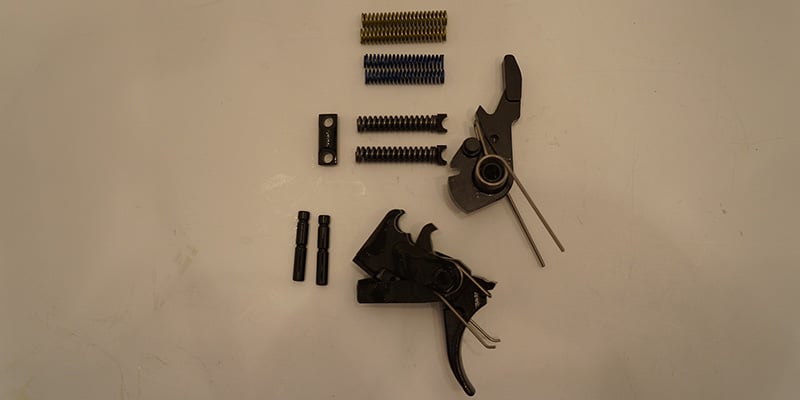 Average price of the HyperFire line of triggers is approximately $250 with options including curved or flat bow with an innovative curved trigger shoe as well as variances in spring weight packages. I expect big things to come from this up and coming small company in the next few years for the AR platform. This is a great set up for those willing to spend the extra money.
POF
Another very well respected company known for all aspects of the AR platform, not just triggers. Like the Timney, it is a one piece single stage unit housed in a bright red anodized aluminum casing for easy install. Unlike Timney, POF ships their triggers with KNS Precision anti-rotational pins so you are ready to go as soon as you open the package. The trigger is advertised as a nonadjustable 4lb pull and offers both the flat and curved trigger bows. With a few weeks of working with this trigger system, I have consistently gauged the trigger with a variance of between 4.4lbs -4.6lbs.
One complaint I have noticed on the POF trigger packs is the lack of crisp trigger break the Timney offers. Having personally tried several offerings from POF, I have noticed just a slight creep and no the clear snap with the break of the trigger as with some of its competitors. Retailing at $199, this trigger system has been found for as low as $179 with a little research. Considering the overall benefits of this trigger system and the fact you get a set of at least $30 anti-rotational pins, this could be considered one the best values in the group for a tight build budget from a company that really knows the AR platform inside and out.
AR Gold Trigger
The American Trigger Corporation is by far the rocket scientist of the trigger world. Their AR Gold Trigger system is one of the premier systems in 3 Gun Competition to date. With an already consistently light trigger pull dead on at 3lbs, the unique geometry of the design gives it a felt pull of much less. The action was so smooth in fact, I had to confirm the pull weight with a gauge 4 times and have one of my co-works confer with 4 independent tests. With no noticeable creep and a crisp break of the trigger with very little over travel, it's easy to see why some top competition shooters such as World Champion 3 Gunner Daniel Horner consider this trigger system to be the Ferrari of triggers.
So what could be the downside of such an impressive system: the price. Weighing in at just under $300 MRSP, it won't break the bank, but for the average shooter, its benefits over comparable trigger systems may not be worth the leap in price.
Wilson
Wilson Combat is not just a top name in AR-15 parts and complete rifles; they are a master of taking several popular platforms and finding a way to make them better. Some quick examples of top notch platforms Wilson Combat is well known for are the tried and true Remington 870 shotgun for high level military and law enforcement as well as the holy grail of handguns, the 1911 for championship competition shooters. Teams of specialized gunsmiths diligent work on producing top quality items that make the Wilson Combat name special.
As far as AR-15 triggers go, Wilson Combat offers a very sleek single stage one piece design that is as simple to drop and install as it is to shoot. This is a set up that truly has no creep in pull prior to breaking the shot and very little over travel at all. Without the aid of a proper measuring device, I would have to guess the trigger reset was right at 1/8th of an inch if even that. It takes very minimal effort in breaking each shot and setting up for the next. Coming in at just under 4lbs for an average pull out of 10 measured attempts on my trigger scale, this is one of the most crisp and clean breaking triggers I have shot in years.
While the price point for this trigger comes in at around $269 in most retail stores, the Wilson Combat trigger does offer one of the top performing overall units on the market from a well-established and reputable company.
CMMG
This is another full service AR-15 company who makes affordable parts for the shooter on a budget. Perhaps the most well-known trigger from CMMG is their two stage 4.5lb kit. At a glance, this may look like your average mil-spec trigger kit with a traditional hammer, trigger, sear and springs, but when you look closely, you will notice the contact points for the hammer and trigger and highly polished along with bronze pin holes which interface smoother with the walls of the lower receiver for less drag and quicker motion. With the addition of a popular dry lube such as graphite or Modern Spartan Oil, you can even manage to get the pull weight down another .5lb!
I have spent some quality time with one of these kits in my trust old Bushmaster AR-15 that I started out my law enforcement career. In late 2000 after surviving a 4 ½ hour encounter with a mental patient held up in a mobile home exchanging gunfire with Sheriff's Deputies, I decided to upgrade my personal armament from the issued 870 pump shotgun to the Bushmaster AR-15. One of the first items replaced in the rifle as my skills and taste developed was the trigger. At that time, the CMMG trigger kit was cutting edge technology and a bit pricey. Today, one can expect to pay around $139 for one. Lacking the crisp one stage of other top end triggers on the market, the CMMG mimics the action of traditional mil-spec factory triggers with a two stage pull consisting of rough 3lbs of take up before hitting the gritty hard wall requiring approximately 4.5lbs of weight to break before a good bit of over travel and trigger reset. This is not exactly the trigger for a precision AR, but a welcome addition to the standard off the rack rifle set up. I still have this trigger in my AR to this day despite all the other triggers I have installed and enjoyed over the years in the other dozen or so of my personal AR platform rifles.
Tac-Con
This is a relatively new company as well. Making its debut at the 2014 SHOT SHOW, it generated a lot of hype very early on in its existence. Every day, YouTube was filled with the inventor and his buddies running full magazines off at lightning speed using the "amazing" new Tac-Con trigger with all the personality of a used car salesman or the announcer of a Monster Truck rally. Even at media day at this year's SHOT SHOW 2015, the same guys were hard at work burning down magazines one after another, wearing out barrels ahead of their time due to not being rated for full auto type rates of fire. Sadly, what gets lost in all the hype is a truly well-made semi-auto trigger.
Basically, the system is a single piece drop unit with no creep, roughly a 3lb trigger and no noticeable over travel. The kit also features a proprietary selector switch which allows for a third selection other than safe and fire if your lower receiver allows for a third option in rotation. With the selector switch rotated to the rear position, it provides the trigger to be bump fired to the degree of appearing to have controlled full auto fire shooting your standard AR-15. Retailing at around $425, the buy is getting a semi-auto trigger on par with most in the $200 – $250 range, with the addition of a briefly amusing bump fire option making up the remainder of the cost.
Ending Thoughts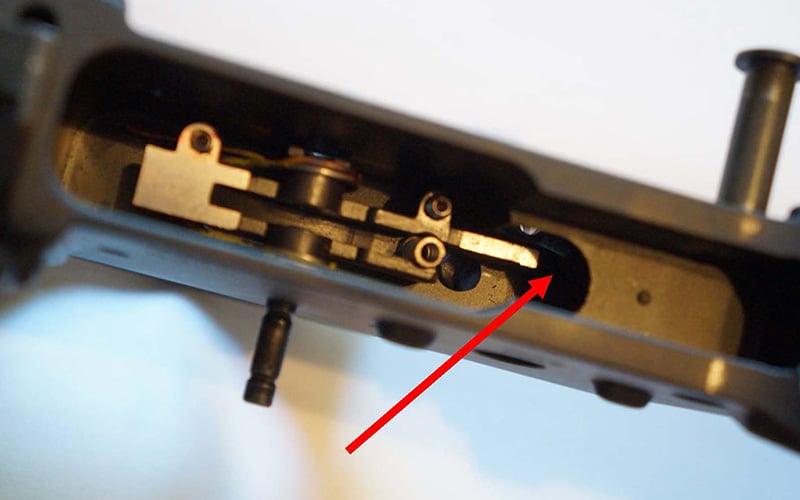 Wrapping up our view on the trigger market, you have read just a small sample of high end triggers currently available for the AR-15 rifle platform. Before making the investment in a new trigger, take your time and research plenty of user reviews and complaints to see the truth in each manufacturer's products. Each company may have similar designs and comparable overall pull weights, but you can never truly get an idea of which trigger is the right one for you until you get your hands on them.