Last Updated on
Binocular harnesses are extremely useful accessories. They make binoculars easier to carry and protect them from damages and accidental falls. In this article, we will talk about some of the key benefits of using a harness. Then we'll compare different harnesses for binos to decide which type is best for you, your needs, and your preferences.
In fact, there are several important reasons why you should use a binocular harness:
Safety. First, it provides a very secure way to carry your binoculars since the straps keep your binoculars close to your chest and protect against damage.
Comfort. A good bino harness is also the most comfortable way to carry your optic device, which will simplify your expedition.

Stability. The harness forms the triangular shape between your binoculars and your face along with the elastic attachments that pull the binoculars slightly towards your eyes. It provides you with a stable view, without any tripod.
Binocular chest harnesses are suitable for everyone, be it birders, hunters, or photographers. For example, a binocular harness for birding is handy. If you carry other gear like a spotting scope or bird ID book, then a harness will certainly make your life a lot easier. 
It is important for hunters that their optics is in a safe place, but that it can be easy and quick to access. The best binocular hunting harness will also cover and protect your bino. It can even camouflage it. 
Harnesses are an important piece of equipment for wildlife and nature photographers for the same reasons as for hunters.
Types of Bino Harness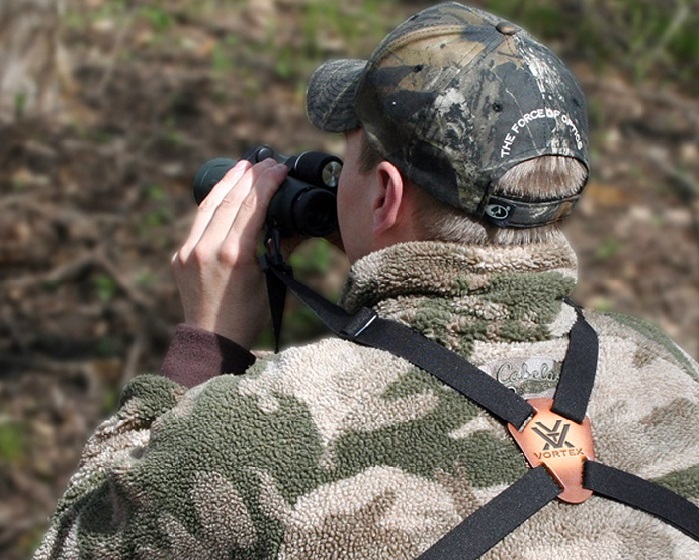 Initially, harnesses were very simple. You had elastic straps that you wore around your shoulders and around your waist that attached to your binoculars.
This basic design is still the foundation of a good harness today, but time passes, and now we have a lot of styles, additions, and designs that may suit you better in some occasions depending on your preferences, goals, and needs.
Cover Harnesses
These are a multifunctional accessory. Cover harnesses provide more protection than any other model. They are lightweight and not bulky. However, such harnesses don't have any extra pockets or storage space.
VORTEX GlassPak Binocular Harness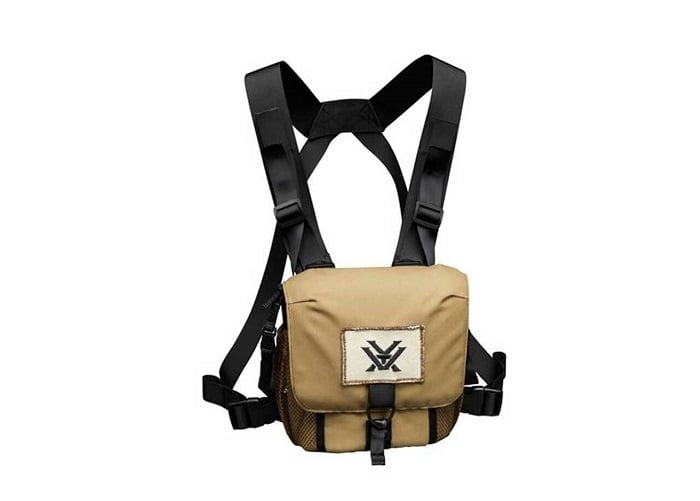 Protecting your binoculars from the weather, but still keeping them handy is essential in the field. The Vortex GlassPak Binocular Harness is perfect for that purpose. It accommodates a range of full-size binoculars. The Vortex bino harness has small mesh pockets for bells, lenses, and other small items that need quick access. Straps attach to your binoculars to prevent accidental drops. At first sight, the second strap works like a regular neck strap but it is attached to the case, so you can also carry your bins outside the case.
Standard Harnesses
Classic harnesses, while not as impressive as some of the more modern models, still have their place as they offer a number of key benefits. The harnesses are easy to put and take off. It's the most lightweight type of harness on the market.
However, standard harnesses don't have any additional protection for your bino. And there is no storage space for other equipment.
NIKON TREX FreeStyle Harness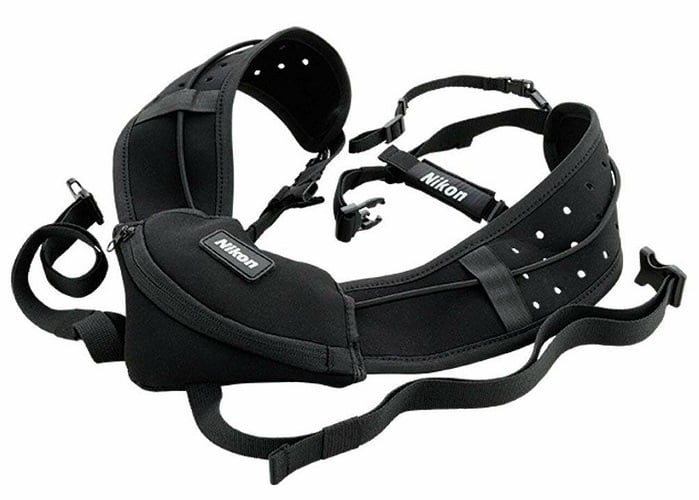 The Nikon Trex Freestyle Harness can be used alone or with an additional bag. It takes the weight of the binoculars off the user's neck and transfers it to the user's shoulders. The seat belts are well ventilated, allowing the body to breathe. 
At the heart of the system is a fully adjustable TREX FreeStyle harness with quick-release cords. Nikon bino harness keeps your device securely close to your chest while running or crawling but still provides quick access for your binos.
Bag Harnesses
The best binocular harnesses contain many features and accessories to enhance your experience and can be very useful if you need maximum protection and load capacity. Such harnesses replace the optic case and protect the binoculars from dust and dirt when not in use. However, some models are very bulky and can be relatively heavy.
The harnesses can be customized in many different configurations to meet the needs of the particular hunt.
SITKA Mountain Optics Subalpine Harness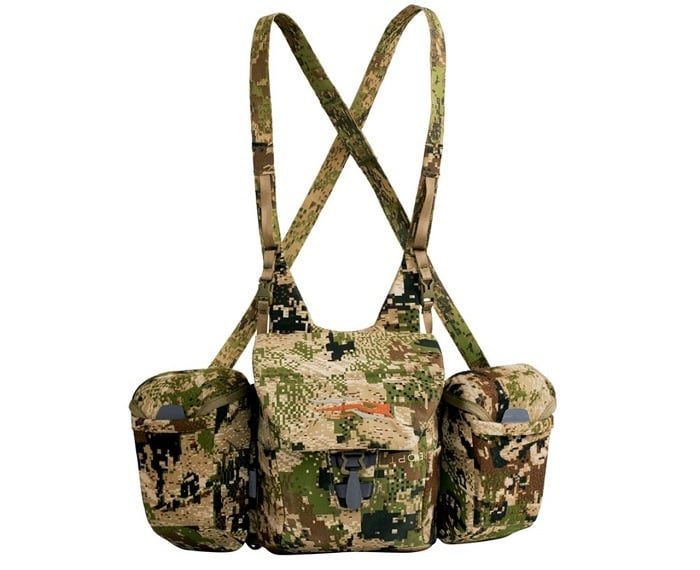 A Sitka bino harness is an indispensable accessory for big game hunters. Sitka has taken a systematic approach to the problem of carrying multiple handy tools in the field. The harness is equipped with a silent and reliable magnetic front flap for binoculars. Additional stretch pockets store smartphones or GPS, while an internal lens cloth keeps the glass clean. 
The binocular compartment is flanked by two matching side pouches and there are additional seven pockets. The outer material is polyester, which is very quiet while moving. Shoulder straps are narrow, but you will be pleasantly surprised by how comfortable they are. The straps are very convenient both under the backpack and separately.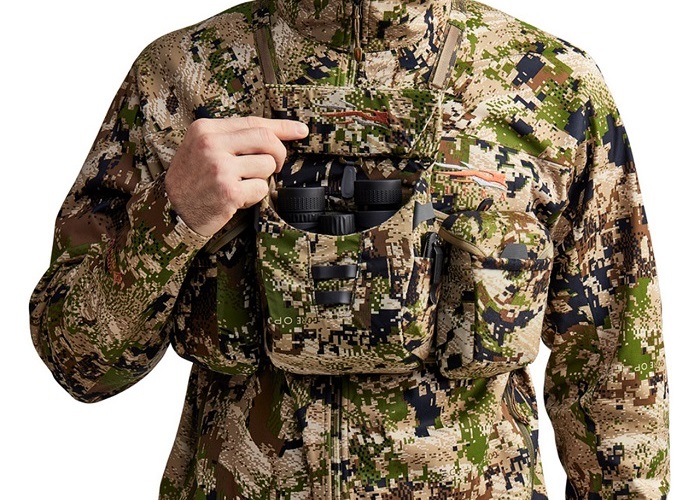 Each of the above harnesses has significant advantages and its own unique features. Hopefully, our guide has pointed you in the right direction and helped you find the best harnesses, so you can always dress your bino. On GRITR Sports you can find a wide variety of binocular accessories for sale that will help your binocular last for years.