In today's shooting sports industry, it is easy to get caught up in lasers, lights, magazine capacity, tactical rails, etc. and lose sight of what makes shooting sports exciting in the first place. The skill, patience and discipline of using iron sights to insure that first shot counts are what hooked most of us the first time we fired a firearm. That feeling of accomplishment and purity of shooting is part of what makes Henry Repeating Arms Company an ever growing name among new and experienced shooters alike. In this article, we will review Henry's take on a small sized rifle with a larger than life imprint on America's favorite shooting pastime, the pump action .22 rifle.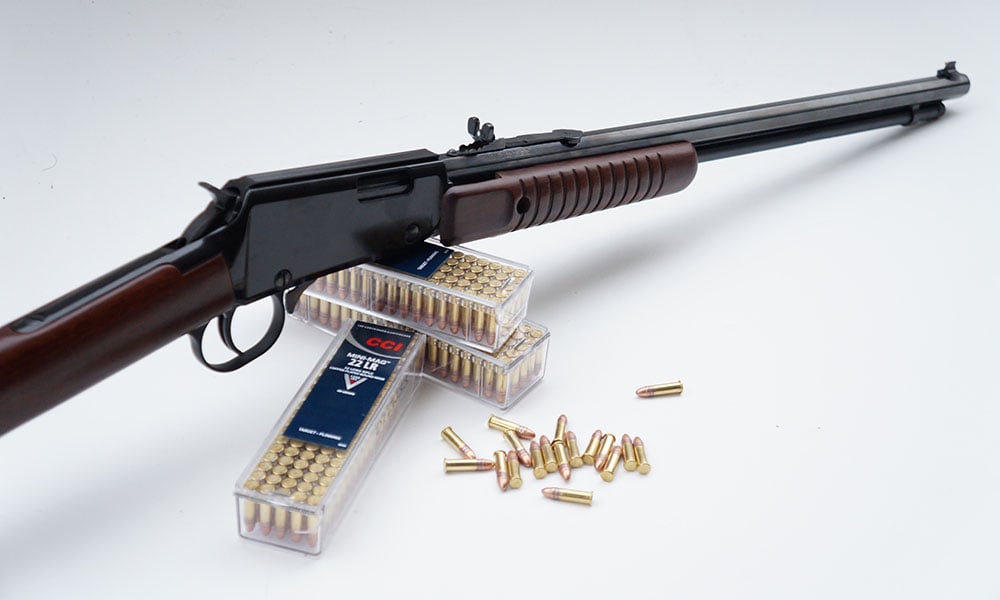 For me, one of my fondest early memories of shooting came in the form of our local state fair. I remember walking down the thoroughfare filled with the smell of roasted corn and country ham biscuits, while midway barkers shouted at passersby to try their luck at the shooting gallery to win a prize. The gallery booth was filled with spinning tin targets, steel ducks on a conveyer belt, small bullseyes and the blaring "TING!" of .22 caliber rounds striking their surfaces. For a dollar, you could fire away 10 rounds through a nostalgic pump action rifle chambered in .22 LR. While some may discount the shooting gallery experience as merely a game, it has had a huge influence on generations of shooters. Former trick shooter Tom Knapp used to comment during each exhibition performance how he was inspired by his local shooting gallery to push his talents beyond their limits. On a personal note, the skills learned plinking away at moving targets of various sizes and speeds prompted me to want to develop my riflecraft through a wide range of challenges in my life. Years later, I would become a Deputy Sheriff assigned to the department SWAT team as part of the sniper / countersniper team before early retirement to become a civilian firearms instructor.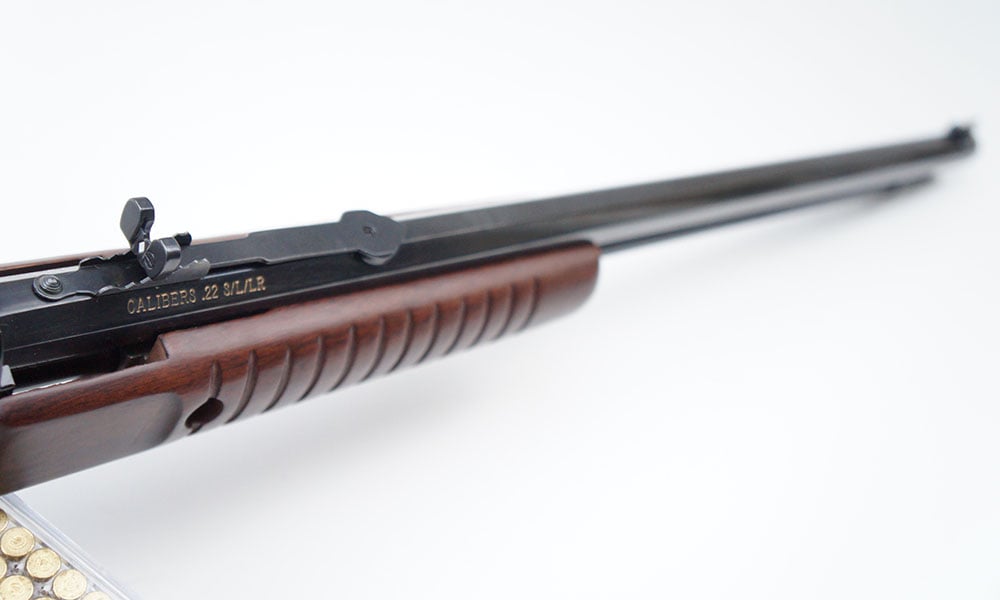 Keeping Nostalgia Alive
Sadly, through political correctness and rising insurance costs, fairgrounds no longer offer valuable life experiences such as the iconic shooting gallery to today's youth. This cultural shift has caused the gallery style pump action rifle to all but fade from production. Thankfully, Henry Repeating Arms Company sees the importance of keeping America's favorite memories alive through the production of their version of the "gallery style" pump action .22 rifle. While it's true, Henry is better known for a fantastic line of lever action rifles, their well-built pump action .22 caliber rifles are definitely a hidden gem within their catalog.
A few months ago, I reached out to Henry Repeating Arms Company to have a pump action rifle sent for review. By the end of the following week, a sample of the Henry model H003T rifle chambered in .22 LR/ .22 Short arrived at my local gun shop for pickup. What I first noticed about the Henry rifle was the classic shooting gallery look. This rifle was a dead ringer for those of my fondest plinking memories. The American walnut furniture was well mated to the receiver and forearm while offering an aesthetically pleasing contrast to the receiver and barrel's deep blued finish.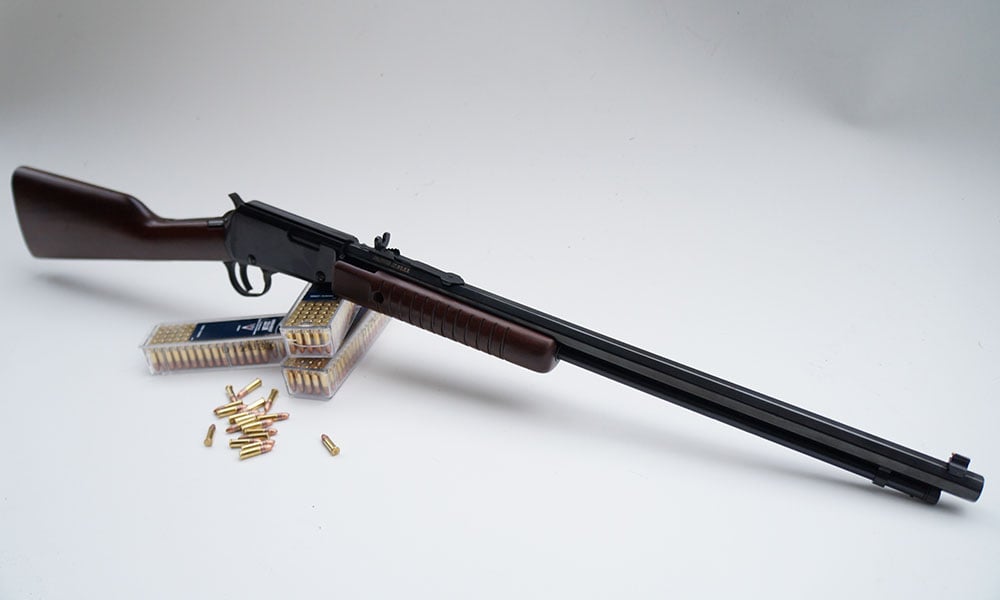 As soon as I removed the rifle from its shipping box for inspection, I was impressed with its 6 lb. heft due to its impressive 19.75 inch octagon barrel. Coming in at 38.5 inches overall, this rifle felt very well balanced when I shouldered it standing in the store. Along the top, the receiver featured a pronounced groove for mounting a scope. While this is a nice feature, I would have to wonder "Why on such a neat little plinker?" I would rather draw a mustache on the Mona Lisa than to disrupt such classic "old west" design of Henry's pump action rifle!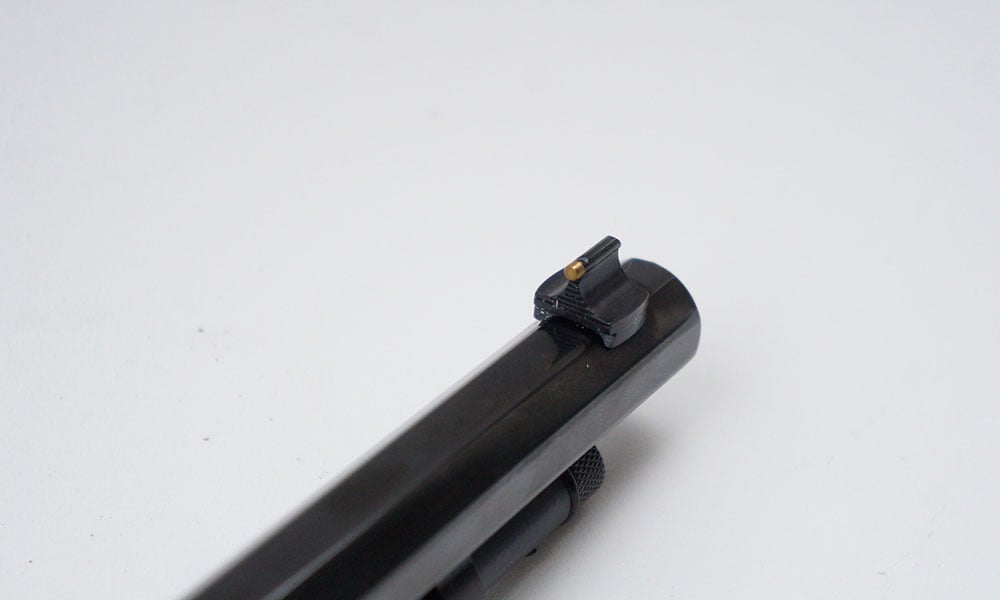 Range Time aka "Old Dog, New Tricks"
Not long after returning home with the Henry pump action rifle, I was able to schedule a trip to the local range and get some trigger time logged. Packing up a couple hundred rounds of CCI standard velocity .22 LR ammo, I was all set to spend the day plinking in the name of research! This first trip was a bit perplexing due to my own arrogance and assumption that all pump action firearms work the same (more about this issue to come shortly).
A simple twist of the end cap to the magazine tube allowed the brass spring loaded rod to slide out past the bullet shaped cut out in the tube for quick loading. As I loaded up the magazine tube that ran along the underside of the barrel, I learned the rifle would actually hold 15 rounds of ammo instead of the traditional 10 rounds I was accustomed to. Once replacing the loading tube snugly back down and seating it with a firm twist, all that was left to do was cycle the bolt to begin shooting. Reaching just forward of the trigger guard, there is a grooved release button that is needed to be depressed in order to unlock the bolt from the action. Once this button is depressed, a firm rearward motion is needed of the forearm to send the bolt reward to cock the exposed hammer and cycle a live round up from the magazine tube and into the chamber.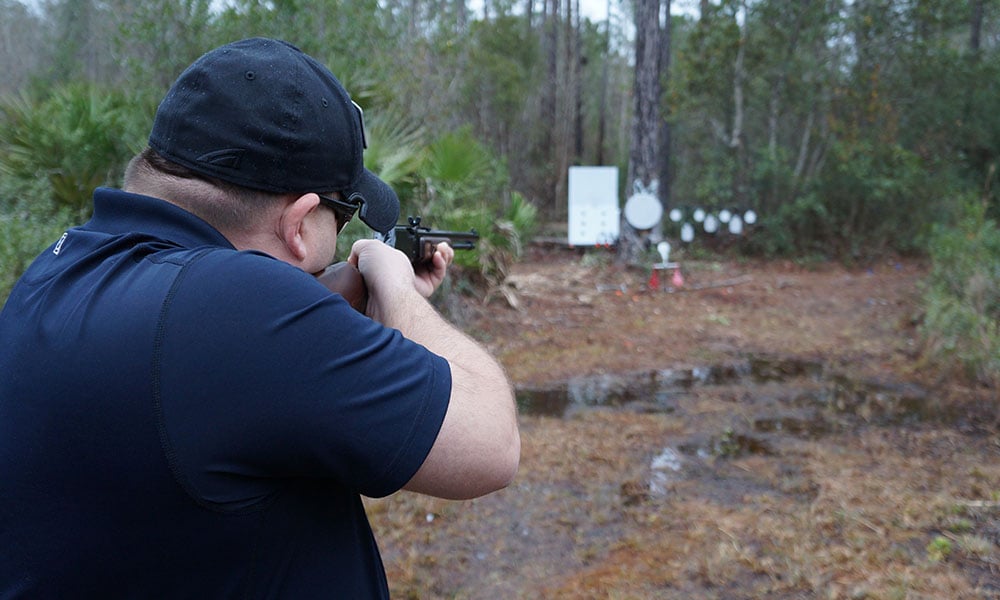 The adjustable Marbles semi-buckhorn rear sights matched well on target with the brass beaded front sight blade regardless of the bright sunlight at the range. With a crisp press of the trigger, the first round was sent. Just a bit high and with the pump of the spring loaded action bar attached to the forearm, I was ready again. Another shot broke and another shot high, barely touching the first shot. Both shots being about one inch high, middle of the bullseye target set out at 15 yards. With a quick adjustment of the rear sight and three more shots later, I had a beautiful group of touching rounds inside the center of the bullseye!
Approximately 20 rounds into my first shooting session, I started to run into a series of misfires. (Remember mention of trouble in paradise?) As I was forced to cycle round after round from the rifle's side ejection port, I noticed each round had signs of a light primer strike. I even went so far as to borrow several rounds of different brands from other nearby shooters with the same results. This prompted the end of my first venture out with the little Henry .22 rifle.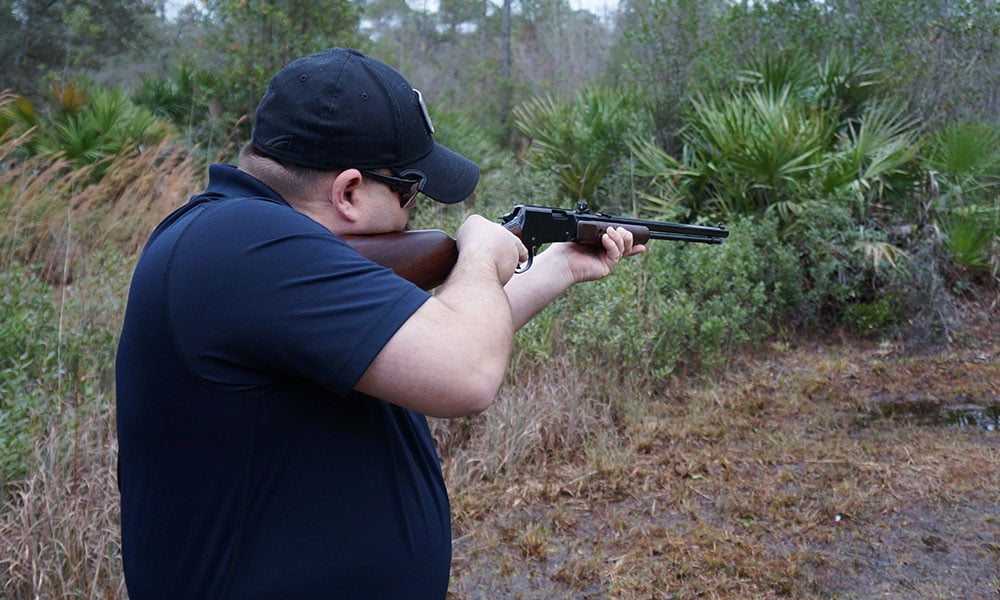 Upon arrival home, I stripped the alloy receiver cover from the rifle and thoroughly cleaned the steel internal parts as well as the bolt and breach face. I even went so far as to contact the head of Henry Repeating Arms Company to inform them of the issue I was having. Almost immediately, I received an email back from Anthony Imperato, President of Henry Repeating Arms Company expressing his concern and suggested testing different brands of ammo and wanting to document the results. (How's that for customer service?)
A few days later, I hit the range with boxes of Remington and Winchester brand .22 LR ammo. As I started shooting each brand, I noticed my tendency to pull back on the forearm quite firmly when lining up each shot. Then it hit me! I unloaded the rifle and dry fired several times using pressure on the forearm. I noticed something interesting. Although the action bar and bolt were locked and ready to fire, pulling back on the forearm actually moved the bolt rearward just barely enough to cause the firing pin to not to fully strike the rim of the cartridge. It was then I realized my troubles with the rifle's first outing were of no fault but my own.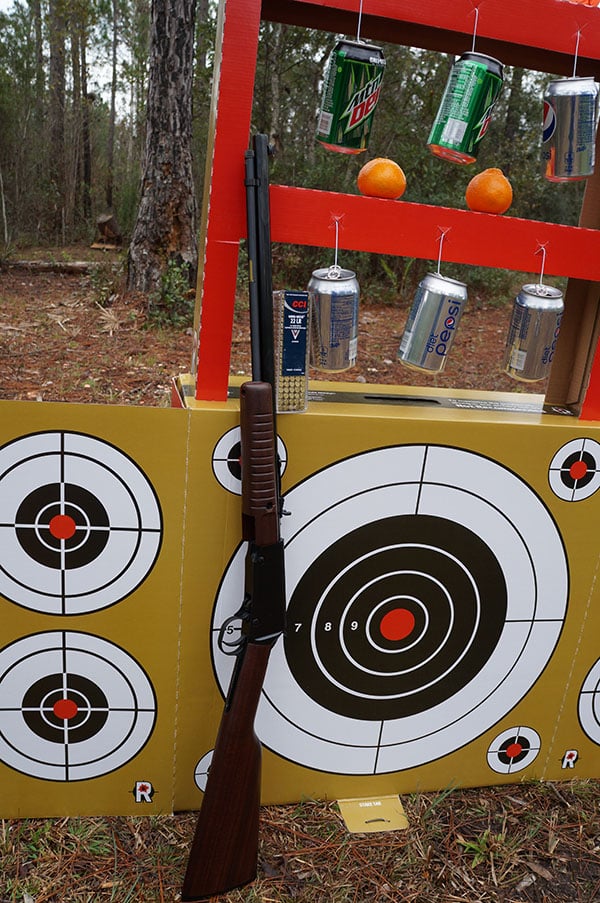 Once I readjusted my rifle stance and held the forearm without pulling rearward, I was able to break shot after shot for the rest of the day with absolutely no issues. I discovered the best way to mount the pump action rifle was to use a combination of rearward pull with the firing hand and a light forward pressure of the support hand on the forearm for the best results. I was greatly relieved to discover the only issue with the Henry pump action rifle was just a case of an old dog needing to learn a new trick instead of something mechanical on its end. Even when the little rifle was literally starting to cake unburnt powder and lead debris around the action, it still refused to quit!
With the addition of a Right Now Range set up and an assortment of steel targets by Champion and Do-All-Targets acquired from last year's SHOT SHOW review, I was able to recapture my youth via my very own little shooting gallery experience. Using pre-printed bullseye targets, hanging tin cans, clay discs and even a few oranges set up on its middle shelf, the Henry .22 rifle made short work of the Right Now Range offerings as well as countless "Tings" from the assorted steel targets. After 100-200 round spent on addition follow up range days, the Henry never failed to look and shoot great for the rest of the trial period.
Final Thoughts
There is no secret I have always been a fan of Henry Repeating Arms Company's great lever action rifles, but this experience with the pump action gallery style rifle has been truly special. Nowadays as a father of a bright eyed little girl and another on the way in June, I am excited for the day my wife and I can share these shooting experiences with them. With the smaller size stature of the Henry pump action rifle, it would make an excellent training tool for smaller children. Retailing at approximately $550.00, it is safe to say more than one of these rifles will be stocked in our family collection in the near future.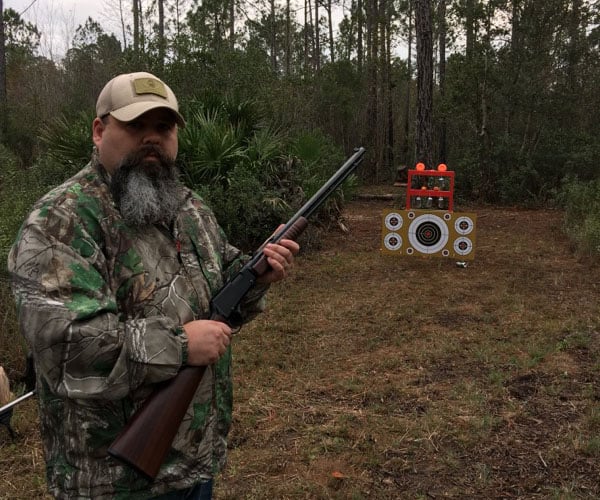 As with any firearm, the proper form and stance is needed to fully enjoy this rifle. In recent years, I have seen a few similar style pump action rifles on the market by competitors; none are better built than Henry's 100% "made in the USA" rifles nor come with the high quality customer service as the Imperato family offers. From my own personal experience and that of my entire family, this company cares about the people using their products and welcomes open feedback from each and every one of their customers. Regardless of a very small learning curve, the Henry Repeating Arms Company's pump action .22 rifle comes highly recommended for shooters of all ages to enjoy, even for "know-it-all" gun writers!