We live about six hours from Roswell, New Mexico, the site of the space alien landing in 1947. I have been there, and they use the little green man as a symbol of their town. Near our small town lives gent who has written a book where he swears that he was abducted by aliens. With all of this nearby alien activity, who better to evaluate Alien Gear – from the earthbound holster manufacturer?
Actually located on planet Earth, United States of America, State of Idaho, City of Post Falls, they produce all kinds of holsters. The model I am testing is the Alien Gear ShapeShift Modular Holster System. It is an apt name, as it can be user-modified into an inside the waistband, backpack strap, shoulder, or ankle holster. All you need is the basic ShapeShift Core and the right modules. Let's take a closer look at the system.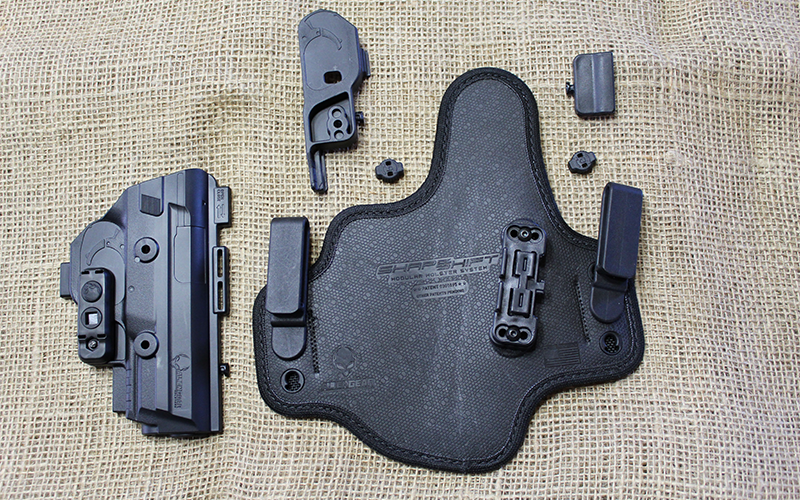 Alien Gear ShapeShift Core
The ShapeShift system is built around a shell specific to your handgun. It consists of two key parts made from a hard polymer. One side contains the adjustable retention unit, and you secure the trigger guard of the system to this unit.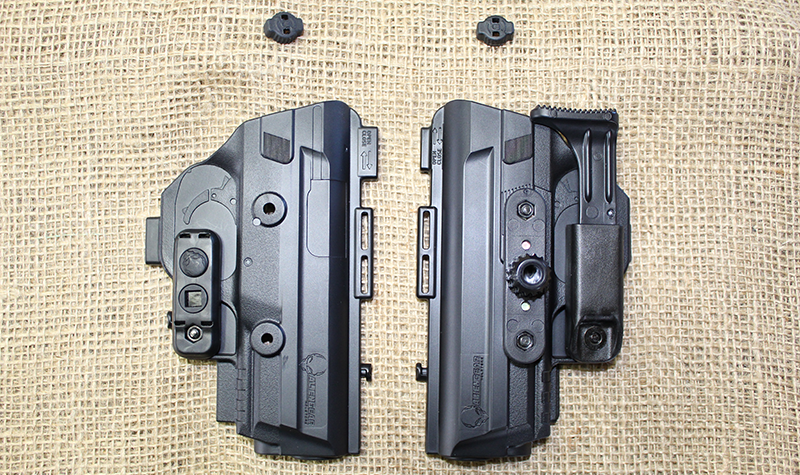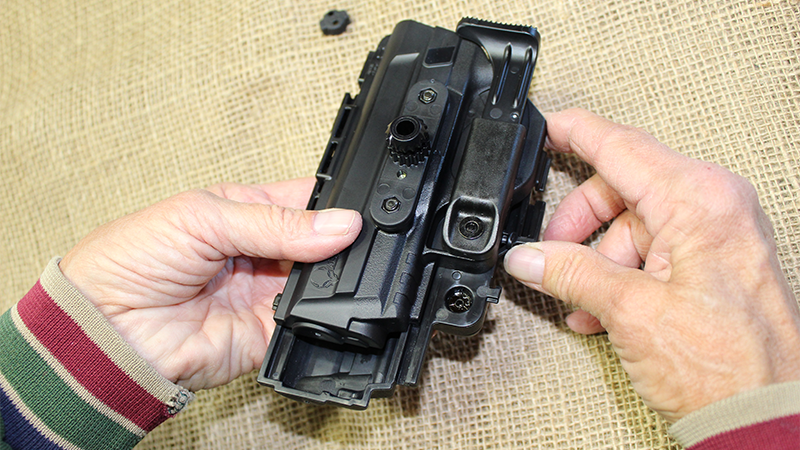 ShapeShift Base
For Inside the Waist Band (IWB) use, the "shift shell" is attached to the holster connector via a system of twist locks. Not twist ties (save those for your bag of chips), these are hard plastic locking devices and marry up the various parts into the version you want. So my shell for my M&P 9mm full size coverts easily from an IWB to a pack strap rig if I go hiking into the woods, where the threats may have 2, 4, or no legs (I HATE snakes).
The base for the IWB use is a large paddle with two belt clips. The base is cut away, so you get a full grip around the frame of your pistol before you start to draw it out. Yes, I have seen folks fumble with their pistols because their choice of holster did not have this feature. Cold, wet, and trembling hands, or just a less than full grip, can produce negative outcomes with lesser holsters.
The ShapeShift belt clips are strong! In fact, they could be used on pants without a belt, though I would not recommend it. The instructions for donning the holster deal precisely with the strength of the clips. You are told to start with an unloaded gun – a wise piece of advice – until you are very familiar with the rig.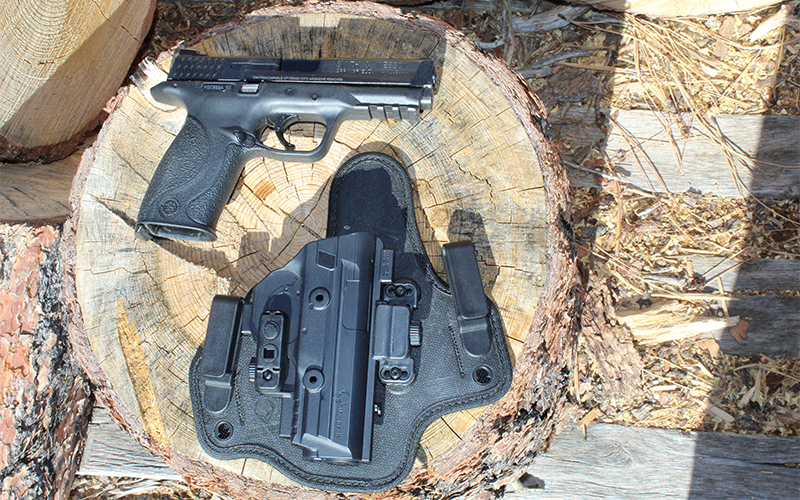 Donning The ShapeShift
Having assembled the IWB kit, with the aforesaid unloaded gun, you are advised to leave your pants unbuttoned and unzipped. Insert the rig at the front of your pants, and slide it around to the location where you want to wear it. Then snap the clips over your belt, button (and don't forget to zip up!), and tighten your belt. Tug on the holster to insure you have it right, and make sure it is in the right spot.
I urge you to try some draws with an UNLOADED gun before loading up and covering up. Every new holster needs some dry fire practice before you hit the streets. This is also the time to adjust the retention, cant, and ride height, all clearly explained in the instructions.
Once you are comfortable with the rig, having walked, run, bent over, climbed up, and whatever else you may need to do, go ahead and load up. As with any holster, use caution to avoid getting clothing, or anything else, caught in the trigger guard when holstering. Keep in mind that on the range or the street, there is no prize for being the "fastest reholsterer." If you are not careful, you could get a prize involving a sudden loud noise and a painful, messy hole in your leg.
Removing The ShapeShift
Not mentioned in the instructions, I have found that I must remove the gun, undo my belt, unbutton and unzip, and slide the holster off to the front. The clips grip so tightly that their hold onto my pants makes it too much work to try any other way. But I would rather have the holster too secure than too loose.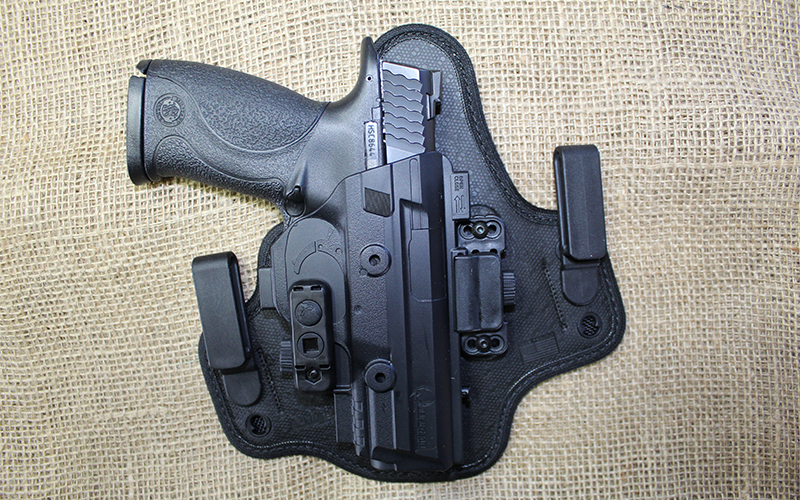 Test Run
I have been carrying guns concealed for 50+ years, mostly IWB. I can state that the Alien Gear ShapeShift is the most comfortable holster of them all. Since I prefer jackets (waist length) to coats (hip length), inside the waistband is my preferred method of carry. As with anything, there are things I really like, things I don't care about, but nothing I don't like with this system.
I really like the comfort, retention adjustment, grip access, and concealment on this outfit. I did not have to change the cant or ride height, so those were non-issues. I did have a minor potential issue with the size (footprint) of the base, detailed below.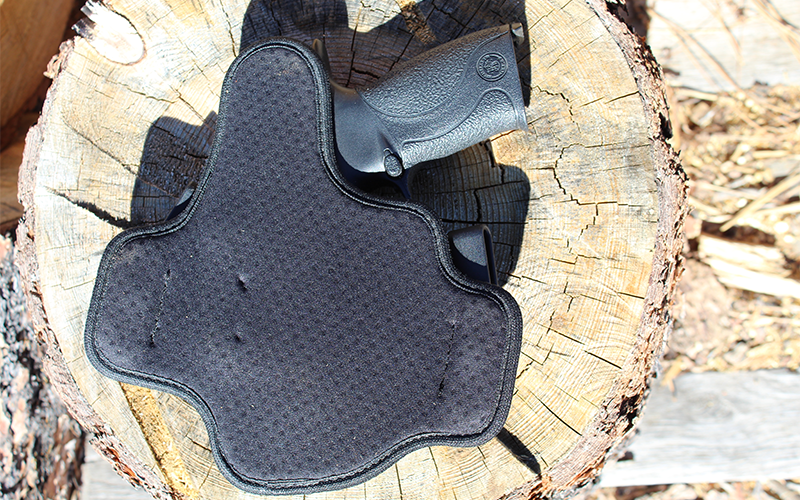 I say a potential problem, because right now it is late fall, and the weather is cool. Unlike some folks, when it gets warm, I do not perspire, I SWEAT! (My wife only "glows" in hot humid weather.) I have been able to wring water out of a tee shirt, and pour water out of a boot during the monsoon season of high humidity. I will have to wait for the next rainy season to see how the system works for me in that regard.
The soft, padded cloth lining on the body side of the paddle feels great, and tends to cling to my skin when I am wearing it. That is a good thing, as I have drawn at speed from a IWB holster, only to have the hooks slip out of my pants and the holster come out still on the gun! Lucky for me, it was only in a match, not on the "two way range." This is one reason you need to really test your everyday gear, and competition is a great test of what works and what doesn't. That holster went in the trash long ago. I have also used IWB holsters that produce a good sized bruise on my hip due to their lack of padding at that spot.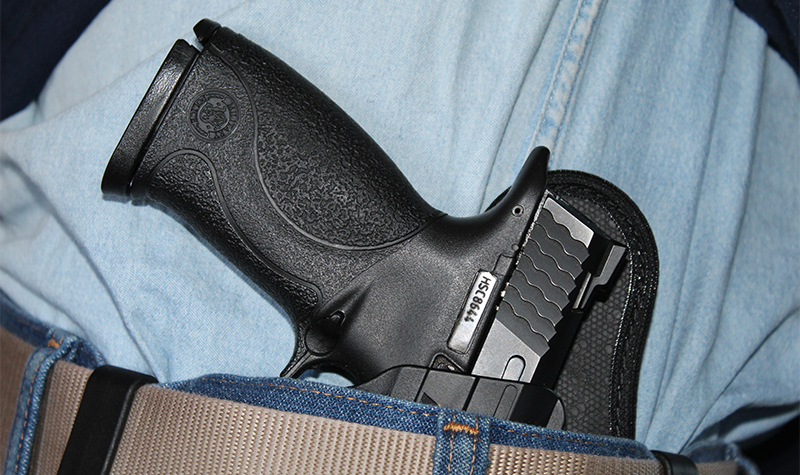 Bottom Line
The Alien Gear ShapeShift Holster is a winner in my book. I have worn it while doing my everyday chores, loading and unloading gear from the bed of my pickup, even when on my hands and knees scrubbing up a 20 foot long glue spill on a new wood floor! I have also used this rig in competition  and my draws were not measurably slower than from an outside the waistband holster, where I did not have to pull up my shirt to access the gun. My M&P stayed put, yet was fast to draw on the range.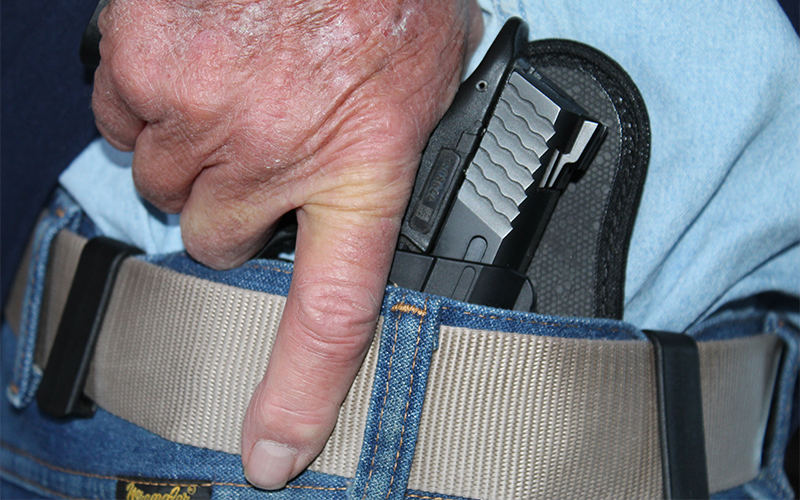 Ultimately, this is great, reliable gear, and a product I can trust with my life. Learn more about the complete line at Aliengearholsters.com.