Bushcraft nowadays gains more and more popularity. What is bushcraft? Bushcraft is an activity that helps people to develop their survival skills as they experience nature with a minimal amount of equipment. And one of the first and most important tools on this list is a knife. That is why it is important to pay a little more attention to the choice of a bushcraft knife that you are going to take with you.
The knife you choose will largely determine its usefulness.
What makes a good bushcraft knife?
Let's take WOOX Rock 62 X-Grip knife with a fixed blade as an example and find it out.
Fixed blade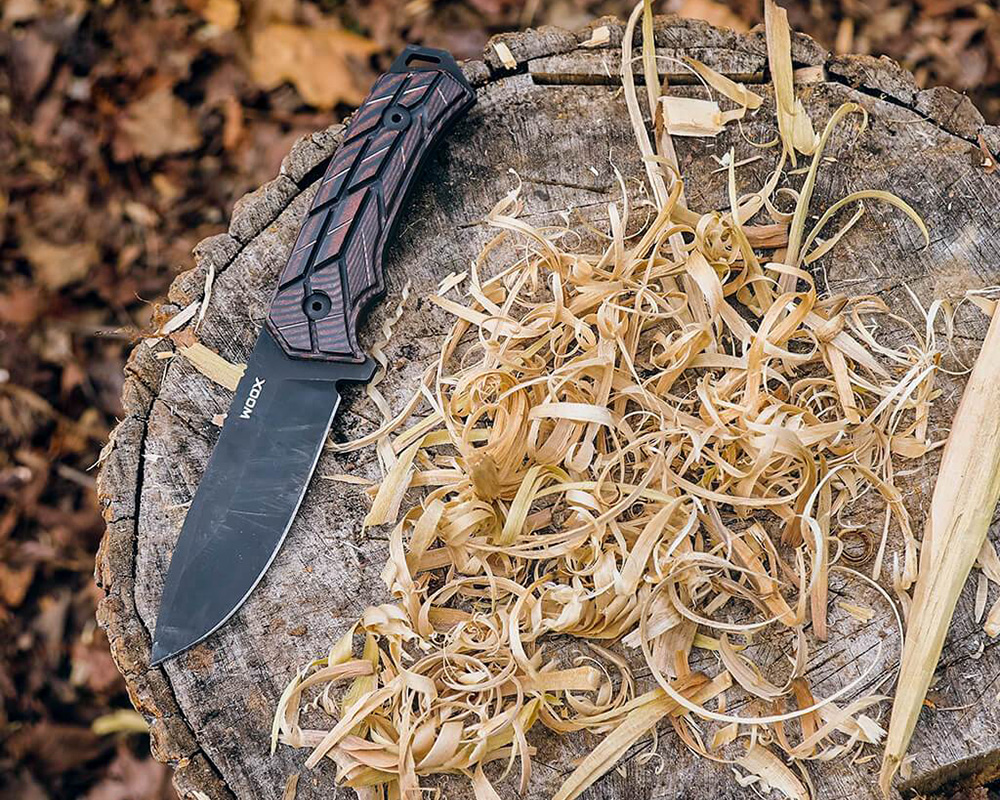 A knife with a fixed blade for the outdoors is the best way option because such a knife is able to perform a variety of survival-related functions for you. It serves as survival and repairing tool. That means that you'll be able to cook food, cut, chop, chisel wood and make fire with one tool. The knife can be even attached to a stick and function as a spear, all depends on the situation you find yourself in.
All in all, a fixed blade of a bushcraft knife allows you to use it for a larger number of actions.
Bushcraft blade length and material
As for a blade, there are 2 things you need to take into consideration before buying a bushcraft knife. It is blade length and blade material. It is the length of the blade that will determine how multi-functional your knife is going to be. Blade material will be responsible for the edge retention and corrosion resistance of a knife.
Blade length varies from knife to knife. The best size bushcraft knife you can rely on in the wilderness should have not less than a 4-inch blade length. But of course, much depends on your personal preferences as well.
Let's refer to our example – the length of the WOOX Rock 62 X-Grip bushcraft knife is 4 ¼" or 11cm – just what we need.
As for material, the WOOX knife features Sleipner Steel. Actually, the name Rock 62 refers us to this steel and its HRC rating of 62.
Sleipner Steel is tool steel made by Uddeholm. It has improved hardness, toughness, and edge retention compared to D2 Steel due to its composition.  The composition of Sleipner Steel prevents micro-chipping and makes sharpening easier than D2 tool steel.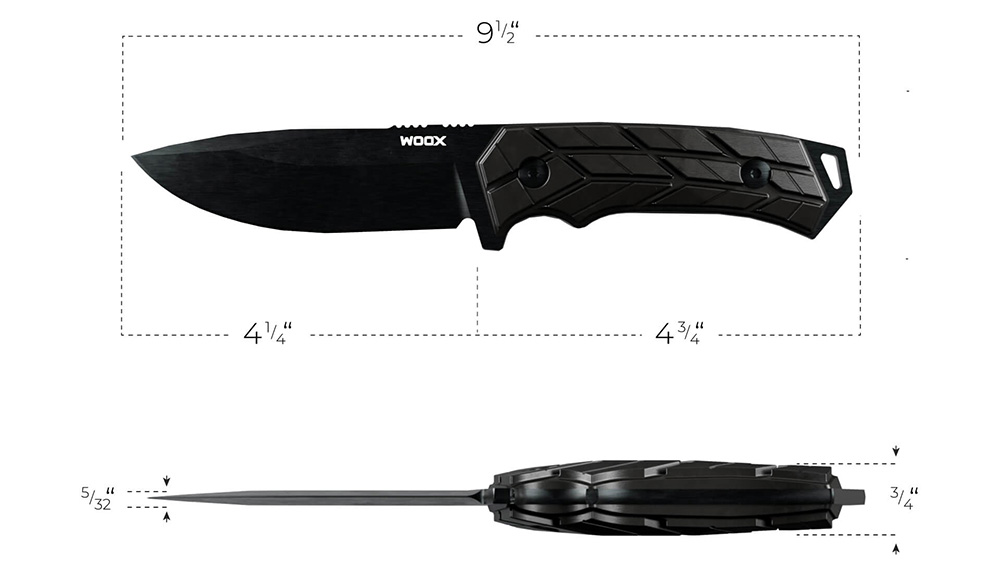 Handle
The handle of a bushcraft knife is as important as the blade because it is the point of contact between you and the knife.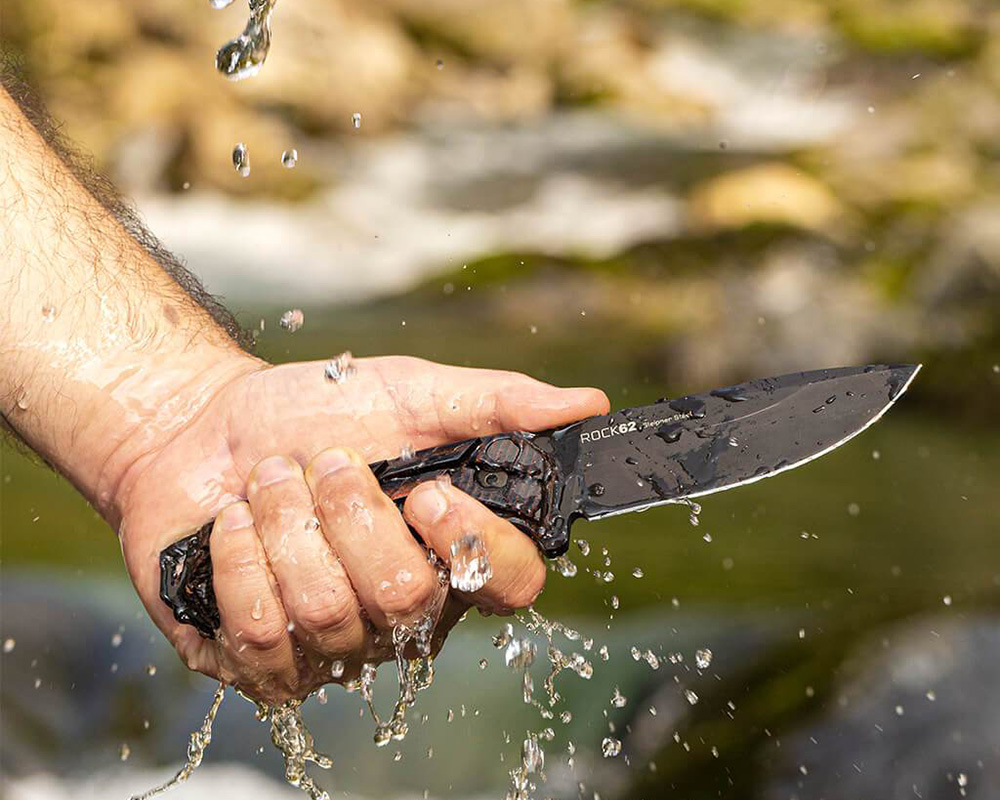 The most important requirement to handle material – it should never get slippery.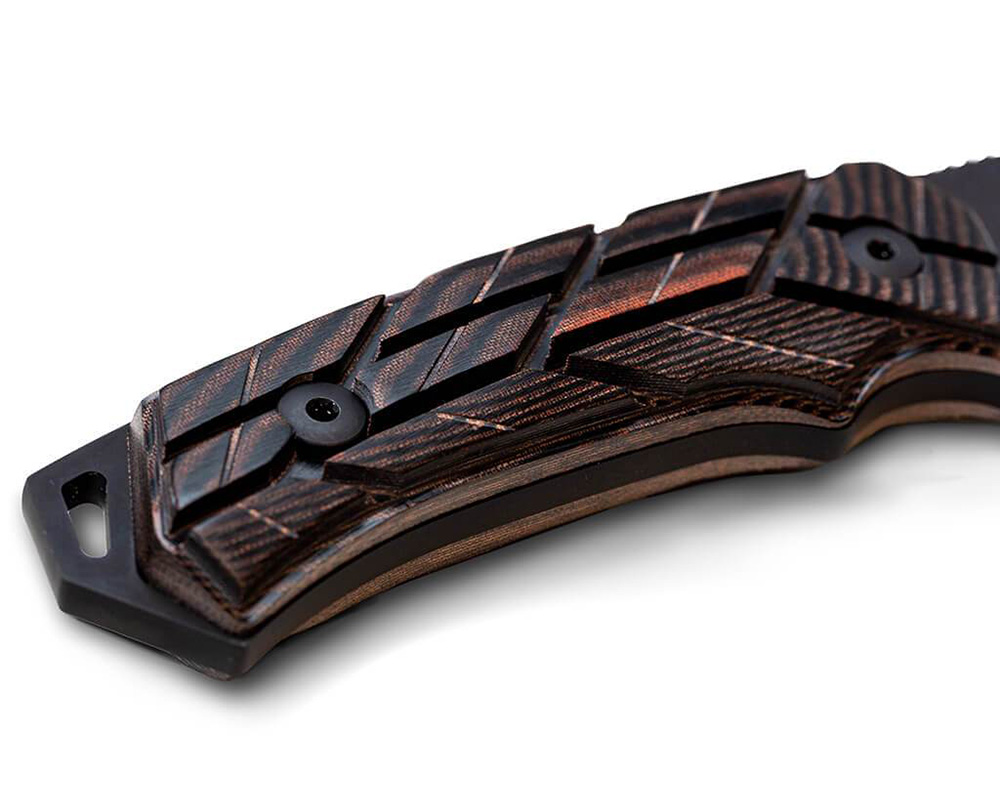 Handsome Micarta handle of the WOOX Rock 62 featuring X-Grip Technology offers superb grip in all conditions. Such a handle is designed with grooves and threads. All that help liquids naturally and quickly flow away from the handle and fluids such as water, blood, mud, and other liquids get displaced 10-times faster than with conventional handle designs.
Sheath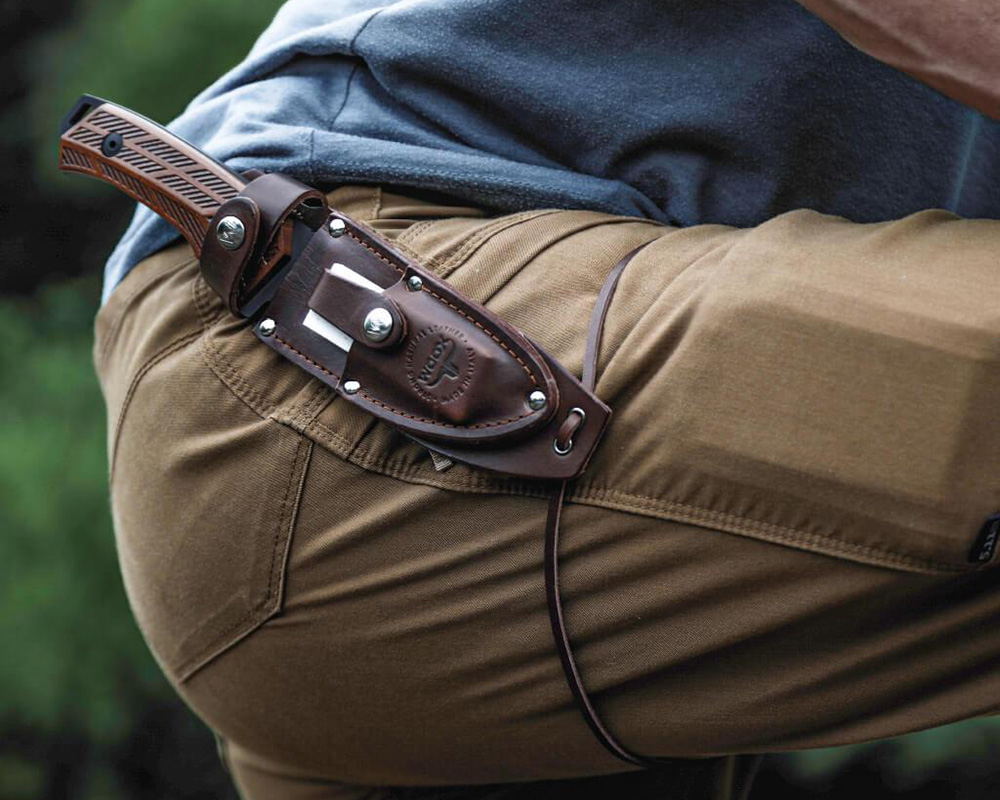 Last but not least is the choice of the bushcraft knife sheath. Even though it may look like a pretty accessory, it is much more than that.  It is NECESSARY to have a sheath for a fixed blade bushcraft knife. As the sheath not only protects the blade of your knife, it protects YOU from your blade. YOU should ALWAYS keep in mind the rules of knife safety!
The choice of sheath material mostly depends on personal preferences, as every material has its pros and cons.
Leather sheath from the above-mentioned WOOX is handmade of soft full-grain leather and buckles to a utility belt or backpack. D-ring dangler allows easy reach and maneuverability. All in all, it performs all the functions of a sheath and keeps you and your knife protected.
Side note – As this leather sheath is made of natural material it requires proper care and maintenance. It is not indestructible. Best suited for light/medium/medium-hard work.
P.S. It also may become a great gift idea for outdoor lovers.
Some final thoughts
The WOOX Rock 62 X-Grip knife meets the requirements of a good bushcraft knife. For less than $200 you get an extremely sharp blade made of Sleipner Steel, handle with superior grip and handling. We think Rock 62 X-Grip knife is a worthy tool for a fair price for bushcraft purposes.
Good luck to you with your bushcraft knife choice!