Last Updated on
Even though America might be the world's center of firearm production, there are many worthy manufacturers from overseas. IWI US, though technically an American company, is a subsidiary of Israel Weapon Industries (IWI) that boasts exceptional expertise in firearm production. Its rifles have received acclaim from both civilian users and the military and won several Rifle of the Year awards from American Rifle magazine. Though the brand has quite a number of firearms that are worthy of your attention, today's focus is on rifles. In this article, we'll discuss why IWI US rifles are so popular, which models enjoy the biggest recognition, the benefits of shooting IWI US rifles and common misconceptions related to this rifle.  
Table of Contents
 The Brand and its Rifles
 Popular IWI US Rifle Models
   Tavor X95
   Galil Ace Gen II
   Tavor 7
 Advantages of Opting for IWI US Rifles
 Conclusion
 FAQs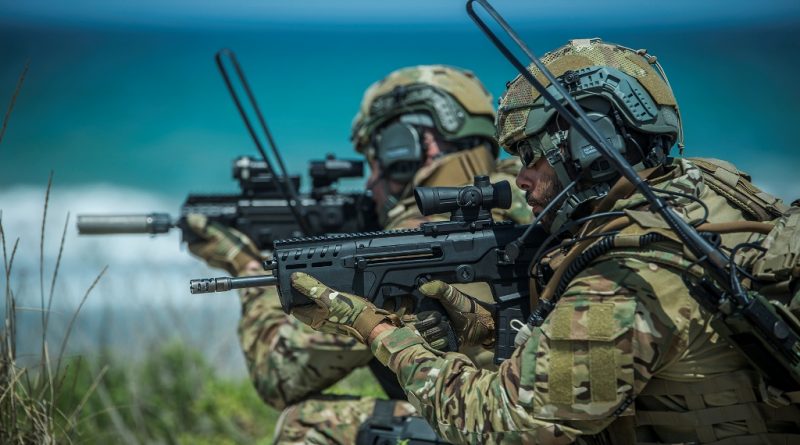 What Is IWI USA and Why Are Their Rifles So Popular? 
IWI, the parent company of IWI US, has been producing high-quality small arms systems for over 90 years now. It was founded in 1933 under the British Mandate in Israel by the Israeli Military Industry (IMI). International acclaim came to the Magen division of IWI in the 1950s when they introduced a proprietary Uzi gun that brought the company billions of dollars. In 2013, IWI spun off its American branch, which is now known as IWI US. Since then, they have introduced many other series of guns, some of which managed to catch up with the Uzi in its popularity.
IWI US doesn't own its rifles' popularity to a single feature or model. Some will say their rifles are some of the most popular on the market thanks to their reliable construction and impressive accuracy. Others claim that IWI US has become well-known for its bullpup rifles such as the Tavor SAR and X95. In reality, both things are true. The abovementioned rifles have been adopted by many Central and South American militaries and police forces due to their reliability and accuracy. The Tavor X95 was even recognized by Shooting Illustrated magazine as "the first commercially available bullpup rifle in history".
Of course, there are other features that make IWI US's firearms stand out from the competition. Those include adjustable stocks that allow for better fit and control when firing shots at different distances or angles, extended magazines, ambidextrous controls, and full ambidextrous charging handle assemblies. The time-tested Picatinny rails guarantee easy mounting of accessories like optics or lights for increased accuracy when shooting in low light conditions or at longer ranges.
It wouldn't be fair not to mention the role the brand's signature design played in the popularization of their gun. Once you see their firearms, you won't mistake them for anything else. IWI US's shotguns are particularly memorable in the way they differ from regular scatterguns. Their somewhat futuristic and modular design can be considered the brand's hallmark.
Popular IWI US Rifle Models
IWI US Tavor X95
The IWI US Tavor X95 rifle is a semi-automatic bullpup centerfire rifle chambered in 5.56x45mm NATO. It features a reinforced polymer body and a folding front sight with a tritium insert for improved accuracy in low-light conditions. The overall length of the X95 is 26.125″ and the weight is 7.9 lbs, which makes it a lightweight easy-to-handle rifle.
The IWI US Tavor X95 rifle has become popular due to the unique design that makes it well-suited for close-quarters combat scenarios. Its bullpup configuration allows for increased maneuverability in tight spaces, while its lightweight construction makes it easy to carry and operate in any environment. Additionally, the X95's folding front sight with tritium insert provides superior accuracy even in low-light conditions, making it an ideal choice for tactical operations or hunting trips at night.
IWI US Galil Ace Gen II
The IWI US Galil Ace Gen II rifle is a modernized version of the classic Galil assault rifle. It comes with several improvements, including an ergonomic pistol grip, foldable stock and Free Float M-LOK rail forearm. Additionally, the Ace has a longer barrel than its predecessor, making it more accurate at longer ranges. The Galil ACE is available in 5.56x45mm NATO or 7.62x39mm caliber models and can accept most standard AR-15 magazines.
The IWI US Galil ACE rifle is well-suited for a variety of situations due to its unique design and improved accuracy at longer ranges. Though it doesn't belong to the IWI's bullpup family of rifles, its ergonomic pistol grip still allows for improved control when shooting from various positions. The rifle's adjustable telescoping stock makes it easy to customize the fit of the rifle to your individual needs. If you are a fan of more conventional rifle designs, looking for a high-performing AK-47-inspired rifle, then the IWI Galil ACE. 
IWI US Tavor 7
Another member of the Tavor family, the Tavor 7 rifle is considered a milestone for IWI. It is a bullpup battle rifle chambered in 7.62×51mm NATO, a cartridge known for its long-range applications. The Tavor 7 features a 16.5" cold hammer forged, chrome-lined steel alloy barrel with four grooves and a 1 to 12" RH twist. It is also a fully ambidextrous platform: the magazine release system and 45-degree safety are ambidextrous, and the ejection side and charging handle can be switched according to the user's preference.
The Tavor 7 stands out from its predecessor, the Tavor X95, in several ways. The most notable difference is the operating system: Tavor 7 features a short-stroke gas piston, whereas X95 is equipped with a long-stroke gas piston. The former is known for smoother operation while the latter boasts greater mechanical tolerance. Additionally, the Tavor 7 has an improved trigger pull compared to the X95 which makes it easier to shoot accurately. Finally, the Tavor 7 has an adjustable 4-position gas system that allows users to customize their shooting experience based on their needs or preferences.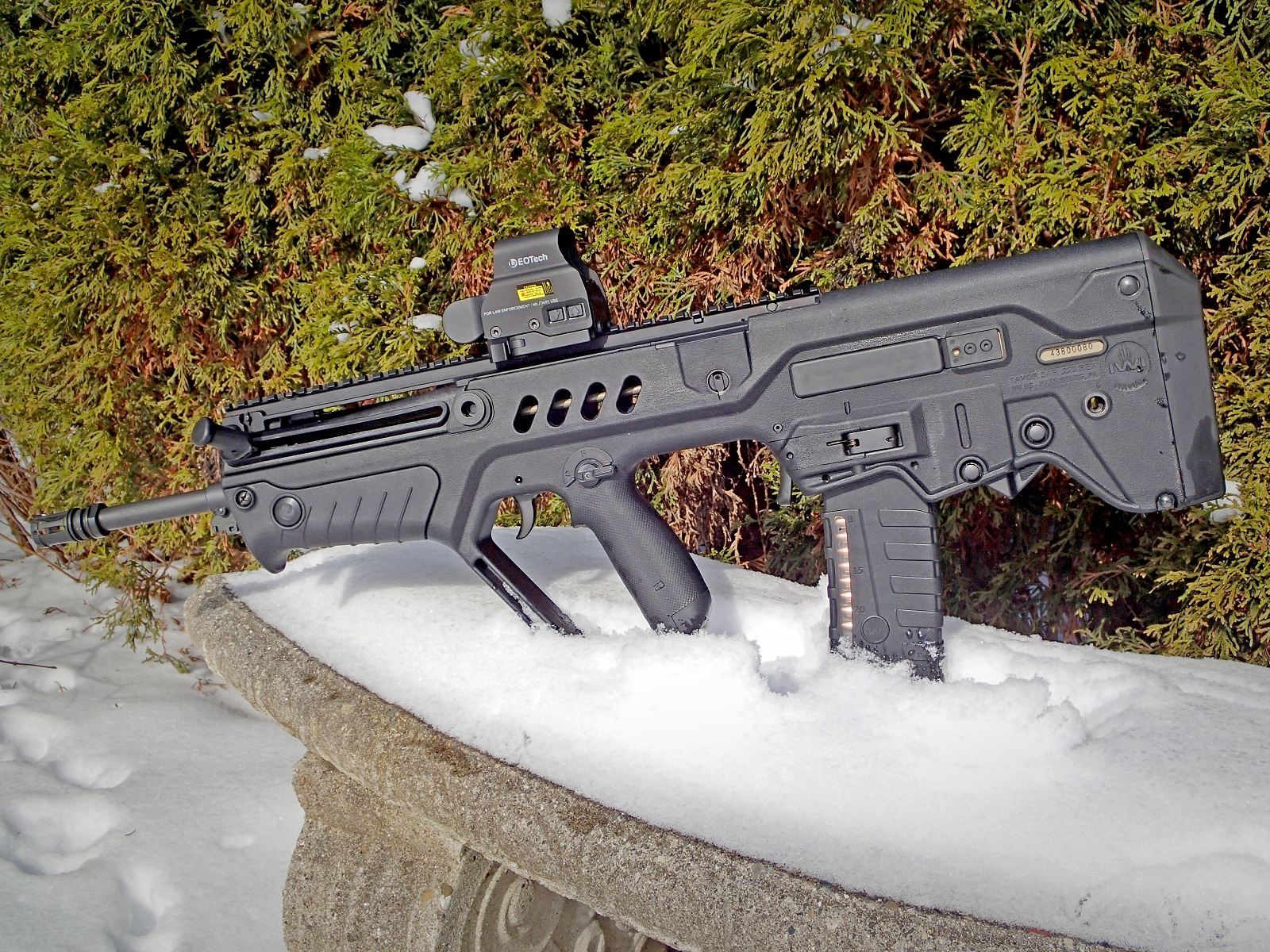 Advantages of Opting for IWI US Rifles
Why would an outdoor enthusiast want one of the IWI US rifles? We've already enumerated quite a number of advantages, but it never hurts to go through them another time. After all, the truth doesn't dull if repeated.
Our first argument is the brand's internationality. The American firearm market is extremely competitive, even more so for an outlander company. IWI USA proved themselves in their home competition and managed to join the international race with enviable success. Quite an eloquent achievement, in our humble opinion.
For the next argument, we'll go with the trust, a few variations of it. First, the trust put in the rifles by the military. The firearm market abounds in all sorts of weapons, but only the best of the litter makes it into the military armory. The Tavor SAR and Tavor X95 models were adopted by US law enforcement agencies in 2014 and remain there to this day. 
Second, the trust put in by firearm experts. Even though the brand's product line includes all traditional small arms, it was a rifle, Tavor SAR, that won the brand Golden Bullseye award. At that time, the brand had been established in the American market for only one year. The Tavor X95 repeated the success of its predecessor three years after. 
Finally, there is trust put in by regular customers. Numbers rarely convince people, especially when they are backed up by nothing but an honest word. Even so, IWI US wasn't involved in any fishy stories, and the brand's sales don't show any signs of dropping.
Of course, there are a plethora of advantages related to the technical characteristics of the rifles. Years-tested quality, reliability, fir-customization-friendly designs, ambidexterity – IWI US has quite a number of features to brag about. Though the looks don't suggest it, some of the brand's guns make for fine hunting rifle options. Others deliver exceptional performance in outdoor shooting ranges. If the outdoors is your element and you enjoy rifles, IWI US products can become great companions.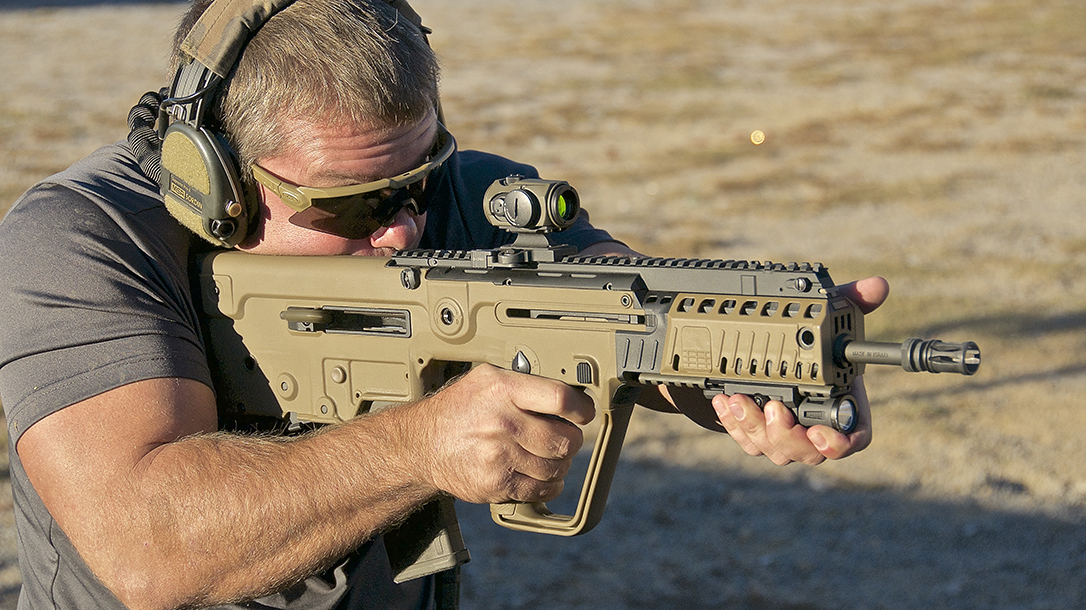 Conclusion
IWI US proves to be a strong player in the small arms market. Though it cannot boast decades of experience in the American market, the brand managed to win two Golden Bullseye awards. The company's most renowned models, Tavor SAR and Tavor X95, were adopted by numerous military and law enforcement agencies. With time-proven quality and innovative designs, IWI US rifles can become the perfect weapons for anyone who takes their shooting seriously. Whatever your mission is, IWI US products make for fine companions.
FAQs
Are IWI rifles imported?
While some firearms are indeed imported from Israel, a big number of them are produced in the IWI US manufacturing facility in Middletown, Pennsylvania. Such rifle models as Zion Z-15 AR15, Tavor and Galil are produced there. Thus, all rifles you see on this page are produced within the borders of the U.S.
What types of IWI US rifles are there?
The majority of IWI rifles are semi-automatic firearms with a bullpup design. There are models that take after more traditional AR-15 and AK-47 forms. 
What features make IWI US rifles stand out from the competition?
IWI US rifles stand out from the competition thanks to their superior build quality, accuracy and reliability. The firearms are engineered to meet the highest standards and are extensively tested in the field, ensuring that they can perform in all conditions. Additionally, IWI US rifles feature innovative technologies such as gas piston operating systems, cold hammer-forged barrels, free-float M-LOK handguards and advanced optics mounting platforms to enable quick target acquisition and superior accuracy.
Are IWI US rifles suitable for hunting and target shooting?
Yes, IWI US rifles are designed with both hunting and target shooting in mind, but those will likely be two different rifles. IWI US rifles feature lightweight construction and advanced ergonomics to ensure maximum comfort and accuracy when out in the field. The rifles also come with a variety of features such as advanced optics mounting platforms, free-float M-LOK handguards and cold-hammer-forged barrels that make them well-suited for long-range shooting.