By Pete Rogers

Turkey Hunting is one of America's greatest challenges. Found in 49 states, the wild turkey is one of the most addictive and challenging game animals to pursue. Currently, the National Wild Turkey Federation recognizes five subspecies in the continental United States: The Eastern, Osceola (Florida), Merriam's, Rio Grande, and the Gould's. Killing four of these subspecies will qualify you for what the NWTF refers to as a "Grand Slam." All five will generate a "Royal Slam," and by adding one more species, the Ocellated, which is found in Mexico and parts of Central America, you will achieve the "World Slam."
Most hunters can only dream of getting the Grand Slam once in their hunting career. Few, if any, can dream of accomplishing what Jeff Budz of Okeechobee, FL has. As of the 2017 season, Budz has fulfilled 98 (yes, that number is correct) Grand Slams of North American Wild Turkey.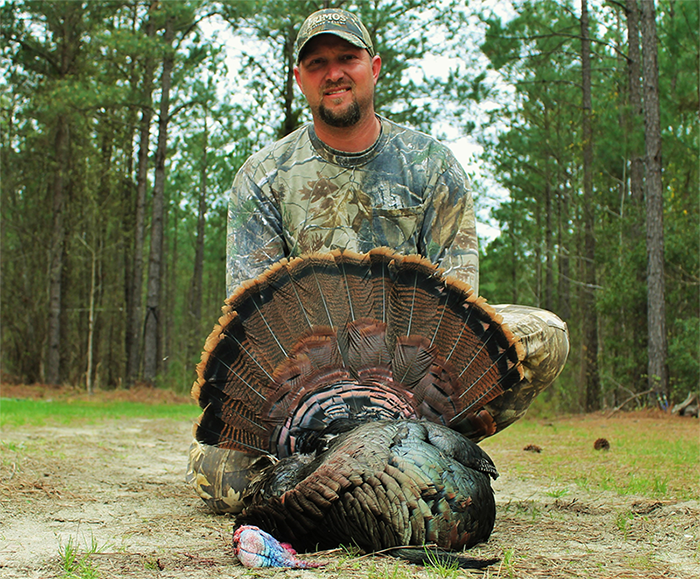 For those of who are hoping for your first, here are some tips to achieve your Grand Slam, one species at a time.
Eastern
The Eastern wild turkey is the most widespread of the four subspecies. It is found in more states and has more availability than any of the other subspecies. The Eastern turkey is distinguished by its chestnut-brown tips on the tail feathers and prominent white and black bars on the wings. Adult males weigh 18 to 30 pounds, with the average being around twenty pounds, depending on location. Adult females weigh 8 to 12 pounds and are very dull in coloration. The Eastern has the strongest gobbles of all subspecies and can be quite vocal. They tend to have the longest beards of all subspecies, moderate length spurs and are second only to the Osceola in difficulty of calling in to the gun. The Eastern turkey is known for his cunning and ability to out-think its pursuers.
The Eastern turkey is a trophy for any hunter and is recognized as a formidable foe. They are found in a variety of locations across the continent, from the deep dark swamps of the southeast to the Ozarks, Adirondack Mountains, and even the open plains of the Midwest.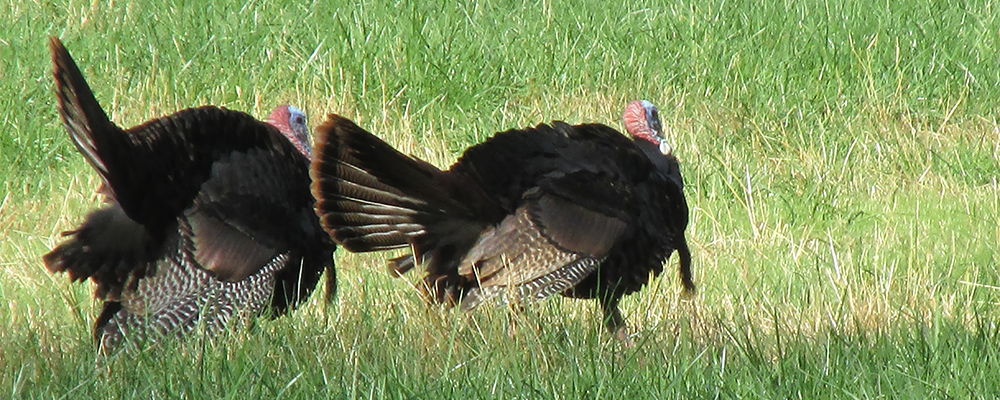 A variety of tactics are used to bring an Eastern into gun range. Most hunters employ stealth and calling tactics. A good beginning is to scout for likely locations for turkeys to be, get there early in the morning and set up. Gobblers, or toms, are likely to announce the morning with a loud thunderous gobble from their roost tree. Once the bird is located, hunters should move in to around 150 yards from the bird. If the terrain allows you to get closer, then do so without pushing your limits too much. If you are going to err, stay back rather than move in too close.
Start with some soft calling to get his attention. Most adult male Eastern gobblers will investigate decent calling but are reluctant to commit. Patience is key to killing Eastern turkeys.
If you are looking to get an Eastern turkey, some states to consider for your eastern bird include the following: South Carolina, Alabama, Mississippi, and Missouri. Virginia is also a good choice. Each of these states has a good healthy population and ample public ground for hunting.
Osceola (Florida)
The Osceola turkey is perhaps the most handsome of them all. Their plumage is iridescent with colors of bronze, teal and chestnut. At a distance, he looks jet black, but upon further investigation, he is truly a handsome bird.
Found only in central Florida, the Osceola turkey has limited access via public ground, and this causes many hunters to struggle in getting this bird. The outfitters who do have Osceola turkeys tend to regulate heavily the amount of pressure applied to their flocks. Some well-known outfitters are highly successful at calling and killing Osceola turkeys. If you decide to go with an outfitter, Osceola Outfitters in St. Cloud, FL has some of the best.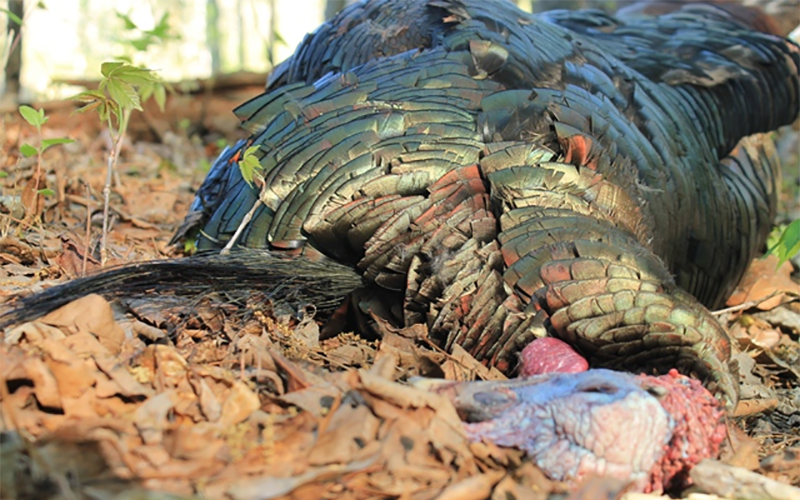 The Osceola turkey is reluctant to commit. He will use his long legs and excellent vision to check out the source of the calling from the confines of the palmettos that seem to cover Florida in biblical proportions. Standing at a solid distance, it takes quite a bit of patience and calling skill to get an Osceola to commit. Many hunters believe that decoys are a necessity for hunting Osceolas.
Osceola turkeys have dark-brown tips on their tail feathers. Their wings are mostly black with very small white bands. Adult males weigh approximately 20 pounds, and adult females weigh 8 to 12 pounds. Other characteristics include long legs, strong gobbles, very long spurs, and shorter beard-lengths than Eastern turkeys on average. Osceolas are considered the toughest species to call in.
Merriam's
The Merriam's turkey is the turkey of the plains and west, with the Rocky Mountains being considered the hub for this subspecies. It is found in the upper plains in abundance, in states such as South Dakota, Nebraska, Wyoming and Montana. It prefers the open terrain along with the woodlots found along the river systems. The Merriam's turkeys have one of the softest gobbles of all subspecies. This can make hunting them difficult due to the open terrain. However, they do tend to be spotted easily, and using the terrain to slip into range is a common tactic. The Merriam's has distinct markings, including light tips on tail feathers and the upper tail coverts (rump feathers) are buff to white in coloration. Some actually believe this to be a very pretty bird with these coloration differences. Their wings will carry whiter plumage and less black. Their beard and spurs are some of the shortest of all subspecies.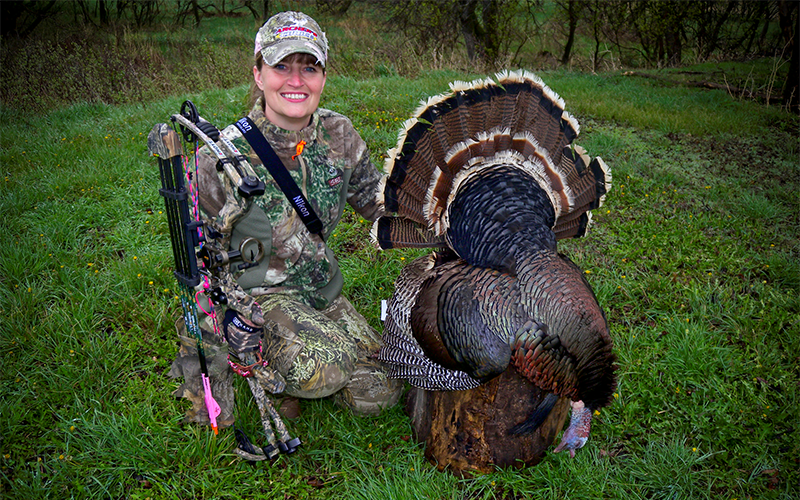 Hunting the Merriam's is more of a "run-and-gun" tactic as compared to the rest. Hunters can spot flocks on distant ridges and use the terrain to conceal their movement to get into a decent range before calling. Merriam's wild turkeys respond readily to the call, but because of the open terrain, warily like to see what is doing the calling. Some hunters will lug decoys across hill and dale to kill Merriam's wild turkeys, while others will stalk, crawl and hide to ambush unsuspecting toms.
Rio Grande
The Rio Grande Turkey, most commonly called the Rio, gets his name from the Rio Grande River where it is most commonly found. The Rio prefers the arid climate of the southwest and the central plains states. Healthy populations are found in Texas, Oklahoma, Kansas and some in Nebraska. Other populations are also found in California, Oregon and Washington.
The Rio is identified by the tan-colored tips on the tail feathers and the same amount of black and white barring on its wings. The Rio has moderate beard lengths and moderate spur lengths.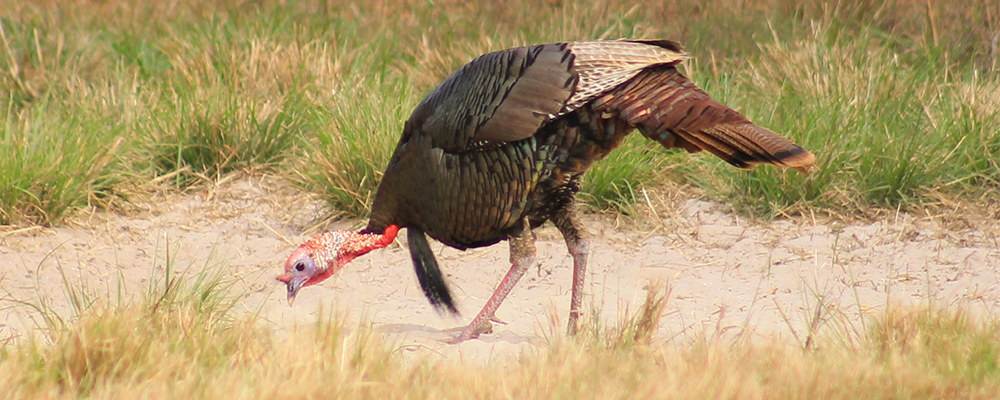 The Rio roosts in the live oaks of the Southwest, looking for creeks, rivers and other areas of water that allow for timber growth. Hunters who are looking for Rios to complete their slam would do wise to look for creeks with timber where birds roost in large numbers.
Rio wild turkeys are very vocal and will respond readily to calls. Their gobble is soft and can be difficult to hear at a distance, but it will be frequent. Setting up between roost areas and food sources is critical. Rios will fly down and move to their food source immediately. Locate a solid food source and set up near this, and the Rio will come. Soft calling will let him know where you are. You just need patience to let him come into range.
Conclusion
Setting your sights on a Wild Turkey Grand Slam is an excellent goal for anyone who loves turkey hunting. Of all the grand slams now recognized, it is perhaps the most economical to accomplish. With many birds being able to be bagged in the same state, a hunter can target specific subspecies and get it done. It is a great accomplishment and one worthy of your efforts.