By David Link
Sitka Gear is well known for their impressive line of hunting apparel and gear. Whether you spot and stalk, hunt elevated from a tree stand or hunker down in a blind, Sitka Gear has you covered with a specific pattern designed just for that activity. Perhaps what is most impressive about the brand is you can build an outfit to suit you individual hunting needs. For example, spend more of your time in hotter climates? Then you can skip the parka and build your collection around base layers and lighter, breathable tops. Encounter a lot of rain on your hunts? You can select a specialized rain gear parka and pant as your primary top layer. The sky is really the limit with mixing and matching items in your chosen GORE Optifade pattern, and if the line doesn't quite fit your specific hunting application, don't worry, Sitka Gear is probably designing something for you right now.
Sitka Gear also provides some excellent add-ons to enrich the application of their primary product lines. You can add a neck gaiter or boot gaiter to your camo setup to increase concealment or keep heavy snow out of your boots. Are you going to be doing some heavy glassing? Why not add a Sitka Gear Bino Harness or Bino Bivy to your kit so it matches your chosen Optifade pattern? Sitka allows brand loyalists to literally outfit their entire kit with top quality gear. Sitka Gear also offers some upgrades either for use separately or in conjunction with their packs. Today we're going to look at one such device in the Sitka Gear Mountain Hauler Dry Bag.
Basics – Sitka Mountain Hauler Dry Bag
In essence, the Sitka Gear Mountain Hauler Dry Bag is a simplified waterproof bag designed to work in conjunction with the Mountain Hauler 6200 Backpack. (Note it does not fit the smaller Mountain Hauler 4000 Backpack). If you haven't seen the Mountain Hauler 6200 before, it has a sleeping bag pouch near the bottom of the bag for those hunters that do multi-day trips in the bush. However as we all know things can get messy when the weather picks up or we haul out meat after a successful hunt. The Sitka Mountain Hauler is a simple but effective way to keep your key gear dry (like socks, sleeping bag, etc.).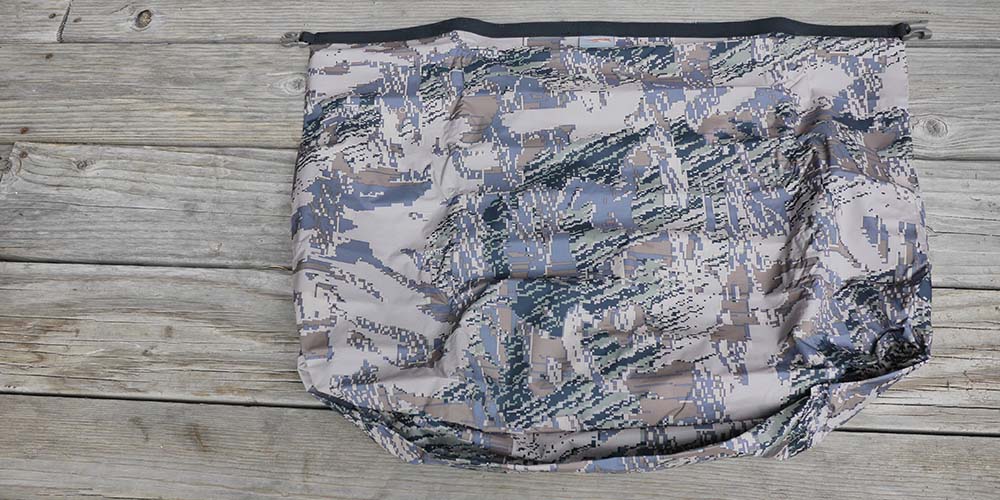 The Mountain Hauler Dry Bag is currently available in two GORE Optifade patterns to match the options available in the Mountain Hauler 6200 – Open Country and Subalpine. It offers 1800 cu. in. of storage which is surprisingly a lot of space for a bag this compact. As you would expect, it features taped seams and the classic roll-over dry bag design. Internal Velcro closures help keep the bag closed as you're rolling the top over to seal the internal compartment. The bag is secured with a heavy-duty plastic clip. It's not the most sophisticated design you've ever seen, but it gets the job done pure and simple.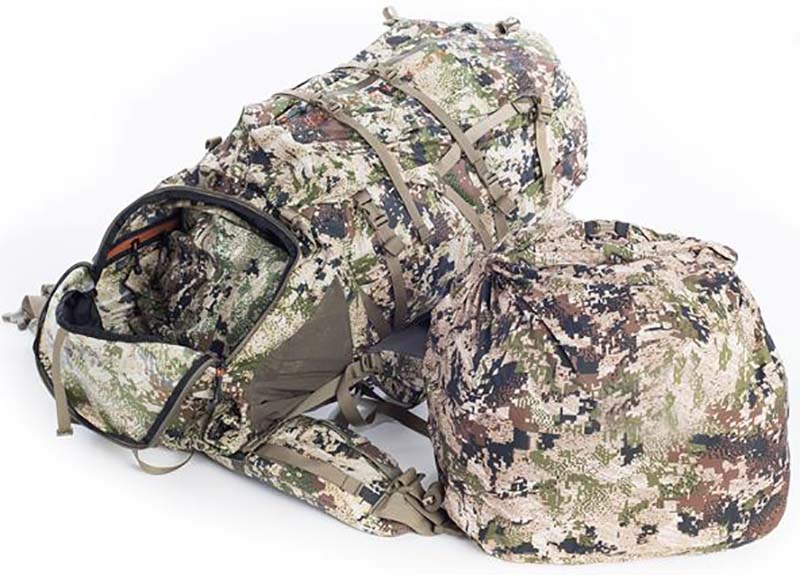 Specs
Storage – 1800 cubic inches.

Design – Roll-top dry bag.

Weight – Ultra light weight less than one pound estimated (unloaded).

Fabric – Waterproof with taped seams.

Compatibility – Works with Sitka Gear Mountain Hauler 6200 or as a standalone bag.
Field Use
For my part, I tested the Sitka Gear Mountain Hauler Dry Bag Open Country model. It is also available in Sitka's great Mountain Hauler Dry Bag Subalpine pattern. If you're familiar with other Sitka Gear products, unsurprisingly the Mountain Hauler Dry Bag is easy to use and built with quality materials. Sitka doesn't make inferior or "budget" level equipment, which is part of the reason they sit at the top of the hunting apparel market today. As I've mentioned before, this dry bag is a fairly simple bag. There are no internal compartments or the like, we're talking about one big storage compartment for gear like your sleeping bag. The slick fabric easily repels water, and it's flexible enough so you can pack or compress it into whatever storage space when needed. This means if you're hauling less gear than the 1800 cubic inch limit, you simply roll the top down more and you can pack this bag into a tighter space.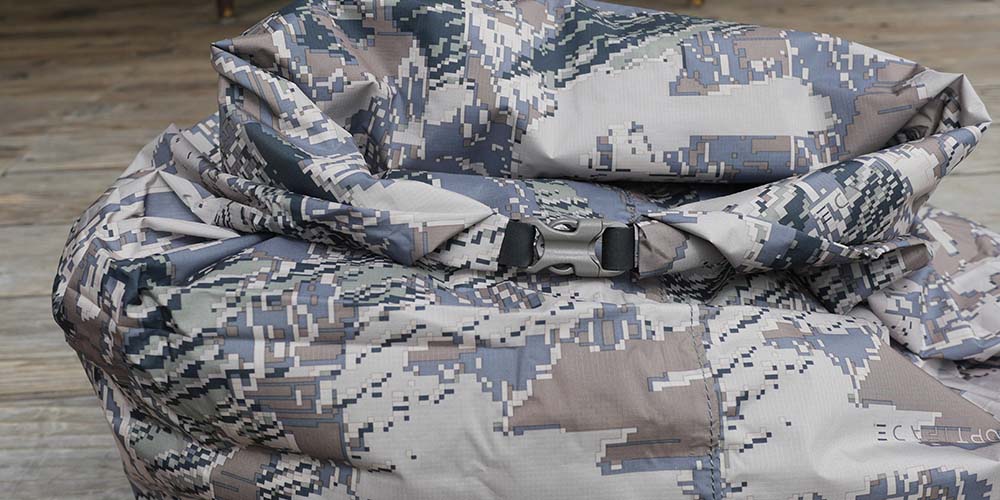 While this bag isn't really meant for exposed field use (by this I mean it encountering sharp rocks or wear and tear against branches in the field), it is still ruggedly constructed. Again you won't to hike with this bag on its own, but you can pack it into other bags for added protection of key soft goods. I could also see this bag packed on a raft for those hunting trips where habitat is only reachable by river. Your Sitka Gear hunting kit won't begin with the Mountain Hauler Dry Bag, but it's certainly something you'll want to add if you spend any time in wet climates or even just extended periods in the bush.
Determination
All in all, the Sitka Gear Mountain Hauler Dry Bag is a simple yet effective accessory from one of the world's best outdoor brands (and no I'm not exaggerating there). We haven't even talked price point yet, which this dry bag comes in at a friendly $49. At that price, you can add several of these for your gear collection, or just add one to match a Mountain Hauler 6200 Backpack. Even if you don't own the pack, this is not a bad accessory to pick up if you're a Sitka enthusiast. Personally I love the GORE Optifade pattern, and the more gear I own the pattern on, the better!