By Seth Nadel
Continued from A Ring Of Holsters – Part 1.
Moving Clockwise
Next, let us look at the sector from 12:00 to about 2:00 – the "appendix carry" spot, just to the right of the belt buckle. Now I carry a gun here on occasion, in an inside the waistband (IWB) holster. Appendix carry can be fast, as the gun is close to your strong hand – you do not have to cross over your stomach (which in my case seems to become a greater distance every year – but I digress). It is easy to cover with your strong hand, just by hooking your thumb over your belt buckle. With a shirt lightly bloused over your belt, or worn outside of your pants, you can carry there without a jacket.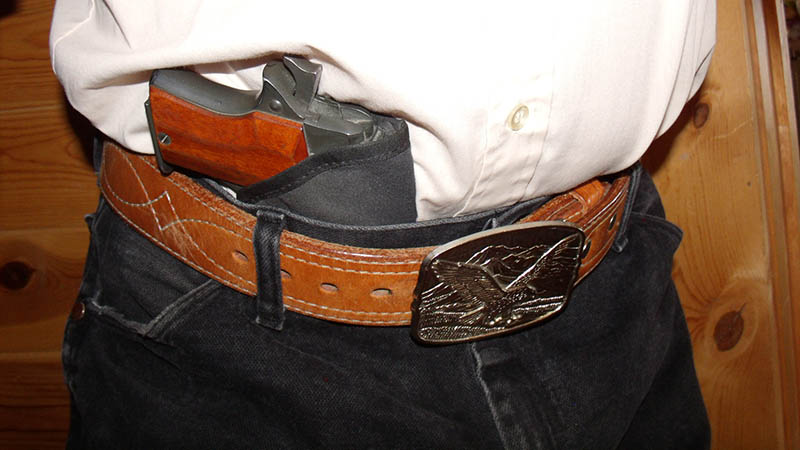 There are some downsides here as well. Bending over from the waist becomes an issue. The less "relaxed muscle" you have, the more painful. Barrel length is also an issue – only small guns will work here, as you will find out the first time you sit down. A major problem for many folks is that the gun is pointed at certain delicate parts your body, which some people will not allow. Of course, there are other carries that also point the muzzle at parts of your body, but people are more sensitive about muzzle direction in appendix carry for some reason. If you want to try appendix carry, I strongly recommend only double action revolvers and semi-automatics. I did carry a single action auto in this position frequently, and sometimes still do. BUT this is a custom made gun, and in the 40+  years I have owned and carried it, the safety has never wiped off in the field. I truly trust this custom gunsmith with my life, and carrying it here is a testament to the quality of his work.
2 to 5 O'Clock
The next sector, from 2:00 to about 5:00, is the prime real estate for gun carry. Inside the Waist Band (IWB) or belt holsters (Outside the waist band or OWB) will work here, and barrel lengths are limited to about 5" or less. The gun is well concealed by your outer clothing, and easily protected by your elbow in a common position. While the gun may still cover part of your body, it's a part we are less sensitive about than that covered in appendix carry.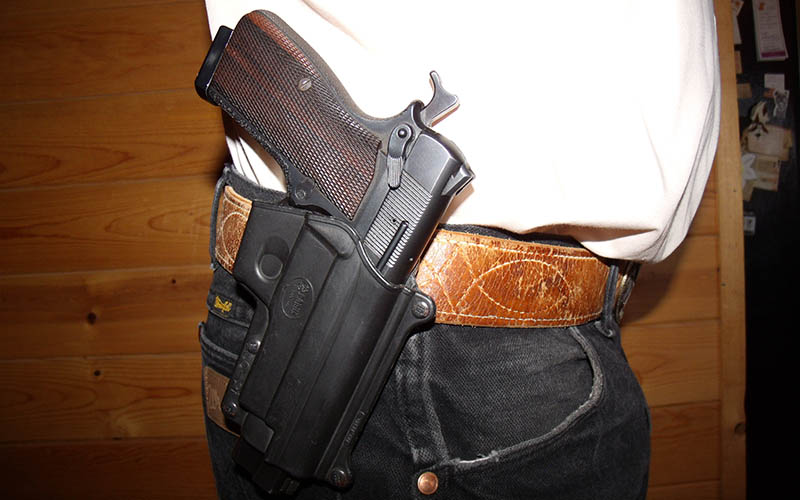 Bending over can cause "printing" through your outer garment, so you must learn to bend at the knees, straight down, rather than at the waist. Overall, most folks, pro and novice, carry their sidearm here. Barrel length in FBI cant holsters can be a problem, as the longer barrels stick out to the rear more. If you prefer a long barreled pistol, use a zero cant or straight up and down holster.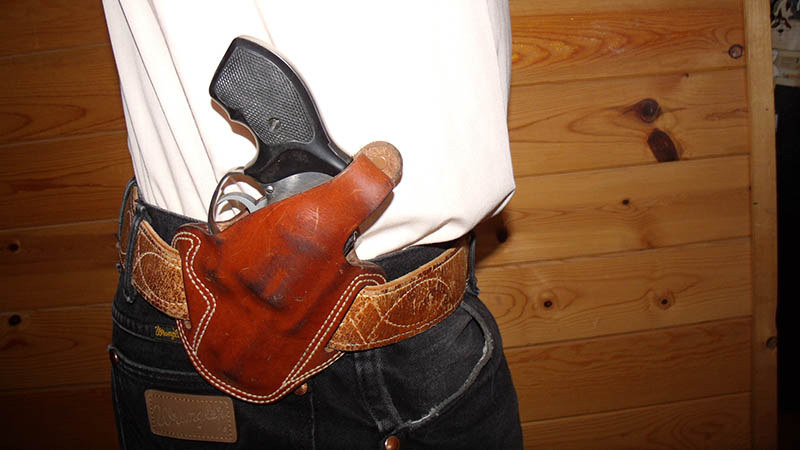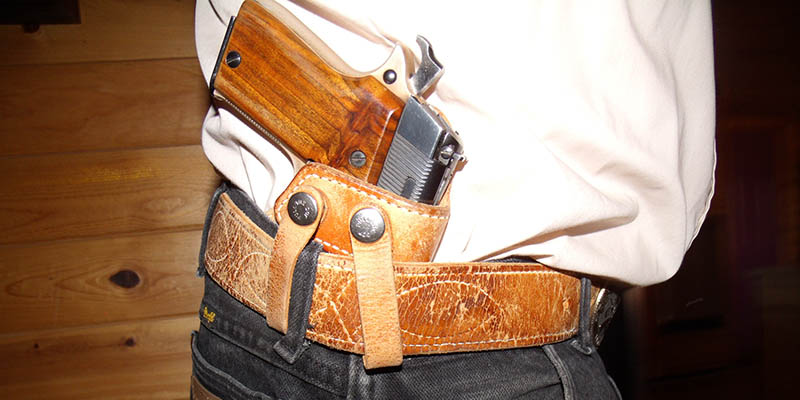 The NO zone
From 5:00 to 7:00 is the one zone that I will not even suggest carrying a gun, or anything else hard. For almost all of us, your spine is covered by little meat, and a single fall on a gun over your spine could put you in a wheelchair for the rest of your life. In fact, I used to carry my cuffs there on the job, until I talked to an orthopedic surgeon who was a shooter. From that day on, nothing hard is on my belt over my spine – I like being able to walk.
While we are talking about backs, give some thought to where you may be seated. If your holster is far back on your side, sitting in a bench seat, like a pew or booth in a restaurant, can produce a typical "THUNK" – particularly if you tend to drop into your seat. Try it out before your lunch buddies are asking: "What was that noise?" (Yup, I have been there, done that!)
7 To 9 O'Clock
The final zone, from 7:00 back to 9:00, is the spot I use for spare mags, flashlights, and cell phones. If you are right handed, trying to reach a gun there with your strong hand is near impossible! A back up gun, to be drawn with the left hand, could work, but it will take a lot of practice – an awful lot.
By now, some of you are thinking about ankle holsters. I tried them too – and they let you think you are armed. Merely carrying a gun is not enough for me, I have to be able to access it quickly. I tried various ways – the forward step and kneel, the one leg hop, and one I could not even think up a name for. All of them depended on having more time than I expect, and enough room to contort my body around. Both of those, particularly time, could be in very short supply. The only time I use an ankle holster is if I am driving, or going to a meeting where I will be seated in a chair with arms, blocking my strong side holster.
How about pocket carry?
Pocket carry is getting a lot or press with the new subcompact 9mm and .380's. It works, and I do it from time to time but always with a holster, to keep pocket lint, coins, and everything else out of the trigger guard, and to keep it oriented the correct way. I will not be shot while fishing around trying to get my gun out with a key wedged in the trigger guard! Nothing other than your gun and holster goes in that pocket! The other downside to pocket carry is the difficulty in drawing your handgun while seated – it's darn near impossible!
There have been attempts for other carry's – who can forget the holster carried inside your pants, where men had to unzip to reach it? (It was called 'The Weeping Eye" holster!!) Or the short lived pop-up. where you reached into your pocket and squeezed the holster, which would make your 2" revolver pop up above your belt line? Currently someone is advertising a holster for a small pistol, strapped to your upper arm. Hmmmm, if it is tight enough to hold it while my muscle is relaxed, what will happen when I tense up? And what about the reverse? But these might work for you.
Experimental Holsters
There is a way to try these various positions without buying (and discarding) a dozen holsters. For example the Fobus Roto Holster is a great option. Developed and produced in Israel, you can rotate the holster on the attachment, trying different positions, and different cant (tilts) in each position, until you find your personal sweet spot. Once found, you can use the Fobus until you are sure, and then look for a holster with more retention.
Final Thoughts
Concealed carry requires thought, experimentation, and practice – lots of practice. It may also require a re-do of your wardrobe. We have gotten a lot more casual in our dress, which can make it harder to conceal a useable firearm. If you choose an inside the waistband carry, expect to buy pants and belts about 1 inch larger than you are used to. After you find a location that seems to work for you, try it while seated in a car or booth in a restaurant, walking, bending, etc. I suggest doing this with an UNLOADED gun at first, as you figure out where the muzzle will be pointing during your daily routine. Have a gun savvy friend watch, to see if you are printing – allowing the gun to show through your cover garment – during your normal activities. Find out just how fast or slow you are drawing from concealment, with an empty gun. Then try carrying your loaded gun – weight and balance can make a difference. Spare ammo on your other side may help to balance the load. By the way, for strong side carry, some keys or a spare speed strip or magazine in your outer garment pocket will help when you sweep it out of the way to get your gun.
Cover garments need to be considered as well. Thicker fabrics tend to smooth out the outlines of a gun. Solid colors tend to show more than prints – the epitome being the Hawaiian shirt that is always worn outside the pants, is usually "generously" sized, and frequently with a garish print. It can cover a multitude of defensive tools. Plain tee shirts can be the most difficult unless you have the right body shape. Even they will print if they get wet and start to cling.
Just like ankle holsters, the wrong carry location only lets you think you are armed, and when disaster strikes, you will be only a spectator or a victim. Now, are any of you interested in several boxes of first quality holsters, only worn a few times?