Last Updated on
Clothing patterns can obscure your perception of what lies beneath. Since the 1960s, the fashion and textile industries discovered that clothing designs and visual optical illusions in fabric created the ability to enhance a body's perfect portion or reduce a body's flaw. According to the International Journal of Science Culture and Sport, June 2015 issue, ". . . the product design plays an important role in marketing, because the visual difference brought with the design affects the perception of a client, and the production style affects the behaviors of a client." The fabrics, colors and designs can disrupt the observation by others and obscure a portion of the person's body that is not perfect. This will make the wearer less self-conscious and more comfortable. The observer's eyes will be directed elsewhere. Today I want to discuss how these optical illusions play into carrying a concealed weapon.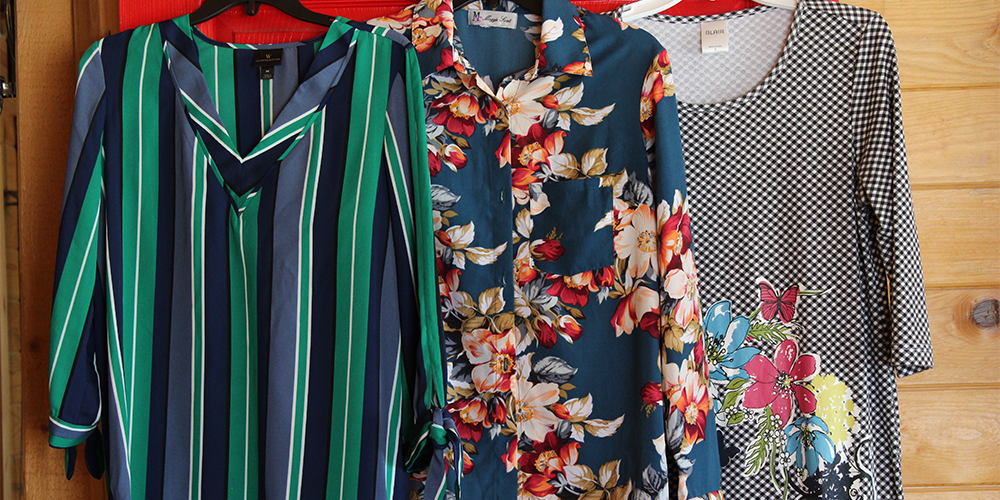 Disruptive Patterns
Horizontal patterns will add weight to your body. People will automatically look left to right as the pattern directs the eyes. Avoid light colored pants and skirts which draw attention to your midsection. Clinging materials like spandex will accentuate your body. We've all seen the people who wear inappropriate clothing as it draws our attention to them and that portion of their body which "stands out." Form-fitting is not the best for hiding love-handles. Woven cottons, synthetics like polyesters and linen are a better choice.
Tight purple shirt.

Side view with imprinting.
In carrying your pistol concealed on your body, the trick is to divert the attention away from that portion of the body. You need to seriously consider the clothing you're wearing and whether your pistol will be visible. If you accentuate that portion of the body where you're carrying concealed, the bulge or bulges will be evident. So, the secret is to camouflage your concealed carry location. Much like camouflage for hunting, we need bold designs for avoiding detection by observers.

Front view of IWB on right hip.


Side view of IWB on right hip.


Side view of IWB on right hip, exposed.
Examples Of Disruptive Clothing
Club Ride Women's Flannel

Outdoor Research Igneo Jacket
Smart Clothing Choices
Men and women need to wear clothing that is slightly larger than your perfect fit. This will give you room to conceal that pistol / holster / magazine which you are carrying. It is accepted that vertical patterned clothing will make your legs appear longer and draw attention away from your middle. This will cause most people to look at you up and down, rather than straight on. Stripes have been found to be most valuable in creating a positive body impression. It also denotes a status. Pin-Striped Suits indicate success. You can also dress in a one-palette shade like black, as you present a lean, slimming line. Since there is no break in the color, attention is not drawn to your waist where you may be carrying.

Front view of IWB on right hip.


Side view of IWB on right hip.


Side view of IWB on right hip, exposed.
Shirts And Pants
Shirts and blouses should be in longer lengths that hit below your true waist, if worn outside the pants. Wear tops, shirts and dresses to draw a viewer's eye up toward your face and upper body. Boat-neck, V-neck and Square-neck tops draw attention to the face. Fabric detailing like lace or buttons, scarves, necklaces, and wildly designed ties will also do the trick.
Choose dresses, tops, and shirts that have structural shapes as opposed to those cut on the bias that hug the curve of your stomach. For women, any skirts or pants should have a wide 3-inch waistband. This helps hold in the stomach and gives more room for the IWB or OWB holster to attach to it with less flop. If you're constantly fighting with your holster because it keeps shifting or it's pinching, you're drawing attention to yourself. For both men and women, pleated skirts and pants add bulk to a mid-section however, a crisp crease in pants presents a slimming vertical line and draws the eyes away from the pleats.

Front view of IWB on right hip.


Side view of IWB on right hip.


Side view of IWB on right hip, exposed.
Jackets
Single-breasted jackets that fall below your waist hide and minimize your stomach. Leave them unbuttoned so they don't pull across your stomach and imprint my holster. Hoodies need to be larger than you'd normally buy to avoid the cut on the bias. Your jacket and hoodie can't be so cumbersome that you can't easily obtain control of your pistol and ammo.

Front view of Camo Hoodie with IWB on right hip.


Side view of Camo Hoodie with IWB on right hip.
Examples Of Disruptive Jackets
Kryptek Highlander Women's Zenobia Hoodie

Drake MST Ladies Eqwader
Purses
If you choose to carry in a concealed carry purse, select one with longer straps or make it a cross-body bag. The longer length of the straps will elongate the body, making you look tall and lean. Conversely, if you're just carrying your daily planner notebook, tucking it right under your arm will focus attention to your stomach where you may have your IWB or OWB holster. With the "bling" design of most purses, it is hard to tell if they're designed for concealed carry or not. However, too much "bling" draws attention to you.
Closing Thoughts
From the International Journal of Science Culture and Sport, ". . . developing technologies in the fashion sector, and the changing fashion perception, diversity emerged in both the area of usage of products and the reasons for preferring the optical illusions." In my effort to provide women with a variety of concealed carry methods I have found that fashion plays a big part in obscuring the pattern of the holster and the pistol when concealed on the body. When viewing a website touting their concealed carry methods, try to imagine the colors, fabrics, styles and designs of clothing which conceal the very item they display. You'll soon learn that a clothing style and design can change the perception of reality. It's called an optical illusion, when attention is drawn away from where you're carrying concealed.