By Tony Martins
The word "extreme" may be the most overused word in outdoors journalism. Defined as "going to extraordinary lengths," and "reaching a high or the highest degree," the 40+ hours I've spent looking through the Nikon LaserForce binocular/rangefinder over the past four months would probably qualify. Extreme has taken on new meaning in the sports world recently, prompting an additional definition from Merriam-Webster: "relating to an outdoor activity that involves an unusually high degree of physical risk." Having just returned from the most dangerous and physically demanding hunt of my life in the Tien Shan Mountains in eastern Kyrgyzstan, where the LaserForce was tested at elevations up to 14,000 feet, in rain and snow and temperatures well below zero, this report should qualify as an extreme field test by any definition!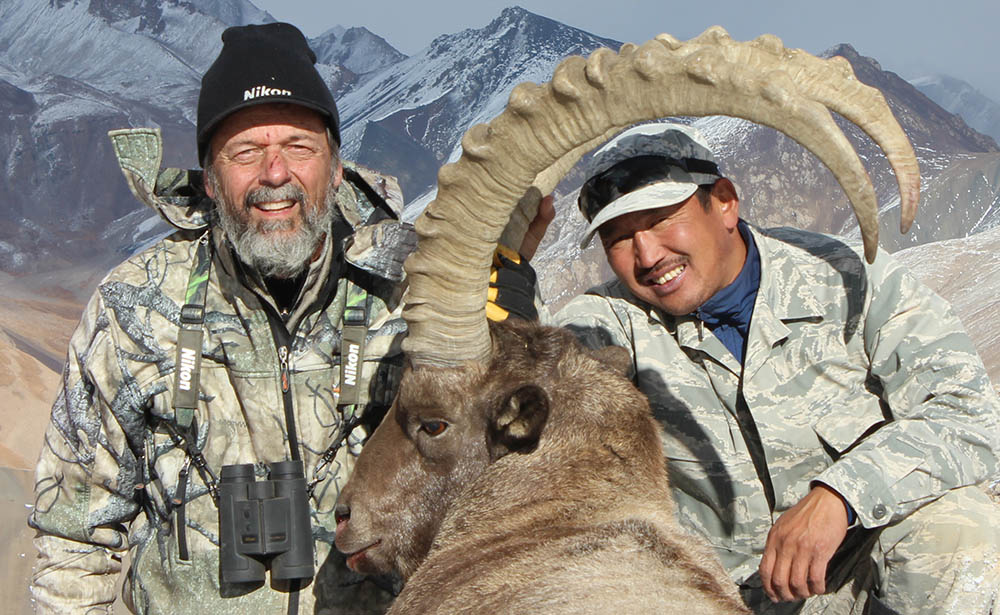 Back in August my "First Look" Review of the New LaserForce was posted in this space. In that review it was noted that performance of both the binocular and rangefinder was on par with comparable units costing 2-3 times more. The powerful, full-featured laser rangefinder has been married to a top quality binocular, in a well designed and comparatively lightweight case. Here's a quick review of the main features of both components, first the binocular:
10x magnification with 42mm objective lens diameter.

Extra-low Dispersion (ED) glass used for all lenses and prisms.

Full multi-layer coating on lenses and prisms.

Field-of-view = 320 feet @ 1000 yards.

Long eye relief (15.5 mm) design with turn-and-slide multi-click rubber eyecups.

Waterproof and fogproof.

Nitrogen-purged, rubber armored, metal die-cast body

–

tripod adaptable.

Flip-down objective lens caps.

Adjustable diopter for binocular imaging in left barrel.
And, the rangefinder:
10x magnification.

Range: 10 yards to 1100 yards (animals) / 1900 yards (highly reflective targets).

Display in 0.1-yard increments to 100 yards / 1-yard increments past 100 yards.

Incline/Decline (ID) angle compensating technology.

Single, or continuous range measurement for up to 8 seconds.

Bright and clear red OLED range display with 4-levels of intensity adjustment.

Automatic power shut-off after 8 seconds of inactivity.

Adjustable diopter for rangefinder OLED display in right barrel.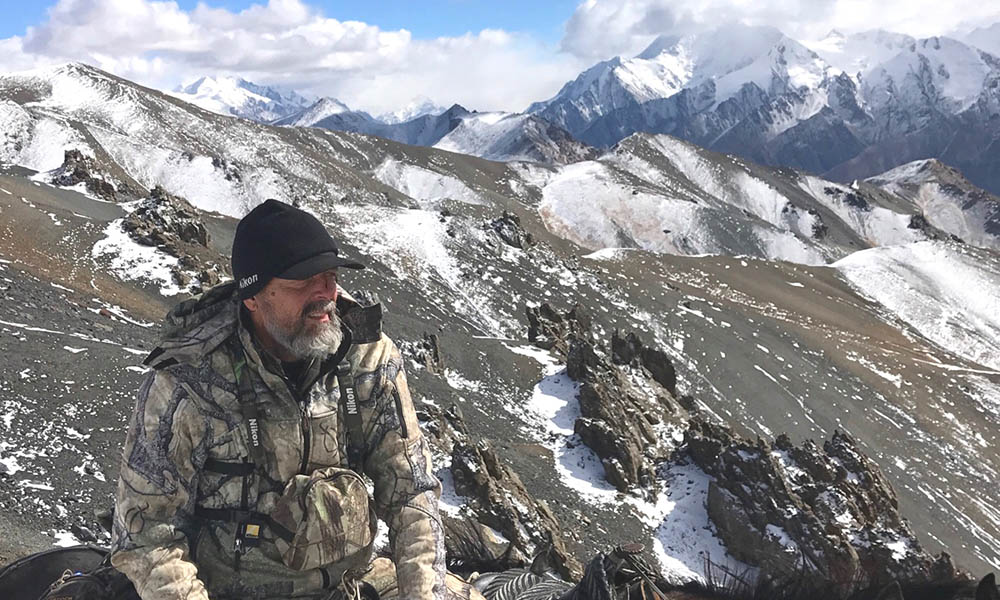 It's interesting that Nikon engineers designed LaserForce "to meet the needs of hunters and shooters who travel the world's most rugged terrain." There are few places on Earth more rugged than the Tien Shan Mountains, formed in the Cenozoic era as part of the Himalayan orogenic belt, and featuring a number of peaks over 20,000 feet. So… let's see how LaserForce performed near the "Roof of the World" in this extreme test, by reviewing the functionality of advertised binocular and rangefinder features.
LASERFORCE BINOCULAR PERFORMANCE
We spent as much as eight hours each day on horseback, riding high into the mountains to lookout positions to search for ibex feeding in the valleys far below. The wind blew constantly, gusting over 30 mph across many of the ridges where we glassed. One of the first things I noticed about LaserForce when I first handled the optic at the SHOT Show in January was how easy it is to hold steady. The die-cast body is shaped to fit the human hand, and the rubber armor covering is a bit tacky, facilitating a solid grip and clarity when viewing distant images. This feature was a big plus for spotting the well camouflaged ibex. I typically steady a binocular by resting it atop a shooting or walking stick. But, since my gun case with shooting stick inside was never delivered, the LaserForce was mostly hand-held on this hunt. Furthermore, the extremely durable case protected the optic from the inevitable rocky impacts that were common during daily use.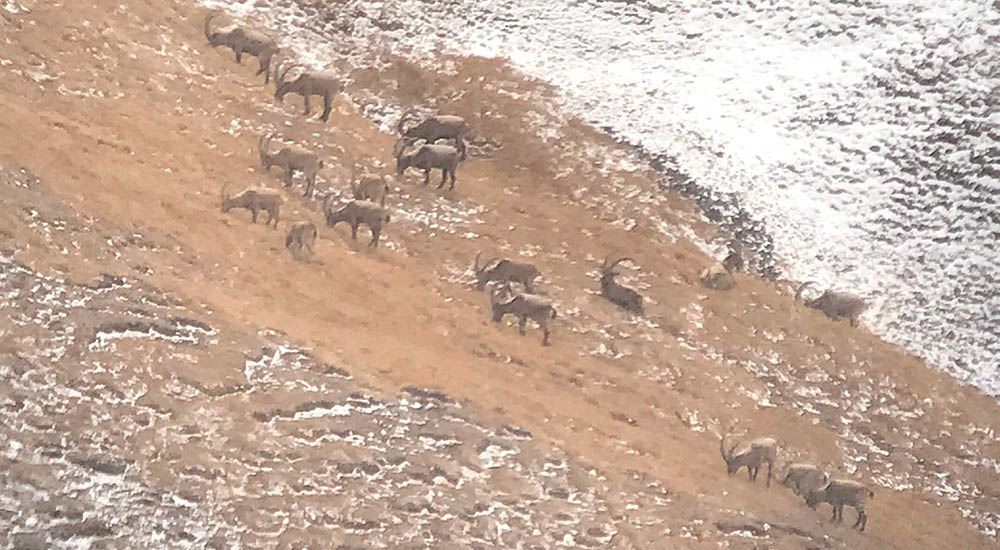 Our cozy sleeping arrangement – 5 of us shoulder-to-shoulder in an 8×10 tent – meant that packs and gear remained outside in the weather overnight. Despite rain and snow and below zero temperatures, there was no evidence of fogging in the waterproof/fogproof unit, thanks to its nitrogen-purged body. After each day of hunting we returned to spike camp in the dark, so binoculars were often used in the last light of the day and well after sundown. In terms of clarity, contrast and brightness, low-light viewing through the LaserForce was on par with the 10×42 Swarovski SLC binocular carried by my hunting partner, thanks to Nikon's ED glass and multi-layer coated lenses and prisms. Finally, I found the long eye relief and turn-and-slide multi-click rubber eyecups facilitated a good fit while wearing my eyeglasses, as advertised. Although I did not use the LaserForce for extended periods of continuous glassing while ibex hunting, I did use the optic mounted on a tripod for several multi-hour sessions on a subsequent elk hunt, with no sign of eye fatigue.
Two of the other hunters in our group of six also carried LaserForce binos. One feature of the optic that I find useful apparently caused a problem for another hunter: two diopter rings. After complaining to me that his binocular would not focus sharply – fortunately just before he departed base camp for the mountains – I learned he was unaware that the diopter ring on the right barrel was for the rangefinder OLED display (and not for the binocular). After clarification, the comparatively inexperienced user was able to properly focus his new LaserForce!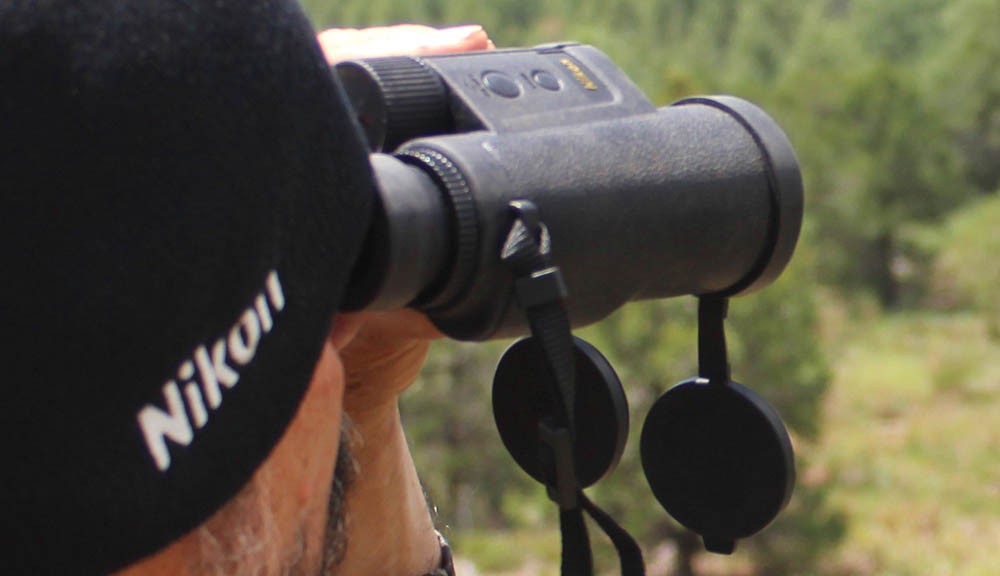 Another advertised feature that has turned out to be a liability is the flip-down objective lens caps. I found that with use, these easily and frequently slip off the optic – particularly when the binocular is regularly pulled out of and shoved into a protective cover. To maintain a low profile on the ridgetops we often crawled through rocks and dirt and snow while moving into position for glassing. Thus, a full protective bino cover secured with elastic straps was necessary to avoid damaging a chest-mounted optic. Several times I found one of the lens caps loose in the protective cover, and one was finally lost. Another hunter in our group also lost one of the caps from his LaserForce. Unfortunately, Nikon does not offer replacement lens caps, either free or for purchase. Although this oversight is rather annoying, I believe that Nikon will correct the problem as requests for replacement caps roll-in.
LASERFORCE RANGEFINDER PERFORMANCE
We had to be careful while glassing for sharp-eyed ibex from skyline positions to avoid detection, so I made no attempt to assess the maximum range capability of the LaserForce on these animals. I did take a number of readings from 728 to 403 meters (796 to 440 yards) on the group of ibex that contained my billy, as they moved uphill through the rocks and closer to our position just prior to my initial shot. The continuous ranging capability worked exceptionally well on the moving animals, particularly when they started running and bounding through the rocks. I also ranged individual animals in another group out to 456 meters (498 yards) on a steep downhill angle, and received a distance reading every time I pushed the ranging button. It was obvious that the ID (incline/decline) technology worked perfectly as all of my shots, including a couple that missed the mark, were true for elevation and distance.
One somewhat distressful problem that surfaced at precisely the wrong time: My non-English speaking Kyrgyz guide was unable to operate the LaserForce to give me the range at the moment of truth! Despite my prior instruction and belief that guide "Bek" understood, he apparently did not. I don't know whether he was missing the target, or missing the ranging button atop the unit, but I had to move off the rifle to take the optic from him and range the animal myself. It was noted in my "First Look" review that although the ranging button is well placed, it is not raised or recessed enough from the top surface of the unit. This makes it somewhat difficult to locate and depress, particularly in the excitement of an imminent shot opportunity.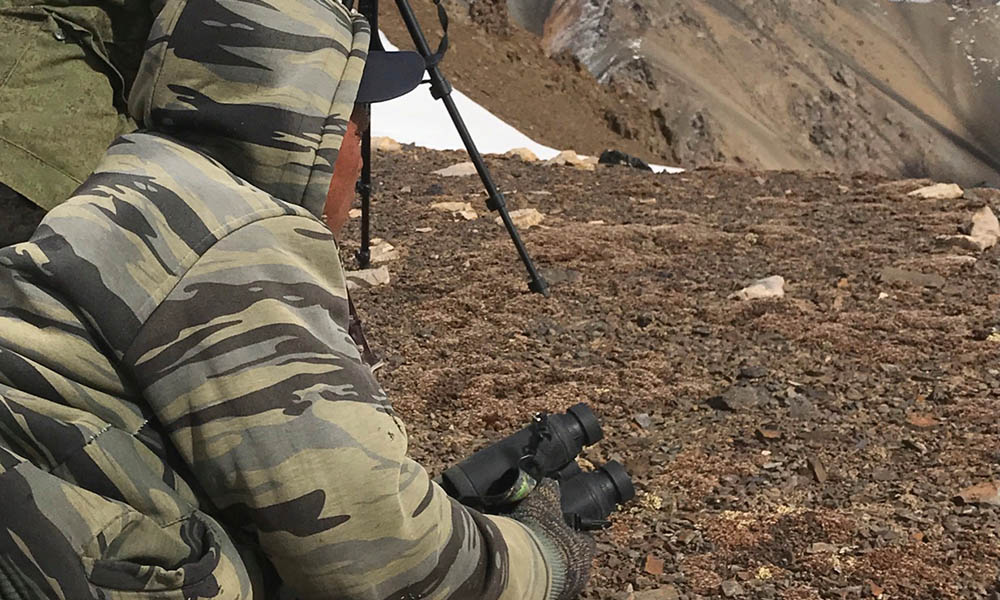 Although the LaserForce rangefinder performance in my hands was nearly flawless – displaying the measured distance in meters almost every time I pushed the ranging button – this was not the case for others in our group. Each of two other LaserForce users reported that their units "failed" by not giving distance readings. One of these users asked me to switch his unit from yards to meters, as he would be using a borrowed rifle with the scope reticle set in meters. This is a very simple task using the mode button atop the unit, and the request suggested inexperience with the optic. The other "failure" was reported by the hunter mentioned above who had problems with focus and the two diopter rings. He said that although his LaserForce worked properly on return to base camp, while at higher elevation the unit displayed (- – – -) every time he pushed the ranging button, indicating no measurement reading. Now it should be noted that two other rangefinders reportedly failed at the higher elevations during this hunt, both Leica 1600 vertical models – one new and one well used. Is it possible that some cosmic issue precipitated these temporary malfunctions?
During our time in the mountains a nearby glacier was yielding meltwater, which accounted for some of the water flowing in the riverbeds we were constantly crossing. The meltwater contains "rock flour" – a fine powder sediment suspended in the water that comes from rocks grinding together beneath the glacier. I noticed that this sediment was remarkably sticky and could be found almost everywhere – including on my eyeglasses, binocular and spotting scope – even at the highest elevations. Nevertheless, based on the rangefinder performance of my own LaserForce, I suspect the "failures" reported by others were likely caused by either maintenance issues like rock flour contamination, or operator error in the excitement of the moment, rather than actual malfunction of the rangefinders.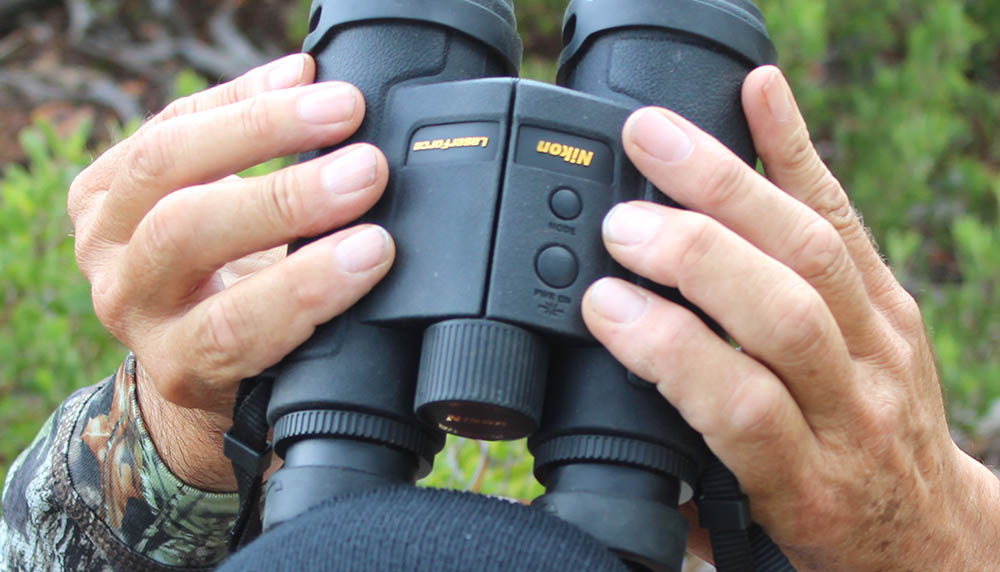 CONCLUSIONS
Regarding design and placement of the two operations buttons atop the optic – I would like to see the larger on/off/ranging button raised or recessed slightly and possibly shaped differently to make it easier to identify by touch. Changing the shape to a cone with a sharp, raised tip would facilitate location of the action button, even with gloved fingers. Regarding the objective lens caps – Nikon should recognize the potential loss problem and make replacement caps available, and I believe they will do so. Changing the composition of the soft rubber attachment rings could prevent them from stretching-out with age and use, and thus avoid the likelihood of unintentional detachment and loss. Wingspan Optics makes generic 42mm replacement lens covers that should fit the LaserForce. They are inexpensive ($11.00), and I plan to order a set and give them a try.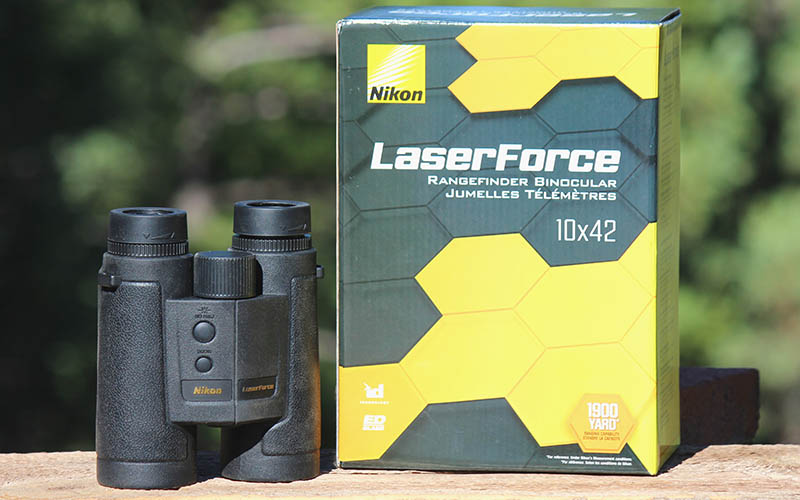 Despite two somewhat minor design issues, Nikon's LaserForce is nevertheless a rugged and dependable high-quality optic that offers hunters "extreme" value, particularly when price is taken into consideration (MSRP = $1199.95). With performance comparable to optics costing 2-3 times more, LaserForce combines two indispensable pieces of equipment for the hunter into one affordable package – a package that most hunters would love to have. Remember… 'tis the season! And, after several months of near continuous use, I can assure that you won't find me in the field without mine!