ORIGINAL MUCK BOOTS FOR SALE
Visit Our Store
Waterproof shoes are a great addition to your shoe collection, especially if you spend much time outdoors working, gardening, farming, or hunting. In this article, we introduce you to the Outscape collection of Muck Boot Company which manufactures the most comfortable and protective performance boots in America.
How Muck Boots are Built
The tradition of waterproof footwear is longer than you might think. In as far as 1839, Charles Goodyear discovered the vulcanization of rubber – the process of hardening rubber to make it stable, pliable, waterproof, and insusceptible to heat and cold. The process was soon patented, and the first rubber boots were built several years later.
Though rubber footwear is 100% waterproof, walking in it for long periods can be tedious and uncomfortable. The sad truth is that 100% waterproofing also means complete impermeability. So when your feet get hot and sweaty, that moisture can't evaporate. Besides, full-rubber boots are usually heavy and don't wrap your feet snugly.
Technologies were developing, and new materials were discovered. So, in the 1930s, DuPont scientists introduced neoprene. Flexible, lightweight, and waterproof neoprene naturally found application in diving suit manufacturing and many other fields, including waterproof boot building.
The history of Muck Boot starts several decades later, in 1998. Jim Donohue couldn't find appropriate footwear for farming. So he decided to make his own design and developed the Chore waterproof boots, which basically were a combination of rubber and neoprene.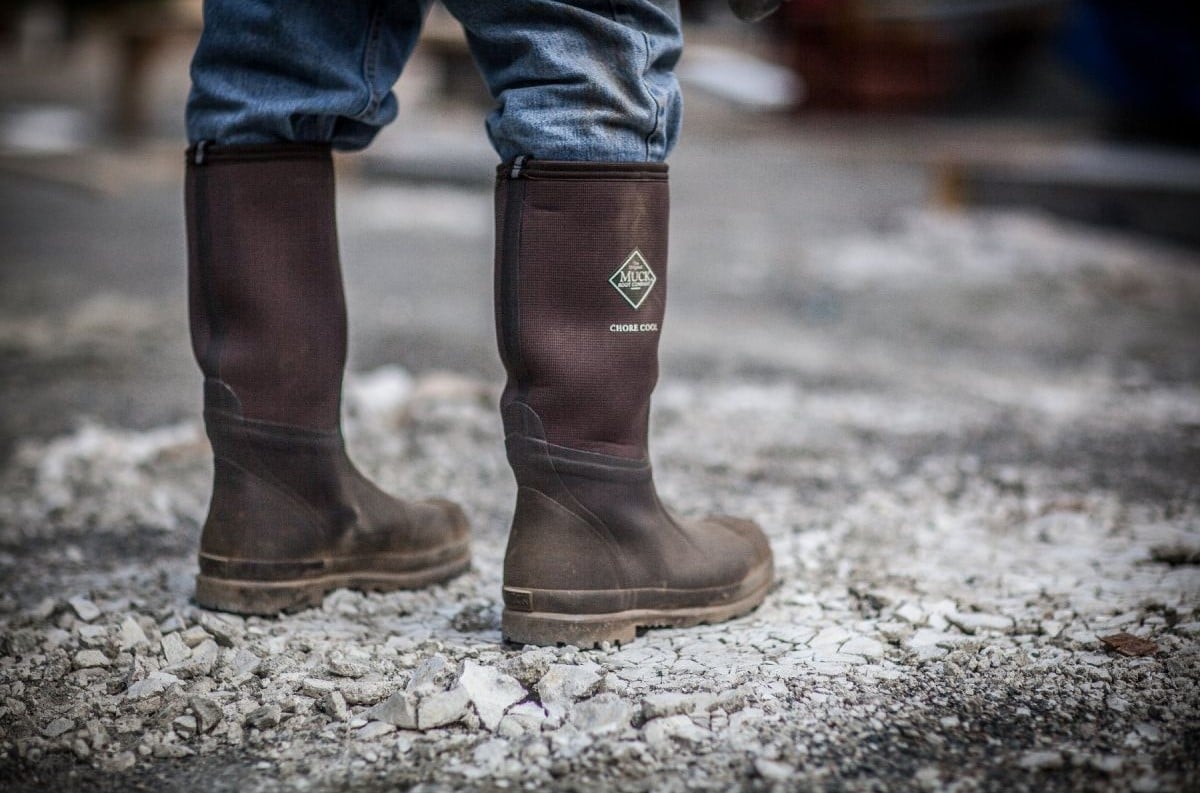 The Chore were tall boots with a neoprene bootie overlaid with rubber for protection against punctures, cuts, and abrasion. Since neoprene is a breathable material, sweat can escape when your feet get hot. Also, unlike rubber, neoprene is lighter and more pliable, allowing your feet to flex naturally and don't experience muscle strain. The sole of the Chore had deep self-cleaning lugs for traction on slippery and uneven surfaces.
A combination of materials and overall design of Jim Donohue boots ensured 100% waterproofing and unparalleled comfort no rubber boots could ever provide. No wonder they immediately caught on with rural workers, outdoor enthusiasts, hunters, and anglers.
In 2003, Jim Donohue sold the company to Rocky Brands, Inc. However, purchased by a huge company, the brand wasn't neglected. It's not just alive. It's evolving. The team of devoted waterproof boot builders is constantly working on improvements that ensure a longer service life and greater comfort. On the other hand, the brand is expanding into new designs, styles, and colors to provide people with the waterproof footwear of their dreams.
So, in 2020, Muck Boot launched the Outscape, a series of waterproof sneakers that blew up the market for performance footwear. Let's see what's so cool about them.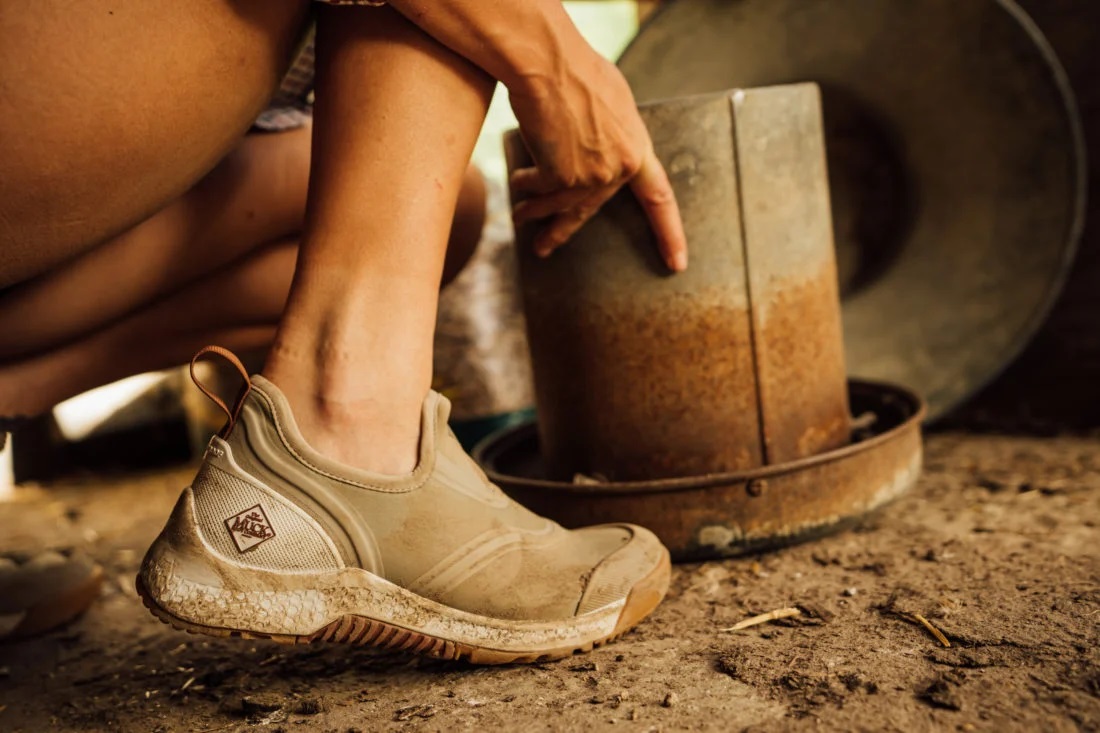 Muck Boot Outscape Shoes Review
Generally speaking, the Muck Boot Outscape are great waterproof hunting shoes. They are not intended for hunting ducks and geese at marshes simply because they aren't tall enough. However, the Outscapers are a viable choice for early season deer or turkey hunting, when it's still warm but wet. While protecting you from morning dew, puddles, and mud and allowing you to cross shallow creeks easily, these waterproof shoes provide the lightweight comfort of a sneaker.
Outscape Slip-On Shoes
Slip-on shoes are probably the most comfortable Outscape shoes because of the inherent design features like the lace-free and tongue-free light upper. On the other hand, you lose the adjustability laces generally provide and won't be able to tighten them. That's why we recommend you ½ size down.
Like all Muck boots, the Muck Outscape slip-ons are
flexible, soft, breathable, and 100% waterproof neoprene bootie
printed with abrasion-resistant rubber coating
. The shoe permeability is aided by the
mesh lining
that improves air circulation and moisture wicking.
All this doesn't mean your feet will always be cool and dry. That's impossible in genuinely waterproof boots. At some point, when you move a lot and the weather is hot, they will inevitably sweat, but neoprene and mesh lining will help to mitigate this condition quicker. For odor control, the Outscape uses the bioDEWIX
antimicrobial footbed insert
with NZYM. It contains self-activating natural enzymes that break-down odor.
The shoes use the dual-density
durable footbed with memory foam cushioning
to ensure protection and comfort from the ground.
The intended temperature range for these Outscapers is sub-freezing to 65°F.
At Gritr Sports, men's and women's Muck Boot Outscape low and ankle (the Outscape Chelsea) shoes are available in half sizes in several colors. Here are some of them.
If you need more discreet footwear for your hunting pursuits, consider the men's Muck Outscape Mossy Oak shoes with the Mossy Oak Country DNA proprietary camo pattern.
Outscape Lace-Up Shoes
If you're worried about slip-on sneakers becoming loose-fitting over time, the Muck Outscape lace-ups should be your choice. Laces allow for a tailored fit and prevent the shoes from accidentally slipping off during high-output activity in the field.
As for the general build, these Muck shoes for women and men use the same features as described above, only in the lace-up design. The
breathable and waterproof neoprene upper
is
coated with thin rubber
and incorporates the breathability-boosting mesh lining. The thick footbed is filled with memory foam cushioning and uses the odor-control insert topcover.
As with slip-on shoes, lace-ups have
reinforced-rubber toe and heel
for protection, extended wear, and durability.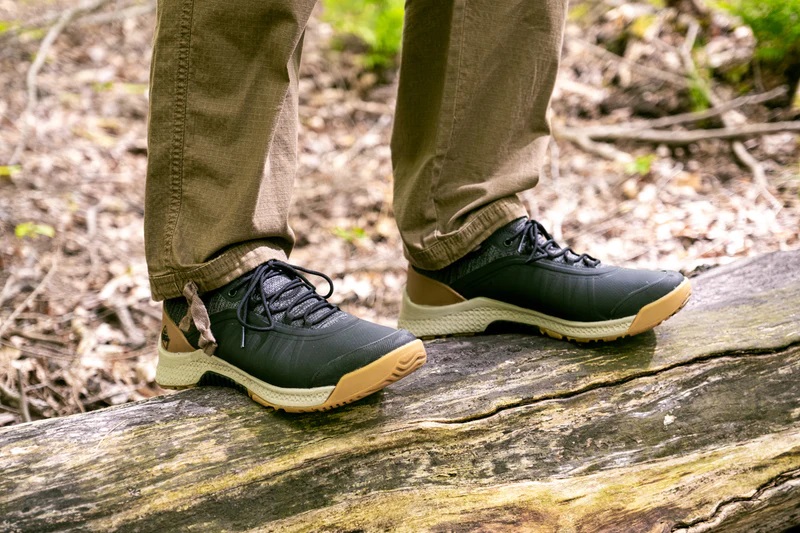 Final Words
To sum up, choose the Muck Outscape men's and women's shoes if you want to wear protective, 100% waterproof sneakers during your warmer season hunts. However, if you need serious boots to forge through damp environments with comfort, you may want to check out our stock of men's and women's Muck Boot tall waterproof boots. We carry the iconic Muck Chore, the Chore Cool for warm weather, the Arctic Pro winter boots, Apex Mid Zip supportive ankle boots, and many others.