Considering the recent growth in tactical firearms, choosing a shotgun for home defense can be a challenging process. It is very important that you understand all of the options as well as your own unique situation before you make a decision.
Gun sales in general have been going through the roof for the past few years. The current political climate, the threat of terrorism, crime rates and many other factors are driving this trend. Many of these new sales involve first-time gun buyers looking for a home defense solution.
For those leaning towards a shotgun for home defense, there are many questions to answer and options to understand. Choosing the right home defense shotgun to suit your specific needs can be challenging, especially if you are unfamiliar with shotguns in general. If you do already own a shotgun for other purposes, it may be best to stick with it for home defense as well.
Most Important Criteria
When it comes to home defense scenarios, reliability is essential. You need a shotgun that will work every time and with any sort of shells you have nearby. If you already have a gun you trust for hunting or shooting sports, it makes sense to rely on it for home defense.
Familiarity is another very important factor for home defense. It won't be a relaxing experience if you ever have to jump out of bed and defend your family against an intruder. In this high stress scenario, you need to be very familiar with the weapon you're using. Otherwise, mistakes are likely. That brand new home defense shotgun won't do you much good if you haven't taken the time to become familiar with operating it properly.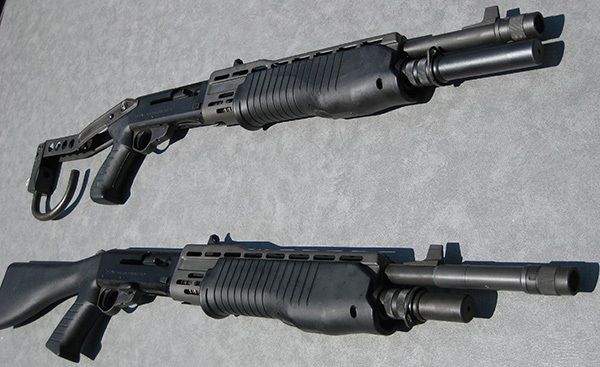 Affordability is always important, even for home defense shotguns. You could easily spend over a thousand dollars on a shiny tactical, semi-auto shotgun, but that may simply not be worth the money. Whether or not you can afford a specialized home defense shotgun is up to you. Just know that you probably don't have to go out and spend all of your savings unless you want to!
Using Your Hunting Shotgun for Home Defense
If you have a favorite pump-action shotgun that you use for hunting, that same gun will probably work for home defense as well. By hunting with the shotgun, you have grown very familiar with how it works. You have also had a lot of time to practice using it and, in a stressful home defense scenario, that could mean the difference between life and death. During the off-season, just take out your magazine plug to get better shell storage.
All that being said, a long-barreled turkey gun or a classic side-by-side is not a great choice for home defense. You can save some money by buying an extra barrel for your turkey gun, but you will probably need a new shotgun if all you have is a side-by-side or over-under.
A semi-auto shotgun can also work well for home defense. Most modern semi-autos fire an array of different loads with no issues, and you will be able to get rounds out more quickly. Just make sure the semi-auto you use for home defense loads and cycles as reliably as possible.
Top Home Defense Shotguns
For those who want something more specialized for home defense than their old bird gun, there are a variety of great options to choose from. These shotguns are all easy to maneuver, reliable, accurate and practical for home defense.
The Remington 870 Express Tactical
The Remington 870 is a proven favorite for tactical situations and home defense. As one of the most commonly used shotguns in law enforcement, it has been tried and tested over many years in high stress scenarios.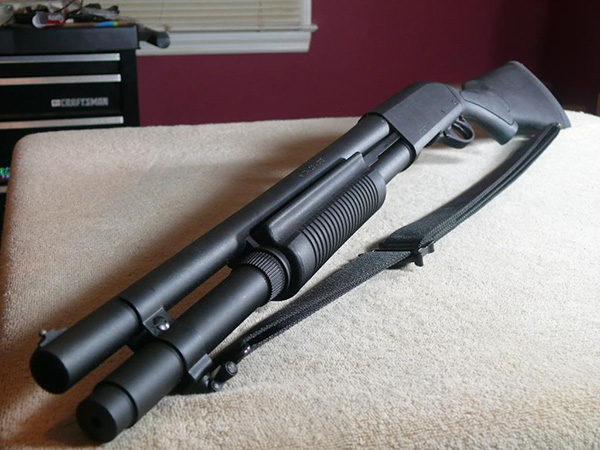 The "Express Tactical" 870 is a pump-action, 12-gauge shotgun with an 18 ½" barrel and a capacity of 6 (+1). While it may not make much of a difference for home defense, the gun comes with a high quality, Cerakote weather-resistant coating.
This 870 also features a fully-adjustable XS Ghost ring sight rain and a removable front sight. Its SuperCell butt pad offers 50 percent recoil reduction, making the shotgun very comfortable for most shooters.
The Mossberg 500 Tactical Persuader
When it comes to dependability and solid design, the Mossberg 500 Tactical Persuader is at the top of the list. It is a great shotgun for both home defense and general recreation and offers excellent value. The gun's design is simple and clean, making it an excellent option for basic home defense scenarios.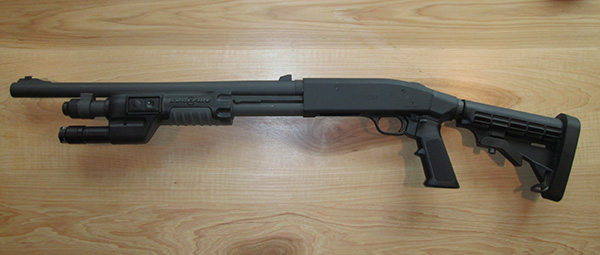 This shotgun comes with a telescoping stock, which is not quite as sturdy as a standard stock when fully-extended. However, it isn't bad enough to be a deal breaker for most. The Mossberg 500 also stands apart from the competition with its seemingly endless range of aftermarket options.
The Winchester SXP Defender
The old and reliable Model 12 and 1200 shotguns created the foundation for the Winchester SXP, so this gun's design has been proven in the jungles of Vietnam, in numerous police raids/shootouts and as a home defense weapon for consumers around the world.

Although it may not be quite as popular as the Remington 870 is today, the Winchester SXP's history of exceptional reliability paired with modern options makes it a solid contender among the best home defense shotguns. It is true that there are less accessories available for the SXP than its Remington and Mossberg counterparts, but all the essential options are still there and, considering the price tag, the Winchester SXP Defender is an excellent choice for home defense.
Understanding the Drawbacks to Using a Shotgun for Home Defense
Although many agree that the shotgun is a superior home defense weapon, you shouldn't overlook its downfalls. Effectively using a shotgun inside of your home comes with natural drawbacks that must be considered.
While the two-hand design of the modern shotgun makes it easier to aim in open spaces, maneuvering through a home with one is a challenge. Routine tasks such as turning lights on and opening doors are almost impossible with a mounted shotgun in a dark, stressful situation.
Even if you get the two-hand maneuvering down like a professional, there is nothing you can do about the shotgun's barrel length. Each corner comes with the frightening possibility of an assailant grabbing the barrel to move it away and out of position.
The other primary drawback of using a shotgun for home defense revolves around the control of the pellets or slugs. If you plan on using heavy buckshot loads, you should always keep in mind that the chance of all of your pellets hitting your intended target is slim to none. Although you may not need all of your pellets to stop the intruder, any stray pellet can severely injure or even kill the family you are trying to protect.
To improve accuracy, some believe that rifled slugs are a better choice for home defense. However, this type of projectile comes with a lot of over-penetration concerns. Not only will you have to worry about hitting someone in the next room with a rifled slug, but you should probably consider the safety of your nearby neighbors as well.
Another option would be to simply use birdshot as a home defense load, but depending on the range, it may not be powerful enough to take out the enemy. You won't have to concern yourself with over-penetration, but you will have to worry about the load not getting the job done.
Choosing the Defense Tool that's Right for You
Although there are certainly limitations to the use of a shotgun as a home defense tool, there are many advantages as well. The right weapon depends on your own unique experience and situation. When it comes to home defense, you should always do your research, understand your options and practice. Only you can choose the right gun to defend your home and family.