I've always been an advocate for off-body carry. Concealed carry purses and briefcases are readily available, fashionable and necessary for those whose professional uniform may not allow on-body carry. Even for those of us without that professional uniform, I touted off-body carry as supreme because I could never find on-body methods that were comfortable and convenient. My stubbornness aside, I have challenged myself throughout this past year to consider on-body carry as a viable alternative. With new materials and styles, and the cleverness of American ingenuity, I have been proven wrong. Here are my favorites for you to consider this holiday season.
Concealed Carry Shirt
Silver State Apparel in Reno, Nevada developed an "elegantly concealed clothing line designed for women by women." This line of clothing is feminine and fashionable with "tactical functionality." The shirt is made of Cotton/Spandex Poplin. There is a double layer of cloth in front on both sides of the center for ambidextrous use. A hook and loop closure support the pistol in a retentive downward position, fortified with a spandex band. This shirt accommodates a compact light weight handgun up to 6 ½ inches in length and weighing no more than 16 ounces. I have used my Taurus PT111 Millennium G2 comfortably and have mastered the draw from the left pocket with surprising speed. I also took this shirt with me on a trip out of the country where I could not carry. I chose to use these pockets to carry my passport, credit card and paper money. It was easier than carrying a purse and a lot less hassle. The only drawback to this shirt is that after laundry an iron is required to smooth the wrinkles. A visit to the dry cleaner might be a better suggestion. The shirts of which there are a variety of styles and colors, can be found at www.silverstateapparel.com.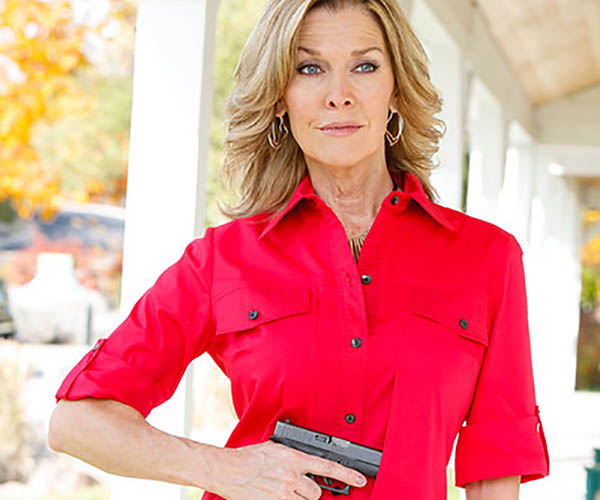 Shoulder Holster
Deep Conceal LLC in Layton, Utah developed the The Bobcat, a woman's shoulder holster. Having been in development for a few years, it has just recently been released for sale to the public. The shoulder holster rig comes in three parts. The harness is sold based on the size of your measurement around the base of the bra line. The holster and magazine pockets are sold separately based on the make and model of your firearm. In this case I asked for these pockets to fit my Taurus G2. The holster pocket will fit firearms 3.5" – 6" in overall length as measured from the front of the barrel to the hammer. The magazine pocket will hold two pistol magazines.
The measurement around the base of the bra line is necessary since the harness does not attach to your belt, belt loop or waistband. Instead, a front horizontal strap attaches at the front of the chest, right below the bra line. To wear the shoulder holster, place your arms through the shoulder straps, and attach the front horizontal strap at the front of the chest. Then using a mirror, attach the holster pocket to the Velcro under the arm you wish to draw the pistol from and attach the magazine pocket under the opposite arm. Adjust both pockets for comfort. The only drawback to this shoulder holster is that on bare skin it is uncomfortable. I found I could wear it a greater duration over a tank top or t-shirt. The harness, holster and magazine pockets can be found at www.deepconceal.com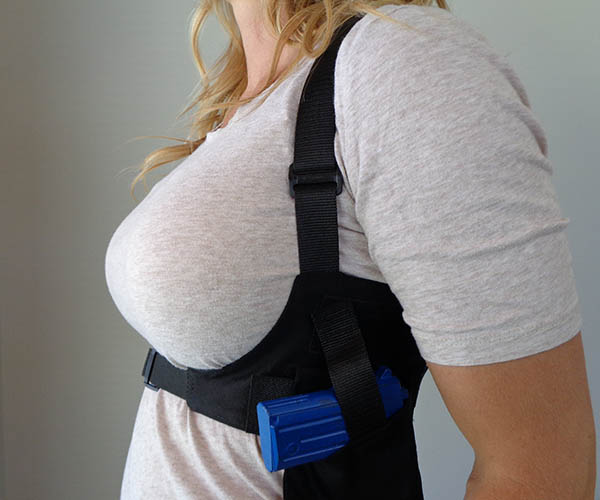 Hers Women's IWB Holster
N82 Tactical in Lexington, North Carolina developed the "Hers," a woman's IWB holster. I can wear this holster without a belt which is great for women as many of us don't wear belts and very few of our pant styles have belt loops. It does have the belt attachment should you choose to utilize it. I found I could easily remove it for the call of "mother nature," and it molded to the shape of my hip. It's holster body made of neoprene and suede that protects the body from any sharp edges of the pistol. Because of the suede backer, the holster allows your skin to breath, so it feels cool to the skin even in humid environments. The suede also adds retention between it and the skin, so the holster remains in place during the draw of my pistol. Its softness allowed me to wear it directly against my skin. The "Hers" held my Taurus G2 securely just behind my hip bone on my right side. The only drawback I found was that I could only comfortably wear this holster and pistol on my Low-Rise pants where it didn't press into bone or organs. If you want to wear this holster on High or Medium Rise pants, dependent upon your torso length, you may have to purchase a size larger for comfort. The "Hers" holster can be found at www.N82tactical.com.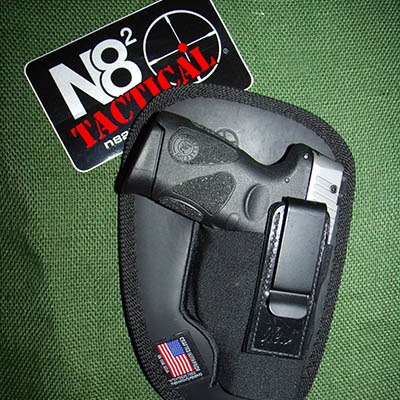 Wearing on-body concealment requires pre-planning. Unlike a purse or briefcase, which you hang off your shoulder or carry in your hand, the method of carry, the location of the pisto,l and the clothing choice must address what is comfortable and convenient. This holiday season surprise yourself. Or if you're a guy surprise your favorite gal with a comfortable, fashionable and concealable method of on-body carry. These are my picks for the holidays. Happy Holidays!