Best Henry Arms Guns For Sale
Visit Our Store
Henry Repeating Arms Guns Review
The American firearms industry has many guns that achieved iconic status. These include the M1911 pistol designed by the world's most influential arms designer John Browning, the Colt Single Action Army revolver, the winner of the Old West, the AR-15, America's beloved rifle and the tactical legend, and, of course, the Henry rifle.
Henry Rifle and Henry Repeating Arms
The term Henry rifle originally refers to the lever-action rifle developed in 1860 by Benjamin Tyler Henry and produced by the New Haven Arms Company, later known as the Winchester Repeating Arms Company. Though the 1860 Henry Rifle wasn't the first lever-action design that saw the light, it was the first one that achieved commercial success and became the standard for all lever-actions that followed.
The rifle was a masterpiece, featuring a convenient and fast-operating cocking handle and a sixteen-round breech-loading tubular magazine. A few years later, having the basic design, Oliver Winchester modified and improved the Henry rifle and introduced what later became the Winchester rifle.
Though there were disputes between these two talented gentlemen, in the end, they both contributed to the evolution of lever-action rifles.
Now, let's see what Henry Repeating Arms has to offer to a modern shooter.
Henry Lever-Action Guns
Henry Big Boy Deluxe
Henry has guns for every task: home defense, self-defense, hunting, range shooting – you name it. The most iconic and best-selling rifles are, of course, the Henry .22 lever-action rifles, the Henry Golden Boy in particular. The rifle is not only highly rated by shooters but also won the Gun of the Year award by Guns and Ammo Magazine. The high-grade craftsmanship and supreme balance of the Golden Boy make it an ideal gun for plinking, introducing youth to shooting, and small game hunting. All in all, the rifle is magnificent. However, we'd like to fill you in on the other Henry designs.
While Golden Boy is a small-caliber rifle, the Big Boy, as the name suggests, packs quite a punch. Chambered for big-caliber cartridges, such as .44 Mag, .357 Mag,
and .45 Colt, the rifle is ideal for big game hunting.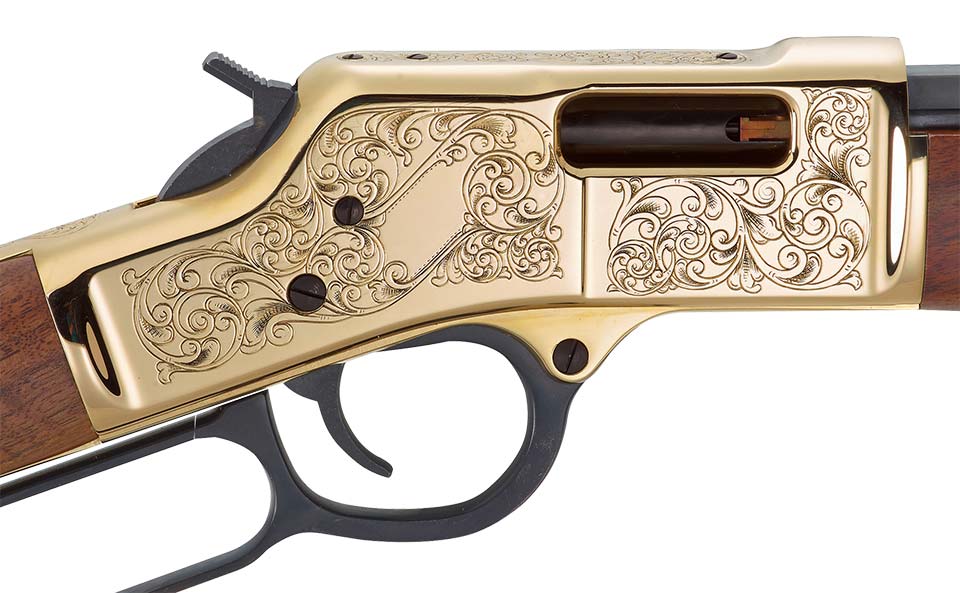 All rifles in the Henry Big Boy series feature a 20-inch octagonal blued-steel barrel outfitted with a brass-beaded front sight and a fully-adjustable semi-buckhorn rear sight with a reversible diamond insert, a 10-round tubular mag, a super-solid brass receiver drilled and tapped for mounting the scope of your choice, as well as a straight-grip and forend made of American walnut.
The Big Boy Deluxe 3rd Edition we offer here is peculiar for hand-engraved scrollwork inspired by Louis Nimschke, the 19th-century master engraver who worked on thousands of rifles, the Henry included.
Henry Big Boy X Model
Recently, Henry Repeating Arms has made an evolutionary step in its product line. It introduced the X Model series of guns that combine high-performance features encountered in modern firearms with the lever-action classics.
The first thing you notice when looking at the Big Boy X Model is the durable, low-maintenance synthetic furniture that withstands the roughest environments. The stock and forend are fitted with sling mounting points. On the rear, you see a solid rubber recoil pad, similar to those seen on the Remington 700 and Savage 110 bolt-action rifles. There also are a Pic rail and two M-Lok slots you can use to attach a bi-pod, forend grip, flashlight, or any other accessory to your liking. The muzzle end is threaded to accept a muzzle device.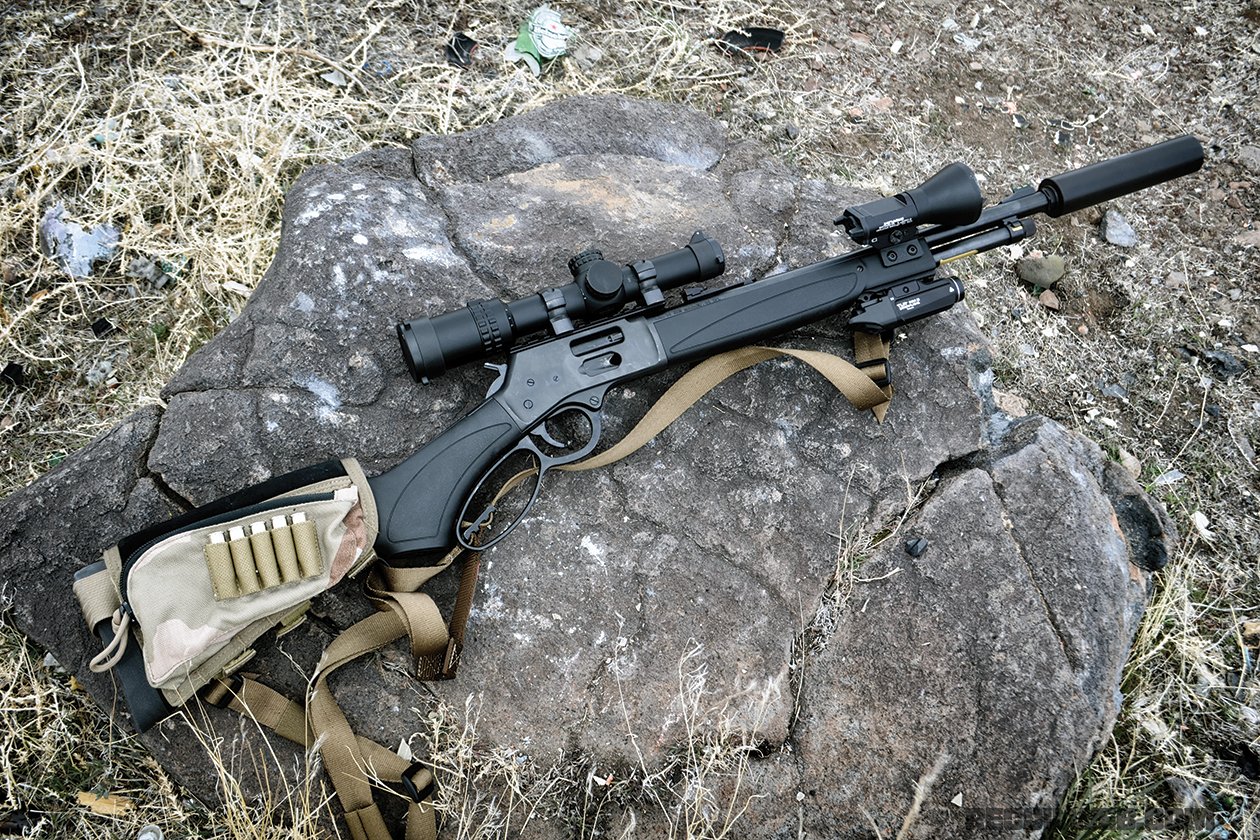 The carbine-length 17.4-inch barrel fitted with high-visibility fiber optic sights is very accurate at short and mid ranges and easy to maneuver. Thanks to that, the Henry X Model is one of the most versatile lever-action rifles, perfect for close-range big game hunting, home defense, and truck gun tasks.
All X Models feature a side loading gate that allows you to top off the tube mag without breaking a sweat.
The Big Boy you see here is the Henry .357 Mag/.38 Spl rifle with a 7-round tube magazine, though there are Big Boy X Models in .45 Colt and .44 Mag/.44 Spl.
Henry .410 Shotgun
Many of you must have heard about Henry lever-action rifles, but have you heard about the Henry lever-action shotgun? Far fewer, we dare to assume. Meanwhile, this one-of-a-kind firearm deserves your undivided attention.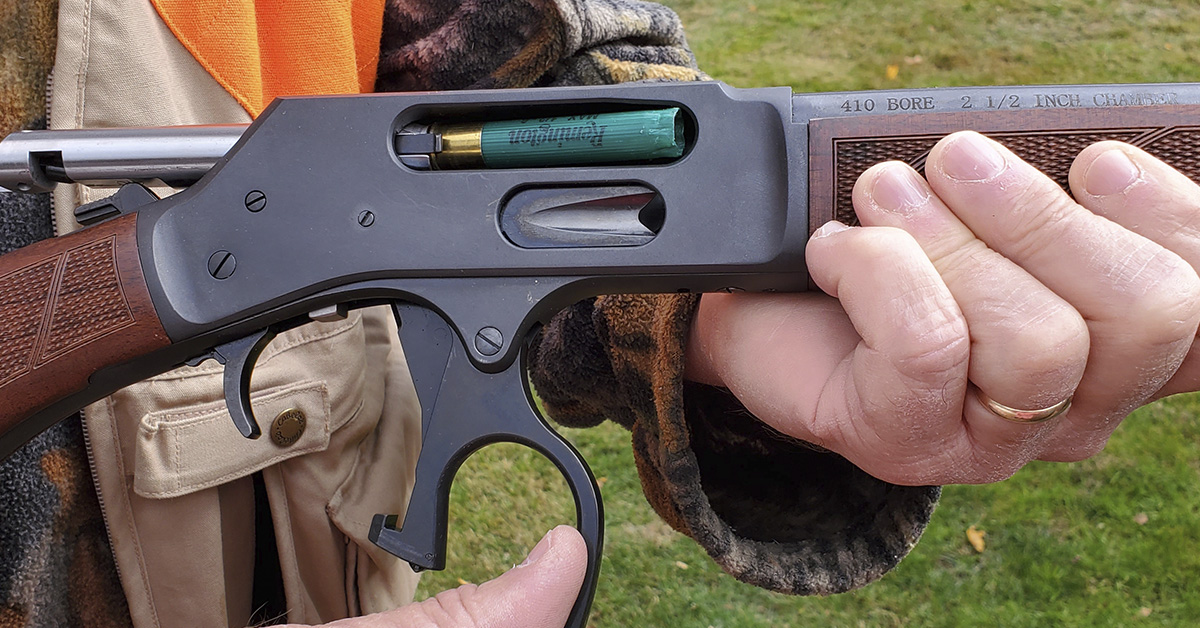 The model we have here has a nearly 20-inch barrel (19.75 inches, actually), which makes this shotgun a more versatile weapon in terms of utility. You can hunt birds and small game using birdshot loads, defend your family with buckshot, or put slugs at small deer. Compared to its heavier long-barreled counterpart, a 20-inch Henry shotgun is easier to maneuver in brush and close quarters. However, a 24-inch model has its muzzle threaded for chokes.
The features include dark American walnut furniture, a blued steel framed action, a side loading gate, an adjustable semi-buckhorn rear sight, a brass bead front sight, swivel studs, and a rubber recoil pad.
New Original Henry
Henry Repeating Arms couldn't but pay homage to the Master and release a slightly modernized copy of the legendary Henry 1860.
Unlike the original chambered for the already obsolete .44 Henry Rimfire, the model is chambered for the modern centerfire cartridges – the .45 Colt (the one we have here) and the .44-40.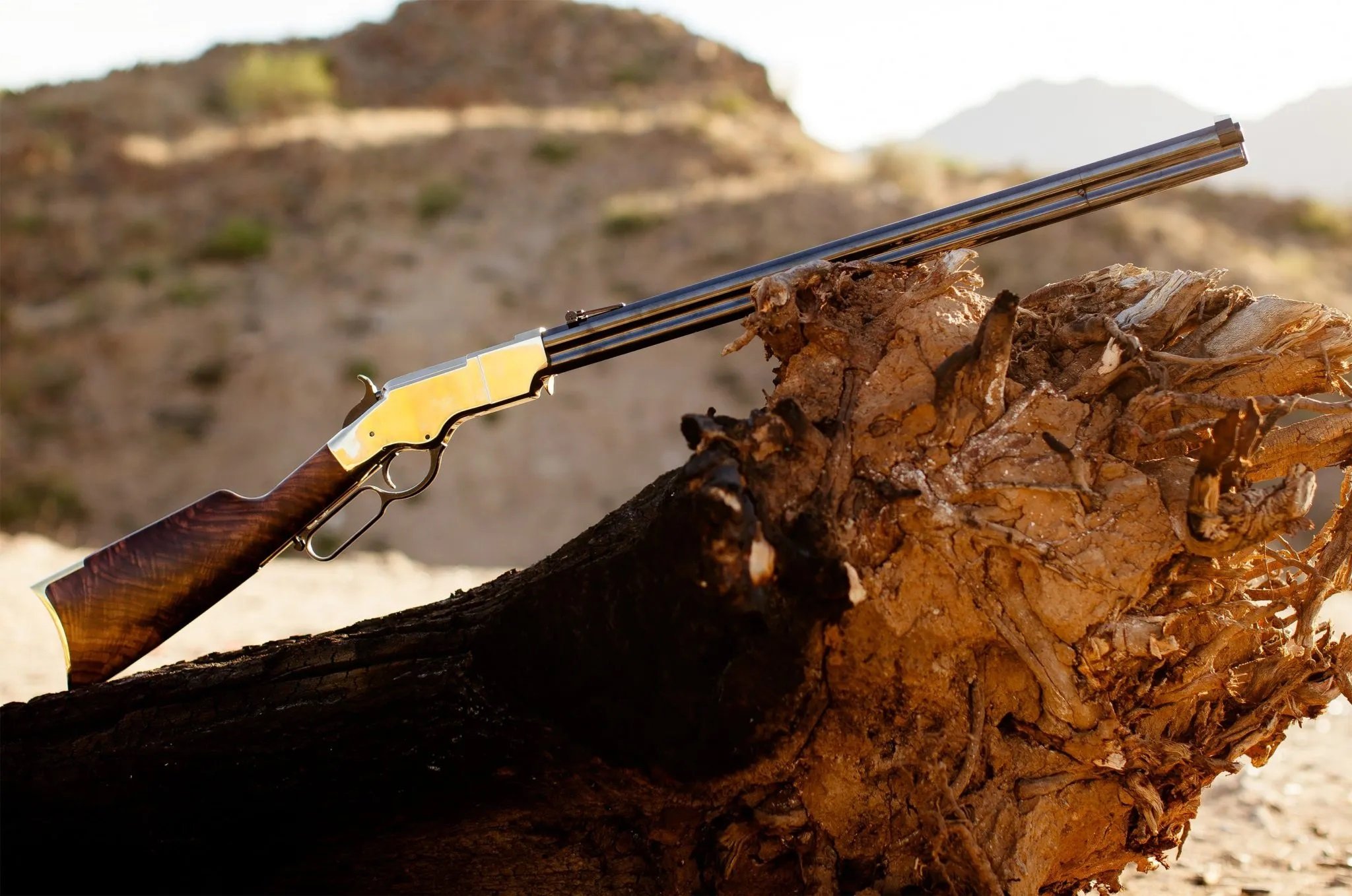 The rifle boasts a hardened brass receiver with the same tensile strength as steel, American walnut stock, and a 24.5-inch octagonal blued steel barrel. The barrel is fitted with a traditional folding ladder rear sight and the blade front sight. Unlike the mentioned Henry guns that have the transfer bar as the safety, the New Original Henry features only half-cock safety hammer notch.
Though the rifle is classic through and through and lacks features that we all got accustomed to, it's still a great weapon for hunting and target shooting.
Don't forget to check out other Henry firearms at Gritr Sports. We carry the iconic Henry .45-70 and Henry .30-30 for your big and bigger game hunts, a hard-chrome plated Henry All-Weather in .357 Mag or .44 Mag, and many others.