A Place For Everything and Everything In Its Place – the keys to organizing a gunsmith's shop.
By Brett Smith

The importance of cleanliness and organization in the gunsmith's shop is often an overlooked subject, but perhaps one of the most fundamental skills to practice. I refer to good house keeping as a skill because it takes dedication, work, and planning to execute properly. As with most things in life, good house keeping can be accomplished in a number of ways. No gunsmith shop is the same, and depending on time constraints, work load, shop size, and personnel, some methods of organizing gunsmith tools may not work as well as others. This article will delve into some facets of this skill, stress its importance, and hopefully provide some insight on a few methods that have worked for me.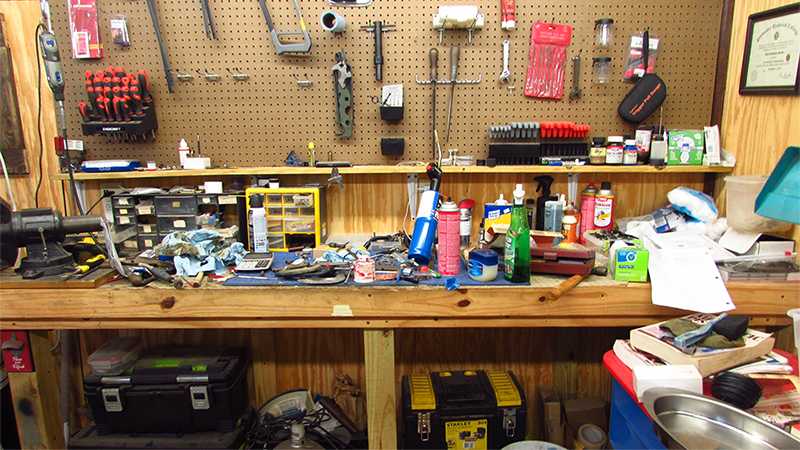 Work ethic / stress level
A good work ethic is essential to any gunsmith. Whether the gunsmith owns his own shop or works for another business, work ethic sends a strong signal to customers and employers. Having a tidy work area is one of the indications that your work ethics are strong. Gunsmiths are required to deal with a broad array of machine tools, sharp objects, chemicals, and all things that go boom. The pressure on a gunsmith to complete projects safely and on time can naturally create stress. Add a messy work bench or a cluttered shop in that mix and the stress becomes magnified which creates the opportunity for mistakes to occur. It is better to be proactive in house keeping therefore reducing stress and chances of screw-ups.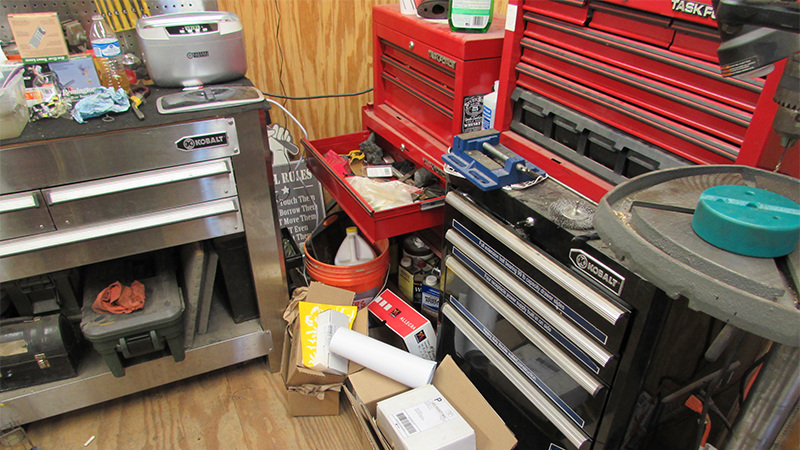 Project Completion
Project completion is the goal of any gunsmithing business, big or small. Keeping an organized shop is imperative to reach the goal in a timely fashion where profit margins are maxed. The old saying "time is money" is still true today. Good house keeping and organization skills will cost far less time than trying to work in filth. When a shop is clean and you drop a screw or spring, it is quick and easy to find because there is no clutter for the piece to get lost in. Trust me, dropping a small part on the floor happens and when there is sand blasting media mixed with wood shavings and trash on the floor, it takes much longer to find the part (if you find it at all). Tools that are quick and easy to access for use in a clean shop save time which saves money. You lose profit when you need that particular sized pin punch that you just had in your hand and you spend fifteen minutes trying to find it amongst all of the cluttered crap on your bench; finally, you find it only to realize you lost the hammer to hit it with (ask me how I know).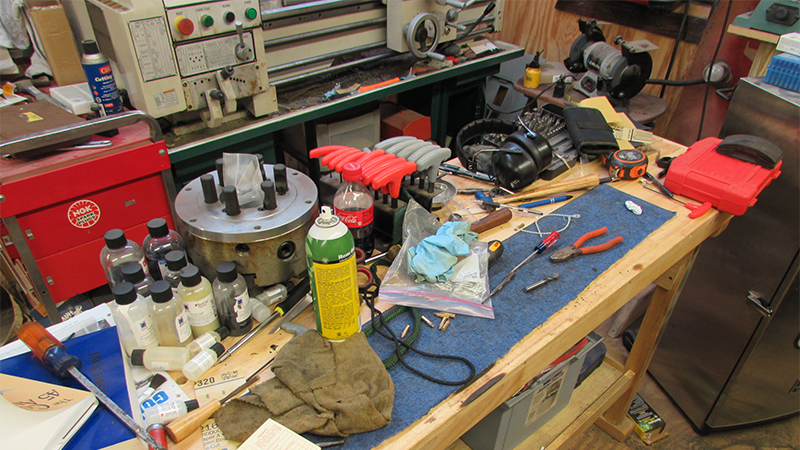 Safety Hazards
A dirty work place not only costs the gunsmith time and money, it is a safety concern as well. Tripping over air hoses, slipping in oil, cutting or puncturing the skin on sharp tools or metal shavings are all concerns in a dirty, unorganized shop. Anything that can hurt you, your employees, or a customer from lack of house keeping is bad for business. You can be held liable for medical expenses, lost work hours, and even legal repercussions. Consider keeping a neat and organized work space as a safe guard against mishaps. Even a small thing like wood dust from sanding can become a major problem if not dealt with.
I once had a near miss because I allowed wood dust to collect on and around my disk sander. I had been installing several recoil pads on wooden stocks and I was finished for the day. As I was locking up my shop I smelled smoke. I followed my nose to the sander and noticed smoke rising from behind the disk guard. When I opened it up, sure enough, there was a smoldering red ember sitting in a pile of fine wood dust that had collected in the space between the disk and guard. The friction and heat had caused the dust to ignite. Had I locked up and left in a rush, I may have returned to a pile of ash instead of my place of business. I would have destroyed my shop, firearm sales/ customer records, and thousands of dollars worth of equipment. I make a point to clean the fine dust from my power tools with a shop vacuum because of that experience.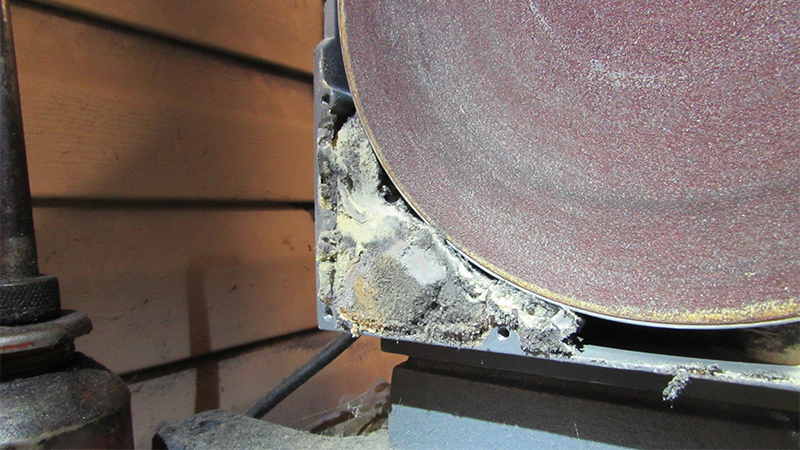 Customer Perception
Customers are what keep any business alive, and gunsmiths need to show their customers that they can be trusted with their firearms. A clean work shop is often the first impression a customer has of you, and it is important to begin a customer relationship with a great first impression. So many times I have heard from customers: "Wow, you have a really nice shop." I do, it is not large or impressive, but it is clean and organized. What I don't tell them is that in my early stages my shop was a wreck. I didn't have the time to clean up, and I was too busy making money to keep the doors open! One day that all changed. I had a customer come into my shop to drop off his clay shooting shotgun. It was a beautiful Browning over and under. He stepped into my shop and all I can remember him saying was: "I'm not leaving my gun in a place that looks like this." He turned around and walked away never to be seen by me again. I lost a customer because of the pig sty I had allowed my shop to become. From then on, I do the best I can to make sure that my shop is presentable to any customer. It took time and practice, but I finally found methods that worked with my schedule.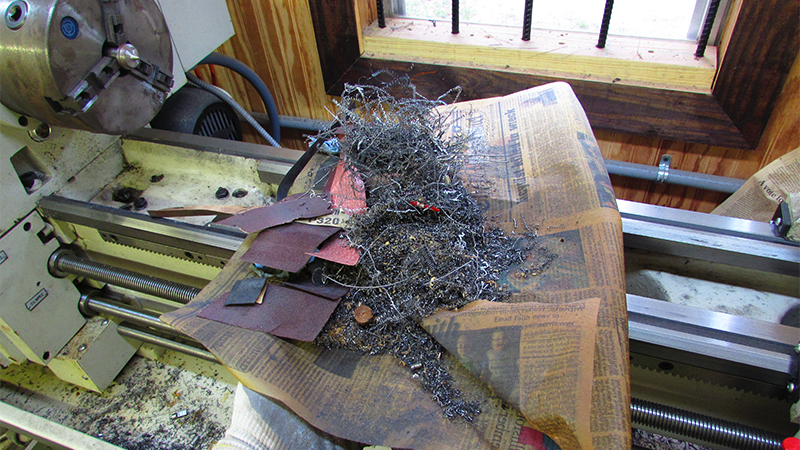 Continued In: Keys To Gunsmith Shop Organization – Solutions.