By Trampas Swanson
Originally introduced in 1998, the Glock model 34 was designed to be a competition ready 9 mm pistol based off of the world famous model 17 service weapon. Since its debut, what shooters have discovered is the 5.32 inch barrel G34 makes for a fantastic all around pistol for both recreational and duty applications as well. The increase in accuracy, longer sight radius and well balanced slide make the G34 a comfortable upgrade from the G17, while still using the same high capacity 17 round magazines. If you don't believe all the hype, just ask world champion shooters like Dave Sevigny, who has taken dozens of top pro shooting events with his G34. Never to be one for resting on their laurels, Glock decided to set out to make great pistol even better.
At this year's SHOT SHOW in Las Vegas, there was a cloud hanging around the Glock booth filled with industry attendees waiting to see if there was any truth in rumors about a small pocket-sized 9mm to be launched. What Glock surprised everyone with instead was the release of the Modular Optics System (MOS) series of pistols, including a version in G34 (9mm), G35 (.40), the new G40 (10mm) and G41 (.45). The Modular Optics System featured a cut out in these long slide models just forward of the rear sight with five different plates available to mount your favorite small dot optic. The plates are numbered 00- 04, each with a different optic application:
Plate 00 – Used as the cover plate when no red dot optic is mounted
Plate 01 – Fits the EOTech, Docter, Insight, and Meopta optics
Plate 02 – Fits the Trijicon RMR optic
Plate 03 – Fits the C-More optic
Plate 04 – Fits the Leupold Deltapoint optic
This opened the door for Glock to enter deeper into the competition circuit as well as offer Law Enforcement Special Operations units to have the same optic systems they were already familiar with on their long guns. Seeing these pistols first hand during Media Day at the Range earlier in the week prior to the official doors opening to SHOT SHOW 2015, I immediately inquired to receiving a test sample after the show.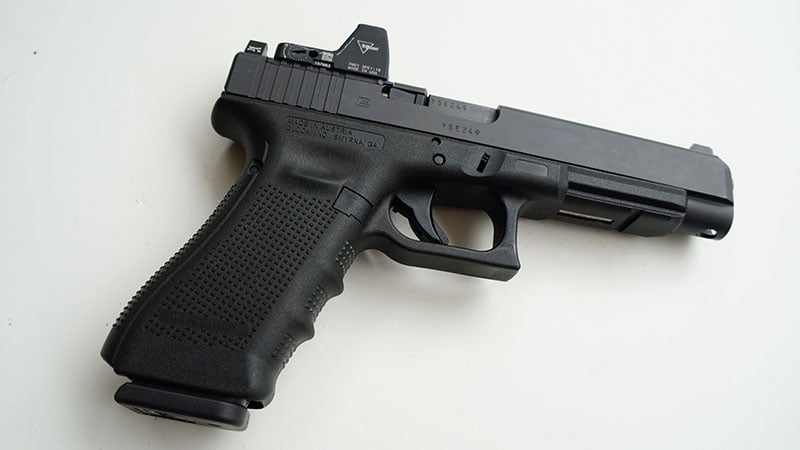 Going One on One with the G34
Having already owned a Generation 4 Model 34 Glock, I was already very familiar with the performance advantages of this model and its general specs by the time the G34 MOS arrived in late February. As with the standard G34, the G34 MOS comes factory direct with an adjustable "U" shaped white rear sight and a fixed white dot front sight. With a sight radius of 7.55 inches and an overall length of 8.74 inches the pistol is easy to sight on target even without an optic mounted. Along with the pistol are the medium and large grip add-ons for those shooters with large hands. Being under 6 foot in stature, these items are fondly lost in a "never to be used" box of spare parts within a day. The MOS series of pistols all ship with 3 magazines. Since the G34 uses G17 magazines, I repurposed a few from my training belt that I use for teaching pistol courses and hand plenty of magazines to keep running uninterrupted during exercises.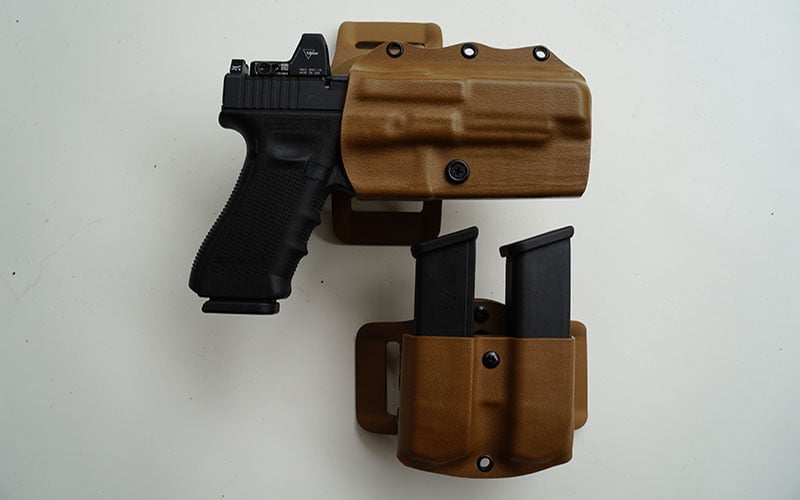 Getting Range Ready
With most Glock pistols, the first thing usually replaced is the 5.5lb trigger but with the G34, it already comes standard with a 4lb competition trigger that I have absolutely no complaints about. The trigger breaks cleanly and consistently with very little drag or reset. On my factory wish list, I would ask that Glock sent all their guns from the factory with this set up.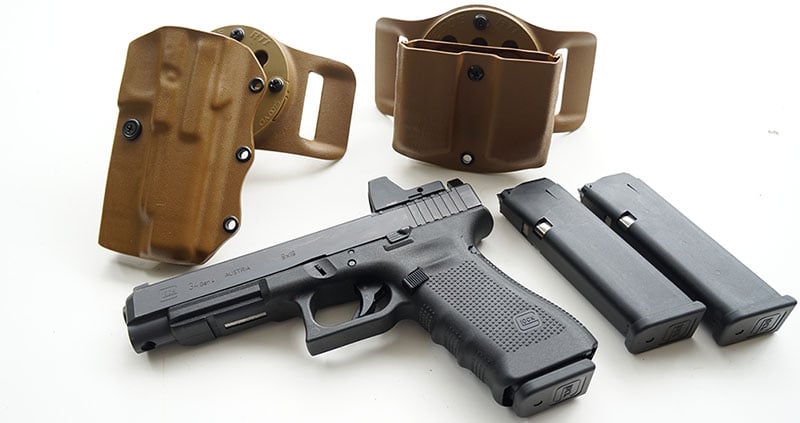 Since this is an optics ready pistol, I decided to mount the RMR (model RM01) red dot from Trijicon on the #2 plate provided from Glock. With a low profile and wide glass aperture, the RMR offers a very visible 3.5 MOA red dot operating in a constant "on" mode. According to Trijicon, the battery life is good for over a year of constant running. With just having to replace the battery once a year, you should have no other worries about going for your pistol and not having a working sight, at least in theory.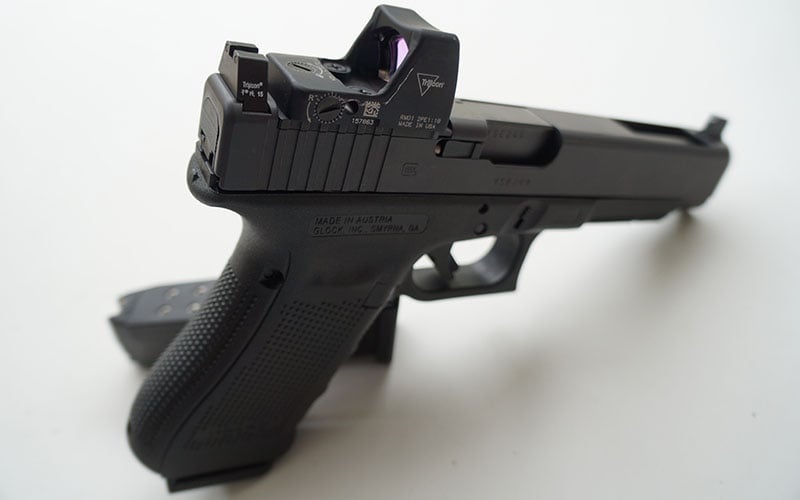 Following the personal belief that 2 is 1 and 1 is none, I still prefer to have a backup in place just in case I do have a problem with the mechanical red dot. Two factors led me to replacing the factory Glock sights once I mounted the RMR.
One factor was simply that I do not like factory Glock sights in general for several reasons.
The factory sights are not the most user friendly to acquire rapidly.

They aren't very good in low light.

They are distracting from the target with the eye having to focus on the white outlines of the rear sight combined with the white front sight dot.
Secondly, the factory sights were blocked by the RMR from co-witnessing the red dot due to the higher sight line of the optic. Along with the RMR, Trijicon was nice enough to send over a set of Bright and Tough Suppressor Ready Night Sights with green and yellow inserts. These steel sights were easy to install and provided enough height to dial the RMR dead on to co-witness them.
As I was making plans for some range time with this new Glock set up, it occurred to me that I would probably need a new holster rig to accommodate the optic and taller iron sights. I called up a good friend, John Phillips with Survivor Creek Tactical to custom make a battle ready rig for me to hit the range with later that week. John is a well-known wiz with kydex all over the north Florida area and did not fail me with what he provided. This rig incorporated a RTI quick release mounting system for both the double mag carrier and holster to switch from MOLLE compatible mounting to a belt mount and back within seconds! The front of the holster was slightly flared for easy re-holstering, while the sight channel was cut deep enough to freely accommodate the suppressor ready sights. Once I had the G34 MOS holstered up, I knew it was now finally time to hit the range for some fun.
Range Time
One of the benefits of often doing reviews at my local range is being able to share data and information directly with those who work the display cases and sell these products directly to the public. With a couple of the shop guys standing by to check out this Glock set up, I settled into my range bay and started at 10 yards to get a 5 shot group base line. Bang-Bang-Bang-CEASE FIRE! On the third shot, the RMR whizzed by my right ear and landed on the ground behind me. I dropped the magazine and ejected the live round out of battery to inspect the pistol. The factory screws used to mount the RMR to the plate had both sheared off cleanly, sending the RMR into low earth orbit. With thankfully no damage to puzzled writer, pistol or optic, I stowed the RMR in my range bag and took advantage of the open range time using the new Trijicon iron sights.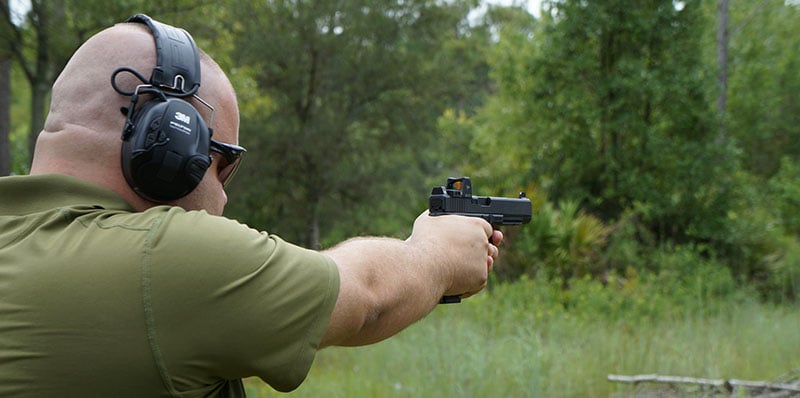 Hitting slightly low at 10 yards, I found the "sweet spot" at 15 yards by producing 1.5 inch groups at a decent speed. The soft yellow rear sights and crisp green front sight allowed me to quickly acquire the target shot after shot without distraction. The duel recoil spring, low bore axis and 33.01 ounce weight of the pistol fully loaded made it easy to keep the sights on an even plane and produce fast follow up shots. During recoil, the gun felt like it cycled much flatter rearward than other brand name pistols which kept it from jumping around on target. The accuracy was nothing really surprising in comparison to my previous experience with the non-MOS model a few months earlier.
As for the Trijicon RMR, its time would come a week later once I was able to locate new and stronger mounting screws to secure it back to the G34 MOS. I want to start this section with this statement: I DO NOT in any way feel the failure had anything to do with size or weight of the RMR, but instead weak, pot metal screws. The steel replacement screws were able to do their job over the next 3 months of rigorous testing. It was after the Trijicon RMR was installed, the real shooting fun actually began.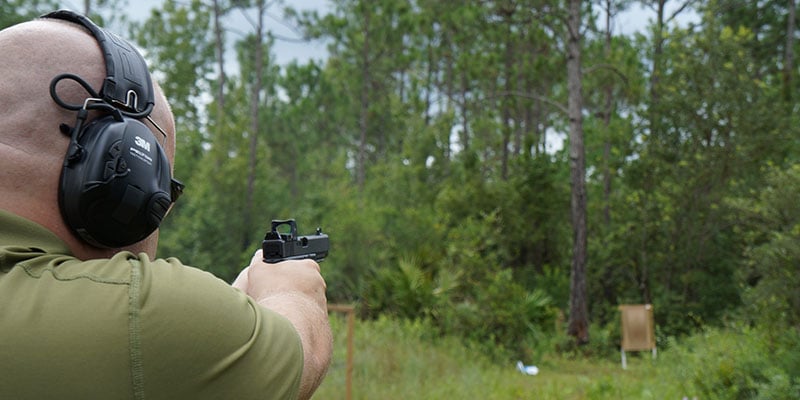 As previously mentioned, the 3.5 MOA red dot was crisp and large enough to see quickly but not too large to cover up small targets. Despite being co-witnessed with back up iron sights, the RMR's red dot enabled my eyes to be able to focus on just it and the target without distraction. This lead to cutting my times shooting from the draw and low ready virtually in half! Using a multiple dot targets, the RMR put me on target quickly and accurately giving me a singular focus point to double tap my objective and move to the next target seamlessly.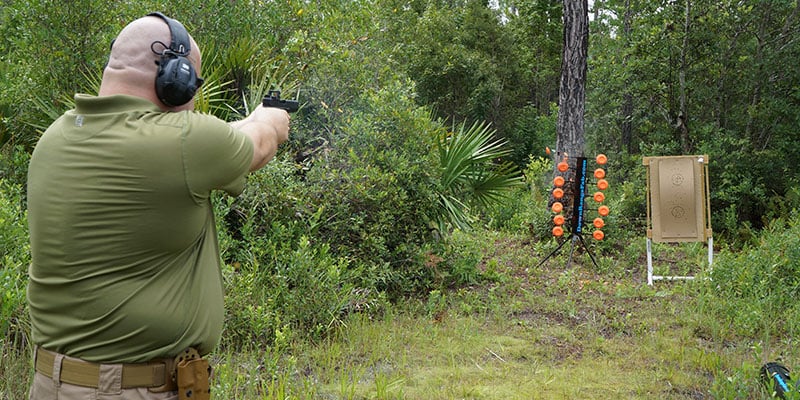 Transitioning to an outdoors range, the G34 MOS proved to be a natural fit for running 15 yard targets for speed and time. Using a super tough steel framed clay pigeon tree made by the great folks at Down Range Fab, I was able to shoot hanging skeet very similar as you would shoot a steel plate rack. The added challenge of the pigeon tree is the change of direction in shooting from bottom to top, then across and back down the other side. Slowly things down a bit, the 20 yard stand of clays were bursting consistently with almost as much speed as the 15 yard stand due to the ease of acquiring each bright orange clay with the RMR cleanly. As an added challenge, clays at 50 yards were set up to see how well the RMR / G34 combo could stretch out its combat effectiveness. Once dialed in with a small hold over, the 124 grain rounds were impacting slightly low but on target enough to still score breaks. Throughout the session from the start, I was surprised how easy the RMR dot was to see outside in the bright Florida sunlight and later withstood shooting through an afternoon rain storm. It proved itself to be a tough, reliable optic for this pistol setup.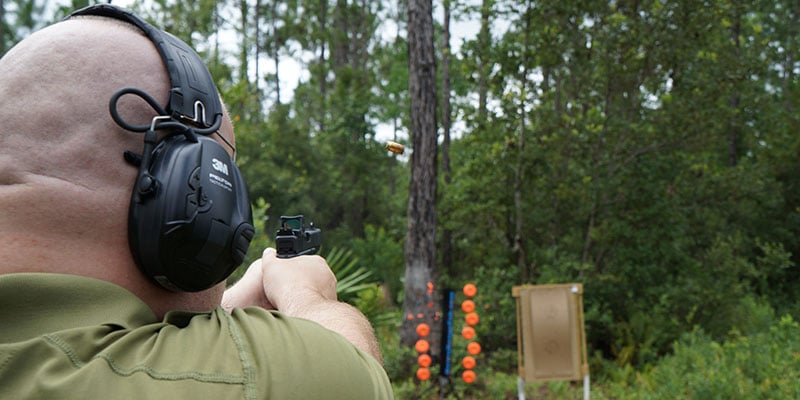 Final Thoughts
Over the past six months, I have been running the Glock model 34 MOS set up along with the RMR without a single failure to feed or fire. The only malfunctions encountered with the G34 during the thousand round "test and evaluation" period were those intentionally set up as part of malfunction drills. As the round count grew higher, the function and accuracy seemed to slightly increase as well, making a good experience even better. One factor to attribute to a possible cause of this increase during the pistol's "break in" time is due to properly cleaning the pistol. After every 100 rounds I ran a Hoppe's Bore snake through the barrel and did a thorough field strip cleaning at each 200 rounds with Carbon Destroyer by Modern Spartan Systems. After the second or third cleaning using the Carbon Destroyer, most users will find less and less carbon build up and a much faster clean up time. A simple dot of Accuracy Oil by the same company on each of the rail points and the G34 MOS was ready to run again without the factory oily residue it ships in.
Before we wrap up our look at the Glock 34 MOS, let's break from all the things this pistol "IS" and take a look at what it "IS NOT". Despite its traditional advantages over other brand name firearms and the new MOS improvements, this pistol is NOT a magic wand that a shooter will be able to wave and become a top shot, but it IS a great tool to help improve one's skills. What buyers have to also remember with this pistol is, it is NOT a flashy, stainless steel or nickel plated show pony with fancy walnut grips, it's simply a down and dirty, no-frills, "GET IT DONE!" gun. If that is good enough for you, then this may be the gun for serious consideration.
So after all we have discussed about the MOS platform, what's my personal opinion? While I don't plan on grabbing my belt with one hand and squaring away to a 50 meter target at Creedmoor with the other hand to bullseye shoot with this pistol, I would gladly run an IDPA, 3 Gun match or even SASS match with it if I could get the cowboy action officials to look the other way on the whole "period correct" firearm requirement. Retailing at around $699 before aftermarket additions, the Glock model 34 MOS offers the same features and more than its direct competitors for an average of $200 less in price. If you are a fan of the Glock or just optics ready pistols in general, I highly recommend the Glock model 34 and the rest of the MOS series for your next purchase.