Last Updated on
 By Tony Martins
There are few things in life more satisfying than establishing a lofty goal and then working hard to achieve it. Honestly, I'm not sure what motivates a man in his Medicare years to attempt one of the most extreme and difficult mountain hunts in the world. Opinions may be numerous and varied, but some things remain forever unexplained. Despite long odds for success, dreams do sometimes come true.
Months of preparation by dozens of people were required to organize this hunt for mid-Asian ibex in the Tien Shan Mountains of eastern Kyrgyzstan. My heartfelt thank you goes to outfitter Shikar Safaris and agent Worldwide Trophy Adventures – without the expertise of these two companies in hunting the wildlands of the world, this dream would never have become a reality. It took 30 hours of air travel – from Phoenix through Atlanta through Amsterdam through Istanbul – to reach Bishkek, Kyrgyzstan. Twelve hours more via SUV from city to base camp at 9000 feet, 6 hours more on horseback to make spike camp at 11,000 feet, and then 5 hours of additional saddle time to finally reach the domain of these magnificent mountain goats around 13,500 feet, near the "Roof of the World."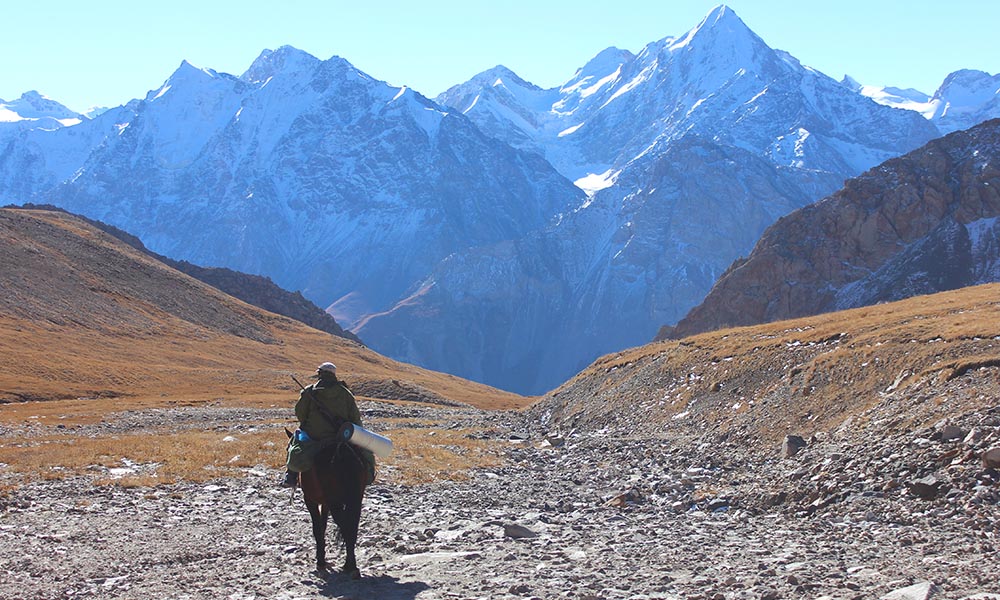 Originally booked to take place in Kazakhstan, this hunt was switched to Kyrgyzstan when the Kazakhstan government subsequently banned hunting. It's not unusual for unexpected issues in remote parts of the world to affect plans, and this problem was just the first of many for our group of six hunters. Unquestionably the worst was the failure of Delta Airlines (and more specifically their operating partners KLM and Air France) to deliver 4 of our 6 gun cases, including mine. This is a growing problem for hunters traveling internationally with guns, despite having all the proper permits and declarations in order. The distress and inconvenience, loss of hunting time, and extra expenses that resulted will not soon be forgotten, Delta… Thankfully, Shikar Safaris came to the rescue with a rented rifle and ammo. Nevertheless, having to double up on rifles changed our plans from 1-on-1 to 2-on-1 guiding, and furthermore our hunting time had now been shortened from 7 to a little more than 4 days.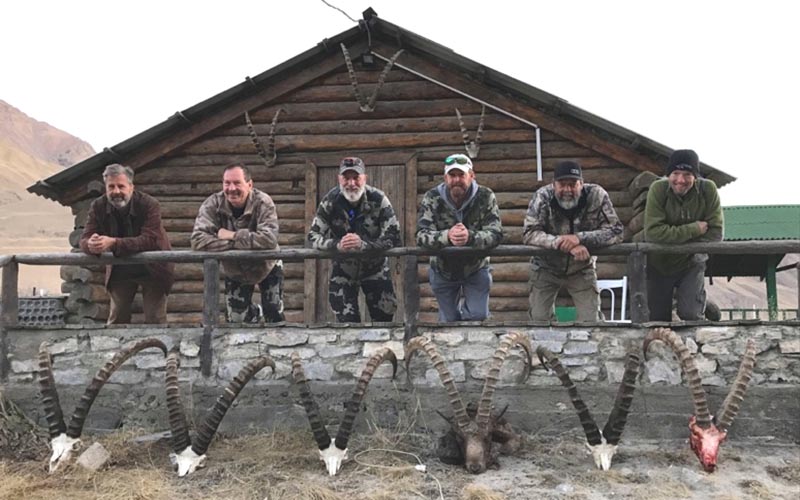 Into the Mountains on Horseback
Horses are literally life-savers in these exceptionally steep and treacherous mountains – they can also play a leading role in your accidental death. Hunting success here would be virtually impossible without them. I was expecting smallish animals like the native Mongolian horses but these Kyrgyz horses were good sized. They were remarkably sure-footed and capable of packing tremendous loads. Farrier work/horseshoeing was some of the finest I've seen, with special bars at the rear of the shoes to prevent downhill slippage/sliding while side-hilling. Climbing the steep mountains in search of ibex often required hundreds of switchbacks on ascent. The horses would spin on their uphill hind foot like a cutting horse with each 180-degree directional change. Any hesitation while facing uphill during these maneuvers would cause them to flip over backwards, loaded with gear and rider. Fortunately, accidents were few – and traversing rocky slopes steeper than 45-degrees on an 8-inch wide trail in the dark, will keep your attention focused. Although I've owned horses most of my life, I haven't ridden much the past few years… and I paid the price. Besides a nasty saddle sore, my face was bloodied when my steed balked at crossing a sizeable rocky chasm, reared, and then attempted to leap across. He failed… and I was hurtled face-first into the rocks with 30+ pounds of gear on my back.

Included in my group were fellow hunter Steve Thurman from Georgia, head guide "Bic" and two assistants – his son "Taka" and a hardworking wrangler whom we called "Jody" since we could not pronounce his tongue-twisting real name properly. Our days in the mountains began shortly after daylight, gathering the horses from their long night of feeding and wandering in the mile-long canyon where we camped. After a breakfast of tea, Ramen noodles, a sliver of fatty sausage or a couple of sardines with plenty of bread and a small cookie or candy wafer, we mounted up and headed for the snowline around 13,000 feet to search for ibex. With Bic taking the lead we climbed to the ridgetops to glass, descending and then climbing again from one lookout to the next, in search of mature ibex billys over the 102-centimeter mark (40-inches). This routine continued all day, and we usually arrived back at spike camp well after dark. After unloading the horses we settled in for dinner – you guessed it – tea, Ramen noodles with some canned meat mixed in, plenty of bread, and a cookie or candy. While it's doubtful that the nightcap shot of smooth Russian vodka actually helped us to sleep in the below freezing temperatures, packed shoulder-to-shoulder in the thin nylon tent pitched on rocks, there is no doubt that this ritual improved our attitudes!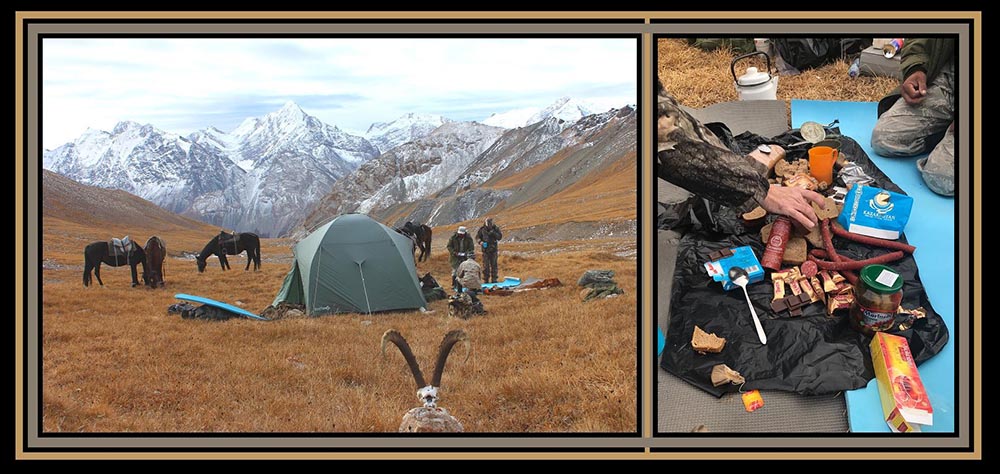 We located fresh ibex tracks in a large, mostly earthen basin just below snowline, late in the morning on day three. After checking several adjoining drainages, Bic spotted the dark face of a mature billy, lounging in a rocky outcropping 1500 feet below. The big Nikon Fieldscope revealed a total of 9 billys, with two that would top "one hundred." Their positioning offered little chance for us to close the distance for a shot. After considerable discussion with Bic, Cody mounted up and rode off to circle the adjacent mountain. It appeared that he was going to attempt to drive the ibex to a more favorable location. The rocky, snow-covered terrain was so rugged and vast that Steve and I thought this maneuver would have little chance of success… we were wrong!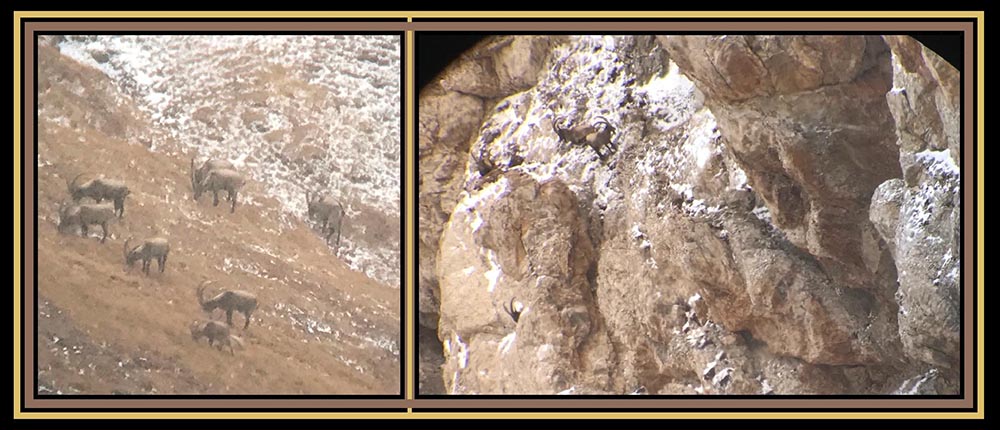 A little more than an hour later the ibex began to stir, and shortly followed their instincts by moving to higher ground for safety. The best of the bunch was differentiated not by his large, heavy horns, but instead by his long dark beard. Watching these monarchs ascend by leaping and darting from rock to rock was an experience I will never forget. When the longbearded billy paused at 403 meters near the top of the opposing ridge I was ready, with the rented Blaser R8 rifle in 300 Win.Mag. positioned across my pack. My first shot in the gusting crosswinds missed, but the second staggered the massive animal. A third shot was sent off toward China, as Bic bumped my pack at just the wrong time, but the fourth shot was perfect. The magnificent 8-year old, 42-inch billy stubbornly assumed his final resting place near the top of the snow covered ridge.
GEAR ESSENTIALS – Eberlestock Backpack & Accessories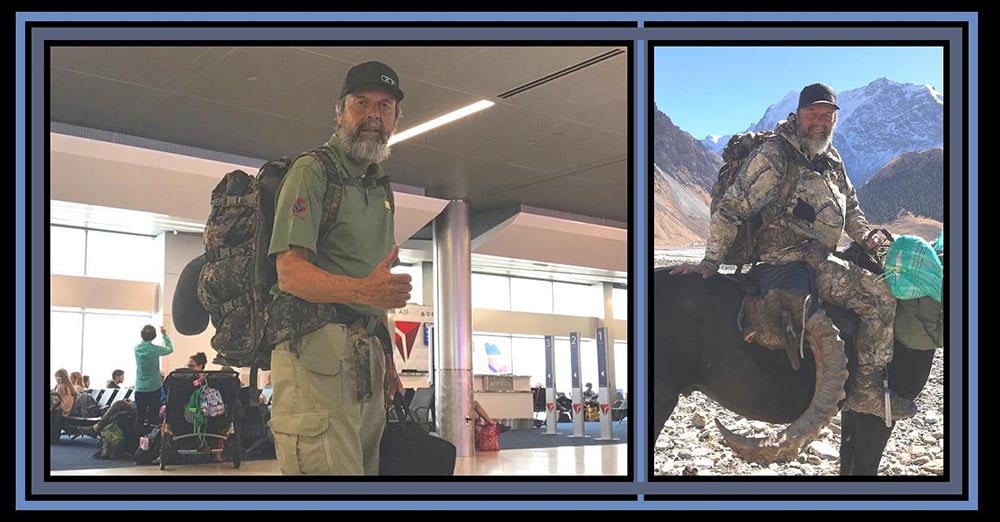 The right (or wrong) gear can make (or break) a hunt. Spending days on horseback and on foot requires a versatile backpack one that is small enough for comfort while negotiating the steep slopes and rocky extremes, yet large enough to tote all the necessary gear. For this adventure I chose the super-strong, lightweight Eberlestock MainFrame Pack, fitted with a Super Spike Duffle, for both airline carry-on and hunting pack. In the mountains, one or sometimes two Eberlestock Batwing Pouches were added. One Batwing carried a large, 82mm straight-body spotting scope and compact tripod exclusively, with snacks slipped into the external pocket for easy access. The Super Spike Duffle housed DSLR camera with extra lens, backup point-and-shoot camera, compact video camera and extra batteries, Phone Skope with adapter, headlamp, flashlight, backup rangefinder, first aid kit, shooting rest, extra compression straps, extra gloves, balaclava, energy food, fire starter, knife, sharpening stone, bone saw, Windshear lined wool sweater and extra base-layer shirt.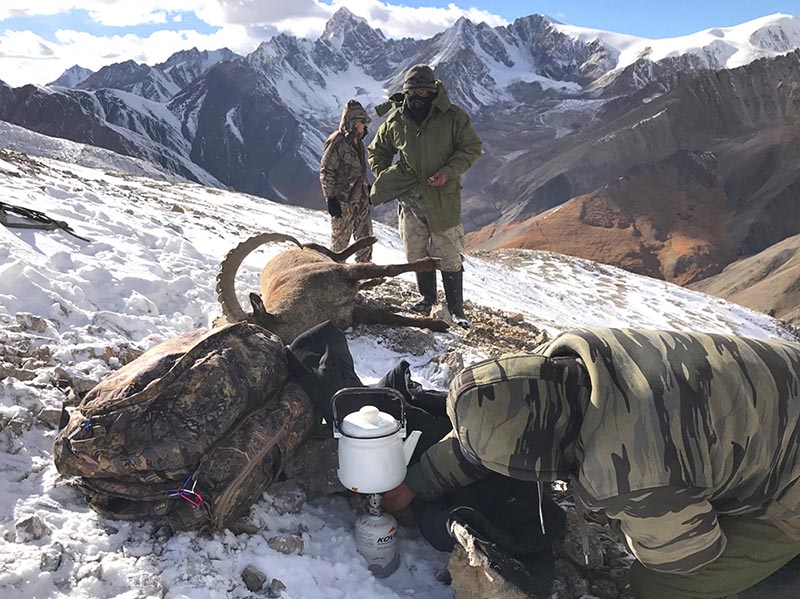 With temperatures near and often below freezing during our time in the mountains I decided to not carry a hydration pack. Instead, I slipped a water bottle or two into the void space between pack frame and duffle, where my rain gear was also inserted for a tight fit, and easy access. Extra compression straps were added as needed, particularly when the pack was tied onto my horse instead of riding on my own back. An Eberlestock Reversible Rain Cover kept all the gear dry during rain and snow, and was quick to install and remove as needed. And when the time came, the pack served to support the rifle under the attached shooting rest, providing elevation necessary to facilitate the extreme uphill shooting angle.
GEAR ESSENTIALS – Nikon Sport Optics
I was fully outfitted for this hunt with Nikon Sport Optics. First and foremost was the new LaserForce Rangefinder-Binocular previously reviewed for this blog. Both binocular and rangefinder performed flawlessly. This is significant – since 3 different rangefinders failed on this group hunt in extreme conditions that included elevations above 13,000 feet, zero degree temperatures, rain, snow and fog, regular contact with ever-present rock, and occasional coatings of sticky, paste-like ash from glacial melt.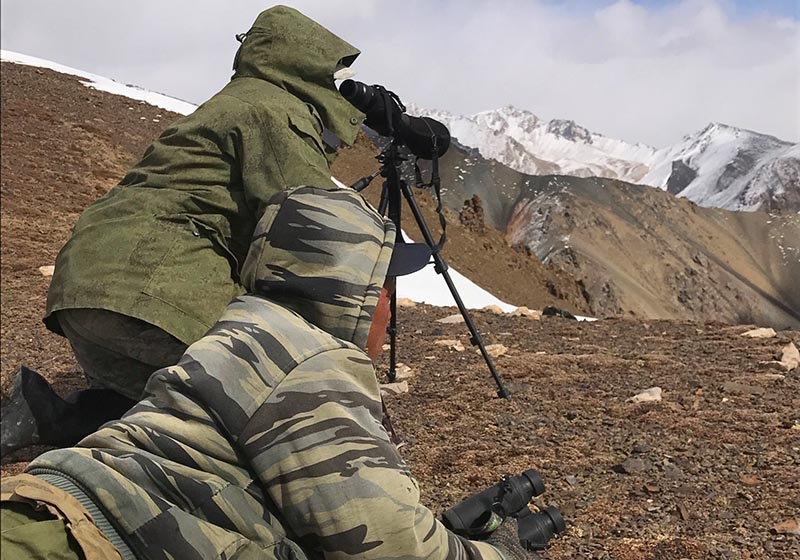 In the final few minutes of my hunt, the group of 9 ibex billys we were attempting to ambush moved up the opposing mountain face from 1500 yards below. Despite their movement, dashing and leaping through the rocks and then bolting for the mountaintop 500 yards above, I was able to keep track of the largest billy thanks to the generous field of view in the binocular. Angle compensated readings, both single and continuous, were taken at least two dozen times in the final few moments before I settled in for the 440 yard uphill shot. I also carried a Nikon Monarch 7iVR vertical laser rangefinder as a backup that wasn't needed.
Binoculars were our primary tool in searching for ibex. With short days and so much territory to cover, we didn't have the luxury of sitting and glassing – we just had to keep moving. When animals were spotted, chief guide Bic called for the "Big Scope" to evaluate the size and age of billys. Although sanity concerning my packing the nearly 4-pound Nikon Monarch 20-60x82mm Fieldscope on this extreme mountain hunt was questioned, the big optic proved to be worth the effort. Imagery when winds were light was crystal clear. This saved a great deal of physical exertion and wear-and-tear by allowing us to clearly view and cull young and average sized animals from well over a mile distant. Unfortunately, gusty winds to 30 mph on the ridgetops we traveled were an almost continuous issue. Nevertheless, we were able to take decent video and usable still images through the fieldscope, using an iPhone 7 and Phone Skope at distances of more than a mile. Bic liked this setup for evaluating horn length and mass so much that he called for me to set it up every time we encountered new animals. And, I'm thankful that I have both live video and still images of my magnificent mid-Asian ibex billy in his natural surroundings.
The biggest disappointment of this entire trip was Delta/KLM not transferring my gun case in Amsterdam. My checked duffle bag made the connecting flight to Istanbul, but despite filing for and receiving the permit for transition of my gun through the airport in Amsterdam issued by the Netherlands government, someone made the intentional decision to hold my gun case. This has become a regular and significant problem at this airport. Returning through Paris instead of Amsterdam and despite filing a lost baggage claim for the case, I'm still not certain where the gun is actually located at the time of this writing. Furthermore, this is "strike three" for Delta Airlines and their operational partners, KLM and Air France. Their information system regarding checked baggage is non-functional in countries outside the US, and simply unacceptable. These airline companies wasted hours (actually days) of our precious time on this trip with mis-information and negligence. Frankly, I will think long and hard before ever using Delta/KLM/Air France again.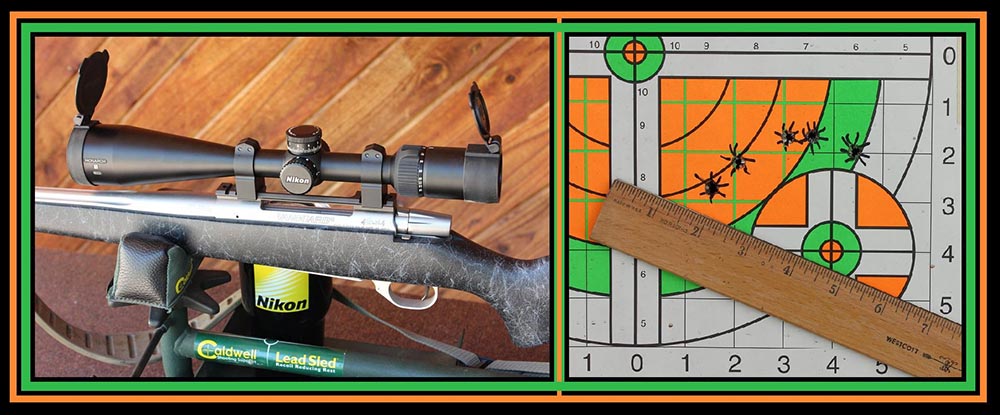 I spent a considerable amount of time readying my Weatherby Vanguard mountain rifle in 300 WBY Magnum for this hunt. Preparation included mounting a new Nikon Monarch 5 Riflescope in 5-25×50 with Advanced BDC Reticle. The scope is big and bright with excellent clarity. With input I from Nikon's Spot-On ballistics program and iPhone mounted windmeter, I was able to shoot some excellent groups from the 200 yard zero out to 500 yards, and back. Credit for the remarkable accuracy that included groups as tight as 1-1/4" at 500 yards goes to my good friend, mentor and gunwriter Sam Fadala, for developing a handload featuring the 180-grain Barnes TSX bullet with world class consistency, boasting a standard deviation in velocity of only 7 feet-per-second! Not being able to use my rifle, Sam's ammo and the Nikon Riflescope and Spot-On ballistics program was surely the most disappointing aspect of this entire trip – despite our collective success with rented and borrowed rifles. I feel bad that Sam's time and effort was wasted. I'm certain however, that the Kyrgyzstan military security, which confiscated my ammo on arrival at the airport in Bishkek without cause, will enjoy Sam's work – as they are still in possession of my ammo case as far as I know.
GEAR ESSENTIALS – Sitka Gear Clothing & Camo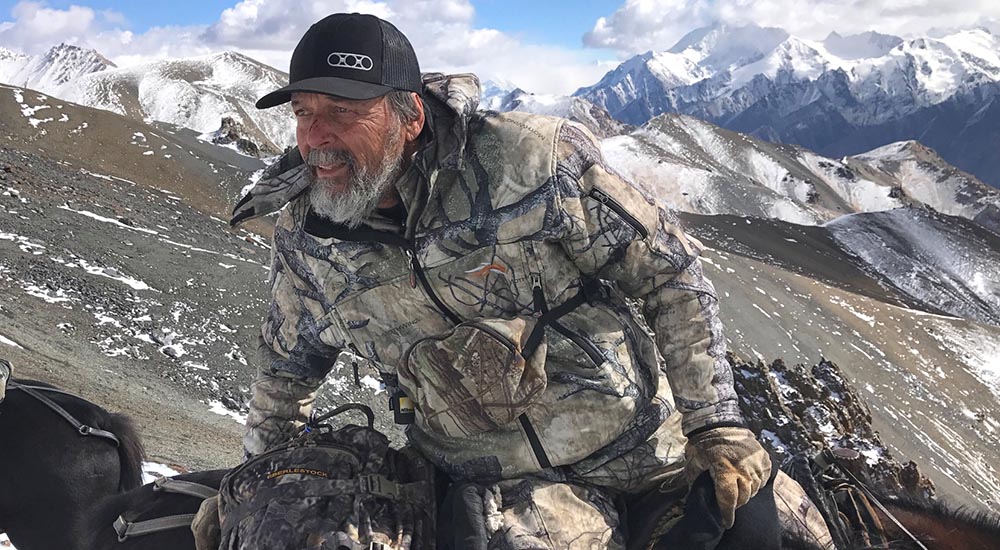 Ever since the advent of Sitka Gear, "turning clothing into gear," extreme mountain hunting has become synonymous with the brand. Our group of 6 hunters was equally divided between Sitka and competitor KUIU. Although I have some of the latest garments from each brand, I opted to take a 10-year old set of original Mothwing Mountain Mimicry patterned Sitka, with base layer, outer layer and hooded jacket. Although we anticipated temperatures well below freezing, the main reason for my selection of this mid-weight outfit was comfort in climbing and riding on horseback, rather than warmth. Cut a little more generous than current garments, an additional base-layer and Windshear lined wool sweater were easily accommodated in the mountains during 2 days of blizzard-like conditions and temperatures hovering around zero. The strategically placed pockets on Sitka's cargo-style pants and chest pockets on jacket were useful for keeping small items like PhoneSkope and adaptor, compact video camera, extra gloves and snacks organized and readily available, particularly during extended periods on horseback, and when crawling into position to observe sharp-eyed ibex.

Professional hunter and Sitka ambassador, Jose Castresana – who helped with planning, logistics, problem-solving and guiding on this hunt – was so enamored with my vintage Sitka gear that he asked to wear my jacket for a photo-op. The Mothwing Mountain Mimicry pattern is an all-time favorite of mine despite digital evolution, and it blended perfectly with the broken light and dark colored rock of the Tien Shan Mountains, whether dressed with snow, or not. Ten years old and still going strong, this clothing is a model of functionality and a testament to durability. It's expensive, but well worth the price.
GEAR ESSENTIALS – Footwear / Hunting Boots
Two different boots were chosen for this extreme mountain adventure – a pair of un-insulated Belleville Khyber Hybrid Boots reviewed by David Link for 1800Gear.com, and a pair of Rocky Broadhead Waterproof Boots with 800 grams of Thinsulate. Both were chosen for their traction soles, and light weight. I logged well over 100 miles in the Belleville's prior to the hunt, and 50+ miles in the Rocky's, to insure there would be no "new boot" issues in the mountains… and there were none. When time came to leave base camp and go vertical, I wore the Rocky's – which provided the necessary warmth when temperatures dropped to zero, and a remarkable level of traction on loose broken rock, gravel, snow covered rock and ice. With thin over-the-calf liner socks under Cabela's Ultimax thermal hunting socks, my feet were never cold. And, despite a week of daily use under a 35-pound pack and 9 lb. rifle, wear and tear was negligible and they still look good in the stylish Rocky Venator camo pattern. The often heard knock on "welded" boots is that they delaminate, but there was no evidence of that with the Rocky's. The only problem experienced with these boots was somewhat unique to this adventure. With the added boot width to accommodate the insulation, they fit too snuggly in the metal stirrups on the smallish Kyrgyz saddles to slip in and out easily, particularly with the grippy soles.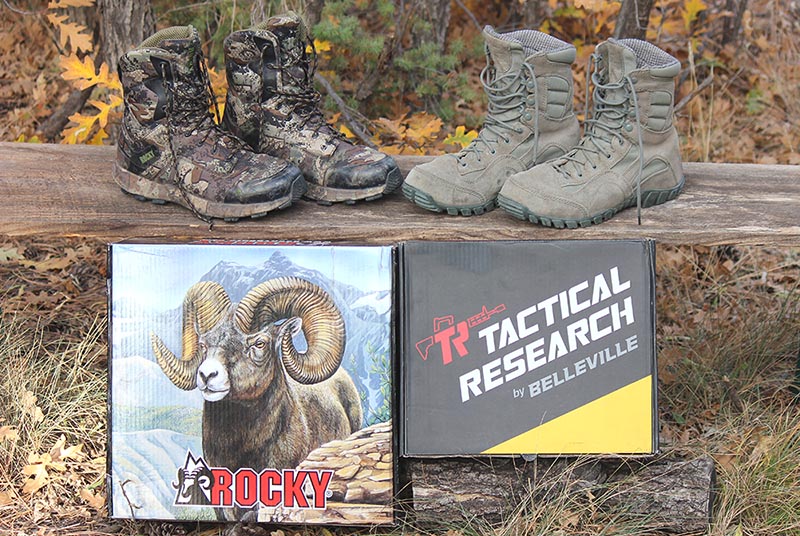 Except for the 5 days spiked-out in the mountains, I wore the Belleville's daily on this 13-day trip. They are comfortable and the lacing system provides excellent ankle support when time is taken to cinch them up properly. Unfortunately, these boots were not the best choice for the multitude of security checks and scans during the 8 legs of air travel from Phoenix to Atlanta to Amsterdam to Bishkek, Kyrgyzstan, and back. Removing the tall boots with 9 rows of laces was tedious and slow, and although some airports no longer require shoe removal at security checkpoints, when I tried to pass through the metal eyelets and lace grommets really set those scanners off screaming! I have a late elk hunt in December in Arizona, and am looking forward to further testing the Khyber Hybrid's in the mountains, closer to home.