Galco has been around for a long time, and they have a fine reputation for making quality goods at reasonable prices. Their latest iteration for concealed carry is the Galco Paragon Holster for inside the waistband (IWB) carry. It is particularly designed for those who want to use the appendix carry, although it will work on any spot on your belt, and the attachment clips are reversible for lefties.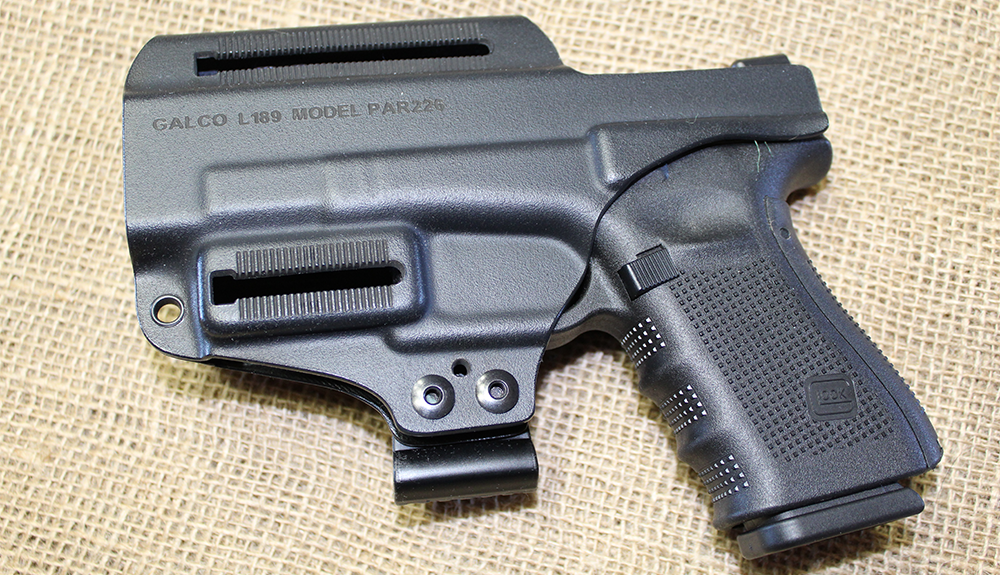 I have to say that I have been carrying semi-auto handguns in the appendix position for about 40 years, which raised some eyebrows among my fellow officers. By its very nature, the appendix position has your handgun pointing at certain vital areas, particularly when seated. I overcame this reasonable fear by two means. First, I only carried single action semi-automatics which have a thumb safety. This insured that the safety would remain engaged while holstered by its design. Secondly, I relied on soft leather designs. Whenever I unholstered my pistol, I would NOT reholster the gun in my pants. I would find a private location, remove the holster and place the gun in the holster, and then place the entire assembly back inside my pants. Since I still talk with a deep voice, it is obvious my system always worked.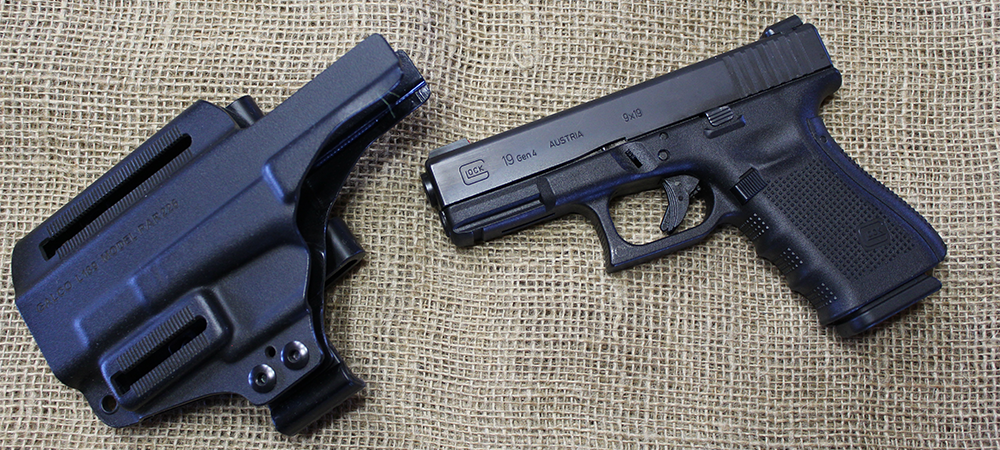 Although they started out with leather holsters, Galco has mastered the Kydex polymer holster designs, and the Paragon is a stiff holster. At first glance, I was concerned that it might be very uncomfortable when sitting. My previous experience with Kydex was with a custom made sub-compact 9mm, smaller than all but a very few modern models. The test holster is for a Glock 19 which holds a total of 16 9mm rounds, including one "up the spout." That is 9 more than my old custom gun.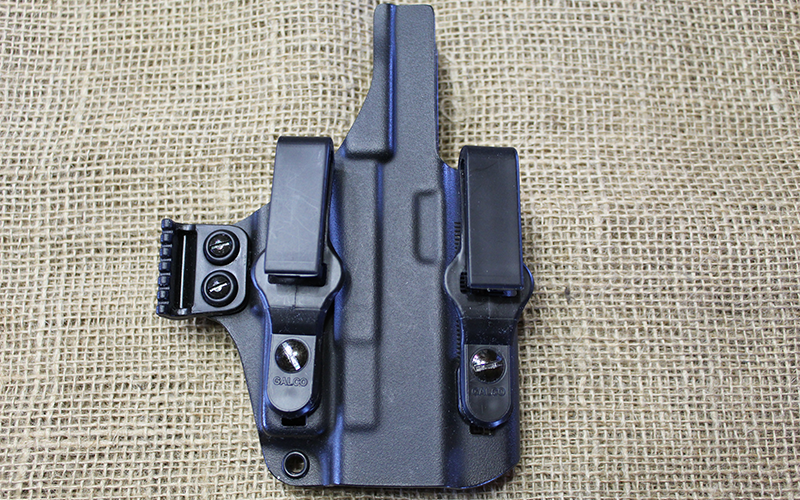 Specs
Kydex construction.

Adjustable ride height and angle for appendix, strongside and crossdraw use.

Ambidextrous design.

Includes Galco UniClips (Galco Ultimate Stealth Clips sold separately).

Optional claw stabilizing wing.

Dual raised sweat guards.
Donning And Removing The Holster
Donning the holster is easy – just place the holster inside your pants wherever you want it, and snap the clips over your belt, if you wear one. The clips can work on just your trouser material if you prefer. You can get Ultimate Stealth clips, that are designed to work just on the trouser material, behind your belt. With either clips, in addition to selecting the position of the holster, you can adjust the cant (or tilt) for any degree: muzzle to the rear, straight up and down, or muzzle forward for cross draw carry. You can even move the clips to the other side of the holster for left hand use, with the exact same ability to adjust it. You can then tuck your shirt between the holster and the belt to avoid having to wear a cover garment.
Doffing – removing- the holster is just as easy. Remove the pistol first, then either remove your belt from inside the clips, or lift the clips over your belt. As with any IWB holster, you may need to buy your pants and belts 1 inch larger. If you like to wear snug fitting clothing, IWB may not be for you.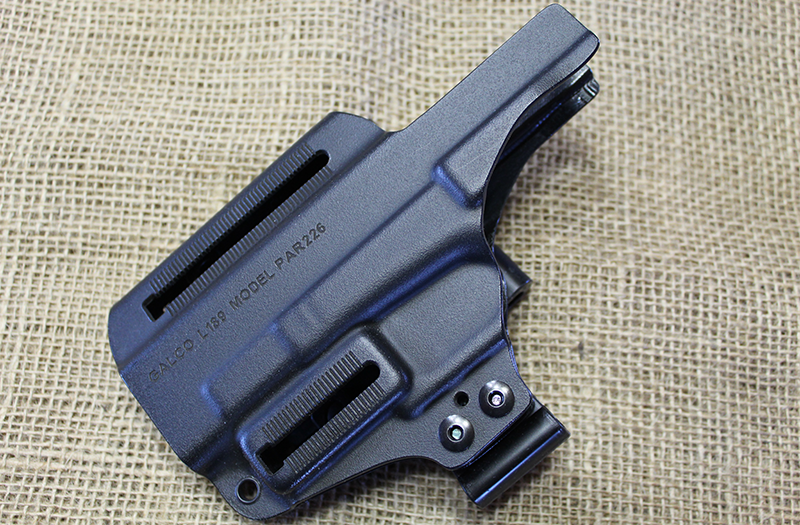 Is It Comfortable?
Although I had some trepidation when I first sat down, the 100% answer is YES. The design is well thought out, lifting the trigger guard area to the top of the belt. I once tried carrying a full size 1911 in the appendix position – only once. The barrel impinged on those sensitive parts, making it a very short test!
I tried the Paragon with an unloaded G19 while sitting in a variety of chairs and couches, as well as my truck and my wife's mid-sized SUV, with complete comfort. Walking and running – no problem! Plus, in a vehicle I can still access my defensive pistol from the Paragon without needing to unbuckle my seatbelt. If I was in a very small car, at 6' and 180 pounds, I would need to experiment with an UNLOADED gun to make sure. A smart car would probably be a no-go.
The Draw
As with any IWB carry, the draw is a two handed affair. The weak hand lifts the covering garment while the strong hand establishes a full firing grip and withdraws the gun. It takes practice, starting with an unloaded gun. The Paragon does offer some retention, as you can hear a soft click as you holster the gun and the retention locks into the trigger guard. The pressure of your belt and pants can assist in retaining the handgun. As an added feature of the Paragon, it comes with a stabilizing "claw" or wing. This helps to push the butt of the holstered pistol toward your body, enhancing concealment. If you don't like the claw, you can remove it.
Being a hard shell holster, you can easily reholster with one hand. I do strongly recommend that you give your full attention to reholstering, as anything getting into the trigger guard during the process can produce a loud BANG.
Among the advantages of the appendix carry is that anyone trying to see if you are armed has to stare at your stomach/waistline. Since they have to be directly in front of you, you will notice – IF you are not studying your phone. What could be more rude than someone staring at your waistline? A brief comment should direct their attention elsewhere!
Appendix carry is not for everyone, but it does appeal to some. If you are in that group, the Paragon from Galco should be high or your list of holsters to choose.