One of the most cherished qualities of the AR-15 platform is its customizability. Few other platforms dare compete with the recognized firearm customization champion, and no one can truly outperform it. How can a pistol, or shotgun, or even any other rifle contend with something that can be assembled from zero by gun enthusiasts themselves? The gun parts and accessories market is abundant, and AR parts hold a major share of it. Handguards are but a drop in the sea of firearm accessories, but that doesn't mean they aren't plentiful. It's the sea that is gigantic. In this article, we shed some light on how not to get lost in that sea.
Table of Contents
The Role of Handguards
Types of Handguards
  Designs
  Styles
  Materials
Recommendations
Conclusion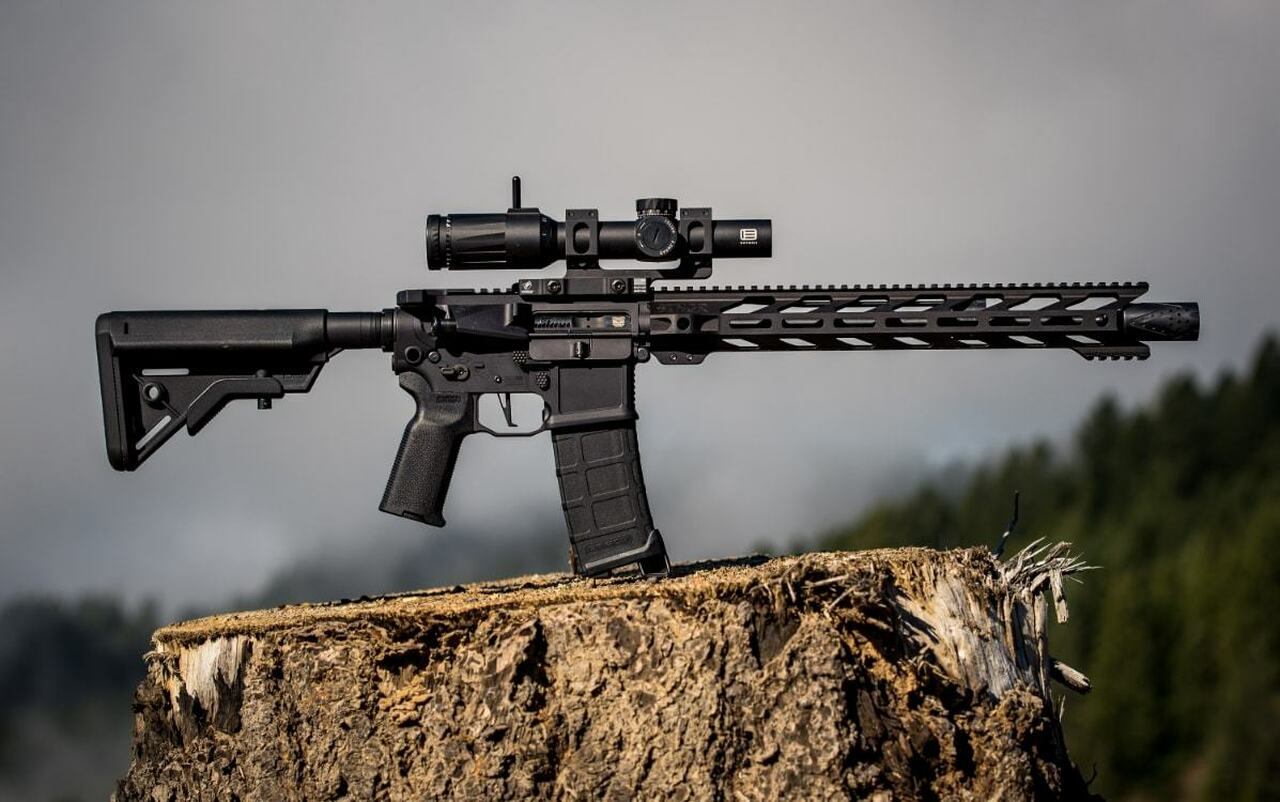 The Role of Handguards 
Can an AR-15 do without a handguard? Theoretically, it could. A firearm handguard doesn't do anything vital for a gun's function cycle. It doesn't even participate in it. However, if we talk about user experience and agree on the fact that firearms don't shoot without a shooter, a handguard is an essential element of the AR-15 assembly and others like it. Handguards protect your supporting hand from barrel burns, making shooting for an extended time possible. 
In case you are only at the beginning of your path and still exploring things, barrels (especially those of semi-automatic rifles) get very hot in the shooting process. Handguns don't need your hand anywhere near barrels, and shotguns are spared from this problem because of the low fire rate and ammo capacity. AR-15 rifles shoot fast and a lot. That inevitably impacts the temperature of the barrel. To fight this problem, firearm engineers came up with handguards. They encompass barrels, allowing the shooter to continue holding the gun. To expand the functionality of these gun accessories, engineers turned them into mounting platforms that can accept all sorts of accessories.
Traditionally, handguards are associated with AR-15 rifles. They are indeed their most numerous utilizers but are not the only ones. The AK-47 rifles make use of handguards and rail systems as well. The same goes for AR-15-style pistols and even shotguns. As you can see, the undeniable usefulness of handguards made them a very versatile and universal firearm accessory. Such popularity brought about a boost in options, making the selection more varied but harder to navigate. To make an informed decision, you need to know what you are dealing with. 

Types of Handguards
As with any other item, firearm handguards can be classified based on different parameters. Some define the form and functionality of a handguard, while others determine its qualities like weight and durability. We proceed in ascending order, from the most relevant to the lesser ones.
Handguard Designs
While plenty of handguards look quite different from each other, the design options are not that numerous. As of today, two main handguard designs are available on the market: drop-in and free float.
Drop-In Handguard
If we were to give out titles, drop-in handguards would be known as "honorary classics". That's because this design was developed as a part of the original M4 carbines. Such handguards usually consist of two pieces that fit around the barrel. The handguard is secured by a Delta Ring assembly towards the rear of the handguard, while the pieces can be sealed through a handguard cap towards the front of the accessory. Thus, the handguard has at least two points of contact with the barrel. There are several advantages of this design over the more recent one. We cover them in the Recommendations part of the article.   
Free Float Handguard
Free float design works magic by almost levitating around the barrel, being near but never quite touching it. The lack of contact is the distinctive feature of this design since it mounts directly to the upper receiver. They come in a one-piece configuration and are attached with the help of the barrel nut.
The two designs can often be easily distinguished from one another, but not always. The main feature that sets them apart is the contact with the barrel. That feature determines the pros and cons of every design.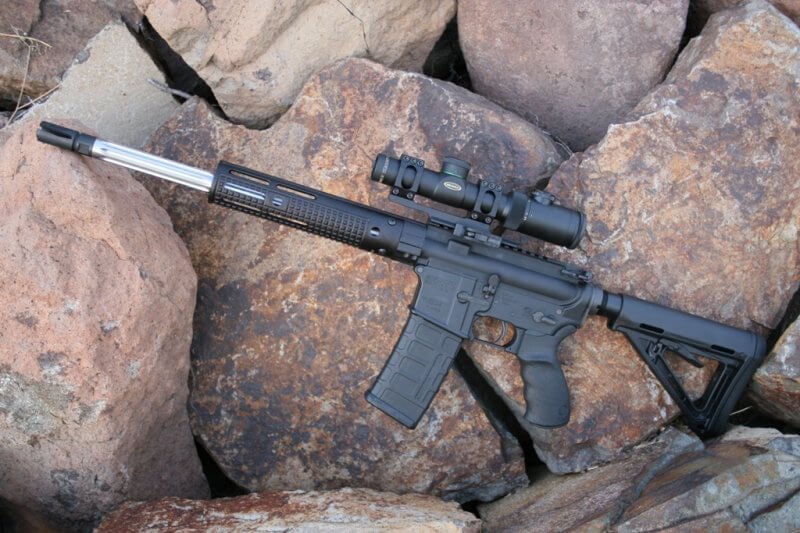 Handguard Styles
Each of the designs mentioned can come in several different styles. Usually, the style is determined by the added functionality (or lack of it). As a rule, handguards have only one additional function – accessory mounting.
Basic Handguards
That is not an official classification, but we needed something to counter the railed group. Basic, plain, or traditional, handguards lack mounting options and focus solely on heat resistance. A drop-in handguard without mounting options is a rare sight, but free float tubes are pretty common. The latter are handy when accuracy is the ultimate priority.
Railed Handguards
Railed handguards have a varying number of mounting options. The style of accessory mounting systems can also be different. Such handguards look more massive and are currently in increased demand because of both looks and additional utility.
According to the number of railed sides, handguards go from single rails to quad rails. The quad rail handguards have one rail on each side, so the barrel is sandwiched vertically and horizontally between rails.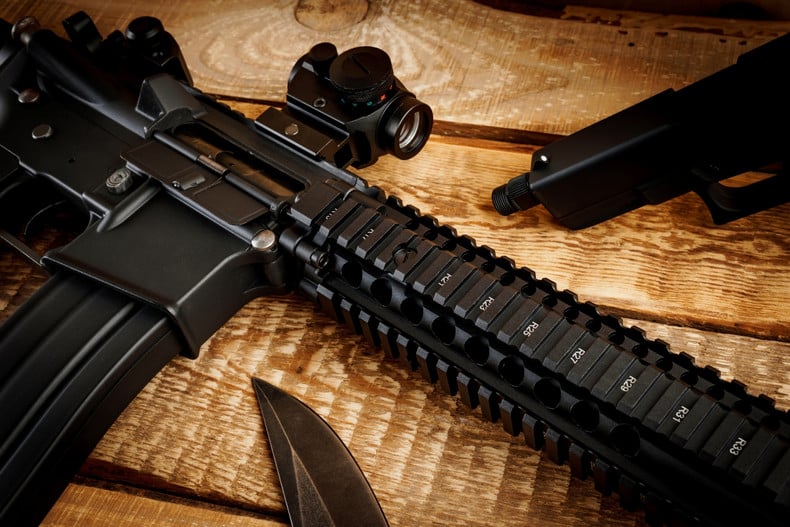 There are three options for accessory mounting systems: Picatinny, M-LOK, and KeyMod. The Picatinny rail system is a traditional choice for military and law enforcement officers. The majority of quad rails (though not all) feature Picatinny rails. One feature makes Picatinny rails less preferable than the other two: their grooves and dovetail angles make the system more cumbersome. 
M-LOK and KeyMod systems, on the other hand, feature machined cut-outs for mounting accessories. That results in a much lighter configuration, and, as we all know, every ounce matters when building a rifle. The two systems are easily distinguishable: keyhole-like slots vs. narrow openings and T-shaped nuts. The rail choice depends on your preferences and will also be elaborated on in the Recommendations section.
We should mention that handguards often feature combined rail systems: Picatinny + one of the two mentioned above. Thus, you don't have to restrict yourself in the accessory choice, for some handguards can simultaneously mount devices with different mounting systems.
Handguard Materials
Materials are probably the least diverse characteristic of handguards. Primary materials are restricted to two options: polymer and aluminum. For the sake of brevity, the differences between the two are as follows. Aluminum handguards are more durable than polymer ones. They take more time to heat up but cool down much slower. Polymer handguards usually have an inner shield made of steel or aluminum that separates it from the barrel to make up for the polymer's decreased heat resistance.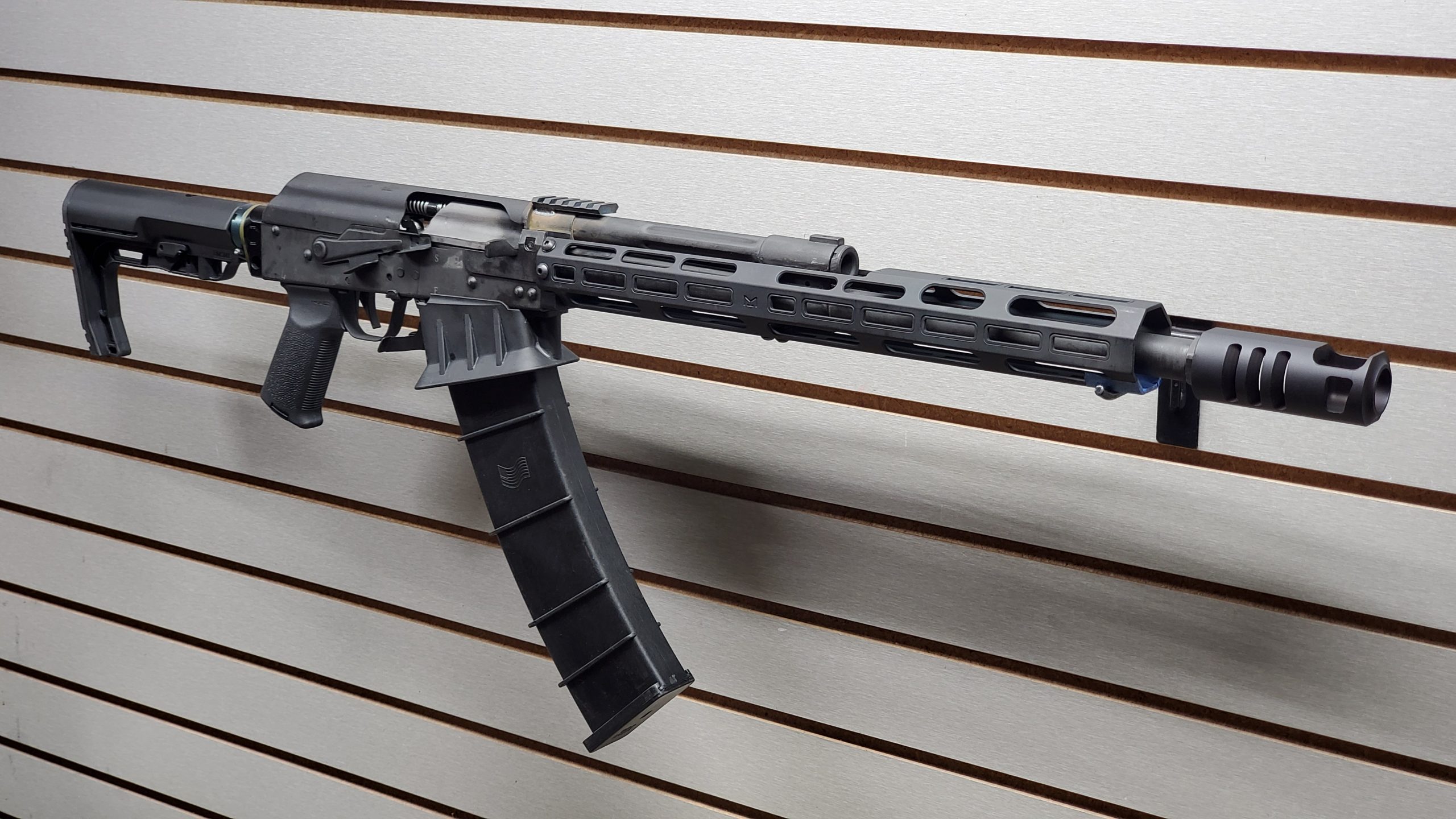 Recommendations: Choosing the Right Handguard
There are several dichotomies a potential buyer faces when choosing a handguard. We'll try to cover them, in short, to save you time, since you've already spent enough of it reading this article.
Drop-In Handguards vs. Free Float Handguards
The main distinguishing factor is simultaneously the one that might affect your decision. Since a drop-in handguard adjoins to the barrel in two places via cap and delta ring assembly, it is more likely to affect your accuracy when using accessories like foregrips and bipods. Free Float handguards are deprived of this problem since they have no contact with barrels whatsoever. Drop-in handguards are also known for not being the most steady base for optics. 
On the other hand, drop-in handguards are more user-friendly in terms of installation, are lighter and more affordable. Other than that, the differences aren't significant. You can find handguards of both designs in all mounting system variations available.
M-LOK vs. KeyMod
Both systems are easy to use but are not equally popular. M-LOK dominates the competition because some of the industry-leading brands make products compatible exclusively with M-LOK rails. Thus, the choice of KeyMod-compatible accessories is much scarcer than that of M-LOK ones. Our recommendation is to go with the M-LOK rail system.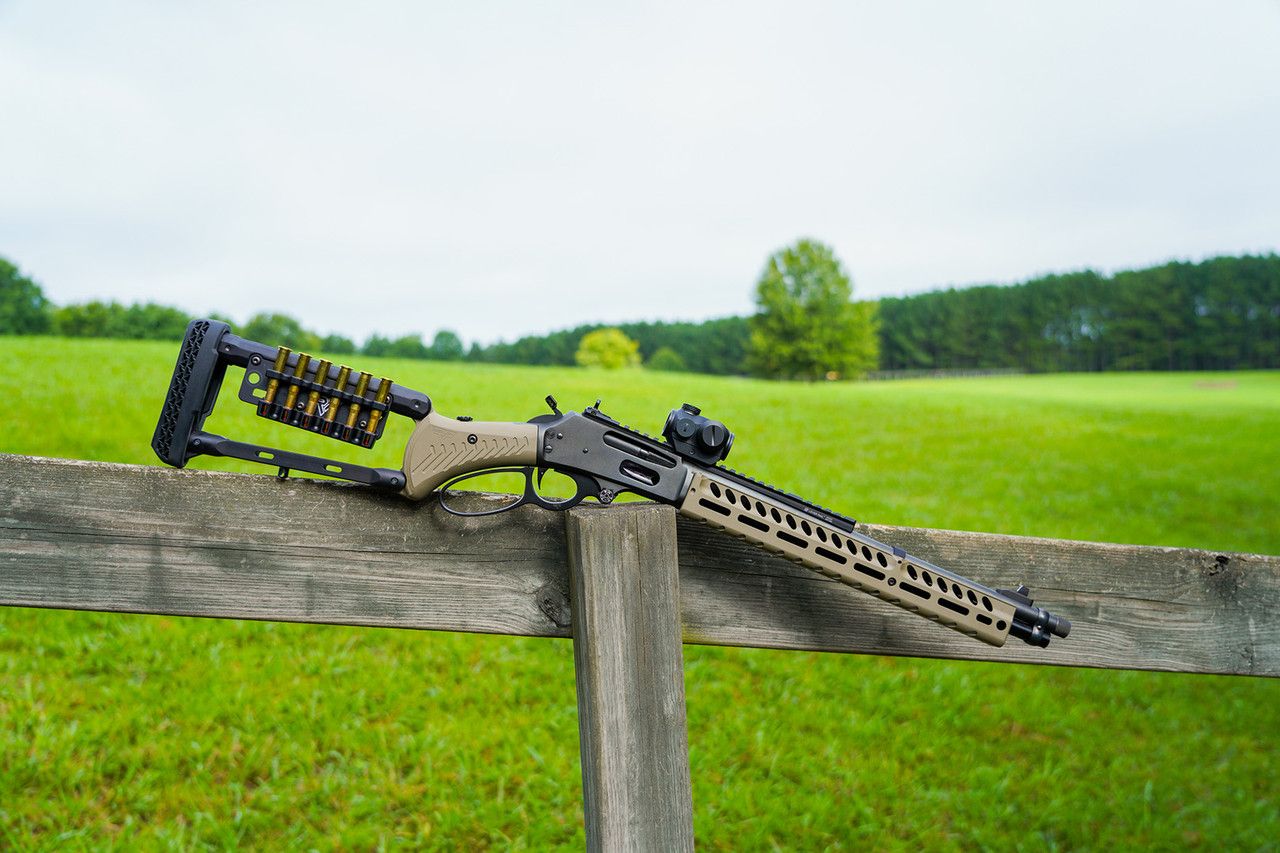 Compatibility
Handguards are not universal and interchangeable. The first and most significant difference between them is the length. The primary factor you should take into consideration is gas system size. You can acquire free float handguards longer than your firearm's gas system (especially if it's lower profile). Your handguard should be long enough to cover the gas block and portion of the forend you hold with the supporting hand but not too long to impede the shooting process. 
Price
Money makes the world go round and makes people opt for cheaper solutions. Free Float handguards are more expensive than drop-ins. The functions performed are the same, and the drawbacks of drop-in handguards we mentioned aren't deal-breaking. It doesn't mean there are no high-end drop-in handguards. Only that free floats tend to be pricier, and price can make the difference.   
Conclusion
Handguards might not be the key part of a firearm's build, but that doesn't make them mere complements. The value of this accessory is in the utility it brings. Handguards keep your hands protected from the heat of the barrel allowing for prolonged shooting sessions. At the same time, there is a prominent element of embellishment that a handguard brings to your rifle. Be it a handguard for AR-15 or any other firearm (for there are plenty of options), you might need to examine quite a number of them before the right one comes by. Don't settle for anything short of excellence. A quality handguard can make the shooting process much more comfortable the same way a poorly made one can make it a challenge.