Last Updated on
Continued from The Guns Of A Federal Agent – Pistols.
By Seth Nadel
Early on, before I worked on the Southern border, Agents carried a lot of different long guns. These included WWII M3 .45 caliber "grease guns" and Thompson Submachine guns, M1 carbines, and early AR15's. Even personal hunting rifles saw some use.
I initially transferred into the "Air Program," where I operated the Forward Looking Infa-red device in a two seat Customs aircraft, the OV-1. The only long gun that would fit inside the cockpit was a folding stock M1 carbine, with the barrel cut off at the end of the stock. Not the best choice, but it was cramped in the cockpit.
Street agents carried 12 gauge 18 & 20 inch shotguns, loaded with buckshot. Some of these were ex-LAPD Model 37's, which they had surplussed as worn out. In fact, the last of these shotguns had been made a year before I was born! But we got them for the princely sum of $1 each – the bean counters rule! We finally got rid of them when a barrel split lengthwise during training.
We were allowed to carry personal 12 gauge shotguns, so I picked up a "pre-enjoyed" 20" Remington 870, which I carried for years. While I never had to shoot anyone, on one occasion I had that shotgun pointed at a smuggler from about 10 feet away, with all the slack out of the trigger. He figured out I was serious, and gave up.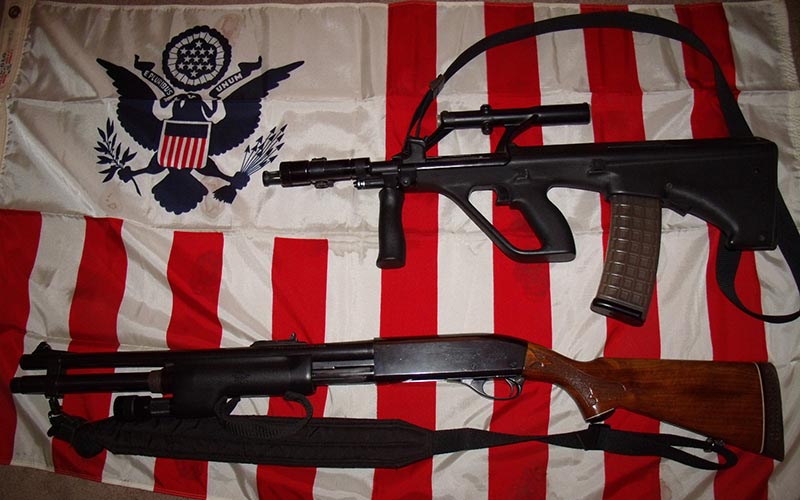 While I was at the academy, Customs selected the Styer AUG 5.56/223 rifle, a personal favorite – I had purchased one some years before. It's bullpup (action behind the trigger) configuration made it easy to use around cars, boats, and airplanes. I became a lead instructor on the AUG, which was in semi/3 shot burst configuration. An easy pull of the trigger produced a single shot, while a hard pull fired a 3 shot burst. I carried one when I went back into the field, until the day I retired.
CUSTOM, CUSTOMIZED, OR STOCK?
Having carried all three types for years, I have to give what I call the lawyers answer: IT ALL DEPENDS!
It depends on what feels good to you. We all have differing hand sizes and shapes – long or short fingers, wide or narrow palms, etc.

It depends on what you like. I like bright front sights – red preferred. I don't like extended slide releases. I also do not like bright finishes on my guns (The Gold is a subdued, matte finish, and I am too "thrifty" (some say cheap) to get it refinished.)

It depends on what is allowed. As you have seen, at times my agency mandated the only guns we could carry.
Mostly, it depends on what suits you and your wallet. But one thing is an absolute: Money spent on training and practice ammo will make you a better shot than anything you can bolt onto a gun, or any custom gun ever made!
With the wide spectrum of guns I carried, both issued and personal, I never felt undergunned. I always believed I could solve any self defense problem with the gun I as carrying. Of course over time the threat changes – when I became a Federal Agent, the outlaws did not challenge us – today they do. But gangs were not an issue, the cartels lay in the future, and terrorism was virtually unknown. I suggest you start with a stock gun, accompanied with training and lots of ammo. Then look at what others are using, see if you can shoot their guns, and decide if you want to modify your gun. After you have gone this route, consider if you need – or really want – a custom gun.
Ultimately, the most important gun is not who made it, what finish/sights/trigger/barrel length it has! It is how comfortable you are with it, and how competent – if you can make fast hits with it at defensive distances, you have the right gun for you! Yes, I took a lot of flak about my "Golden Gun," right up until we had to qualify. Then the flack stopped. So choose wisely, Stock, Customized, or Custom.