As a former Law Enforcement officer, one item I have learned to respect in both the professional and civilian world of concealed carry is the need to be comfortable carrying a firearm even when it may not be the most pleasant item to wear. Too many times I have encountered others who are licensed concealed carry holders but aren't armed at the time. Most excuses fall under the category of either not having the right holster based on their outfit or their firearm being too cumbersome to wear on their person.
The truth is, the gun isn't supposed to be comfortable, it supposed to be comforting. Unfortunately, we as humans refuse to accept discomfort for piece of mind, and many licensed concealed carry gun owners fail to carry their firearm daily. Keep in mind, a gun left at home can quickly end up being a vital tool missing in a life or death emergency. The right holster and plenty of practice wearing it can help solve this issue. One of the best ways I have recently found to comfortably carry a firearm comes from a company called Cheata Tactical.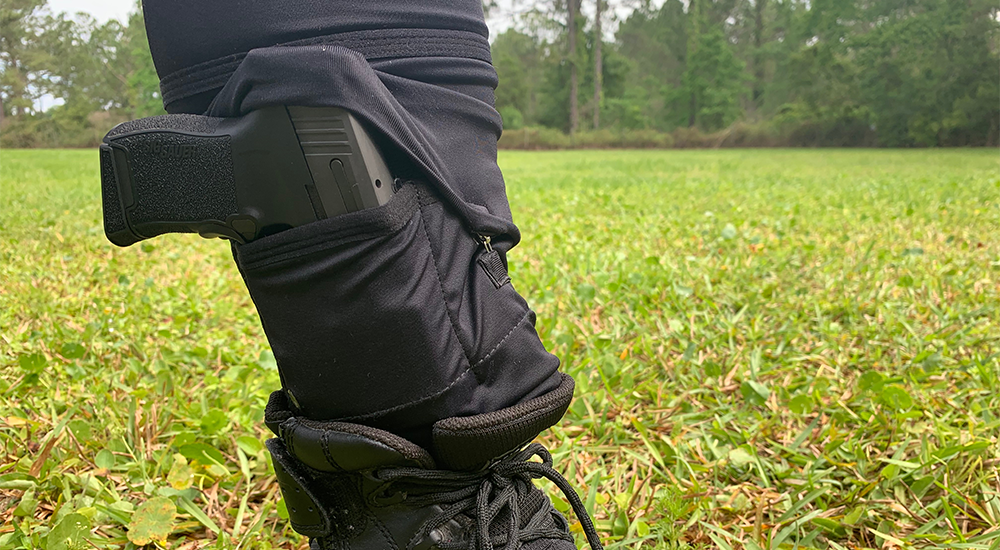 During my career as a Deputy Sheriff, I often carried a back up weapon to my duty firearm, and at times, even a back up to my off duty carry gun as well. This method usually meant wearing pants or jeans in order to carry my back up gun in an ankle rig. Of course, this included both freezing weather and 103-degree heat (living in North Carolina at the time, we saw both extremes yearly.) When I retired my badge and gun duties, I can't say I really missed the bulky holsters available on the market during those days. Very rarely did I consider going back to an ankle holster with the weight bearing into my ankle bone and working its way loose every few hours.
When I was recently approached to test a new ankle rig for a review, I must admit, I started out a bit skeptical. With an open mind and aging knee, I agreed to fairly evaluate the Cheata Tactical Gun Sox just as I would any other product. What I discovered would be a one of very few "game changers" on the market. Hopefully, this article helps you consider another option in your own battle in firearm carry, so let's begin!
First Look – Cheata Tactical Gun Sox
When the package arrived from Cheata Tactical, it contained not one, but two models of their signature Gun Sox holster. The first was the original full calf Gun Sox and the other was a mid-calf version for use with cowboy, tactical or work boots. The original allowed for casual wear with athletic or street shoes while the mid-calf held a firearm secure while nesting inside the top of the boot. Having seen many days working narcotics operations and visiting "non-permissive" environments in which guns are frowned upon but certainly needed, I was no stranger to stuffing a small revolver into the top of my cowboy boot.
Both holsters are designed to hold a small to medium sized pistol securely. (Sorry, no full sized 1911 backup guns for any Punisher skull wearing couch commandos reading this.) When the Gun Sox holsters arrived, I had just started daily carrying a small Smith and Wesson model 638 Airweight revolver chambered in .38 Special for an upcoming review. I decided to start testing the original Gun Sox in order to develop a baseline in which to compare the mid-calf version later.

When I removed the Gun Sox from its package, I immediately noticed it resembled the same construction as a diabetic sock with a medical grade 4 way stretch compression material referred to as Stretx. According to Cheata Tactical, this material will not stretch out over time and offers antimicrobial and odor resistance. The holster is machine washable and advertised as having a unisex fit. Sizing for this holster is not based on the gun but rather the diameter of the calf. With my manly, fur bearing 19" calves, I required a size "Large" which seemed to fit snug but as advertised. The original Gun Sox ran the length of my knee down to my ankle bone with equal pressure throughout my leg.
At the base of the sleeve, there is not one but two holsters, one on the outside of the ankle and one on the inside at the proper position to carry a small pistol. This is perfect for one of two applications, either to be able to switch carry legs and have a holster in the optimal carry position or to carry a spare mag, knife or small med kit in addition to your firearm. Either way, this seemed to be a well thought out design. Just wearing the holster felt great on my leg, giving needed support under my knee down and throughout the rest of my leg.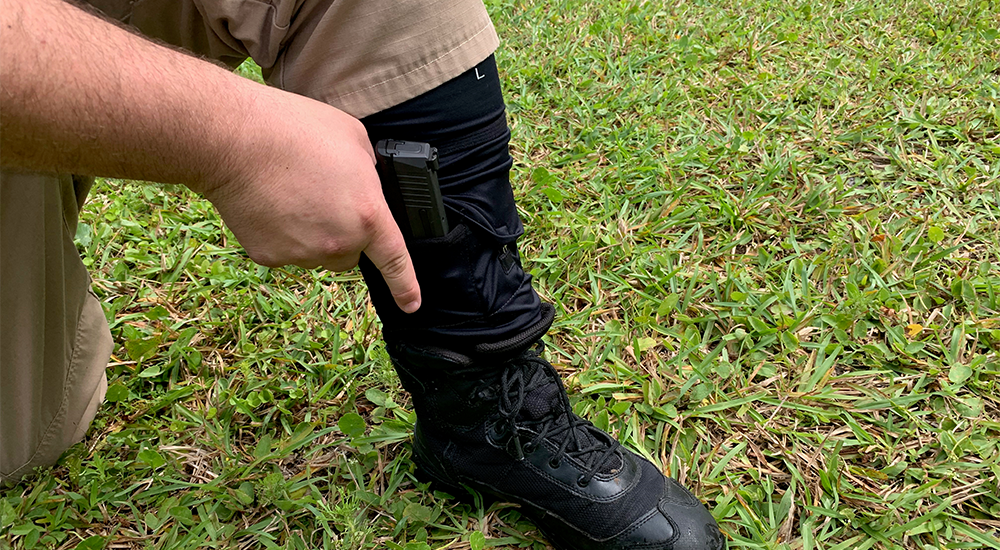 As I holstered my S&W model 638, I pulled the lip of the top cover built into the holster down over the grip of the gun. This seemed to snug the gun closer to my leg and give it added stability from flopping around in the holster when I walked. While the support is great, this does require a bit of learning curve to cleanly draw your firearm from the holster quickly. With an unloaded revolver, I practiced daily for about a week before venturing out and about carrying concealed.
Range Time
After about a week of carrying my revolver in conjunction with my Glock 19 inside the waistband, I headed out to our private training facility known as "The Swamp" to practice some much-needed live fire draw and shoot drills. Unlike holsters carried around the belt line, ankle holsters have a totally different system of drawing from the holster. As a primarily right handed shooter, I carried the pistol on the inside of my left ankle.
To start the process, I grabbed the inside of my left pants leg with my left hand and pulled upwards to expose the holster as I kneeled onto my right knee. With my eye on the target, I raked the top lip back to expose the revolver's grip with my right hand and established a master grip before drawing upward on the gun. As the gun came up center line of my body, I punched out onto target and fired. After a dozen practice draws and two Advil later, the process was smooth and comfortable to get shots off relatively quickly.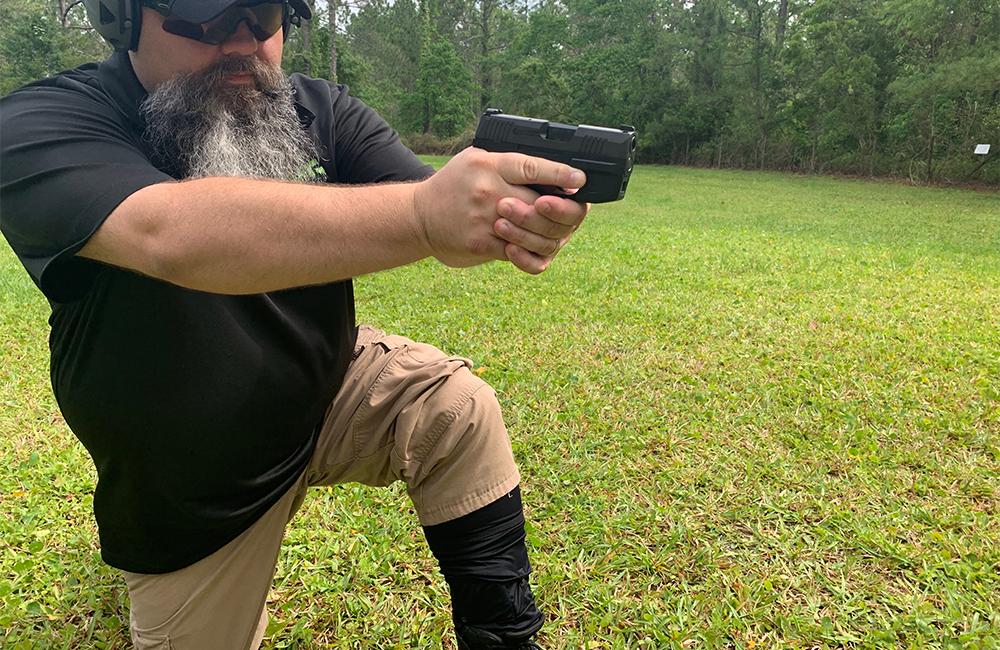 This method of carry offers a few unique benefits aside from just comfort. For one, changing your height to the perceived threat can throw off the accuracy of an attack will giving you the advantage. Secondly, if you find yourself fighting from a seated position or off your back on the ground, it is easier to get to your ankle gun most times than a firearm on the belt line. This is where the Gun Sox really excels. Many ankle holsters I have worn in my career either involved sweaty sheep wool lining or floppy rigs suspended by a calf garter that often slips down. The Cheata Tactical holster fits like a second skin and holds the revolver tightly in place even during a light jog back and forth across the range.
In transitioning to the mid-calf model, I wore it in conjunction with my combat boots by the Original SWAT Boot Company. As I slipped on the holster, I then put on my boot and nested the bottom half of the holster down into the top of it. Instead of carrying the revolver, I decided to use my laser equipped Glock 43 chambered in 9mm. After a bit of readjusting the position of the gun in order to prevent the pistol's grip from printing, the Glock rode flat against my calf without any wiggle or wobble. The ride height of the Glock in the mid-calf version of the Gun Sox was noticeable but not an interference when drawing from the kneeling position.
I spent a few days carrying my SIG P365, rotating between both holster models. The result mirrored that of the Glock 43. The only gun I tried that I would not carry in the Gun Sox was my Glock 42 chambered in .380. This pistol was so comfortable and small, I forgot I was carrying it on three different occasions until the end of the day when I took my boots off. While this doesn't seem like a rational concern to be "TOO comfortable," it could lead to not using the gun during an emergency or simply unknowingly carry the gun onto my kids' school campus or into a post office when dropping off packages.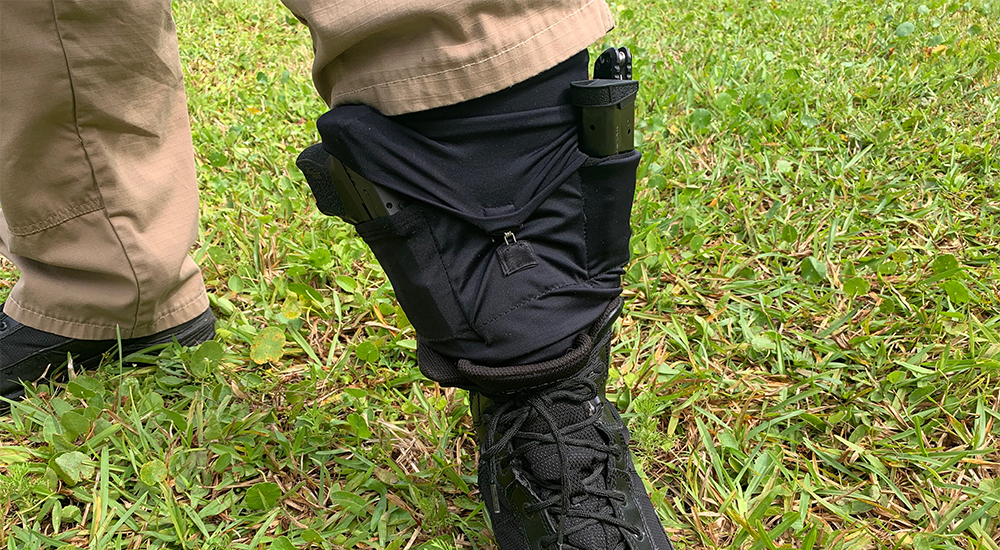 Final Thoughts
In carrying my guns daily, I could not tell a difference between either holster being more secure than the other, even with the added support of the boot. I did notice the draw and reholstering of the Glock seemed a bit faster down to the slim lines of the semi-auto over the protruding cylinder of the revolver. The similar design of both holsters may seem simple but surely well thought out. With the Glock, I could carry an extra loaded magazine in the opposite pouch, while a tourniquet fit nicely with the revolver.
Before wrapping up this review, I want to point out two thoughts on this method of carry in general. First, it is a great option when attire does not permit other on the body options. As with my personal choice, the ankle holster allows for a fantastic way to carry a second gun. I still carry either my Glock 19 or SIG P365 on my strong side inside the waistband. Secondly, ankle carry is a limited option in some places such as Florida where I live. With above 80 degree temperatures eight months out of the year, shorts are often the preferred style without looking out of place. Cool evenings and winter time are the best chances for maximum comfort.
Overall, I enjoyed wearing the Gun Sox during the 4-month test period and would gladly continue using it for daily carry. I firmly believe the ankle carry method is an often over-looked and undervalued option. I feel the Cheata Tactical holsters are rugged and user-friendly enough to cause this carry method to start being a regular part of CCW conversations again. I will certainly continue to recommend the Gun Sox to the students in my firearms classes from now on.