By Carlos Huerta
Bravo Concealment appears as the underdog holster company. They may be a new and small company, but they know how to make a quality holster. Bravo Concealment may have started out in a garage, but with determination they have worked their way up the ladder. Bravo Concealment reached out to 1800GunsAndAmmo, and I've been trying out their products for a couple weeks. This holster is proving to keep up when using it out at the range or even just running errands. This may be just be another Kydex review, but this is no ordinary Kydex holster. This company approaches the holster market a little different than others, and they don't mess around when it comes to concealment.
Kydex Material
Bravo Concealment holsters are made from Kydex material. Kydex is very smooth, and it's not as abrasive unlike other hard plastics. Kydex also has a tighter tolerance than other types of retentions. The material doesn't deform when exposed to heat. These holsters are super slim and not bulky unlike other brands. Bravo Concealment's holsters have been recognized by law enforcement agencies, military personnel, and security agencies as reliable carry options.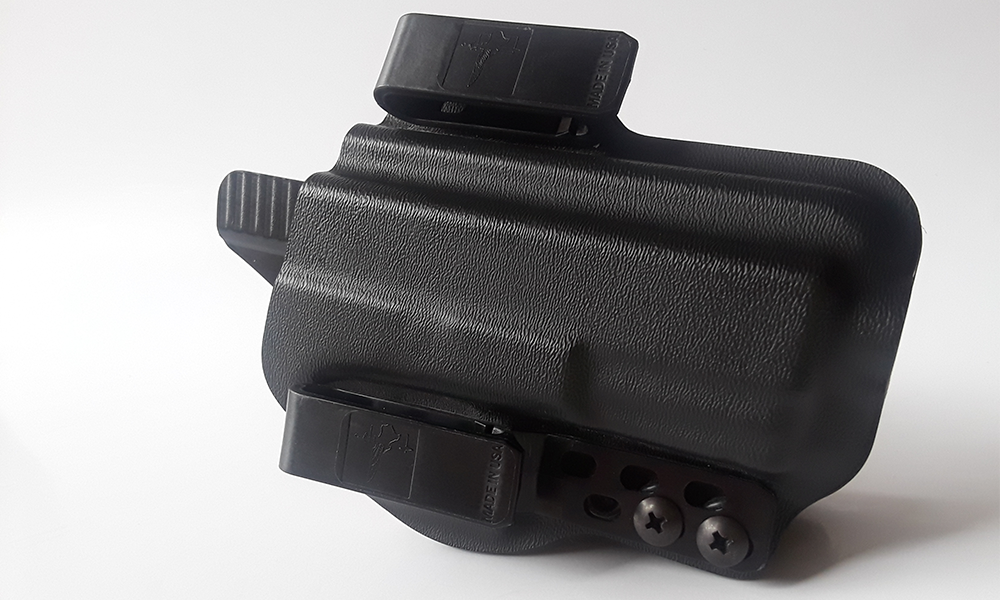 Bravo Holsters
Bravo offers a variety of holsters for numerous firearm models. Each holster line offers options to accommodate red dot sights, suppressors, high sights, and a weapon light. When ordering a holster on their website, it's easy and straight forward. There's two options: with or without a light and right handed or left handed. Next, you choose color of the holster and the belt loop size. It's that easy. All of their holsters come with the standard threaded barrel clearance, tall sights clearance, and 1.50" standard belt loops. Bravo has different belt loop accessories to choose from for different belt sizes and styles. Their belt loops are extremely sturdy and firm and easy to change out.
Bravo Concealment holster products also have a "sweat guard." The purpose of the guard is to keep the holster from sliding down and touching your body or clothing. They are made from a heavy duty Kydex material with a good passive retention system. Because the material is light, it doesn't encourage sweating when placed next to your body. Bravo Concealment's holsters have a solid locking retention structure, you know your firearm is locked in when you hear that genuine "clicked" sound. All of Bravo's products are reasonable priced and you definitely get what you pay for.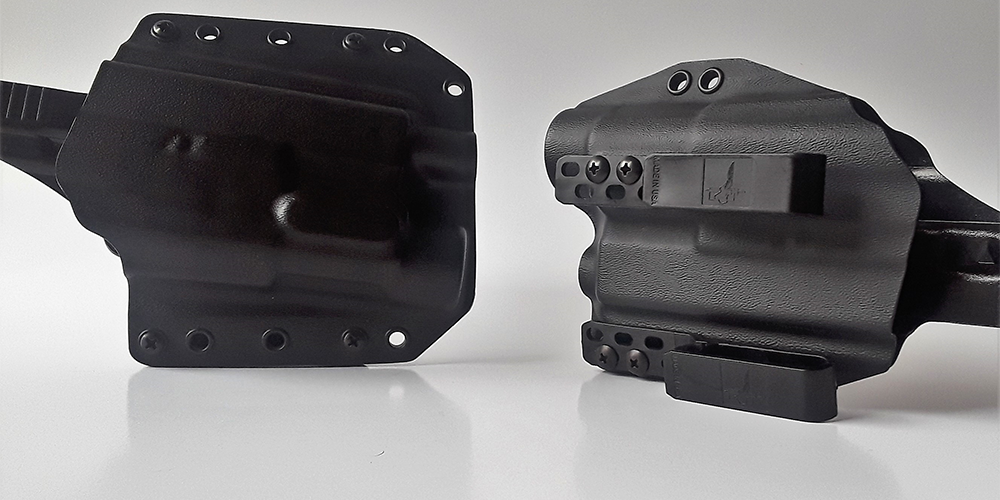 For the past month, I've been trying out their Torsion holster (IWB) and their BCA holster (OWB). If I'm going to be honest, I'm beyond impressed:
Bravo Torsion
The Bravo Torsion (IMB) is designed to carry various firearms. With minimized printing, this holster is beyond comfortable. If you want to keep a low profile while being comfortable, I recommend the Torsion holster. The Torsion has a dual clip system to fit securely to your belt. The Torsion holster is very slim and curves to your body for a close snug fit. This holster can be worn on any part of the belt while remaining secure. Whether you side-carry or appendix-carry, it's always going to be a comfortable fit. Bravo's holsters have a slide shield to protect and prevent your firearm from rubbing against your body. The best part about Bravo's holsters is they are still comfortable to wear when in a vehicle. They don't shift or move around. The dual clips lock the holster in place and the clips are adjustable. You can adjust the CANT and the ride height. Adjusting the CANT literally just takes seconds to do. One really convenient feature about their holsters is that Bravo uses Phillip head fasteners instead of hex screws. Looking for a Phillips screwdriver is so much easier than trying to find a hex driver.
Bravo Adaptive BCA
The Bravo Concealment Adaptive (BCA) holster (OWB) is just has slick and slim has the inner waist band holster. The BCA is designed to be the best outside the waist band option for everyday carry. You can wear this OWB holster with a tucked or untucked shirt and still maintain your professional look. This holster offer minimum printing to very little printing. The BCA has great retention and sticks tightly to your body. The holster can also be used with various firearms and weapon lights. All BCA Holsters have rounded edges for extra comfort. 
Bravo Magazine Pouches
While I've been trying out Bravo holsters, I've also been testing out their magazine pouches. Currently, I've been wearing the double magazine pouch to hold my Glock mags as part of my EDC. While I'm at the range, I've been using the AR-15 magazine pouch. Bravo's magazine pouches stand just as tall as their firearm holsters. The magazine pouches are made from the same durable Kydex material as their holster lines. Ordering mag pouches is just as easy as ordering any other product from their website. First you select which model fits you, then choose left handed or right handed, color, and belt loop size. The mag pouches fit just about any standard general issued magazine size. They are shaped well and hold the product in place. The magazine pouches also have an adjustable retention option. A single retention screw allows the user to set his or her desired pouch retention. They are comfortable to wear and very concealable. This is a clean and simple magazine pouch. The magazine pouches are an excellent idea to use for range competitions or to carry on your battle belt.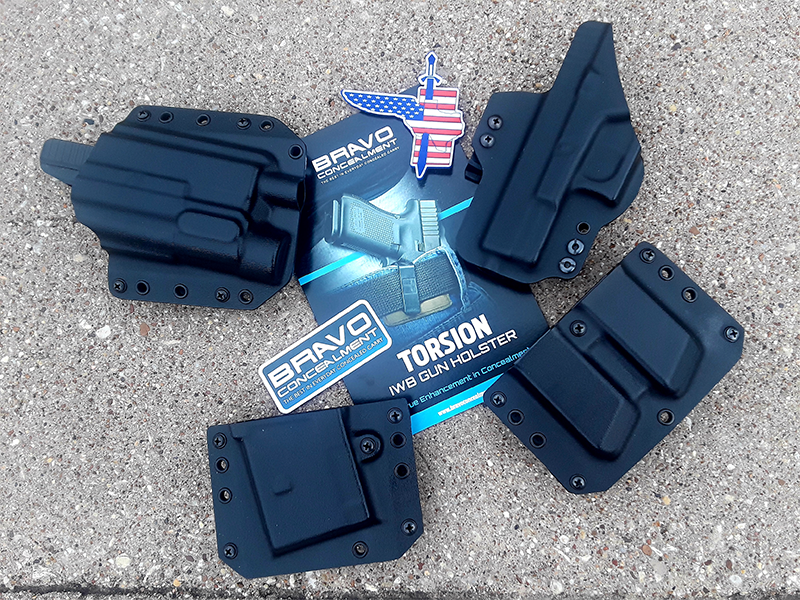 Bravo Concealment Guarantee
The Bravo Concealment Company is a sincere and hardworking business. They are a Texas-based company, and all of their products are American made. They truly take pride in their work. Bravo Concealment stands behind their products 100%. They offer an unlimited lifetime warranty for their holsters and pouches. If you have any retention problems with your holster, just send it back and Bravo with either repair or replace your item. Their staff is very friendly and eager to answer any questions you have. They are on point and willing to help you pick the correct holster that best fits you.
Final Thoughts
Overall, Bravo Concealment started out small, but they won't stay that way for long. They've focused on crafting Kydex holsters and magazine pouches for military, law enforcement, first responders, and civilian use, and they have more than succeeding in creating original, innovative designs. All of their holsters are clean and simple, but they make a statement. If you're on the lookout for new gear, I would recommend giving Bravo Concealment a try. Their products are suited for any situation or event. After wearing their IWB holster and magazine pouches for a month now, it's truly become my one and only favorite holster. This has been the most comfortable holster I have ever used.