By Pete Rogers
The Alaska-Yukon moose is the largest member of the deer family in North America. Among the three huntable subspecies of moose in North America, the Alaska-Yukon is the largest of the lot. The range of the Alaska-Yukon moose covers most of Alaska, the Yukon and the Mackenzie mountains in the far west of the Northwest Territories. Tipping the scales at close to eighteen hundred pounds standing almost eight feet at the shoulder and well over ten feet to the top of his antlers. It is easy to see how this animal is a sought after trophy.
Hunting the Alaska-Yukon moose is for many the adventure of a lifetime. These moose live in some of the most impressive and beautiful country available. Remote, rugged and breathtaking. The adventure of hunting the moose is perhaps the greatest part of the hunt.
Ralph Cianciarulo has been hunting moose for over thirty years. Along with his wife Vicki, he is one half of the husband and wife team known as "America's Favorite Hunting Couple" hosts of the award winning television shows, Archers Choice and The Choice airing on the Outdoor Channel for over fifteen years. "Moose are one of my favorite animals to hunt for a lot of reasons." Cianciarulo says. "From where he lives and how hard it is to get into good moose country, to their impressive size, I just love hunting moose."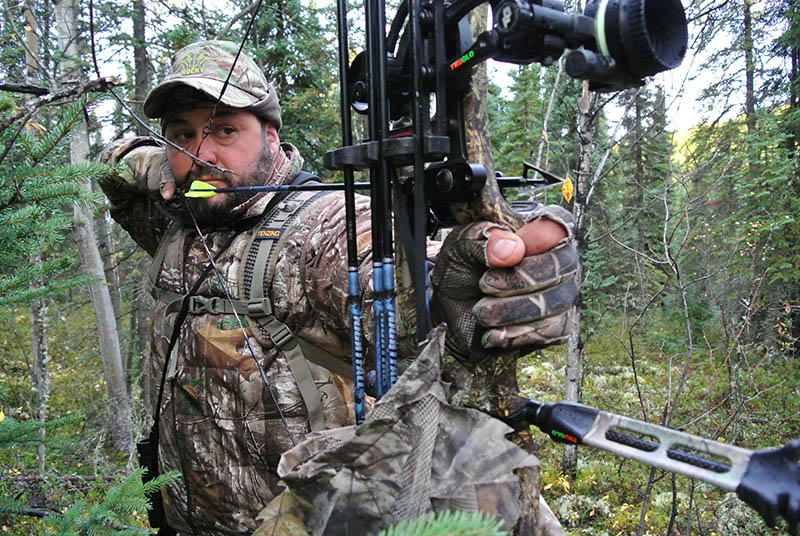 Cianciarulo offers this advice for those who are preparing to hunt moose for the first time. If you are using a guide, he says to make sure you hire a reputable one and check references. "A moose hunt is no guarantee, but a good quality guide can make the hunt enjoyable even when you are having difficulty finding game." He goes on to say that "when you find moose, a good guide can help you judging the animal, they are so big, most hunters who have never seen one will not know how to judge a quality animal." When you consider that the whitetail deer is the most sought after game animal in North America and they top the scales at a thousand pounds less than a moose. It's not difficult to understand how it can be difficult to judge a good animal from a trophy animal.
Many of the game zones in Alaska and the Yukon have minimum antler size restrictions and this can add to the difficulty in judging a good animal. Zones that have minimums usually start at fifty inches. When in the heat of the moment, knowing if you are looking at a fifty inch animal or a forty eight inch animal can be difficult.
Cianciarulo says that being prepared mentally and physically is essential to having a good hunt. Moose do not live at extreme elevations. So hiking into the high country is not an issue. They are remote, and you have to cover a lot of ground to find them. You are not going to march out into the wilderness and find a quality bull moose.
The best time to hunt the moose is during their rut. In most of these places this will occur in September. Good guides can use their desire to find a cow to your advantage. From calling, to raking (rubbing bushes or trees with a boat paddle to mimic a bull rubbing the tree) they can get a bull in close. Often very close. "Shots on moose are never very long at all." Cianciarulo says. Being primarily a bow hunter, Cianciarulo shared that he recently called in and killed a moose at four yards. Moose are very large animals and whether you are hunting with a gun or bow, you need to make sure your weapon is strong enough to get good penetration.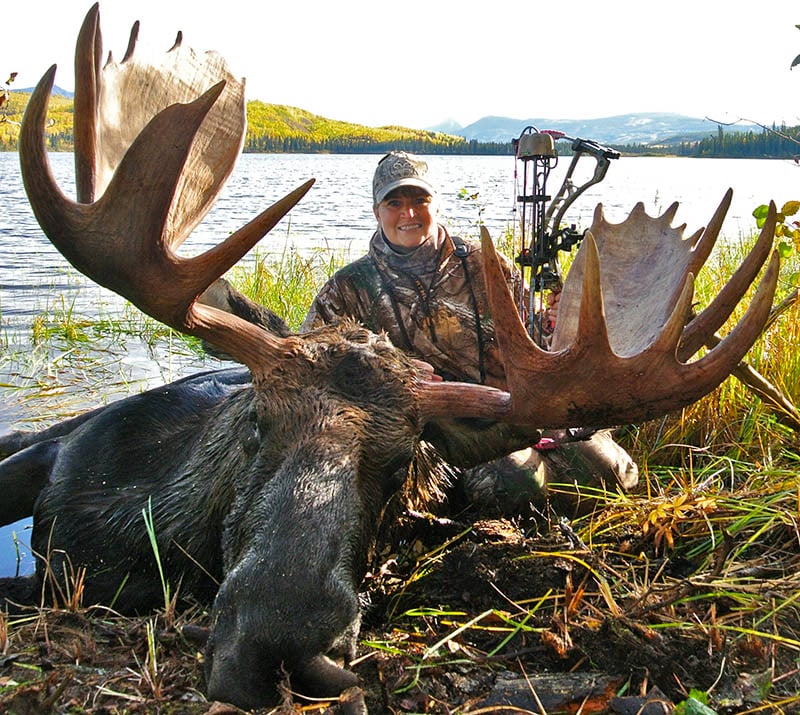 "Decrease your cutting surface and increase your penetration" was a key point Cianciarulo said several times. "These animals are just so thick and big bodied the typical set up you use for whitetail will not work well for moose. He goes on to explain that while many prefer broadheads with a very large cutting diameter for whitetail, some as large as two inches. Cianciarulo said that this will hinder good penetration on the larger moose. "I use the Hell Razor broadhead that is one and one eighth inches in cutting diameter on an arrow that weighs between 450 and 500 grains." Cianciarulo explains that this heavy arrow along with a smaller cutting diameter broadhead allows for complete pass through shots on moose that may be as much as thirty inches broad. "My wife Vicki shoots her Hoyt at around 56 pounds. And she routinely shoots completely through moose." But Cianciarulo said "she is shooting an arrow that weighs 500 grains."
This is true also when shooting a gun. Your smaller caliber whitetail gun will not do anything on a moose. "I would never recommend anything smaller than a thirty caliber and larger when hunting moose." Cianciarulo said. And while we could debate the different caliber for a while, most guides would recommend a minimum of a .308 all the way to the big bore lever guns such as the .444, and the .45-70. Perhaps the most popular caliber for moose is the Remington 300 magnum. This is a great gun that will stop the biggest moose in his tracks. A personal favorite is the .30-06 with 180 grain bullets. This set up has stopped many moose for me and the bullets are readily available at most stores. Regardless of what caliber you choose, one tidbit of advice is to make sure you cover your barrel with tape to prevent anything from getting into the barrel. In this remote and difficult country it is not difficult to fall and get debris in your barrel.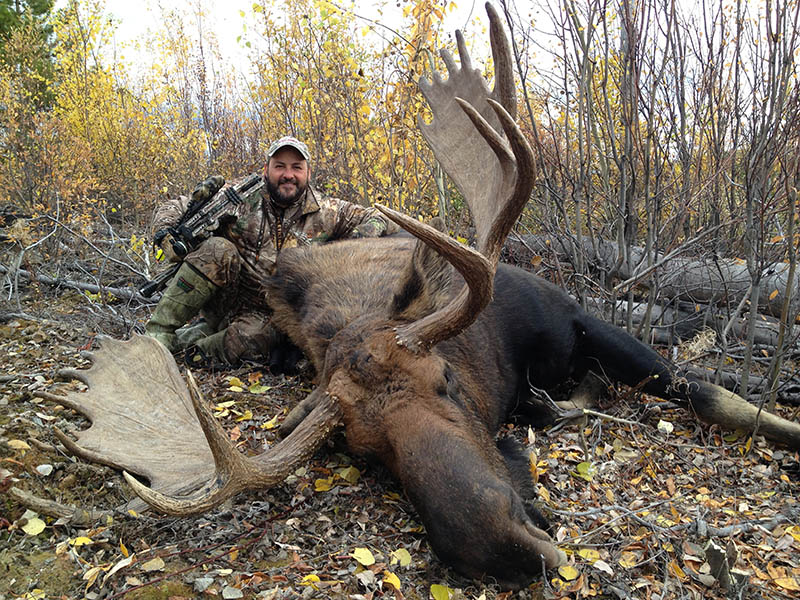 When I asked what kind of equipment would he recommend hunters make sure they do not leave home without Cianciarulo offered the following advice from over thirty trips for moose in the Yukon and Alaska. "The first thing I recommend is good rain gear, the weather can change so fast in this country and you need light weight rain gear that you can pack easily. We like the Cabela's light weight raingear that packs into a small bag and fits easily into our pack" He continued that wearing the rain gear when cleaning the moose keeps the blood off of your clothes. Next would be the best optics you can afford. A minimum of 8×42 to a 10×42, in the best glass you van afford. You will not regret having great optics when you see a bull at half a mile and trying to decide if you want to pursue him. A strong external frame pack is essential to getting the meat out when you are successful. Alps Outdoorz Commander X Plus is an excellent pack and is designed for back country hunting and game retrieval. Lastly, Cianciarulo said, do not forget high quality game bags. This is a place you do not want to skimp on quality. Big game meat bags can be the life saver of your hard earned meat. Some quality bags are made by Caribou gear and Wild Country Game bags, both offer what are perhaps the best bags in the industry.
Lastly, Cianciarulo offers this advice when it comes to hunting moose. "If a moose smells you, he's gone. You have to work the wind, and as good as his nose is, he doesn't see that well. As long as you keep the wind in your favor, you have a great chance of calling him in close, real close. Do not be afraid to keep trying to work him closer. Often during the rut, you will find a cow and bull together. Don't be afraid to move between the bull and cow. This will put you in a great position to get the bull in close.
Hunting the Alaska-Yukon moose is one of the most enjoyable hunts available in North America. The country they are found, the trophy the present, and the thrill of pursuing the largest mammal on North America makes hunting the Alaska-Yukon moose one of the top destination and top trophies for many sportsmen. One thing is for sure, you will never forget your moose hunt. From beginning to end, the adventure is life changing and as exciting as hunting gets in North America.