Last Updated on
The 41st SHOT Show (and the 10th annual at the Sands Convention Center in Las Vegas) has come to a conclusion, and there is plenty to recap post-show. This year featured more exhibitors than ever before with a whopping 2,400 brands. If you were to visit each and every booth in the duration of the show, you'd have just under two seconds at each booth! Better yet, one loop through each aisle of the show is 12.5 miles long, which is a lot of convention show hiking to say the least.
We'll have coverage from two of our top writers coming later this week, but first we have some of the favorites from the editor. You can expect all these products to be available on our retail site later this year, so start saving your pennies. Let's get started with our Best of SHOT Show 2019!
Leupold VX-Freedom RDS
Leupold has a lot of great products out this year that we'll no doubt cover as they are released here at Gritr Sports, but I'm going to focus on a real surprise from Leupold, their newest red dot sight. The Leupold VX-Freedom RDS is an exciting offering in their 2019 line, and it'll have even the most entrenched red dot loyalists making the switch to Leupold this year.
Arguably the biggest highlight of the VX-Freedom RDS is where it is made. It is machined and made right here in the USA in Oregon, and it is as rugged as the Leupold riflescopes we all know and respect. It's so rugged that Leupold told me they couldn't even destroy it with their testing machine, affectionately referred to as "The Punisher." Leupold's Twilight Max Management system utilized in their riflescopes is present in the RDS as well, which ensures precious extra minutes at dawn and dusk for shooters.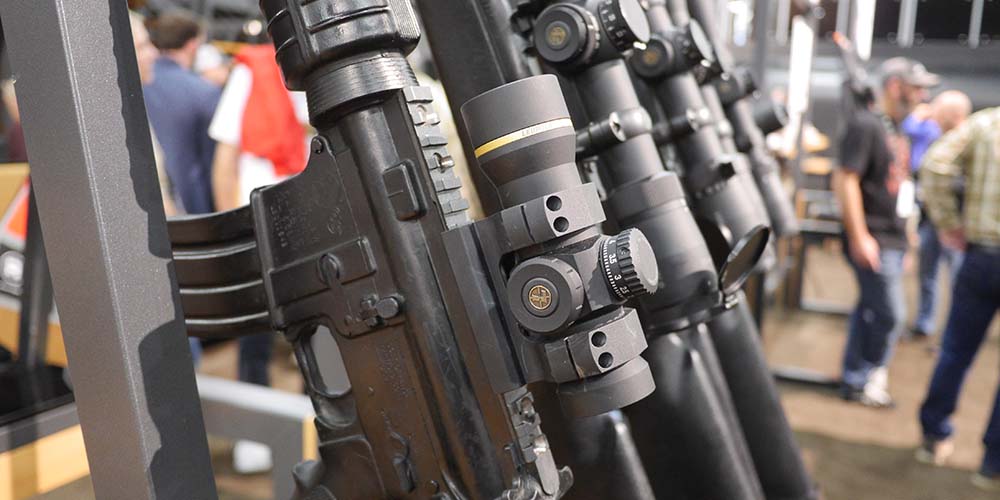 The VX-Freedom RDS comes in two models to fit shooter's needs, both with 1 MOA red dots. The basic version is available with capped precision 1/4 MOA adjustments and retails around $300. The more advanced and show stealing version comes with an exposed BDC turret that allows for adjustments out to 500 yards. The option to dial out to 500 yards in a red dot is surprisingly rare, and Leupold has really gone the extra mile to offer added value with the BDC turret. The BDC version is still extremely affordable as far as a quality Leupold optic goes at around $400. Official price points and release dates TBD.
Nikon BLACK FORCE100
It's no secret the Nikon BLACK series has become one of the company's most popular offerings in the past couple years from the BLACK FX1000 to the BLACK FORCE1000. This year's newest entry in the line is the Nikon BLACK FORCE100, which is a 1-6×24 scope for close to medium engagement. For comparison, the popular BLACK FORCE1000 is a 1-4×24. Also new in the BLACK FORCE100 is the FORCE-MOA illuminated reticle with BDC holdovers. When used as a true 1x scope, the illuminated center dot allows for quick shots with both eyes open aiming. When the optic is dialed up in magnification, the lower reticle hashmarks can be used for holdover points. The BLACK FORCE100 retails at $649.95 and will be hitting the market later this spring.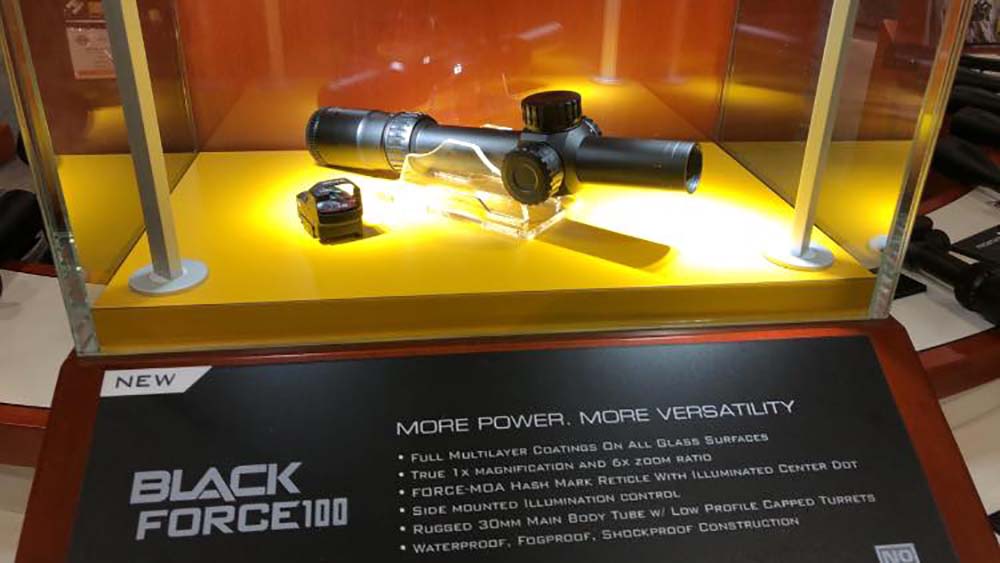 Kestrel HUD And 2700 Ballistics Meter
Kestrel Ballistics has two exciting new releases for 2019 – one for beginner and intermediate shooters who want to add a ballistics meter to their collection on a budget and one for advanced shooters (and everyone really) who demands the fastest feedback on up to ten targets in the field.
The first is Kestrel's most accessible ballistic meter to date, the Kestrel 2700 Ballistics Meter. Built around last year's "easy mode" in the 5700 Ballistics, the Kestrel 2700 is still a powerful device with all the quality you've come to expect from the brand. However, the 2700 will not feature all the "bells and whistles" and advanced features that Kestrel realizes not every shooter needs. It will still measure key data points like wind speed, wind direction, temperature and altitude. It also comes with a G1/G7 Ballistics Solver to help match your chosen round to the unit. The 2700 also comes in a more compact size, and it can be used either with the Kestrel LiNK app or as a standalone device. It's price point is a friendly one around $200.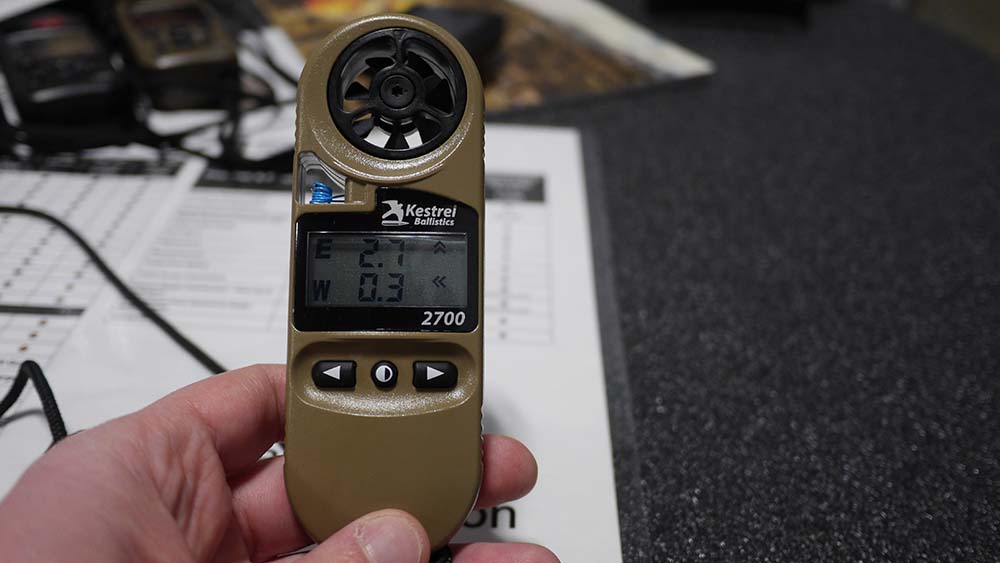 The Kestrel HUD is something completely new to the company, and it is certainly a welcome addition. This device fixes directly to your scope mount and offers real time data that is easily viewed without breaking away from your scope. The HUD works in combination with your Kestrel Ballistic device (even the new 2700), and it's extremely easy to use once set up. The HUD has three modes – a single target screen that displays elevation, windage and distance figures along with other environmental data, a large font option for single target data, and a DOPE Card Screen with 10 target values. Look for both the HUD and Kestrel 2700 releasing around April 2019.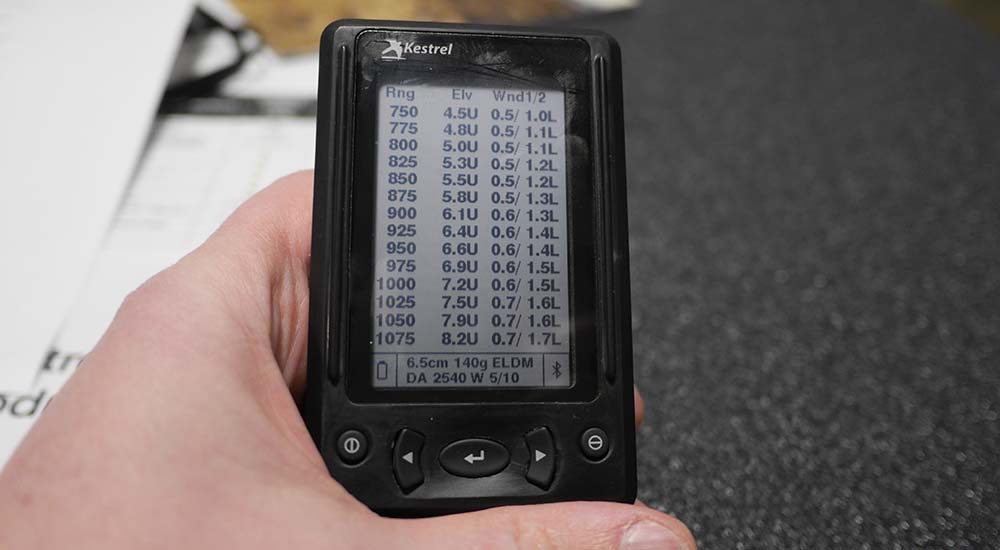 Laser Ammo LaserPET 2
Laser Ammo already has a great product on their hands in the LaserPET training device, but their at-home laser training line is about to get even better with the new LaserPET 2. (For more information on the original device, check out Laser Ammo SureStrike And LaserPET Review). Where as the LaserPET 1 offered many rich training modes, they couldn't be customized to switch up timing or count limits. The LaserPET opens up a variety of customization options. For example if you want to adjust the magazine change drill time, now you can to test yourself to save precious seconds. Want more or less time before the countdown timer begins? The LaserPET can be adjusted no sweat.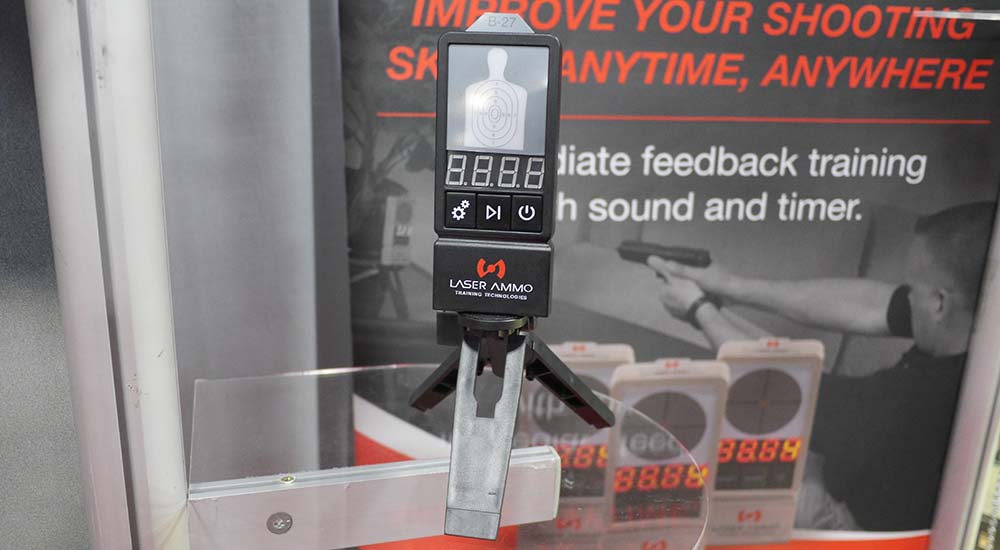 Another important feature is the ability for the LaserPET 2 to accept both visible and infrared lasers. The target area now lights up when hit, so you know you're on target with the infrared laser that would otherwise be invisible. The LaserPET is now coded to work only with Laser Ammo training cartridges, which ensures better compatibility. This allows the device to be used outside as long as direct sun is not shining on the laser receiver. Stay tuned for more information as this device starts shipping soon.
Vortex Fury HD 5000 Rangefinding Binocular
Over the past couple years, Vortex Optics has preferred breaking up their announcements and releases over the year rather than loading them up at SHOT Show. While this did make their "new for 2019" releases at SHOT a little underwhelming, I'm actually a fan as there is more to look forward to from Vortex over the year, including the NRA Show. Plus, we've been assured this is going to be a big year for Vortex, so definitely stay tuned on that front.
To start the year, Vortex's biggest announcement is the newest model in their rangefinding binocular line, the Vortex Fury HD 5000. The previous model, known simply at the Fury HD, had only a 1,600 max read distance (reflective targets) and even less on animals like deer (1,000 or less). The new Fury HD 5000 model features, true to its name, a 5,000 yard max range on reflective targets. Vortex states that the unit can handle up to 2,400 yards on trees and 1,600 yards on animals like deer. Easy one handed operation features three modes including a HCD (Horizontal Component Distance) mode for angle compensation. A stylish Vortex Glasspak is included with the bino, and of course never forget Vortex's legendary VIP Warranty.
Another important Vortex announcement comes in the release of four new reticles in their long range workhorse line, the Vortex Razor HD Gen II Riflescope. Featured are the EBR-7C in MRAD and MOA as well as the Horus H59 and Horus Tremor3. These are without a doubt Vortex's most advanced reticles to date, and they'll make bullet drop and windage corrections easier than ever.
Springfield 911 9mm
While our other writers will cover plenty of firearms this week, it's poor taste not to end a best of show from the editor without a gun! My pick is an exciting new offering in the conceal and carry market, the Springfield 911 in 9mm. While the development of this pistol hasn't been a secret for a while, this was my first chance to hold it, and boy was I impressed. My issues with smaller conceal and carry pistols has usually been two fold – one they suck to grip and shoot, and two .380ACP just isn't powerful enough for me (I'm not alone in this). Luckily Springfield listened and released five new 9mm versions of the 911 at SHOT this year.
The Springfield 911 is a pistol that is designed to feel and shoot like a full-size but fit conceal and carry needs. While yes the 911 comes in .380ACP, it is finally available in my treasured 9mm as outlined above. True to the name, anyone who loves the 1911 will probably like handling this pistol. There are also just announced versions of the 911 with Viridian grip lasers if you prefer an integrated laser sight. The 911 in 9mm starts at $639 MSRP.