By Tony Martins
In Part 1 of Best Of SHOT 2018 – Hunting, we reviewed some of the best new hunting implements and projectiles that I ran across on the exhibit floor at the 2018 SHOT Show. In Part 2, we take a look at hunting gear and accessories as well as a couple of additional guns that caught my attention.
AVIAN-X
Avian-X (a Plano-Synergy company) is known for its line of beautiful and remarkably realistic waterfowl and turkey decoys. With a company motto that "mediocrity is not an option," it's not surprising that this company's decoys are among the most lifelike and durable available. The Avian-X Lifelike Collapsible Decoy (LCD) line, featuring hens, jakes and toms in seven unique poses and multiple sub-species, is a favorite with avid turkey hunters who demand the best. Available as individual decoys (MSRP: $79.99, $99.99 and $119.99), or in Jake & Hen combo-packs with one-piece collapsible stakes and carrying bags (MSRP: $179.99), they're easy to transport and highly effective.
New for 2018 is the Avian-X Trophy Tom – a unique and clever decoy concept that serves multiple purposes. The one-piece design holds the beard and tail fan from any gobbler, and is easily hung on a wall for display. Extending from the wall just a bit more than a large, framed print, the Trophy Tom takes up little space. Take it outside into the field, and Trophy Tom serves as a portable strutting or stalking decoy. Attach the collapsible mounting stake and add a big dose of visual attraction to your decoy spread, with a natural tail fan. Molded with amazing detail and finished with a striking true-to-life paint job, Trophy Tom can increase odds for success with Mr. Longbeard in the field, and with the Mrs. at home by eliminating costly taxidermy bills! MSRP: $79.99
New in the Avian-X waterfowl lineup for 2018 are Foam-Filled decoys. If you've ever hunted low-flying divers on big water, you know that sooner or later decoys will be hit with shot. Unlike traditional blocks, one stray BB will take a modern plastic floater out of commission. Molded from durable rubber and loaded with marine-grade foam to 100% capacity, the new Foam-Filled additions to select Topflight lines will keep floating with lifelike movement on a weight-forward swim keel – even after being peppered with shot. Available in Redhead, Canvasback, Blue Bill, Mallard and Black Duck models. MSRP: $89.99 per 6-pack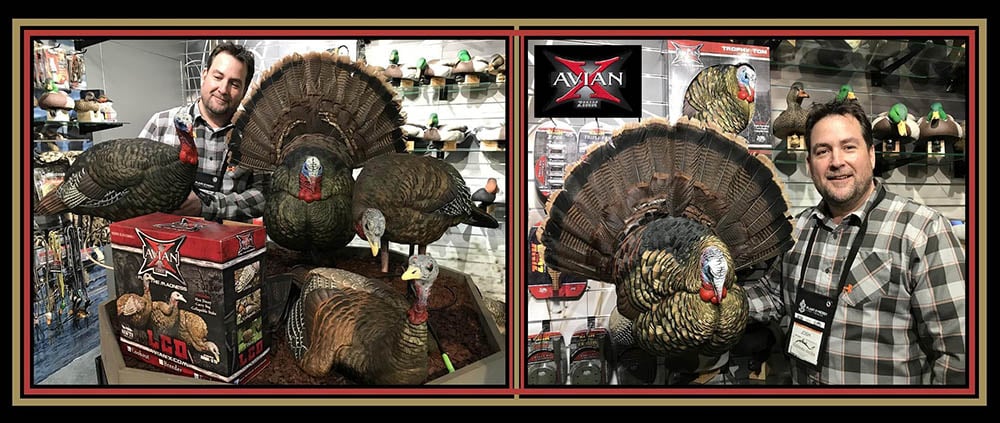 MOJO OUTDOORS
MOJO Outdoors, the leader in motion decoys, came to the Big Show with a boatload of attractive new soft-sided bags, packs and accessories, as well as the all-new King Mallard spinning wing decoy. According to MOJO President & CEO Terry Denmon, "all spinning wing decoys have been designed and manufactured by the incorrect process of attaching the motor, battery and other components to the inside of a hollow rigid body, which resulted in significant vibration, wobble and noise…" until now! In the new King Mallard, these components are attached directly to the support pole, through a structural housing which supports them. The housing – which is easily removed from the body – fits precisely inside a flexible skin, resulting in a smoother, faster and quieter running decoy. Other features include built-in remote receiver, drop-in battery and cam-lock support pole. And, the flexible decoy body looks great! MSRP: $169.99
One of the new soft-sided bags that caught my attention was the Flock A Flickers Decoy Bag. Introduced at last year's SHOT, Flock A Flickers are small spinning wings with timers that produce momentary, random flashes or "strobes" from the wings, designed to mimic those visual characteristics given off by a flock of real ducks. I've used mine with stationary motionless decoys, and really bring the spread to life! Transporting and protecting them – particularly the thin wings – has been a challenge however… until now. The Flock A Flickers Decoy Bag has six padded compartments that hold a 6-pack of the decoy bases securely, and two zippered interior pockets – one mesh, and one waterproof – to hold the decoy wings and other items like batteries. Other features include weather resistant exterior in Realtree MAX-5 camo, adjustable shoulder strap, padded carry handle, and loop zipper pulls for the lid. MSRP: $39.99 for the bag, and $99.99 per 6-pack of Flock A Flickers decoys. Other new items from MOJO in Realtree MAX-5 (with MSRP's) include: Elite Series backpack ($119.99), Double Decoy Bag ($99.99), Single Decoy Field Bag ($59.99), Guide Bag ($59.99), Timber and Blind Bag ($99.99), Handwarmer ($24.99), Single Gun Case ($49.99), and Shell Pouch ($19.99).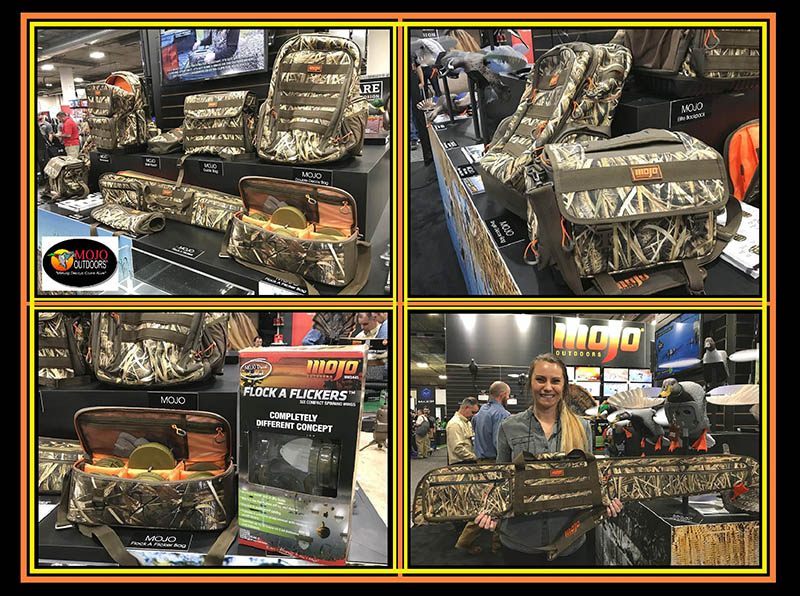 EBERLESTOCK
It's no secret that I'm a big fan of Eberlestock, having used their backpacks and accessories for years. A couple of months back, I detailed in Geared Up For Hunting Success In Kyrgyzstan my experience with the versatile Eberlestock F1 Mainframe pack and Batwing Pouches introduced at SHOT last year. New for 2018 is the F7 Kite – designed to be as light as possible while retaining Eberlestock toughness and a host of essential features. With a "minimalism" goal, this 4.8-pound, 3700 cubic inch pack has the fewest number of parts of any full-scale Eberlestock pack. The Kite features a big "barn-door" front opening, with a roll-top of the dry-bag-type to provide expandable capacity. MOLLE-10 on top allows mounting of accessories, like a Fanny-Top (LP1). The interior features two hydration sleeves, a Nylex loop back wall for stick-on accessories, and Hookup loops. The Kite (pictured, lower left) can be attached with the Eberlestock Hookup system to both F1 Mainframe and M1 Carrier packs – so it functions as an ultralite stand-alone pack, or as part of a freighter-type system. MSRP: $289.00
Two variations of last year's Doppelganger camouflage pattern were introduced this year – Mountain and Skye. Doppelganger represents a new kind of camo with a unique and proprietary dual image designed to fool the eyes of prey. High-tech imagery causes the eye to focus on detail in one of the layers, while everything else fades from view. Broad-field fades meet crisp, clean lines displayed in natural field colors. And, here's some BIG news: CEO Glen Eberle told me they are working on a clothing line that will rival Sitka and Kuiu, and prototype garments were on display at SHOT! Also new are a pair of shoulder bag/briefcases, the B1 Combat Office and B2 Undercover Brief. The Combat Office (not pictured) is described as "the ultimate road warrior's briefcase. With generously sized main compartment and full-size adjacent laptop compartment, there are a host of additional "hidden" features in this bag. Doubling as a concealed-carry bag, the B1 has a hidden pocket with magnetic closure for easy access to your handgun. Organizer pockets hold phones or magazines… the type for weapons. The slightly smaller B2 Undercover Brief (pictured, top right) is a distilled version of the B1, with organizer array, laptop pocket and concealed-carry pocket. MSRP: $149.00 B1, and $99.00 B2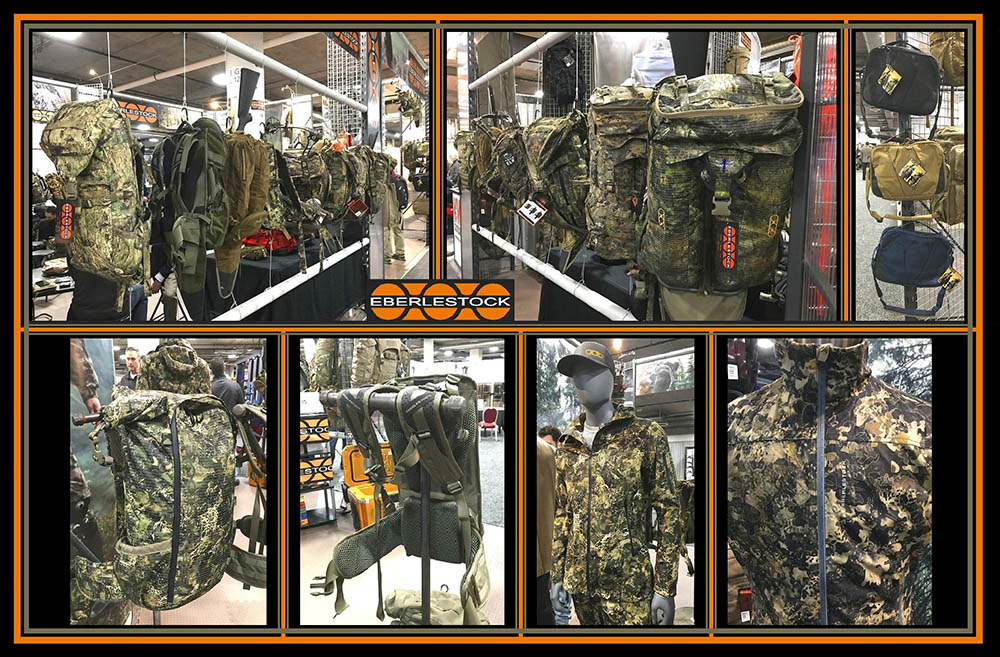 NIKON SPORT OPTICS
Nikon introduced several new riflescopes and two new laser rangefinders at SHOT. Of particular interest is the new Monarch 3000 Stabilized rangefinder, which supersedes the breakthrough image-stabilized Monarch 7iVR unit introduced last year. Along with angle compensation, image-stabilization – which dampens hand movement effects to facilitate target acquisition and ranging – is the most significant development in hand-held rangefinders in the past decade. Monarch 3000 Stabilized reportedly extends the range on reflective targets to nearly two miles (1000 yards on deer), and I'm anxious to test it on live animals in a real world hunting application – particularly after packing and testing the 7iVR throughout the past year in Nikon Monarch 7i VR Laser Rangefinder Review. Other features include ID (incline/decline) angle compensating technology that provides horizontal distance for shooting angles plus or minus 89-degrees, Tru-Target technology which allows switching between "first" target and "distant" target modes, Hyper Read for quick readings in 0.3 seconds regardless of distance and up to 8 seconds of sustained measurement of single or multiple targets, and a new high visibility, variable intensity red OLED display. MSRP = $419.95
The new Nikon Black RangeX 4K was designed for the long-range shooter, with all the same features of the Monarch 3000 noted above except image stabilization. This unit is engineered to deliver fast and consistent readings out to 4000 yards on reflective targets and 1500 yards on animals like deer. MSRP = $449.95. Note: A tabletop tripod will be available to assist with target spotting and acquisition for extreme long-distance shooting. Nikon also introduced a pair of compact, lightweight red dot sights with proprietary Trucolor lens-and-coating technology for lifelike viewing with both eyes open. The new P-Tactical SuperDot (pictured) is shockproof and waterproof with a night vision compatible 2 MOA dot, and will be available this summer. The new P-Tactical Spur Reflex Sight (not pictured) with aluminum alloy chassis features a night vision compatible 3 MOA dot that boasts 15,000 hours of continuous use on a single battery, with MSRP of $219.95. Although designed for tactical rather than hunting applications, I suspect these sights will find favor with predator hunters, and I look forward to testing the new Spur on a quick-handling, coyote killing scattergun.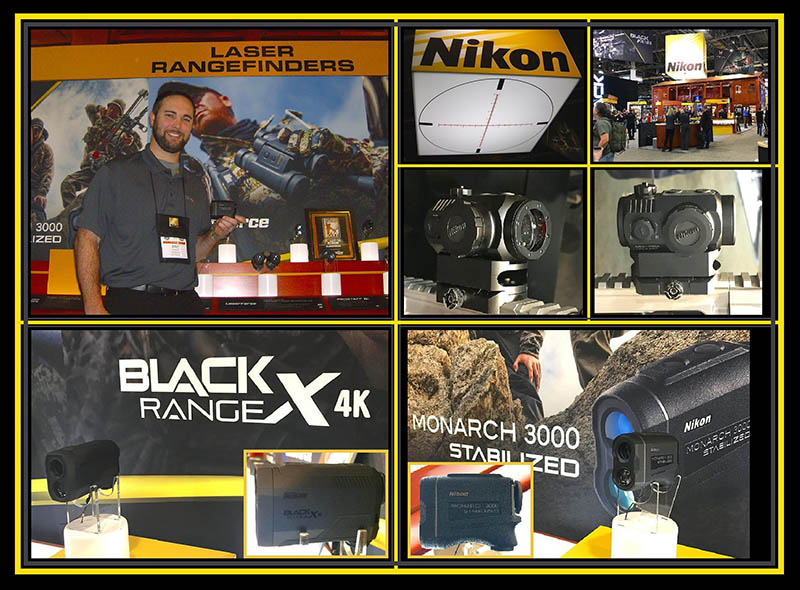 CROSMAN
Founded in New York in 1923 and still based there today, Crosman is America's top manufacturer of airguns, producing more than 700,000 annually. The company brought so many new products to SHOT this year that I had to visit the exhibit three times to see them all! Big news at the corporate level was Crosman's 2017 acquisition of Lasermax – one of the leading U.S. manufacturers of laser aiming devices. Several new optical products for airgun hunting were displayed including LED and laser kits for the Benjamin Pioneer Airbow. The Pioneer Predator Kit includes a high performance red LED CoyoteLight attached to the Airbow scope, and a Lasermax rail mounted red laser with Momentary Activation Switch, fully adjustable for windage and elevation. The Pioneer Hog Kit includes a green LED (CoyoteLight Predator CL1) and Lasermax green laser.
New airguns on display included the MAG-Fire, a break-barrel hunting rifle with 10-shot magazine, silencing barrel device (SBD), adjustable two-stage trigger, all weather stock with tactical pistol grip, and new Nitro Piston Elite powerplant. Designed to provide fast follow-up shots in a break-barrel action, MAG-Fire MSRP = $199.00 including a 3-9x40mm CenterPoint scope, in both .177 and .22 caliber. Crosman also introduced the Benjamin Fortitude – the latest generation of pre-charged pneumatic (PCP) air rifles with internal regulator for consistent velocities, delivering up to 90 shots per 3000 psi air fill. Designed to meet customer requests for more shots between refills, Fortitude uses interchangeable 10-shot rotary magazines with its bolt-action. Available in .177 and .22 calibers, MSRP = $299.99. And, if "the most fun you'll ever have shooting an airgun" peaks your interest, consider the new DPMS SBR Full Auto CO2 Rifle. Thats right… Full Auto! Developed in partnership with DPMS Panther Arms, this compact tactical CO2 rifle (not pictured) delivers a barrage of steel BBs at 1400 rounds per minute in full-auto mode – or a tad slower in single shot semi-auto mode. Powered by dual 12-gram CO2 Powerlets housed in a drop out 30-round magazine, Product Manager Philip Guadalupe calls the SBR "… one of the most badass air rifles on the market." MSRP = $179.99
Other new products that caught my attention were a portable air compressor, and a dandy little CenterPoint spotting scope. The 10-20x50mm scope was designed for spotting during training and airgun competition. It features precision lenses, 45-degree eyepiece, rubber armor and comes with a tabletop tripod and carry case. MSRP = $92.99. The Benjamin Traveler Portable PCP Compressor can be used to fill both airgun and paintball cylinders up to 0.6 liters, to a maximum pressure of 4500 psi, at home or in the field. This lightweight portable compressor has a quick-connect hose that plugs directly into the fill nipple of the gun. Included are a 110 volt converter for use with a standard electrical outlet at home, and battery clamps for use with 12-volt car, or ATV battery in the field. Traveler was designed to make PCP more accessible to a wider range of hunters and shooters, by eliminating the need for Scuba tanks and hand-pumps. As an avid PCP airgunner, I look forward to trying this unit. MSRP = $649.00 for the kit.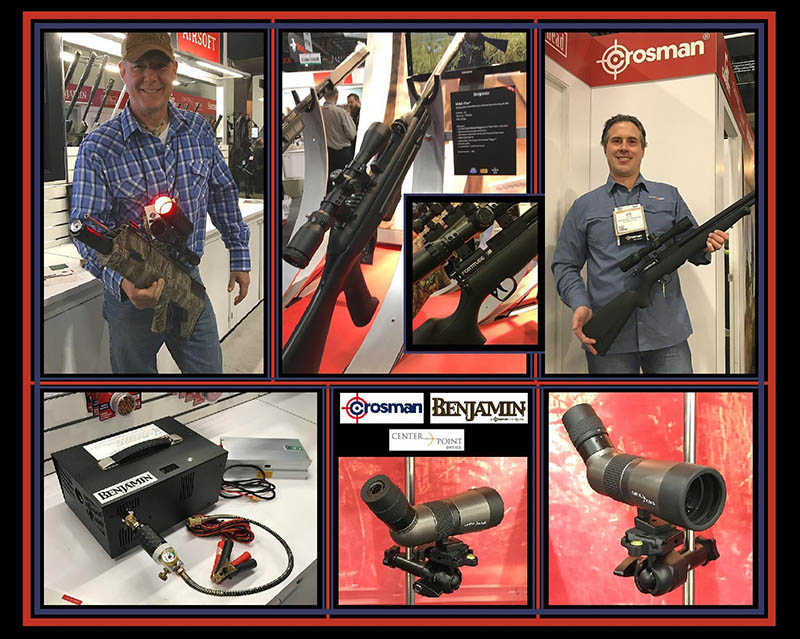 MOSSBERG
Setting sights on "taking long-range shooting to a new level," Mossberg expanded their MVP Series with new Precision Bolt-Action Rifle offerings in 6.5mm Creedmoor and 7.62mm NATO (.308 Win.) introduced at SHOT. The MVP Precision uses an aluminum chassis designed by Mossberg and slim-profile hand guard, 6-position LUTH-AR MBA-3 buttstock, and several Magpul features including, MOE+ pistol grip, M-LOK modular system for mounting accessories, and P-Mag 10-round magazine. The ingenious design will also accept M1A/M14 and AR10/SR25-style magazines. Other accuracy enhancing features include Mossberg's Lightning Bolt Action (LBA) Trigger System, crisp and adjustable from 3 to 7 pounds by the user, and button-rifled, free-floating 4140 carbon steel barrel – 24-inch with 1:8 twist for 6.5mm Creedmoor and 20-inch with 1:10 twist for 7.62mm NATO (.308 Win.) chamberings. The MVP Precision is a serious long-range tactical bolt-action rifle with features that the long-range and predator hunting crowds will find attractive, and I suspect we may see a smaller capacity magazine for hunting applications before long. MSRP: $1407.00
Mossberg's MVP LC (Light Chassis) rifle series has been re-launched for 2018, in 6.5mm Creedmoor, 5.56mm NATO (.223 Rem.) and 7.62 NATO (.308 Win.) chamberings, and is now available at a lower price (MSRP: $1050.00). Magpul features include CTR adjustable stock with streamlined A-frame profile, MOE pistol grip and P-Mag 10-round magazine, to go with the aluminum MDT chassis. Other features include LBA Trigger System, and button-rifled carbon steel barrels – 20-inch with 1:8 twist for 6.5mm Creedmoor, 18.5-inch with 1:10 twist for 7.62mm NATO (.308 Win.), and 16.25-inch with 1:7 twist for 5.56mm NATO (.223 Rem.). A matte blue finish on the fluted barrels compliments the tan colored finish of the chassis, for an attractive, lightweight target rifle package.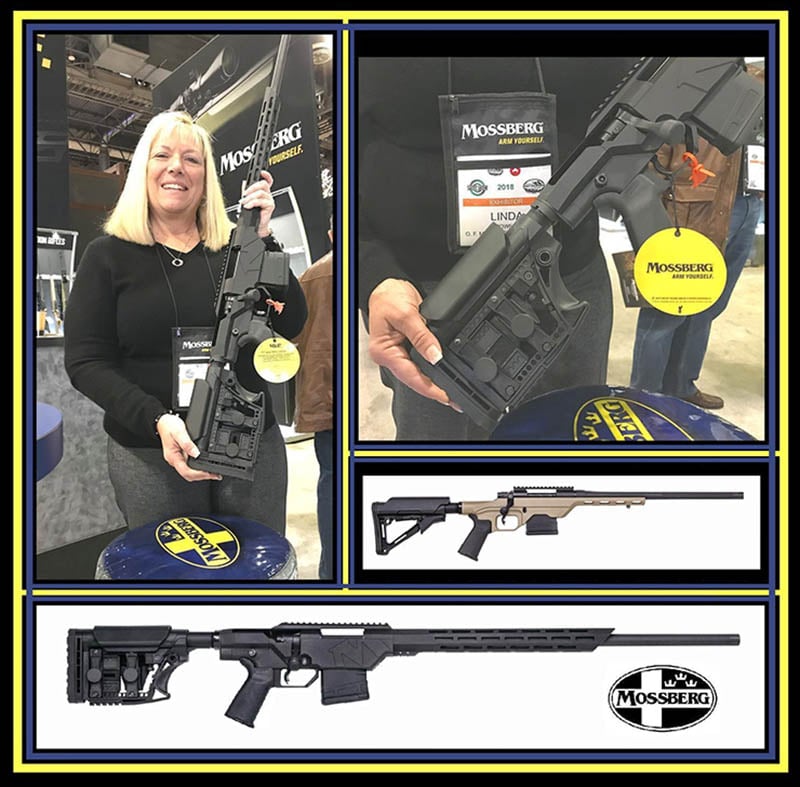 ARCUS HUNTING – DEAD DOWN WIND & TINK'S
As noted in my scent control article on this blog last year, Scent Control – Do You Smell Invisible?, I have been using Dead Down Wind products for years, with excellent results. New for 2018 is vibrant packaging with a new look – but the same familiar orange coloration – new and improved delivery systems, new line extensions, and an interesting new concept on an old theme called WindScout. This new product detects wind direction with advanced vapor technology – similar to that used in electronic cigarettes. The battery-powered WindScout dispenser will emit up to 400 "puffs" of smoke per cartridge. Two cartridges, a handy lanyard and USB battery charger are included in the package, MSRP: $24.99. Additional smoke cartridges will be available in 2-packs with a carrying case, MSRP: $9.99. This new delivery system will also find its way into the Tink's line, in the E-Scent dispenser. Now whitetail hunters can send America's #1 buck lure downwind quickly and efficiently to bring bucks into range. The E-Scent dispenser comes with a synthetic #69 Doe-In-Rut cartridge, MSRP: $24.99. Additional cartridges will be available with handy carrying case, in 2-packs of synthetic #1 Doe-P, synthetic Trophy Buck, and old reliable #69 Doe-In-Rut, MSRP: $9.99.
Laundry Bombs are another new product from Dead Down Wind. These are easy-to-use packets of DDW's proven enzyme-based detergent, now with 50% more enzymes. Effective on natural, synthetic or carbon garments, just drop one, two or three bombs in with a small, medium or large load of laundry, respectively. Laundry Bombs will be available soon, in packs of 18 and 28. MSRP: $12.99/18 and $16.99/28. And, Dead Down Wind's popular Evolve Field Spray products are now available in new dispensers that eliminate squeaking – no big deal at home, but potentially problematic in the field – and maximize every squeeze for better coverage.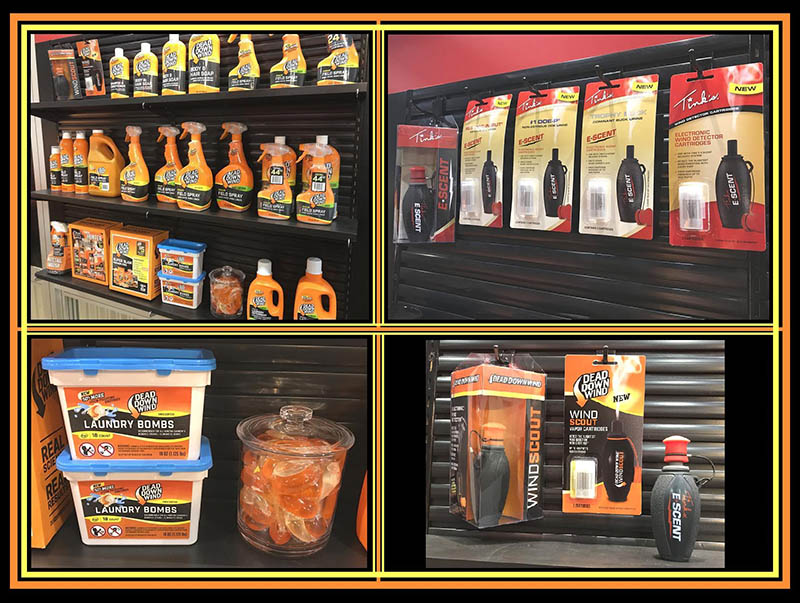 WILDGAME INNOVATIONS
Without question, development of game-scouting cameras has significantly influenced big game hunting success over the past 20 years. Wildgame Innovations (a Plano-Synergy company) is a leader in the outdoor electronics market, offering innovative products for hunting and game management at truly affordable prices. New for 2018 is a host of new digital "trail" cameras – 9 to be exact, including the Rival Cam 18 and Rival Cam 18 Lightsout models. Touted as WGI's "best-performing cameras ever," Rival series features include high-resolution 18-megapixel processors, sub-half-second trigger speeds and two onboard cameras – one for daytime images and video, and one optimized for nighttime. New Adaptive Illumination Technology actually detects the distance to moving objects and automatically adjusts the image exposure accordingly. The result is crystal-clear images and stunning HD 720p video. Gone are washed out images of game that is too close to the camera, and underexposed images of animals at the far end of the camera's range. Gone are mechanical filters that are necessary for nighttime imaging with IR-flash systems, and so is the noise these filters make that often alert or startle game.
Detection and illumination ranges are 90 feet for Rival Cam 18 with its high-intensity LED infrared flash, and 85 feet for the Lightsout model with high-intensity invisible flash. Other features include anti-fog lens coating, TruBark HD textured finish and long battery life of up to 1-year on 8 AA batteries. The new Rival series trail cams represent excellent value and personally, I can't wait to get my hands on a couple of these little beauties! MSRP: $129.99 Rival Cam 18, and $139.99 Rival Cam 18 Lightsout.